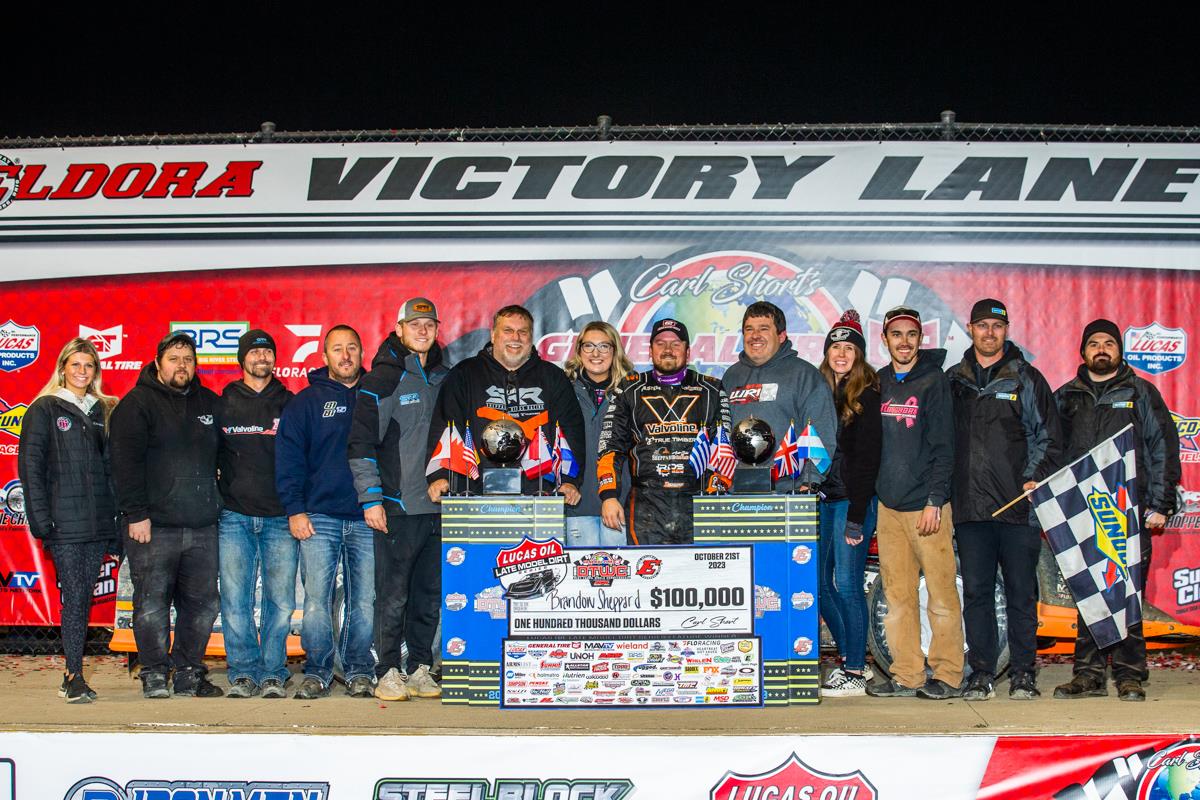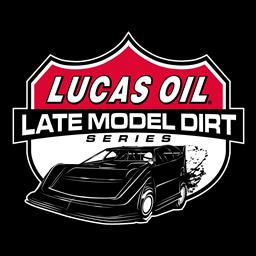 10/22/2023
Lucas Oil Late Model Dirt Series
---
Sheppard Wins Fifth DTWC; O'Neal Secures First Career Lucas Oil Title
NEW WESTON, Ohio (October 22, 2023) – Brandon Sheppard won his record-tying fifth General Tire Dirt Track World Championship - Presented by ARP on Sunday night at Eldora Speedway. Sheppard tied with Freddy Smith for the most wins in the 43-year history of the race as the Illinois racer earned $100,000 for his victory.
Sheppard who had just enough fuel to coast across the finish line barely edged out Hudson O'Neal for the win in a race that saw a record eight lead changes. The previous high for lead changes was the inaugural Dirt Track World Championship in 1981 where five different drivers led the race.
O'Neal with his runner-up finish claimed his first career Lucas Oil Late Model Dirt Seres National Championship which will earn him and his car owner Mark Richards a dirt late model record $200,000. O'Neal finished 0.084 seconds behind Sheppard at the finish.
Devin Moran battled with O'Neal for several laps as the two went back and forth to decide the Lucas Oil Late Model Dirt Series title. Moran came home in third in the final race rundown which clinched second place in the championship points. Tim McCreadie clinched fifth in the championship points by placing fourth in the Dirt Track World Championship. Dale McDowell rounded out the top five drivers in the 100-lap race.
Jonathan Davenport jumped to the lead at the start and would lead the first six laps of the race. It was a close battle up front with Davenport and Mike Marlar, who led lap seven. O'Neal, who in his last appearance at Eldora won the World 100 in September, came from the sixth position to grab the lead on the eighth circuit.
The car on the move was West Virginia's Tyler Carpenter, who roared from his 17th starting spot to pass O'Neal for the race lead on lap 24. Carpenter was in front until lap 32 when Brian Shirley would become the fifth different driver to lead the race. However, Shirley's lead was short lived as mechanical issues sent him pit side under caution ending his night. Carpenter, who was third at the time, also pitted during this time.
McCreadie would pick up the lead for four laps before Bobby Pierce took command after being involved in an early race caution that also involved Ricky Thornton Jr. who suffered severe right front suspension damage which forced to pit side, loosing several laps in the process.
Pierce would stay in front until lap 60 when Sheppard became the eighth and final leader of the race. A caution with 97 laps complete would show Sheppard in front with McCreadie holding down the second spot. On the final restart Sheppard would hold the lead, but his car started to show signs he was low on fuel. O'Neal and Moran were able to close on the final lap, but Sheppard was able to eke out the win.
Sheppard, who led the final 40 laps for his 31st career win with the Lucas Oil Late Model Dirt Series was relieved to make it to the finish line. "I was able to make it to the line, Hudson almost got me there. That was a pretty crazy end to the night. When I crossed the line for the white flag I ran out of gas. I had just enough gas to make it to the line, every time I have driven this car it has been good all year. It was phenomenal. The first couple of laps I don't know what happened. I think we knocked the brake line loose on the left rear or something. I came in and the guys got it tightened up. I didn't have time to get the brakes bled. I went back out and the caution came back out, luckily really quick, and we were able to come in get it bled out. It was perfect after that."
"I went pretty hard there at the beginning just to get some distance just in case the leaders would come around and I would get lapped," Sheppard added. "There about halfway I was running around the middle to the bottom, and I really felt pretty good there. Also, about midway through the race I found a line that worked pretty good for me through the middle in one and two. Once I saw some of those drivers dropping out, and we were picking a few of them off, I thought I was finally trying to wake up."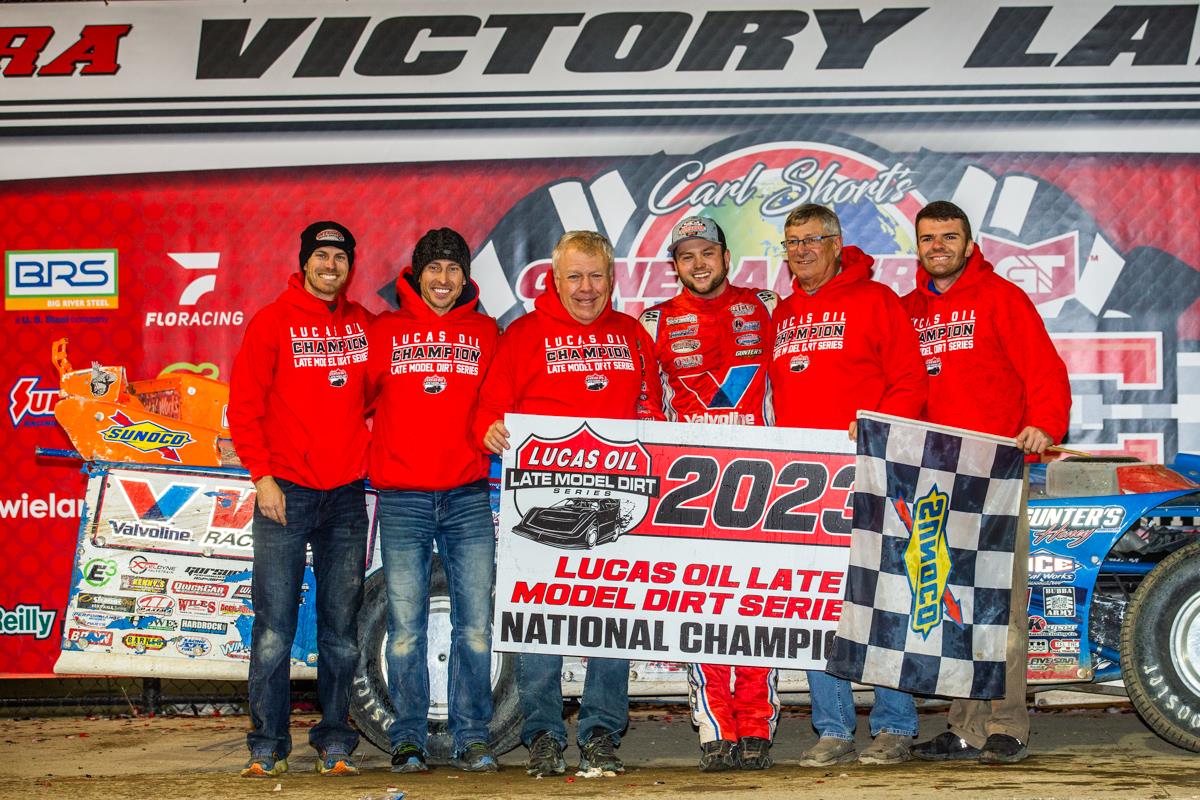 O'Neal came up just short of his first Dirt Track World Championship victory, but secured his first Lucas Oil title. "This is unbelievable. It was a war of attrition. I had two flat tires, led at one point, was a lap down at one point, so I had every emotion I could think of that happened during that race. What a race it came down to with me and Devin. It was kind of rough and tumble out there, but the way it came out it made a great race for the championship and it about made it a great race for the win. I think somebody [Sheppard] ran out of fuel coming to the checkered or something. Hats off to my whole team and family. This sport will drive you crazy sometimes, it helps to have a good backdrop of people to rely on."
O'Neal joins his father, Don who won the Lucas Oil Late Model Dirt Series title in 2014. "I can't believe it turned out the way it did. Hats off to the Eldora track crew. They worked their tails off all weekend no matter what the racetrack was they couldn't help it; they did the best they could. It rained for three days straight they did a great job."
Moran, earning his best career finish in the Dirt Track World Championship and in the Lucas Oil Late Model Dirt Series championship points, went back and forth with O'Neal in the final laps. "It was a great comeback year. We got off to a good start in Speedweeks and then we really struggled in the first month or two after that. That was about as exciting there at the end as it could get. I think everyone is going to talk about this for a very long time. Thanks to the whole Lucas Oil family for a great series to race with."
The winner's Sheppard-Riggs Racing, Longhorn Chassis is powered by a Cornett Racing Engine and sponsored by Valvoline, True Timber Camo, Dennis G. Woodworth Attorney at Law, Wyld Gear, Riggs Drilling Solutions, Sheppard Auto Sales and Salvage, D&E Marine, Sunoco Race Fuels, and Bilstein Shocks.
Completing the top ten were Bobby Pierce, Jimmy Owens, Ricky Thornton Jr., Garrett Smith, and Jonathan Davenport.
Lucas Oil Late Model Dirt Series
Race Summary
43rd Annual General Tire Dirt Track World Championship Presented by ARP
Sunday, October 22, 2023
Eldora Speedway – New Weston, OH
Allstar Performance Time Trials
Fast Time Group A: Jimmy Owens | 15.165 seconds (overall)
Fast Time Group B: Garrett Smith | 15.370 seconds
Penske Shocks Heat Race #1 Finish (10 Laps, Top 3 Transfer): 1. 99-Devin Moran[2]; 2. 20-Jimmy Owens[1]; 3. 32-Bobby Pierce[3]; 4. 9H-Nick Hoffman[5]; 5. 96V-Tanner English[4]; 6. C4-Freddie Carpenter[6]; 7. 11K-Austin Kirkpatrick[9]; 8. 22*-GR Smith[7]; 9. 3:16-Mike Bargo[11]; 10. (DNS) 18B-Shannon Babb; 11. (DNS) 20C-Duane Chamberlain
Summit Racing Products Heat Race #2 Finish (10 Laps, Top 3 Transfer): 1. 39-Tim McCreadie[2]; 2. 8S-Brian Shirley[1]; 3. 17M-Dale McDowell[6]; 4. 12-Jason Jameson[5]; 5. 58-Garrett Alberson[3]; 6. 111B-Max Blair[8]; 7. 21H-Robby Hensley[7]; 8. 88G-Chad Green[9]; 9. 25-Jason Feger[4]; 10. 79-Bill Lewis[10]
Simpson Race Products Heat Race #3 Finish (10 Laps, Top 3 Transfer): 1. 20RT-Ricky Thornton Jr[1]; 2. 00-Carson Ferguson[3]; 3. 28C-Tyler Carpenter[5]; 4. 69-Jon Hodgkiss[2]; 5. 6JR-Parker Martin[4]; 6. 99B-Boom Briggs[8]; 7. 3-Austin Neely[7]; 8. 03-Gregg Haskell[9]; 9. (DNS) 111-Steven Roberts; 10. (DNS) 5N-Dustin Nobbe
AP1 Insurance Heat Race #4 Finish (10 Laps, Top 3 Transfer): 1. 49-Jonathan Davenport[3]; 2. 76-Brandon Overton[4]; 3. B5-Brandon Sheppard[2]; 4. 10-Garrett Smith[1]; 5. 1T-Tyler Erb[5]; 6. 46-Earl Pearson Jr[8]; 7. 187-David McCoy[7]; 8. 0-Scott Bloomquist[6]; 9. (DNS) 16-Tyler Bruening; 10. (DNS) 63-Terry Rushlow
Lucas Oil Heat Race #5 Finish (10 Laps, Top 3 Transfer): 1. 157-Mike Marlar[2]; 2. 18D-Daulton Wilson[1]; 3. 174-Ethan Dotson[8]; 4. 6-Ross Bailes[3]; 5. 7W-Ricky Weiss[9]; 6. 28-Dennis Erb Jr[7]; 7. 95J-Jerry Bowersock[10]; 8. 11-Spencer Hughes[4]; 9. 7-Ross Robinson[6]; 10. 15K-Cody Overton[5]
Lucas Oil Heat Race #6 Finish (10 Laps, Top 3 Transfer): 1. 1H-Hudson O'Neal[2]; 2. 25Z-Mason Zeigler[1]; 3. 22F-Chris Ferguson[6]; 4. 89M-Mike Spatola[3]; 5. 130-Chase Osterhoff[9]; 6. 88-Trent Ivey[5]; 7. S8-Chris Stotts[8]; 8. 49B-Brian Ruhlman[7]; 9. 11A-Austin Smith[4]; 10. (DNS) 8-Rob Anderzack
Fast Shafts B-Main Race #1 Finish (12 Laps, Top 2 Transfer): 1. 9H-Nick Hoffman[1]; 2. 96V-Tanner English[3]; 3. 58-Garrett Alberson[4]; 4. C4-Freddie Carpenter[5]; 5. 12-Jason Jameson[2]; 6. 22*-GR Smith[9]; 7. 11K-Austin Kirkpatrick[7]; 8. 21H-Robby Hensley[8]; 9. 3:16-Mike Bargo[11]; 10. 88G-Chad Green[10]; 11. 111B-Max Blair[6]; 12. 79-Bill Lewis[13]; 13. (DNS) 25-Jason Feger
UNOH B-Main Race #2 Finish (12 Laps, Top 2 Transfer): 1. 10-Garrett Smith[2]; 2. 1T-Tyler Erb[4]; 3. 6JR-Parker Martin[3]; 4. 99B-Boom Briggs[5]; 5. 187-David McCoy[8]; 6. 3-Austin Neely[7]; 7. 0-Scott Bloomquist[10]; 8. 03-Gregg Haskell[9]; 9. 46-Earl Pearson Jr[6]; 10. 69-Jon Hodgkiss[1]
MyRacePass B-Main Race #3 Finish (12 Laps, Top 2 Transfer): 1. 7W-Ricky Weiss[3]; 2. 89M-Mike Spatola[2]; 3. 28-Dennis Erb Jr[5]; 4. 88-Trent Ivey[6]; 5. 11-Spencer Hughes[9]; 6. 95J-Jerry Bowersock[7]; 7. 49B-Brian Ruhlman[10]; 8. 130-Chase Osterhoff[4]; 9. S8-Chris Stotts[8]; 10. 15K-Cody Overton[13]; 11. 6-Ross Bailes[1]; 12. (DNS) 7-Ross Robinson; 13. (DNS) 11A-Austin Smith
Jim Dunn Memorial Non-Qualifier Finish (16 Laps): 1. 12-Jason Jameson[6]; 2. 28-Dennis Erb Jr[2]; 3. 99B-Boom Briggs[4]; 4. 11K-Austin Kirkpatrick[11]; 5. 95J-Jerry Bowersock[10]; 6. 3-Austin Neely[9]; 7. 88G-Chad Green[19]; 8. 187-David McCoy[7]; 9. 49B-Brian Ruhlman[13]; 10. 3:16-Mike Bargo[17]; 11. 6JR-Parker Martin[1]; 12. 79-Bill Lewis[23]; 13. 69-Jon Hodgkiss[20]; 14. 22*-GR Smith[8]; 15. C4-Freddie Carpenter[3]; 16. 130-Chase Osterhoff[16]; 17. (DNS) 88-Trent Ivey; 18. (DNS) 0-Scott Bloomquist; 19. (DNS) 21H-Robby Hensley; 20. (DNS) 03-Gregg Haskell; 21. (DNS) S8-Chris Stotts; 22. (DNS) 15K-Cody Overton; 23. (DNS) 6-Ross Bailes
43rd Annual General Tire Dirt Track World Championship Presented by ARP Feature Finish (100 Laps):

Race Statistics
Entrants: 62
Terminal Maintenance & Construction Pole Sitter: Devin Moran
Lap Leaders: Jonathan Davenport (Laps 1-6); Mike Marlar (Lap 7); Hudson O'Neal (Laps 8-23); Tyler Carpenter (Laps 24-33); Brian Shirley (Laps 34-39); Tim McCreadie (Laps 40-43); Bobby Pierce (Lap 44-59); Brandon Sheppard (Laps 60-100)
Wieland Feature Winner: Brandon Sheppard
Arizona Sport Shirts Crown Jewel Cup Feature Winner: Brandon Sheppard
Brandon Ford TV Challenge Feature Winner: Brandon Sheppard
Margin of Victory: 0.084 seconds
Gorsuch Performance Solutions Cautions: Nick Hoffman, Mike Spatola (Lap 7); Bobby Pierce, Ricky Thornton, Jr. (Lap 8); Daulton Wilson (Lap 14); Garrett Smith (Lap 22); Ricky Weiss, Tanner English (Lap 25); Tanner English (Lap 34); Hudson O'Neal (Lap 35); Tyler Carpenter (Lap 40); Tyler Carpenter (Lap 41); Tyler Erb (Lap 74); Bobby Pierce (Lap 95)
Series Provisionals: Max Blair; Earl Pearson, Jr.
Fast Time Provisional:?n/a
Series Emergency Provisionals: Garrett Alberson; Spencer Hughes
Track Provisional: n/a
Big River Steel Podium Top 3: Brandon Sheppard, Hudson O'Neal, Devin Moran
Penske Shocks Top 5: Brandon Sheppard, Hudson O'Neal, Devin Moran, Tim McCreadie, Dale McDowell
Todd Steel Buildings Hard Charger of the Race: Brandon Sheppard (Advanced 13 Positions)
Wilwood Brakes Lucky 7th Place Feature: Jimmy Owens
Deatherage Opticians Lucky 13th Place Feature: Daulton Wilson
Earnhardt Technologies Most Laps Led: Brandon Sheppard (40 Laps)
Sunoco Race for Gas Highest Finisher: Brandon Sheppard
Midwest Sheet Metal Spoiler Challenge Point Leader: Ricky Thornton, Jr.; Hudson O'Neal; Jonathan Davenport; Devin Moran
O'Reilly Auto Parts Rookie of the Race: Max Blair
Etchberger Trucking Fastest Lap of the Race: Jonathan Davenport (Lap 1 – 16.562 seconds)
MD3 Tough Break of the Race: Ricky Thornton, Jr.
Outerwears Crew Chief of the Race: Kevin Rumley (Brandon Sheppard)
ARP Engine Builder of the Race: Cornett Racing Engines
Miller Welders Chassis Builder of the Race: Longhorn Chassis
Dirt Draft?Fastest in Hot Laps: Brandon Overton (15.165 seconds)
Time of Race: 1 hour 24 minutes 19 seconds
Big River Steel Chase for the Championship Presented by ARP Point Standings: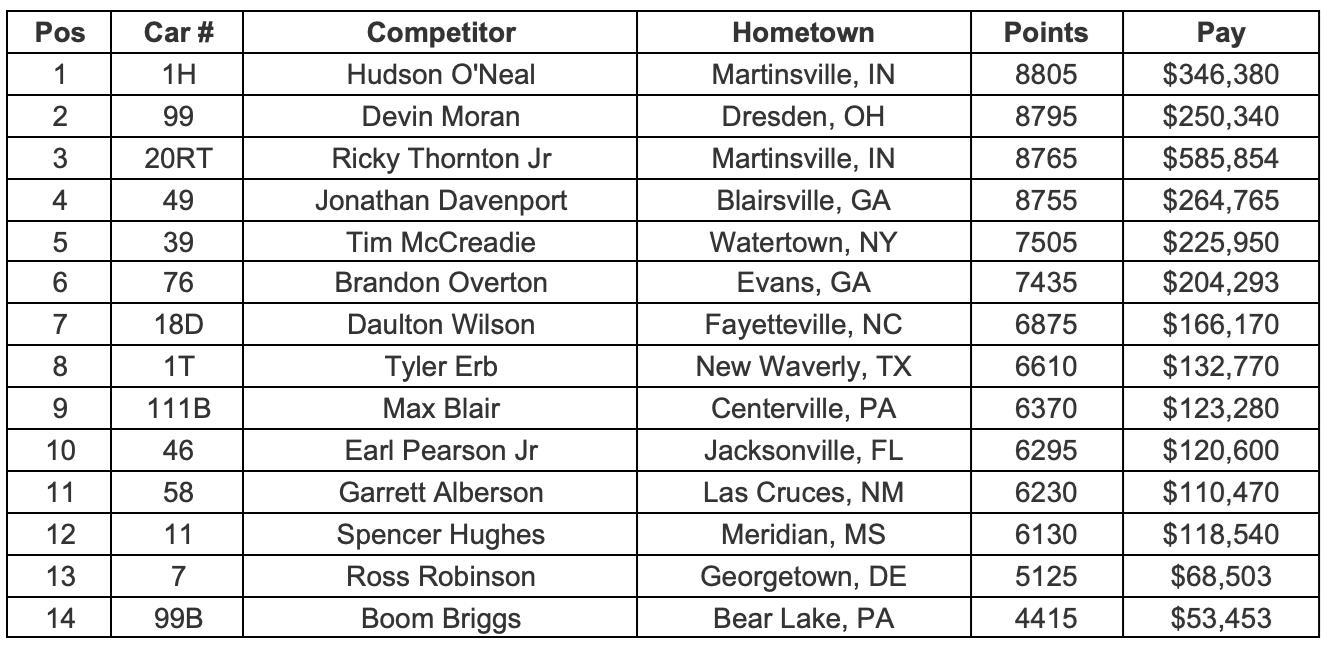 ---
Submitted By: Jeremy Shields
Back to News