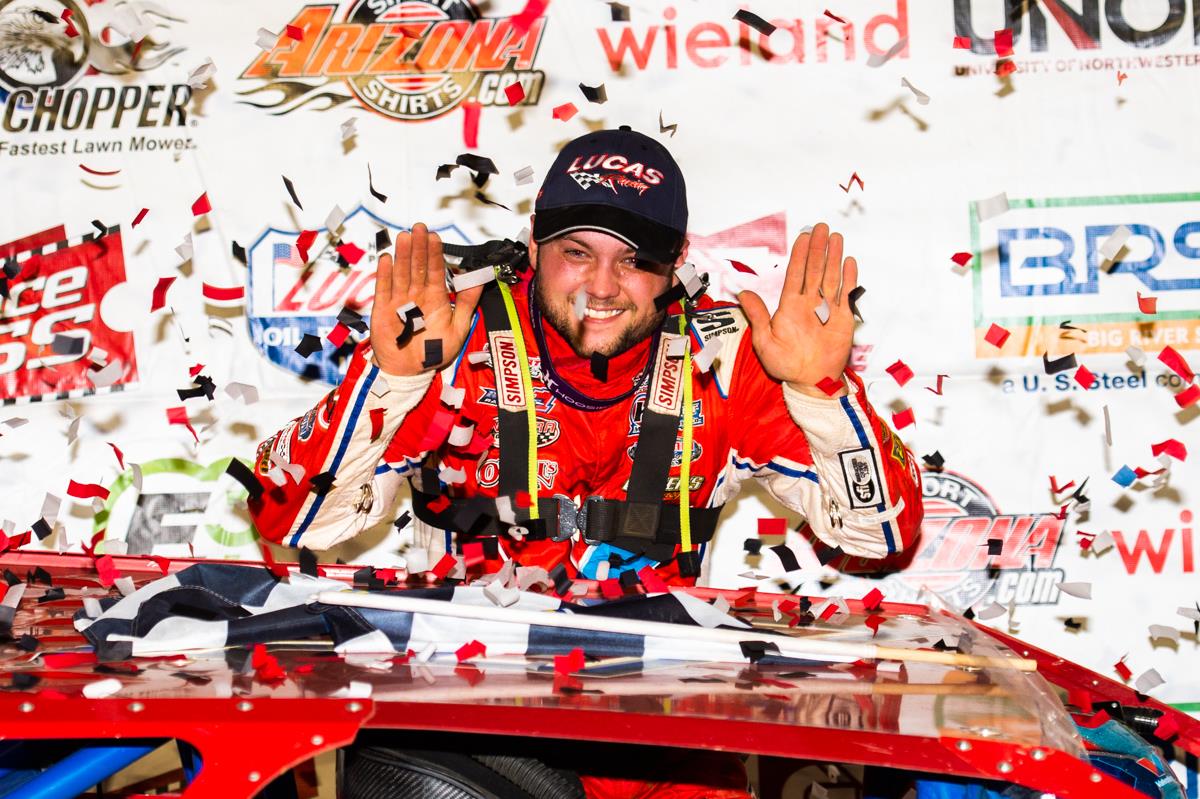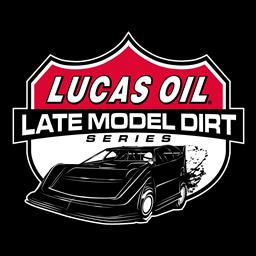 8/26/2023
Lucas Oil Late Model Dirt Series
---
Hudson O'Neal Charges to Rumble by the River Victory at Port Royal
PORT ROYAL, PA (August 26, 2023) – Hudson O'Neal battled his way to the lead with seven laps to go and pulled away in the final laps to win the Lucas Oil Late Model Dirt Series-sanctioned Rumble by the River on Saturday Night at Port Royal Speedway. O'Neal earned $50,000 from the $150,000 feature purse for the Rocket1 Team.
O'Neal's winning margin of 1.808 seconds was the largest lead anyone had held during the 50-lap event. Mike Marlar came home in second as he passed Jonathan Davenport with two laps to go. Davenport was third with Matt Cosner and Brandon Overton completing the top five.
Brandon Overton jumped to the lead at the start of the race as he and O'Neal, who started alongside Overton on the front row tucked into the second spot. Those two ran first and second for the first 16 laps of the race until Davenport was able to secure the second spot on lap 17.
Davenport then moved to the lead on lap 21 as the first caution flew with that lap was scored. On the restart Davenport had to contend with O'Neal, Marlar and Overton in a tightly contested battle for the race lead. With O'Neal and Marlar all over Davenport another caution came out with 27 laps complete.
All eyes were on the current Lucas Oil Late Model Dirt Series points leader Ricky Thornton, Jr. who was slicing through the field after starting in 25th for having to go to back-up car. Thornton moved to fifth by lap 36 and trailed only Davenport, Marlar, O'Neal, and Devin Moran.
Thornton would not be around at the finish as he slowed on the track under a caution with ten laps to go after just reaching second past Marlar in the running order. Thornton's night ended after a spectacular run from the tail of the field as he would be pushed back to the pit area after stopping in the middle of the back straightaway with mechanical issues.
Davenport was still on the point with Marlar and O'Neal behind him on the single-file restart. O'Neal then got past Marlar and set his sights on Davenport. With seven laps to go O'Neal made his move for the lead getting by Davenport and then going on to win his seventh Lucas Oil Late Model Dirt Series event of 2023. Marlar passed Davenport at the white flag to pick up the second position at the finish.
O'Neal described his hard-fought victory in Lucas Oil Victory Lane. "It's awesome. I had to get up on the wheel I was just so tight against that cushion I was afraid to run it. It just came down to the last ten laps and I knew I had a shot at it if I could run it hard enough if I could get enough of a run down the straightaways. The crew gave me a great race car all weekend, we were able to get back into victory lane last night and I knew coming into today we had a great piece we just needed to play our cards right."
Marlar earned $20,000 for his third straight Big River Steel Podium finish. "It was a good race you know we just talked to the man who preps the track he does a phenomenal job on the racetrack really; we owe him a lot of thanks for the awesome racing we saw all weekend. It was fun for sure. My car was balanced really good, but it won't wheel spin good so when I wheel spin on the cushion, I am just a little wrong there somehow and that's how a lot of these races are getting won. We are so close it depends on how it all plays out. We got one or two more laps before those cautions; I think we could have got the lead and I would have been gone."
Davenport's third-place finish earned the 3-time Lucas Oil Late Model Dirt Series champion $10,000 as he led a race high 24 laps. "Those guys were just a little better than me I thought I was o.k. and then Mikey could run a little bit lower than I could and Hudson could just run around the cushion a little bit better than I can. I gave it all we had. I tried to not tear it up too bad. I just wish it would have been a 40 lapper tonight."
The winner's Mark Richards Racing, Rocket Chassis is powered by a Durham Racing Engine and sponsored by Valvoline, Seubert Calf Ranches, Ace Metal Works, Gunter's Honey, Petroff Towing, Rocket Pre-Owned Motors, WR1 Sim Chassis, O'Neal's Salvage and Recycling, Sunoco Race Fuels, Integra Racing Shocks, and Performance Grading.
Completing the top ten were Tim McCreadie, Devin Moran, Cody Overton, Garrett Alberson, and Logan Roberson.
Lucas Oil Late Model Dirt Series
Race Summary
Rumble by the River
Saturday, August 26, 2023
Port Royal Speedway – Port Royal, PA
Penske Shocks Heat Race #1 Finish (8 Laps, Top 3 Transfer): 1. 76-Brandon Overton[1]; 2. 99-Devin Moran[3]; 3. 15K-Cody Overton[2]; 4. 111B-Max Blair[5]; 5. 93-Cory Lawler[7]; 6. 11-Spencer Hughes[8]; 7. 99B-Boom Briggs[6]; 8. 59-Chad Julius[9]; 9. 66-Justin Kann[4]
Summit Racing Products Heat Race #2 Finish (8 Laps, Top 3 Transfer): 1. 1H-Hudson O'Neal[1]; 2. 10-Michael Norris[2]; 3. 89-Logan Roberson[4]; 4. 7-Ross Robinson[3]; 5. D19-Dillan Stake[5]; 6. 32J-Shaun Jones[6]; 7. 21-Chad Myers[7]; 8. 10S-Dave Stamm[9]; 9. (DNS) 7T-Drake Troutman
Simpson Race Products Heat Race #3 (8 Laps, Top 3 Transfer): 1. 49-Jonathan Davenport[1]; 2. 46-Earl Pearson Jr[3]; 3. 66C-Matt Cosner[4]; 4. 22F-Chris Ferguson[2]; 5. 2J-Justin Weaver[8]; 6. 0-Andrew Yoder[5]; 7. 2JR-Jeff Rine[6]; 8. 25K-Kody Lyter[9]; 9. 32-Travis Stickley[7]
AP1 Insurance Heat Race #4 (8 Laps, Top 3 Transfer): 1. 39-Tim McCreadie[2]; 2. 0R-Rick Eckert[1]; 3. 45-Kyle Hardy[3]; 4. 20-Trever Feathers[4]; 5. 2T-Kyle Lee[6]; 6. EZ1-Ron Fink[9]; 7. (DNS) 86-Austin Berry; 8. (DNS) 63-Nathan Long; 9. (DNS) 24-Dylan Yoder
Lucas Oil Heat Race #5 (8 Laps, Top 3 Transfer): 1. 20RT-Ricky Thornton Jr[1]; 2. 18D-Daulton Wilson[2]; 3. 25Z-Mason Zeigler[3]; 4. 1T-Tyler Erb[6]; 5. 06-Mike Lupfer[4]; 6. 9M-Hayes Mattern[5]; 7. 2-Dan Stone[7]; 8. 3-Timothy Wilson[8]
Lucas Oil Heat Race #6 (8 Laps, Top 3 Transfer): 1. 157-Mike Marlar[1]; 2. 48-Colton Flinner[3]; 3. 58-Garrett Alberson[2]; 4. 119-Bryan Bernheisel[4]; 5. 22-Gregg Satterlee[6]; 6. 4-Gary Stuhler[5]; 7. 11T-Trevor Collins[8]; 8. 1Z-Logan Zarin[7]
Fast Shafts B-Main Race #1 (10 Laps, Top 2 Transfer): 1. 111B-Max Blair[1]; 2. 22F-Chris Ferguson[3]; 3. 2J-Justin Weaver[6]; 4. 7-Ross Robinson[2]; 5. D19-Dillan Stake[5]; 6. 11-Spencer Hughes[7]; 7. 2JR-Jeff Rine[12]; 8. 0-Andrew Yoder[9]; 9. 93-Cory Lawler[4]; 10. 99B-Boom Briggs[10]; 11. 21-Chad Myers[11]; 12. 66-Justin Kann[16]; 13. 59-Chad Julius[13]; 14. 10S-Dave Stamm[14]; 15. 25K-Kody Lyter[15]; 16. 32J-Shaun Jones[8]; 17. (DNS) 32-Travis Stickley
UNOH B-Main Race #2 (10 Laps, Top 2 Transfer): 1. 1T-Tyler Erb[2]; 2. 22-Gregg Satterlee[6]; 3. 20-Trever Feathers[1]; 4. 2-Dan Stone[10]; 5. 119-Bryan Bernheisel[3]; 6. 9M-Hayes Mattern[8]; 7. 2T-Kyle Lee[4]; 8. 3-Timothy Wilson[12]; 9. 06-Mike Lupfer[5]; 10. 11T-Trevor Collins[11]; 11. 4-Gary Stuhler[9]; 12. EZ1-Ron Fink[7]; 13. (DNS) 1Z-Logan Zarin
Rumble by the River Feature Finish (50 Laps):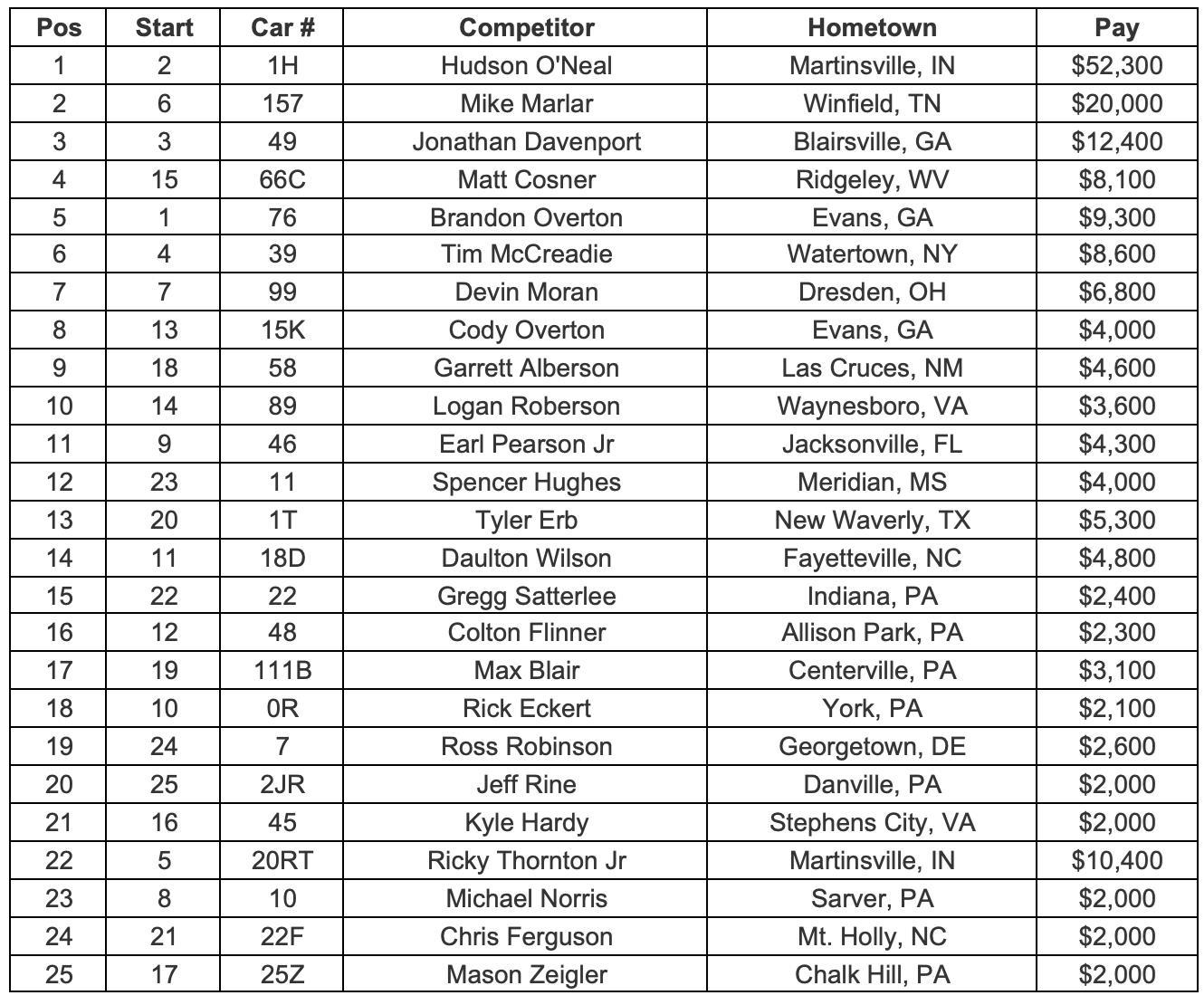 Race Statistics
Entrants: 52
Terminal Maintenance & Construction Pole Sitter: Brandon Overton
Lap Leaders: Brandon Overton (Laps 1-20); Jonathan Davenport (Laps 21-44); Hudson O'Neal (Laps 45-50)
Wieland Feature Winner: Hudson O'Neal
Arizona Sport Shirts Crown Jewel Cup Feature Winner: Hudson O'Neal
Brandon Ford TV Challenge Feature Winner: Hudson O'Neal
Margin of Victory: 1.808 seconds
Gorsuch Performance Solutions Cautions: Chris Ferguson, Mason Zeigler (Lap 27); Michael Norris (Lap 36); Ross Robinson (Lap 40); Rick Eckert (Lap 45)
Series Provisionals: Spencer Hughes; Ross Robinson
Fast Time Provisional: n/a
Series Emergency Provisionals: n/a
Track Provisional: Jeff Rine
Big River Steel Podium Top 3: Hudson O'Neal, Mike Marlar, Jonathan Davenport
Penske Shocks Top 5: Hudson O'Neal, Mike Marlar, Jonathan Davenport, Matt Cosner, Brandon Overton
Todd Steel Buildings Hard Charger of the Race: Matt Cosner (Advanced 11 Positions)
Wilwood Brakes Lucky 7th Place Feature: Devin Moran
Deatherage Opticians Lucky 13th Place Feature: Tyler Erb
Earnhardt Technologies Most Laps Led: Jonathan Davenport (24 Laps)
Sunoco Race for Gas Highest Finisher: Hudson O'Neal
Midwest Sheet Metal Spoiler Challenge Point Leader: Ricky Thornton, Jr.
O'Reilly Auto Parts Rookie of the Race: Max Blair
Etchberger Trucking Fastest Lap of the Race: Brandon Overton (Lap 1 – 19.677 seconds)
MD3 Tough Break of the Race: Ricky Thornton, Jr.
Outerwears Crew Chief of the Race: Danny White (Hudson O'Neal)
ARP Engine Builder of the Race: Durham Race Engines
Miller Welders Chassis Builder of the Race: Rocket Chassis
Dirt Draft Fastest in Hot Laps: Ricky Thornton, Jr. (18.365 seconds)
Time of Race: 36 minutes 12 seconds
The Big River Steel Chase for the Championship Presented by ARP Point Standings: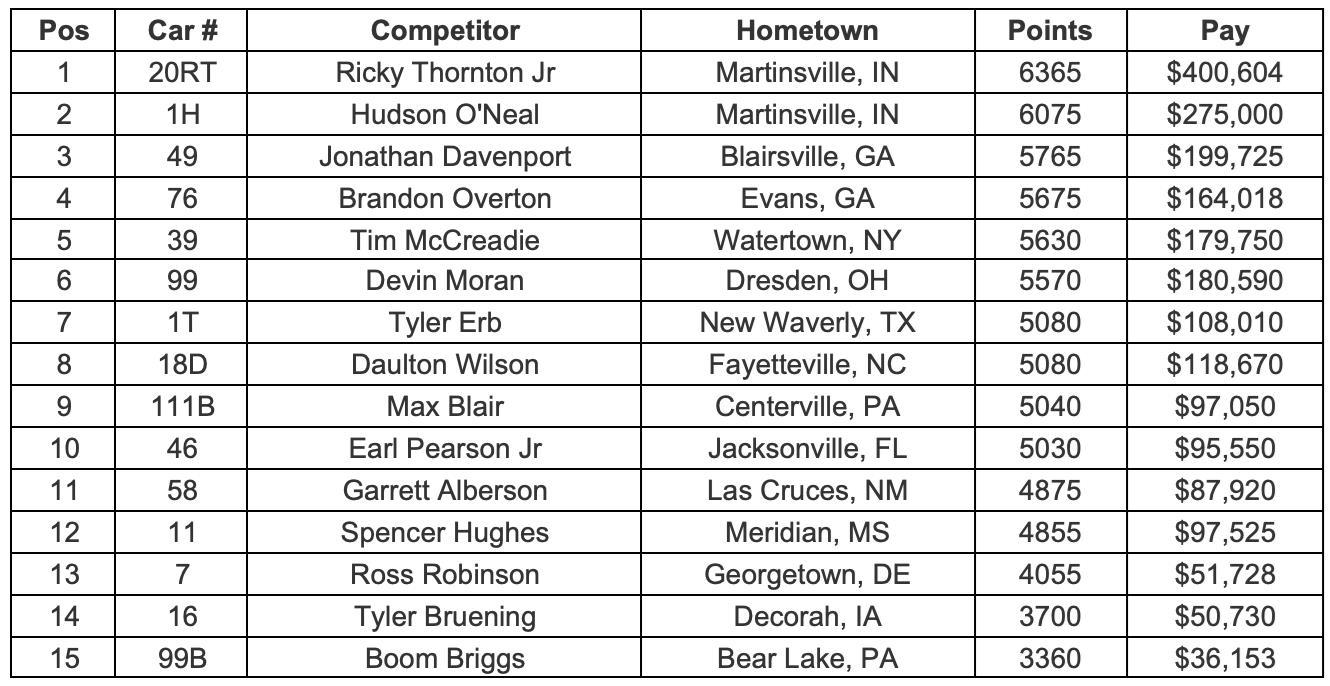 ---
Submitted By: Jeremy Shields
Back to News