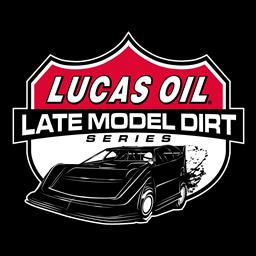 8/25/2023
Lucas Oil Late Model Dirt Series
---
Hudson O'Neal and Brandon Overton Sweep Friday Night Prelims at Port Royal
PORT ROYAL, PA (August 25, 2023) – Hudson O'Neal and Brandon Overton each won a 25-lap preliminary A-Main on Friday Night at Port Royal Speedway.
O'Neal led wire-to-wire in the first 25-lap main event for his fifth Lucas Oil Late Model Dirt Series win of the season. Rick Eckert, the current track points leader at Port Royal came from fifth to take second with current Lucas Oil Late Model Dirt Series points leader Ricky Thornton Jr. rounding out the Big River Steel Podium in third after he had started eighth. Cody Overton came home fourth followed by Tim McCreadie.
Brandon Overton was able to fend off the challenges of both Jonathan Davenport and Mike Marlar to win the second 25-lap main event. Michael Norris was fourth with Chris Ferguson rounding out the top five drivers in the nightcap.
O'Neal, who enters the weekend second the championship points standings behind Thornton set himself up for a good starting spot in Saturday's heat race. "I thought I was making a lot of time difference going to that top; there was a time there when a lapped car slowed way up in front of me and I just misjudged how much faster I was getting off the corner. I was happy to see no cautions out there. If we had a caution, it might have played out differently. We had a good race car all night long, it qualified good, and it heat raced good. It's refreshing to come out and get a win, it's been a long couple of months."
Eckert, a member of the National Dirt Late Model Hall-of-Fame came home in second-place behind O'Neal. "That second place was very important, we really haven't qualified well here all year. We heat race really good, and we hadn't feature raced very good. Mark Richards gave me some hints for the feature. It drove way better in the feature than I have been. I think our car is pretty close for tomorrow night's big race realistically until we got to heavy traffic I was coming back to Huddy, and he just manned up on that cushion and I am an old guy. I was trying not to do it and finally I guess I had no choice."
Thornton, who on Thursday Night at Georgetown Speedway rallied from sixth to win came from the outside of row four to finish third in the caution-free race. "In the grand scheme of things, you just wanted to run in the top six tonight in this feature to put yourself in a good position for tomorrow. I took off there and I didn't think I was going to be very good; I fell back to about tenth or so. I just started running a little harder and the car got a lot better. The biggest thing for me here is to try to pace, but not pace too much where you can't do anything early and get way behind."
O'Neal's Mark Richards Racing, Rocket Chassis is powered by a Durham Racing Engine and sponsored by Valvoline, Seubert Calf Ranches, Ace Metal Works, Petroff Towing, Rocket Pre-Owned Motors, Gunter's Honey, WR1 Sim Chassis, O'Neal's Salvage and Recycling, Sunoco Race Fuels, Integra Racing Shocks, and Performance Grading.
Completing the top ten in the first feature were Daulton Wilson, Ross Robinson, Earl Pearson Jr., Mason Zeigler, and Justin Kann.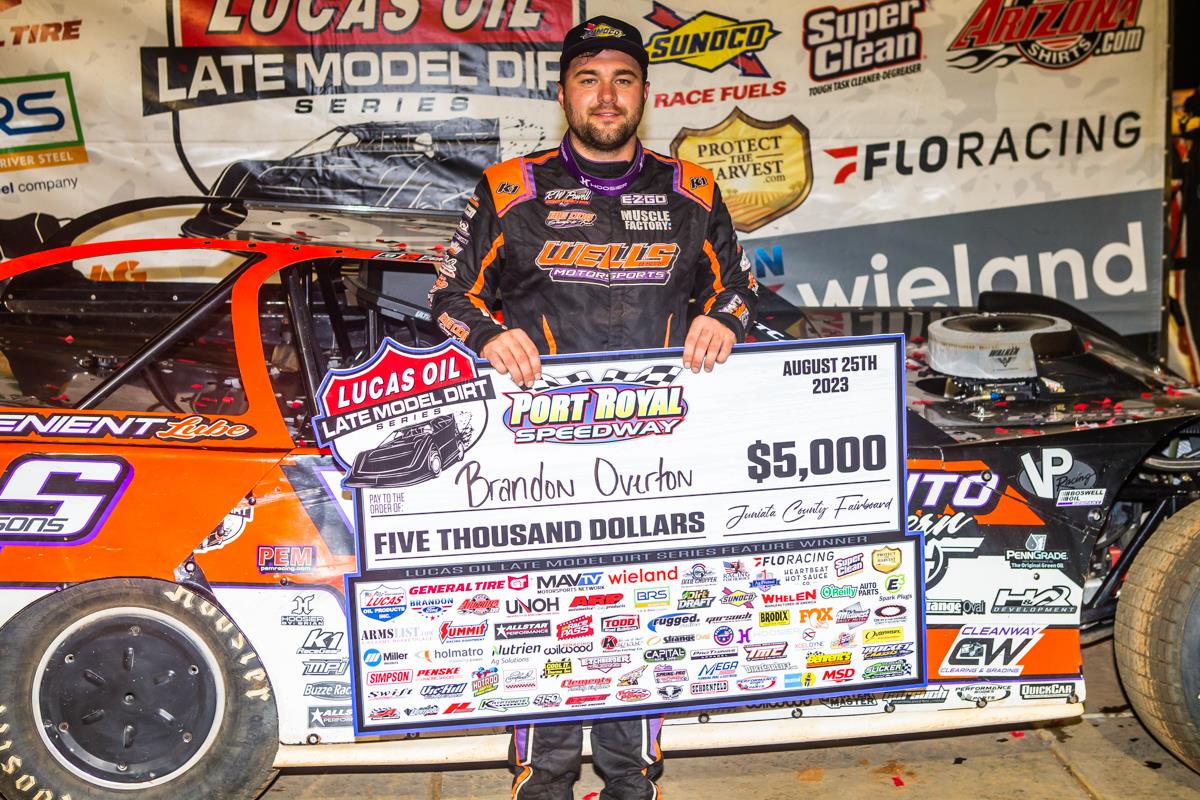 Brandon Overton got his first Lucas Oil Late Model Dirt Series win since January, but he had to work for this one. "It's about time something went my way. The caution come out as soon as JD [Davenport] passed me and let us get back out front. I might have not had the best car. I said the way we have been going it's like we'll take it and keep on working. I was starting to wonder whether I was going to win another race. He [Davenport] slid me so obviously I wasn't going into three hard enough. As soon as he passed me, he went to the top to try and protect. I just wasn't good no matter where I went. That's how it is sometimes."
Davenport gave Overton all he wanted for the lead as he came home in the runner-up spot. "It just wasn't meant for us to win tonight. We had a really good car; Brandon obviously was a little better than us through the middle. We just have to work on it to get it better for tomorrow night, but once the middle started dying the top starting coming in. I was driving pretty hard there and the caution came out and I then got squeezed on the back straightaway and I lost quite a bit of ground there. I just could never get the timing right when I would catch Brandon. I would catch him at the wrong part of the corner."
Marlar, who took third the previous night at Georgetown rounded out the Big River Steel Podium for the second night in a row. "I hit a hole wrong in three and got really sideways, luckily, we got it straightened up there. It was good racing there. We raced all over the racetrack. If not for those cautions, we would have been out there; it really would have been an awesome race. You could have thrown a blanket over the top three at the finish for sure."
Brandon Overton's Wells and Sons Motorsports, Longhorn Chassis is powered by a Clements Racing Engine and sponsored by Garnto Southern, Muscle Factory, Victory fuel Flavored Electrolyte Water, R.W. Powell Construction, Penske Racing Shocks, Convenient Lube, Dirt Mafia, Boswell Oil, H&A Development, EZ-GO, and Earnhardt Technologies.
Completing the top ten were Garrett Alberson, Devin Moran, Kyle Hardy, Colton Flinner, and Logan Roberson.
Lucas Oil Late Model Dirt Series
Race Summary
Rumble by the River - Prelim Night 1
Friday, August 25, 2023
Port Royal Speedway – Port Royal, PA
Allstar Performance Time Trials
Fast Time Group A: Hudson O'Neal | 18.110 seconds
Fast Time Group B: Brandon Overton | 18.007 seconds (overall)
Penske Shocks Heat Race #1 Finish (8 Laps, All Transfer): 1. 1H-Hudson O'Neal[1]; 2. 39-Tim McCreadie[5]; 3. 18D-Daulton Wilson[3]; 4. 66-Justin Kann[2]; 5. 06-Mike Lupfer[4]; 6. 4-Gary Stuhler[7]; 7. D19-Dillan Stake[6]; 8. 86-Austin Berry[8]; 9. 63-Nathan Long[9]
Summit Racing Products Heat Race #2 Finish (8 Laps, All Transfer): 1. 2-Dan Stone[2]; 2. 0R-Rick Eckert[3]; 3. 20RT-Ricky Thornton Jr[1]; 4. 11-Spencer Hughes[4]; 5. 2JR-Jeff Rine[5]; 6. 7-Ross Robinson[6]; 7. 24-Dylan Yoder[7]; 8. 32J-Shaun Jones[8]; 9. 10S-Dave Stamm[9]
Simpson Race Products Heat Race #3 Finish (8 Laps, All Transfer): 1. 15K-Cody Overton[1]; 2. 25Z-Mason Zeigler[3]; 3. 46-Earl Pearson Jr[2]; 4. 22-Gregg Satterlee[4]; 5. 66C-Matt Cosner[5]; 6. 2J-Justin Weaver[6]; 7. 11T-Trevor Collins[8]; 8. 93-Cory Lawler[7]
AP1 Insurance Heat Race #4 Finish (8 Laps, All Transfer): 1. 76-Brandon Overton[1]; 2. 157-Mike Marlar[3]; 3. 99-Devin Moran[4]; 4. 111B-Max Blair[5]; 5. 22F-Chris Ferguson[2]; 6. 9M-Hayes Mattern[6]; 7. 3-Timothy Wilson[7]; 8. 59-Chad Julius[8]; 9. EZ1-Ron Fink[9]
Lucas Oil Heat Race #5 Finish (8 Laps, All Transfer): 1. 49-Jonathan Davenport[1]; 2. 1T-Tyler Erb[2]; 3. 89-Logan Roberson[4]; 4. 48-Colton Flinner[7]; 5. 20-Trever Feathers[6]; 6. 2T-Kyle Lee[9]; 7. 21-Chad Myers[8]; 8. 58-Garrett Alberson[5]; 9. 0-Andrew Yoder[3]
Lucas Oil Heat Race #6 Finish (8 Laps, All Transfer): 1. 10-Michael Norris[1]; 2. 1Z-Logan Zarin[2]; 3. 7T-Drake Troutman[4]; 4. 45-Kyle Hardy[3]; 5. 119-Bryan Bernheisel[5]; 6. 32-Travis Stickley[7]; 7. 99B-Boom Briggs[6]; 8. 25K-Kody Lyter[8]
Rumble by the River Prelim Night 1 Group A Feature Finish (25 Laps):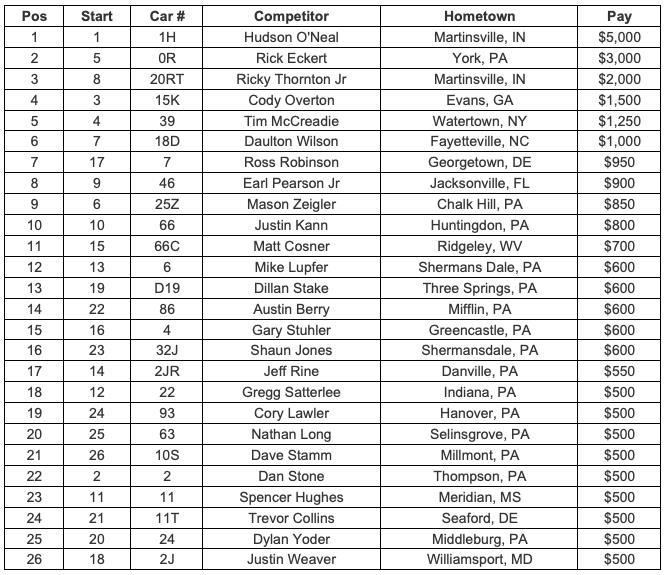 Rumble by the River Prelim Night 1 Group B Feature Finish (25 Laps):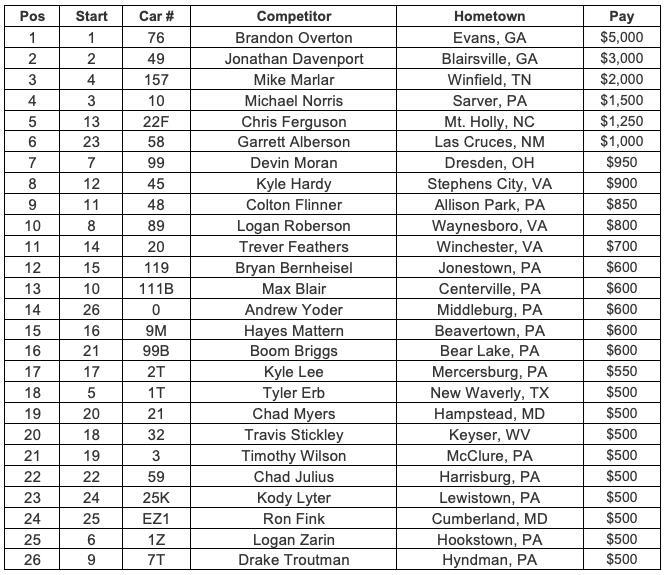 Race Statistics
Entrants: 61
Group A Terminal Maintenance & Construction Pole Sitter: Hudson O'Neal
Group B Terminal Maintenance & Construction Pole Sitter: Brandon Overton
Group A Lap Leaders: Hudson O'Neal (Laps 1-25)
Group B Lap Leaders: Brandon Overton (Laps 1-25)
Group A Wieland Feature Winner: Hudson O'Neal
Group B Wieland Feature Winner: Brandon Overton
Arizona Sport Shirts Crown Jewel Cup Feature Winner: n/a
Brandon Ford TV Challenge Feature Winner: n/a
Group A Margin of Victory: 4.182 seconds
Group B Margin of Victory: 0.338 seconds
Group A Gorsuch Performance Solutions Cautions: n/a
Group B Gorsuch Performance Solutions Cautions: Drake Troutman (Lap 12); Ron Fink (Lap 15)
Series Provisionals: n/a
Fast Time Provisional:?n/a
Series Emergency Provisionals: n/a
Track Provisional: n/a
Group A Big River Steel Podium Top 3: Hudson O'Neal, Rick Eckert, Ricky Thornton, Jr.
Group B Big River Steel Podium Top 3: Brandon Overton, Jonathan Davenport, Mike Marlar
Group A Penske Shocks Top 5: Hudson O'Neal, Rick Eckert, Ricky Thornton, Jr., Cody Overton, Tim McCreadie
Group B Penske Shocks Top 5: Brandon Overton, Jonathan Davenport, Mike Marlar, Michael Norris, Chris Ferguson
Group A Todd Steel Buildings Hard Charger of the Race: Ross Robinson (Advanced 10 Positions)
Group B Todd Steel Buildings Hard Charger of the Race: Garrett Alberson (Advanced 17 Positions)
Group A Wilwood Brakes Lucky 7th Place Feature: Ross Robinson
Group B Wilwood Brakes Lucky 7th Place Feature: Devin Moran
Group A Deatherage Opticians Lucky 13th Place Feature: Dillan Stake
Group B Deatherage Opticians Lucky 13th Place Feature: Max Blair
Group A Earnhardt Technologies Most Laps Led: Hudson O'Neal (25 Laps)
Group B Earnhardt Technologies Most Laps Led: Brandon Overton (25 Laps)
Group A Sunoco Race for Gas Highest Finisher: Hudson O'Neal
Group A Sunoco Race for Gas Highest Finisher: Garrett Alberson
Midwest Sheet Metal Spoiler Challenge Point Leader: Ricky Thornton, Jr.
O'Reilly Auto Parts Rookie of the Race: n/a
Group A Etchberger Trucking Fastest Lap of the Race: Hudson O'Neal (Lap 2 – 19.194 seconds)
Group B Etchberger Trucking Fastest Lap of the Race: Brandon Overton (Lap 1 – 19.490 seconds)
Group A MD3 Tough Break of the Race: Austin Berry
Group B MD3 Tough Break of the Race: Drake Troutman
Group A Outerwears Crew Chief of the Race: Danny White (Hudson O'Neal)
Group B Outerwears Crew Chief of the Race: Kent Fegter (Brandon Overton)
Group A ARP Engine Builder of the Race: Durham Race Engines
Group B ARP Engine Builder of the Race: Clements Racing Engines
Group A Miller Welders Chassis Builder of the Race: Rocket Chassis
Group B Miller Welders Chassis Builder of the Race: Longhorn Chassis
Dirt Draft?Fastest in Hot Laps: Mike Marlar (17.822 seconds)
Group A Time of Race: 10 minutes 04 seconds
Group B Time of Race: 19 minutes 14 seconds
Rumble by the River Saturday Line-Ups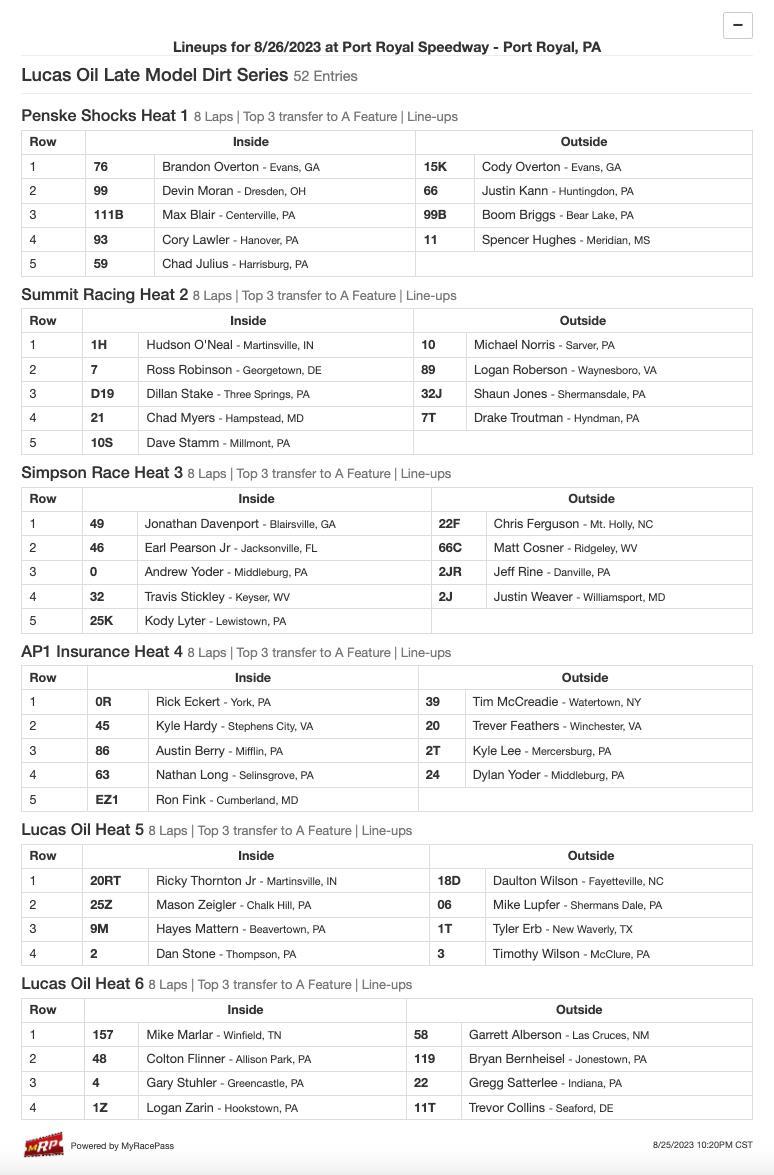 Rumble by the River Preliminary Points

---
Submitted By: Jeremy Shields
Article Media
Back to News