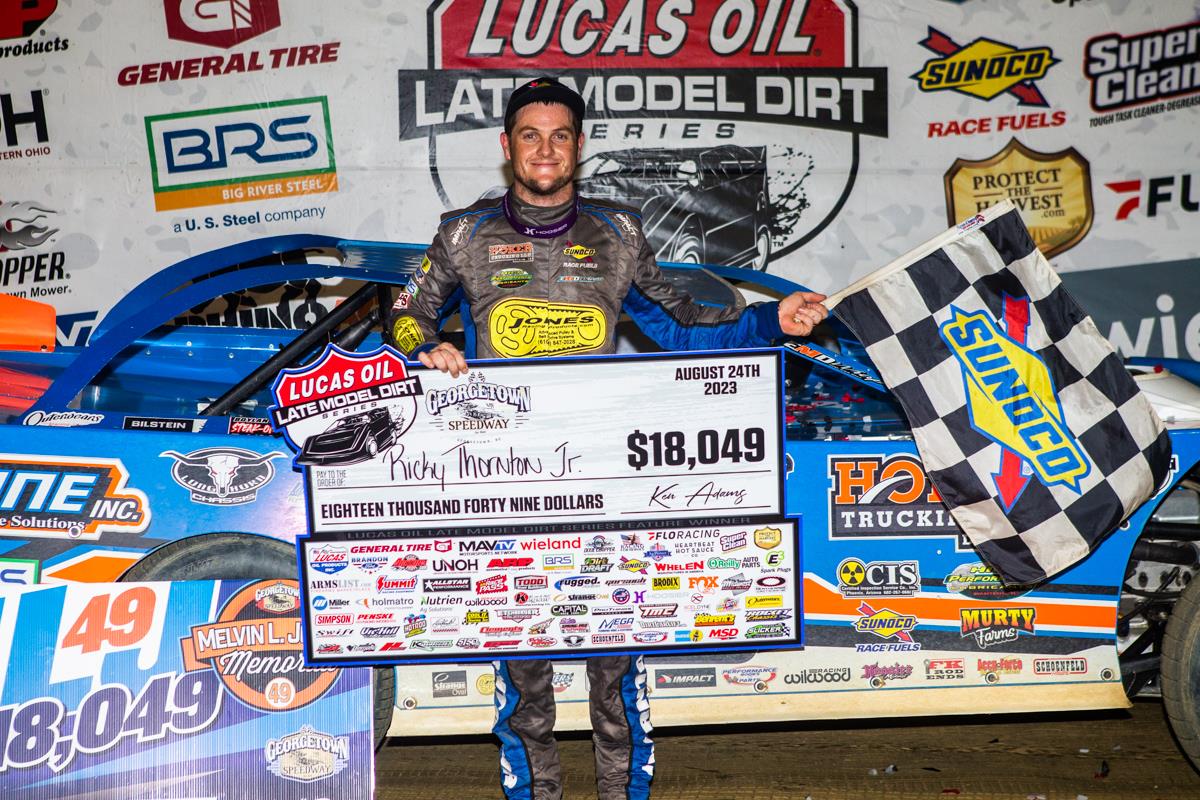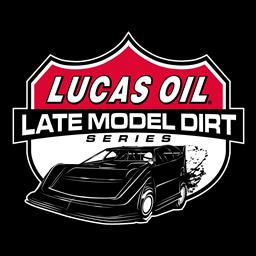 8/24/2023
Lucas Oil Late Model Dirt Series
---
Thornton Jr. Claims Record-Setting 16th Lucas Dirt Win of 2023 at Georgetown
GEORGETOWN, DE (August 24, 2023) – Ricky Thornton Jr. rallied from sixth after a lap 35 restart - storming to the lead on lap 41 and leading the rest of the way to pick up his record-setting 16th Lucas Oil Late Model Dirt Series win of the 2023 season on Thursday at Georgetown Speedway.
It was the Lucas Oil Late Model Dirt Series' first-ever visit to the 1/2-mile oval to honor the late Melvin L. Joseph who built the track in 1949.
Thornton's victory broke a tie with Scott Bloomquist, who had previously set the single season record for wins in 2016 with 15. Brandon Overton, who led laps 18 through 40 finished in second with Mike Marlar completing the Big River Steel Podium in third. Tyler Erb was fourth and early race leader Garrett Alberson rounded out the top five. Alberson had led the first 17 laps of the race.
Thornton, who started fourth on the grid and ran outside the top five for several laps blasted through the field in the final 14 circuits to win the 49-lap race. "I really didn't know how I did it. I started running the top down there in three and four and I felt like I could run with those guys in front of me. I didn't know if I needed to restart on the top or the bottom. I was kind of glad I restarted on the bottom. I got a good start, and I was able to get by a couple of cars down in one and two and then we got to third. I didn't know if those guys knew I was up there. I kind of just rolled around the outside of them and once I was out in front, I really didn't know what to do. I ran as hard as I could."
Overton, who was looking for his first Lucas Oil Late Model Dirt Series win since January almost completed the clean sweep for the night but came home in second. "Honestly it shouldn't be, but it's awesome to be up there. Obviously, we want to win, and our team is plenty capable of winning. We've got great car owners that get us everything we need; things just haven't been going our way. We have been struggling here lately you know just everything going wrong."
Marlar, who was in the hunt the entire race came home in third. "It was a really fun racetrack. I would like to thank all of the fans for sticking it out during those rain delays. It was a long night for sure. I think it worked out for everybody. Congrats to Ricky, he is just so fast. I thought Overton and I were having a really good race until he [Thornton] came along. I almost got the lead there a couple of times and I felt like I was going to get it and those cautions came out. The cautions didn't play in my favor, but that's just how it goes sometimes."
The winner's Todd and Vickie Burns-owned, SSI Motorsports, Longhorn Chassis is powered by a Clements Racing Engine and sponsored by Big River Steel, Hoker Trucking, Coltman Farms, Sub-Surface of Indiana, Dyno One, Inc., West Side Tractor Sales Company, D&E Outside Services, Certified Inspection Service Company, inc., Midwest Sheet Metal, Sunoco Race Fuels, Bilstein Shocks, Excel Floor Covering, and Murty Farms.
Completing the top ten were Devin Moran, Tim McCreadie, Gregg Satterlee, Hudson O'Neal, and Jonathan Davenport.
Lucas Oil Late Model Dirt Series
Race Summary
The Melvin L. Joseph Memorial
Thursday, August 24, 2023
Georgetown Speedway – Georgetown, DE
Allstar Performance Time Trials
Fast Time Group A: Brandon Overton | 17.117 seconds (overall)
Fast Time Group B: Garrett Alberson | 17.201 seconds
Penske Shocks Heat Race #1 Finish (8 Laps, Top 4 Transfer): 1. 76-Brandon Overton[1]; 2. 1T-Tyler Erb[2]; 3. 18D-Daulton Wilson[3]; 4. 1H-Hudson O'Neal[5]; 5. 49-Jonathan Davenport[4]; 6. 0-Rick Eckert[7]; 7. 11T-Trevor Collins[6]; 8. 41-Ross Chastain[8]
Summit Racing Products Heat Race #2 Finish (8 Laps, Top 4 Transfer): 1. 157-Mike Marlar[1]; 2. 111B-Max Blair[2]; 3. 39-Tim McCreadie[4]; 4. 66C-Matt Cosner[3]; 5. 46-Earl Pearson Jr[5]; 6. 99B-Boom Briggs[7]; 7. 15K-Cody Overton[6]
Simpson Race Products Heat Race #3 Finish (8 Laps, Top 4 Transfer): 1. 58-Garrett Alberson[1]; 2. 22-Gregg Satterlee[2]; 3. 45-Kyle Hardy[4]; 4. 11-Spencer Hughes[3]; 5. 92-Nick Davis[6]; 6. 2-Dan Stone[5]; 7. KB-Kerry King[7]; 8. (DNS) 41M-Matt Sheppard
AP1 Insurance Heat Race #4 Finish (8 Laps, Top 4 Transfer): 1. 20RT-Ricky Thornton Jr[1]; 2. 99-Devin Moran[2]; 3. 7T-Drake Troutman[3]; 4. 55L-Donald Lingo Jr[5]; 5. 7-Ross Robinson[4]; 6. 93-Cory Lawler[6]; 7. (DNS) 4S-Danny Snyder
Fast Shafts B-Main Race #1 Finish (10 Laps, Top 6 Transfer): 1. 49-Jonathan Davenport[1]; 2. 46-Earl Pearson Jr[3]; 3. 7-Ross Robinson[4]; 4. 0-Rick Eckert[5]; 5. 11T-Trevor Collins[9]; 6. 2-Dan Stone[6]; 7. 15K-Cody Overton[11]; 8. 92-Nick Davis[2]; 9. 93-Cory Lawler[8]; 10. 99B-Boom Briggs[7]; 11. KB-Kerry King[10]; 12. 41M-Matt Sheppard[12]
The Melvin L. Joseph Memorial Feature Finish (49 Laps):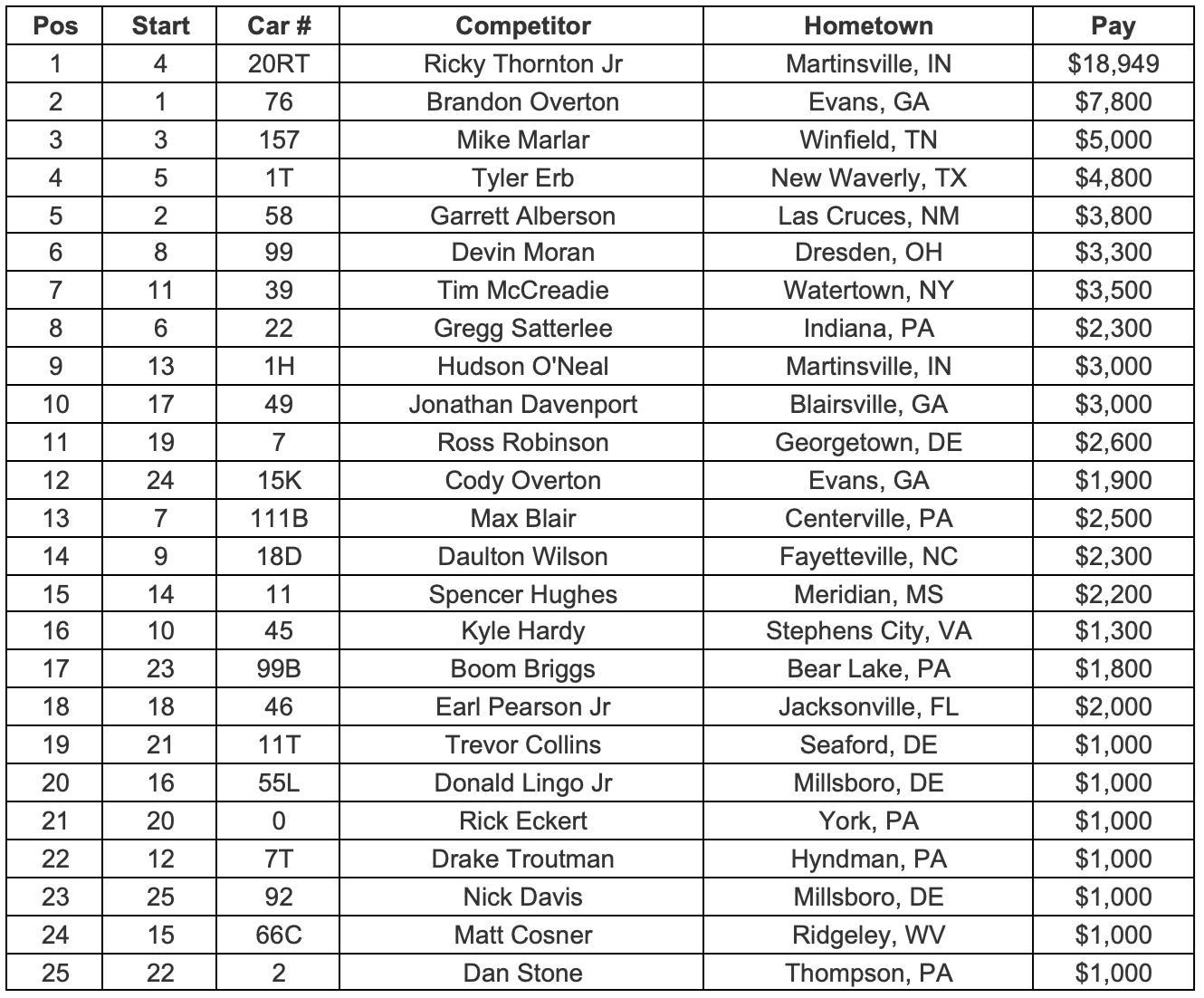 Race Statistics
Entrants: 30
Terminal Maintenance & Construction Pole Sitter: Brandon Overton
Lap Leaders: Garrett Alberson (Laps 1-17); Brandon Overton (Laps 18-40); Ricky Thornton, Jr. (Laps 41-49)
Wieland Feature Winner: Ricky Thornton, Jr.
Arizona Sport Shirts Crown Jewel Cup Feature Winner: n/a
Brandon Ford TV Challenge Feature Winner: n/a
Margin of Victory: 0.303 seconds
Gorsuch Performance Solutions Cautions: Matt Cosner (Lap 10); Nick Davis (Lap 15); Drake Troutman (Lap 17); Earl Pearson, Jr. (Lap 26); Hudson O'Neal (Lap 35)
Series Provisionals: Boom Briggs
Fast Time Provisional:?Cody Overton
Series Emergency Provisionals: n/a
Track Provisional: Nick Davis
Big River Steel Podium Top 3: Ricky Thornton, Jr., Brandon Overton, Mike Marlar
Penske Shocks Top 5: Ricky Thornton, Jr., Brandon Overton, Mike Marlar, Tyler Erb, Garrett Alberson
Todd Steel Buildings Hard Charger of the Race: Cody Overton (Advanced 12 Positions)
Wilwood Brakes Lucky 7th Place Feature: Tim McCreadie
Deatherage Opticians Lucky 13th Place Feature: Max Blair
Earnhardt Technologies Most Laps Led: Brandon Overton (23 Laps)
Sunoco Race for Gas Highest Finisher: Ricky Thornton, Jr.
Midwest Sheet Metal Spoiler Challenge Point Leader: Ricky Thornton, Jr.
O'Reilly Auto Parts Rookie of the Race: Max Blair
Etchberger Trucking Fastest Lap of the Race: Mike Marlar (Lap 12 – 17.624 seconds)
MD3 Tough Break of the Race: Hudson O'Neal
Outerwears Crew Chief of the Race: Anthony Burroughs (Ricky Thornton, Jr.)
ARP Engine Builder of the Race: Clements Race Engines
Miller Welders Chassis Builder of the Race: Longhorn Chassis
Dirt Draft?Fastest in Hot Laps: Ricky Thornton, Jr. (17.226 seconds)
Time of Race: 26 minutes 46 seconds
The Big River Steel Chase for the Championship Presented by ARP Point Standings: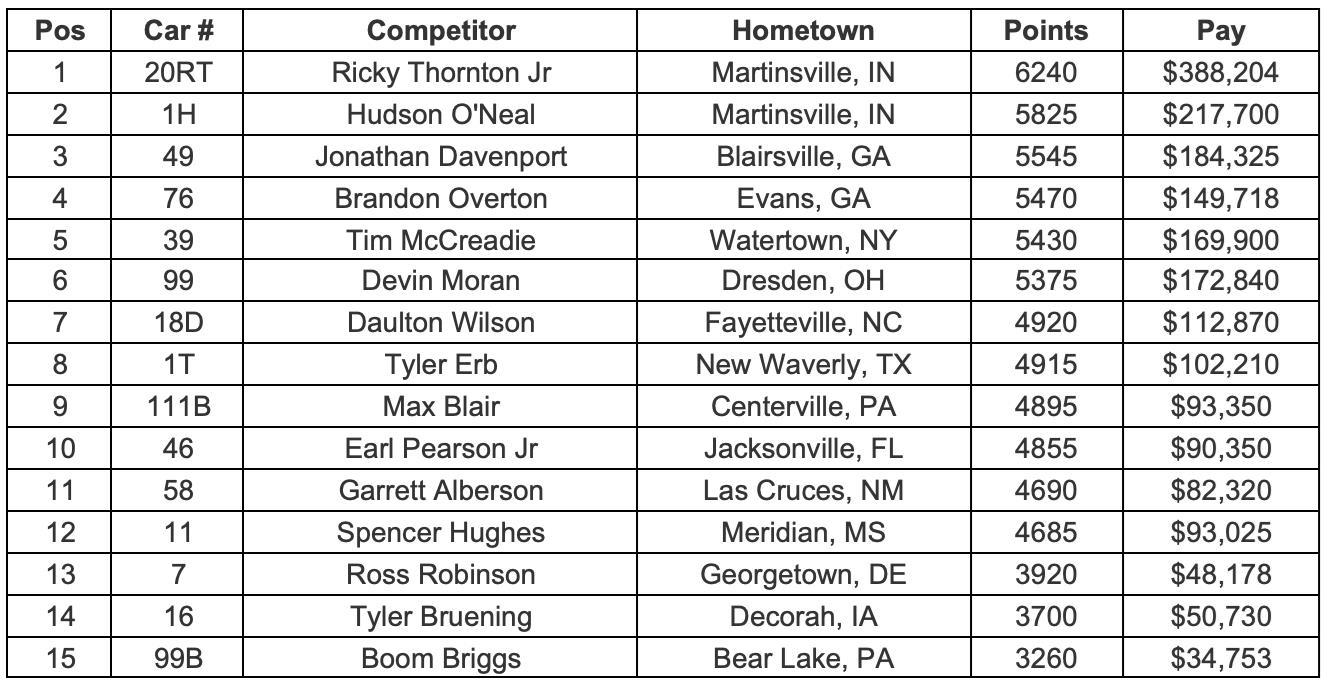 ---
Submitted By: Jeremy Shields
Back to News