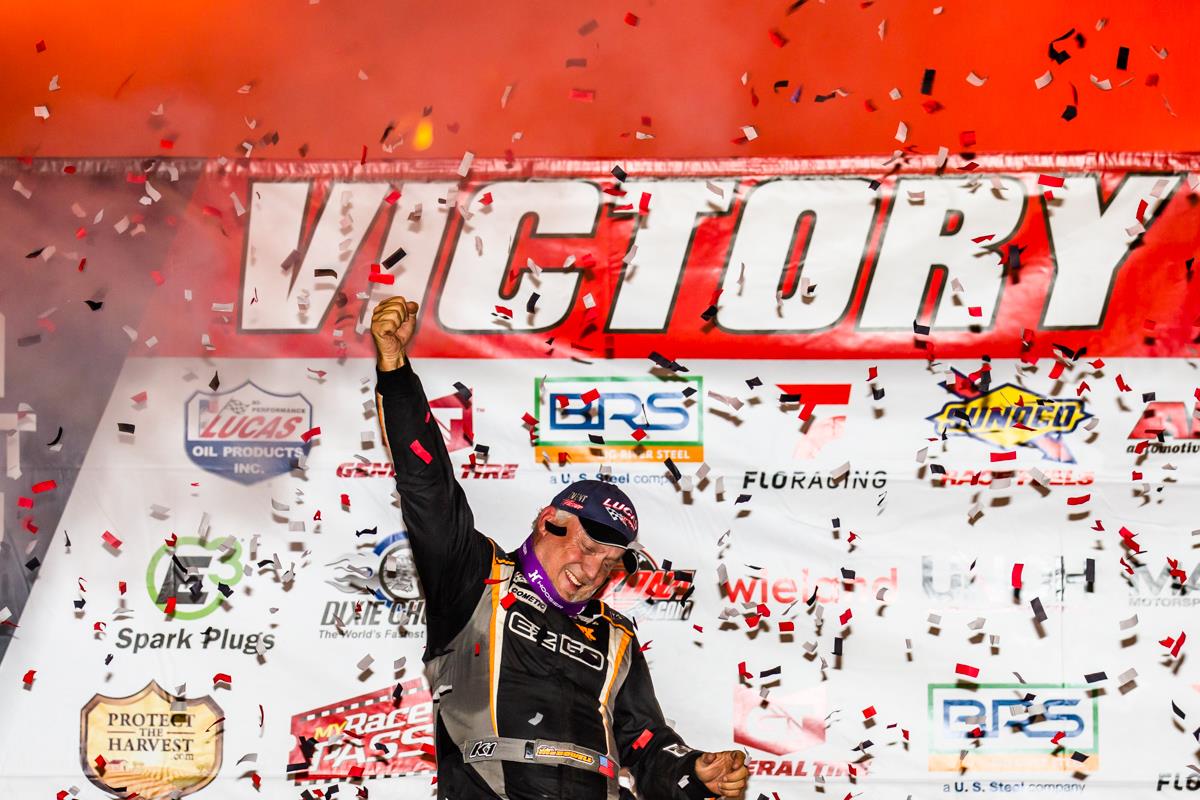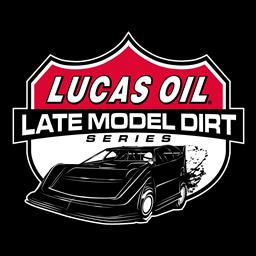 8/19/2023
Lucas Oil Late Model Dirt Series
---
Dale McDowell Earns Second Career COMP Cams Topless 100 at Batesville
LOCUST GROVE, AR (August 19, 2023) – It took Dale McDowell 19 years to pick up his second career COMP Cams Topless 100 - Presented by Nutrien Ag Solutions on Saturday Night at Batesville Motor Speedway.
The 57-year-old Chickamauga, Georgia resident who first won the crown jewel in 2004 led the final 66 laps to score the $50,000 victory in the Lucas Oil Late Model Dirt Series and COMP Cams Super Dirt Series co-sanctioned event.
In a race that saw three different leaders, McDowell had to hold off Jonathan Davenport to become the 17th different winner this year on the Lucas Oil Late Model Dirt Series. Davenport, bidding to become the first driver in the 31-year history of the race to win in back-to-back years finished 0.303 seconds behind his fellow Georgian at the finish. Ricky Thornton Jr. who led the first lap of the race rounded out the Big River Steel Podium in third. Rounding out the top five were Devin Moran and Tim McCreadie.
McDowell in Lucas Oil Victory Lane for the tenth time in his career climbed from his topless entry before loud cheers from the packed grandstand. "My brother Shane made some awful good adjustments. First off, I need to thank the Good Lord above for allowing me to get through my health issues a couple of years ago and get back and do this. Thank goodness it wasn't my time to get out of the sport. What a race and what a crowd here for us. To come here and see this crowd I don't think I've ever seen this big of a crowd here. It's awesome I want to thank you race fans for supporting this event and everybody it takes to put on this race. Thank you."
After Thornton had led the opening lap, Davenport then took command until lap 35 when McDowell, who started fourth moved into the lead, which he never relinquished. "Those guys [Thornton and Davenport] were running a lane up, I could run up to them and maintain, but I was little tight. So, I knew I was going to have to figure out what I needed to do to get a clear line. The car started rotating good and lapped traffic was very, very hairy you didn't know where to go to root, gouge, you didn't know what to do. But everything worked out."
Davenport, the defending race winner made one last stab on the final lap on McDowell but fell short of repeating his victory in 2022. "I call him [McDowell] the Silver Fox. We were almost perfect that's what Timmy [McCreadie] and I were talking about down here when we started off right there. We just got too tight. It was slick through one and two. We came up one spot short. I thought I seen two to go and I never looked for the white flag. I thought I could catch him at the perfect time so he couldn't hear my motor and as soon as I caught him there, I thought I saw the checkered I thought I had waited too long so I blasted it off in there anyway, but one lap was not enough."
Thornton who was looking for his first career win in the crown jewel event finished third. "Dale [McDowell] was really good congrats to him, his stuff was a little better once he got to traffic than a lot of us. He could get really close to a guy and still be able to maneuver, where like JD and me when we got close to someone you had to depend on that guy to miss his line. All-in all it was a good weekend for us."
The winner's Shane McDowell Racing, Team Zero Race Car is powered by a Clements Racing Engine and sponsored by EZ-Go, Cometic Gasket, Klotz Synthetic Lubricants, Connected Strategy Advisors, Northeastern Fabrication, S&H Systems, Fox Shox, BSI Well Service, Black Rock Enterprises LLC, Campbell Insulation, and M&S Motors.
Completing the top ten were Hudson O'Neal, Stormy Scott, Earl Pearson Jr., Brandon Overton, and Cade Dillard.
Lucas Oil Late Model Dirt Series
Race Summary
31st Annual COMP Cams Topless 100 - Presented by Nutrien Ag Solutions
Saturday, August 19, 2023
Batesville Motor Speedway – Batesville, AR
Fast Shafts B-Main Race #1 Finish (15 Laps, Top 3 Transfer): 1. 76-Brandon Overton[2]; 2. 12C-Scott Crigler[3]; 3. 1S-Jeremy Shaw[5]; 4. 14M-Morgan Bagley[1]; 5. 111B-Max Blair[8]; 6. 5X-Jon Mitchell[6]; 7. 45-Cole Wells[14]; 8. 22-Daniel Hilsabeck[7]; 9. 99H-Todd Hall[9]; 10. 93-Mason Oberkramer[4]; 11. 56-Jonathan Rowan[13]; 12. 15-Clayton Stuckey[12]; 13. 7P-David Payne[11]; 14. 78-Henry Gustavas[17]; 15. 3K-Tanner Kellick[19]; 16. 12-Jamie Elam[15]; 17. 601-Curtis Cook[10]; 18. USA1-Chris Hawkins[16]; 19. 13N-Derrick Nichols[18]
UNOH B-Main Race #2 Finish (15 Laps, Top 3 Transfer): 1. 1T-Tyler Erb[3]; 2. 36-Logan Martin[1]; 3. 1R-BJ Robinson[5]; 4. 86-Kyle Beard[8]; 5. 90-Brian Rickman[4]; 6. 17-Jarret Stuckey[6]; 7. 2X-Kris Lloyd[7]; 8. 7-Ross Robinson[13]; 9. 99B-Boom Briggs[9]; 10. USA28-Kylan Garner[12]; 11. 11K-Jon Kirby[10]; 12. 17T-Jeremy Tharp[15]; 13. 19-Jamie Burford[11]; 14. 29-Chandler Moenning[17]; 15. B17-Brandon Ball[14]; 16. 26-Glen Powell[16]; 17. 48-Mike Myers[18]; 18. 21M-Billy Moyer Jr[2]
COMP Cams Topless 100 - Presented by Nutrien Ag Solutions Feature Finish (100 Laps):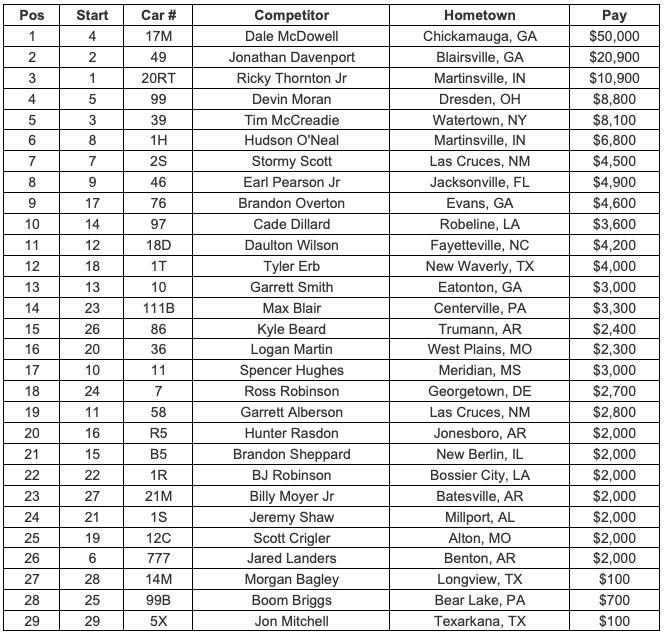 Race Statistics
Entrants: 64
Terminal Maintenance & Construction Pole Sitter: Ricky Thornton, Jr.
Lap Leaders: Ricky Thornton, Jr. (Lap 1); Jonathan Davenport (Laps 2-34); Dale McDowelll (Laps 35-100)
Wieland Feature Winner: Dale McDowell
Arizona Sport Shirts Crown Jewel Cup Feature Winner: Dale McDowell
Brandon Ford TV Challenge Feature Winner: n/a
Margin of Victory: 0.303 seconds
Gorsuch Performance Solutions Cautions: Brandon Sheppard (Lap 27); Spencer Hughes (Laps 67); Jeremy Shaw (Lap 88)
Series Provisionals: Max Blair; Ross Robinson
Fast Time Provisional:?n/a
Series Emergency Provisionals: Boom Briggs
CCSDS Series Provisionals: Kyle Beard; Billy Moyer, Jr.
CCSDS Emergency Provisionals: Morgan Bagley; Jon Mitchell
Track Provisional: n/a
Big River Steel Podium Top 3: Dale McDowell, Jonathan Davenport, Ricky Thornton, Jr.
Penske Shocks Top 5: Dale McDowell, Jonathan Davenport, Ricky Thornton, Jr., Devin Moran, Tim McCreadie
Todd Steel Buildings Hard Charger of the Race: Kyle Beard (Advanced 11 Positions)
Wilwood Brakes Lucky 7th Place Feature: Stormy Scott
Deatherage Opticians Lucky 13th Place Feature: Garrett Smith
Earnhardt Technologies Most Laps Led: Dale McDowell (66 Laps)
Sunoco Race for Gas Highest Finisher: Ricky Thornton, Jr.
Midwest Sheet Metal Spoiler Challenge Point Leader: Ricky Thornton, Jr.
O'Reilly Auto Parts Rookie of the Race: Max Blair
Etchberger Trucking Fastest Lap of the Race: Dale McDowell (Lap 92 – 15.124 seconds)
MD3 Tough Break of the Race: Brandon Sheppard
Outerwears Crew Chief of the Race: Shane McDowell (Dale McDowell)
ARP Engine Builder of the Race: Clements Racing Engines
Miller Welders Chassis Builder of the Race: Team Zero Race Cars
Dirt Draft?Fastest in Hot Laps: Max Blair (14.228 seconds)
Time of Race: 37 minutes 21 seconds
The Big River Steel Chase for the Championship Presented by ARP Point Standings: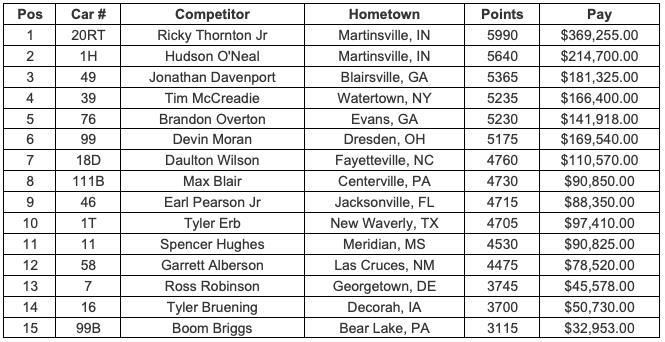 ---
Submitted By: Jeremy Shields
Back to News