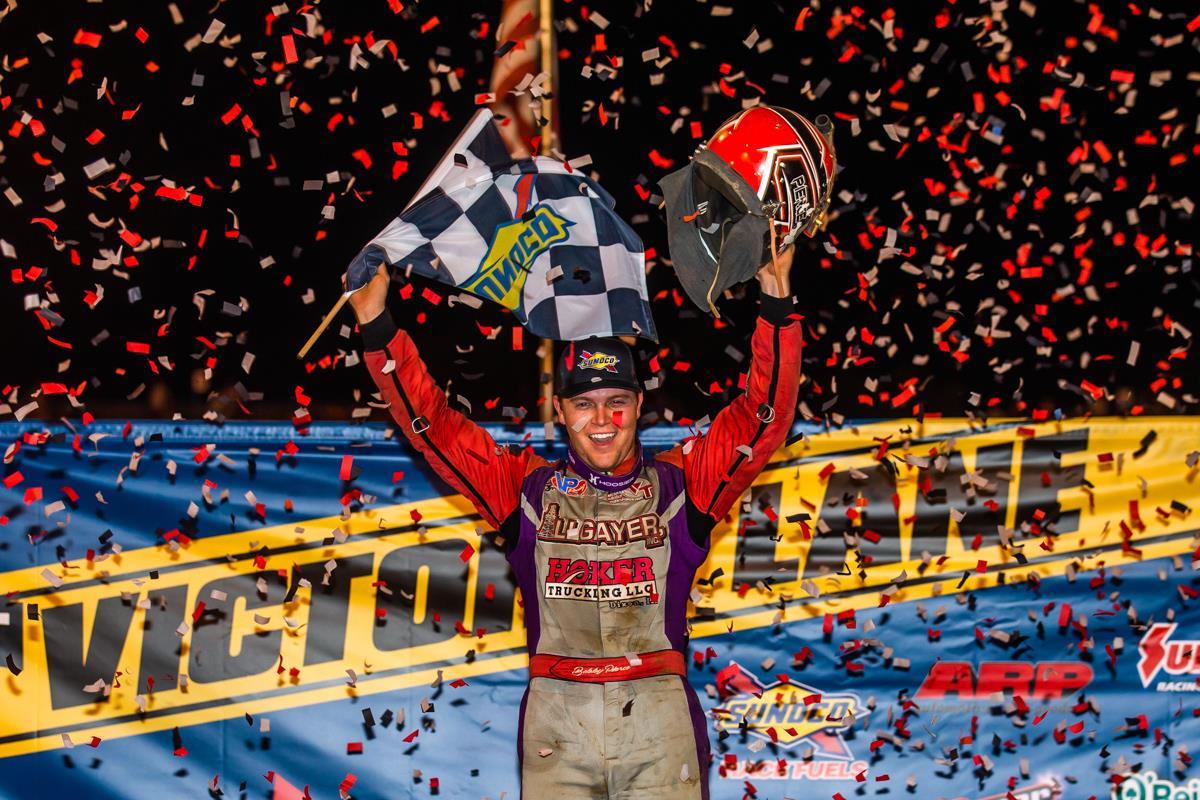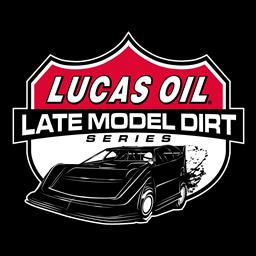 8/12/2023
Lucas Oil Late Model Dirt Series
---
Pierce Wins Second Career Sunoco North/South 100 at Florence
UNION, Ky. (August 12, 2023) – Bobby Pierce led the final ten laps of a thriller at Florence Speedway - pulling away from Ricky Thornton Jr. to win his second career Sunoco North/South 100 - Presented by Lucas Oil. Pierce's fifth Lucas Oil Late Model Dirt Series win of the season was worth $75,000.
Pierce, who started 13th on the grid was the fifth different leader of the race as he withstood a battle with Thornton, who had started 23rd. Thornton led laps 88 and 89 after taking the lead from Pierce who was out in front on laps 81-87.
Hudson O'Neal who led a race high 59 circuits finished in third followed by Jonathan Davenport and Daulton Wilson.
Spencer Hughes led the opening lap before yielding the point to three-time North/South 100 winner Jimmy Owens. Owens led 21 laps until O'Neal got by him on lap 23 to become the third different leader in the first quarter of the race. O'Neal would hold down the race lead until lap 81 when Pierce took over the top spot for the first time.
A poor restart with 13 laps to go nearly cost Pierce the victory, but he recovered from a side-by-side duel with Thornton and went on to win by just over 2 seconds at the finish.
"Oh man I stepped on it good there on that restart. I thought the top would be great on exit, but I spun the wheels. I would have never had to dirty Ricky up if I hadn't done that. I've got to apologize to him. I wasn't quite clear, but I didn't really complete the slider we just got side-by-side there and drag raced down the frontstretch and I had to work for that one. It was tough," said the 26-year-old Oakwood, Illinois driver who collectively earned $85,000 for his North/South 100 weekend success.
"Once he [Thornton] got by me I thought that was it. I didn't know if the top was still left in turn one, that's what let me get that bite. The tires were perfect my crew said and to go 100 laps as hard as I was racing it. It is just an awesome car that I get to drive. We knew heading into it about the heat race invert. I think what they did earlier with the heat races made for a great racetrack for the feature. The racetrack was perfect for the feature. It made for a heck of a show. I didn't think the top was going to be like that. I thought it was going to be on the bottom," Pierce added.
Thornton's stirring run nearly earned him his first North/South 100 victory. "We will move on and put that one in the memory bank. Congrats to him [Pierce]. He ran a good race. You could tell he was riding in second behind Hud and once I showed my nose, he made sure to get by him [O'Neal]. Once I got by Hud I tried to run him [Pierce] as hard as I could without knocking the fence down. Seems like in a lot of races here lately it gets a big curb against the wall. I think without that we might have had a really good car."
O'Neal, whose father Don won the crown jewel twice in his career, rounded out the Big River Steel Podium in third. "I just got a little too tight right there at the end. Really, in the middle of the the race I was tight against the cushion as well. All-in-all we had a good run. We made progress during the weekend. I am looking forward to going to Batesville next week. I am looking forward to going back to the race shop and re-grouping after a long couple of months on the road."
The winner's Bobby Pierce Racing LLC, Longhorn Chassis is powered by a Vic Hill Racing Engine and sponsored by Hoker Trucking, Fast 1 Speed Shop, Mesilla Valley Transportation, Rio Grande Waste Services, Bloomington-Normal Truck Performance, PureMax Racing Oil, A-Plus Vacuum, Toyota of Danville, Leka Tree Service, Carnaghi Towing and Repair, Bilstein Shocks, VP Fuels, ted Brown's Quality Paint and Body, Extreme Electric and Cajun Pools.
Completing the top ten were Chris Ferguson, Earl Pearson Jr., Devin Moran, Max Blair, and Kyle Bronson.
Lucas Oil Late Model Dirt Series
Race Summary
41st Annual Sunoco North/South 100 Presented by Lucas Oil
Saturday, August 12, 2023
Florence Speedway – Union, KY
Dirt Draft?Fastest in Hot Laps: Jonathan Davenport (15.924 seconds)
Penske Shocks Heat Race #1 Finish (10 Laps, Top 3 Transfer): 1. 20-Jimmy Owens[2]; 2. 40B-Kyle Bronson[3]; 3. 32-Bobby Pierce[4]; 4. 3S-Brian Shirley[7]; 5. 16-Tyler Bruening[1]; 6. H22-Brandon Hardgrove[9]; 7. 66JR-Eddie Carrier Jr[6]; 8. 12-Jason Jameson[8]; 9. 58-Garrett Alberson[5]; 10. 99J-Donnie Jeschke[10]
Summit Racing Products Heat Race #2 Finish (10 Laps, Top 3 Transfer): 1. 11-Spencer Hughes[2]; 2. 10-Garrett Smith[1]; 3. 99-Devin Moran[5]; 4. 20RT-Ricky Thornton Jr[3]; 5. 8K-Kyle Strickler[6]; 6. 157-Mike Marlar[4]; 7. 15-James Rice[8]; 8. 7R-Kent Robinson[7]; 9. 33AJ-Austin Lay[9]; 10. (DNS) 8A-Curt Addison
Simpson Race Products Heat Race #3 Finish (10 Laps, Top 3 Transfer): 1. 1H-Hudson O'Neal[2]; 2. 19R-Ryan Gustin[4]; 3. 18D-Daulton Wilson[3]; 4. 97-Michael Chilton[1]; 5. 99B-Boom Briggs[9]; 6. 79-Donald McIntosh[5]; 7. 5N-Dustin Nobbe[8]; 8. 33-Jesse Lay[10]; 9. 33H-Mike Harrison[7]; 10. 31AUS-Kye Blight[6]
AP1 Insurance Heat Race #4 Finish (10 Laps, Top 3 Transfer): 1. 17M-Dale McDowell[1]; 2. 22F-Chris Ferguson[3]; 3. 49-Jonathan Davenport[4]; 4. 46-Earl Pearson Jr[2]; 5. 68-Adam Stricker[5]; 6. 1V-Vic Hill[7]; 7. 222-David Breazeale[6]; 8. 317-Blake Creech[9]; 9. 4G-Kody Evans[8]; 10. (DNS) 3:16-Mike Bargo
Lucas Oil Heat Race #5 Finish (10 Laps, Top 3 Transfer): 1. 11R-Josh Rice[2]; 2. 76-Brandon Overton[3]; 3. 111B-Max Blair[1]; 4. 66C-Matt Cosner[4]; 5. 7-Ross Robinson[6]; 6. 22C-Brent Cornette[10]; 7. 1Z-Logan Zarin[9]; 8. 54-Dane Dacus[8]; 9. 89-Logan Roberson[5]; 10. 12D-Doug Drown[7]
Lucas Oil Heat Race #6 Finish (10 Laps, Top 3 Transfer): 1. 23-Cory Hedgecock[4]; 2. 2S-Stormy Scott[2]; 3. 21H-Robby Hensley[6]; 4. 20TC-Tristan Chamberlain[9]; 5. 39-Tim McCreadie[3]; 6. 18-Trevor Landrum[5]; 7. 41-Jim Couch[8]; 8. 1T-Tyler Erb[1]; 9. (DNS) 55-Jesse Wisecarver
Fast Shafts B-Main Race #1 Finish (12 Laps, Top 2 Transfer): 1. 79-Donald McIntosh[9]; 2. 3S-Brian Shirley[1]; 3. 20RT-Ricky Thornton Jr[2]; 4. 157-Mike Marlar[8]; 5. 97-Michael Chilton[3]; 6. 8K-Kyle Strickler[5]; 7. 99B-Boom Briggs[6]; 8. 66JR-Eddie Carrier Jr[10]; 9. 33-Jesse Lay[15]; 10. 15-James Rice[11]; 11. 58-Garrett Alberson[16]; 12. 12-Jason Jameson[13]; 13. 5N-Dustin Nobbe[12]; 14. 31AUS-Kye Blight[20]; 15. H22-Brandon Hardgrove[7]; 16. 33AJ-Austin Lay[17]; 17. 99J-Donnie Jeschke[19]; 18. 16-Tyler Bruening[4]; 19. 7R-Kent Robinson[14]; 20. 8A-Curt Addison[21]; 21. (DNS) 33H-Mike Harrison
UNOH B-Main Race #2 Finish (12 Laps, Top 2 Transfer): 1. 46-Earl Pearson Jr[1]; 2. 68-Adam Stricker[4]; 3. 66C-Matt Cosner[2]; 4. 7-Ross Robinson[5]; 5. 1V-Vic Hill[7]; 6. 18-Trevor Landrum[9]; 7. 20TC-Tristan Chamberlain[3]; 8. 222-David Breazeale[10]; 9. 317-Blake Creech[13]; 10. 22C-Brent Cornette[8]; 11. 1Z-Logan Zarin[11]; 12. 41-Jim Couch[12]; 13. 39-Tim McCreadie[6]; 14. 1T-Tyler Erb[15]; 15. (DNS) 54-Dane Dacus; 16. (DNS) 4G-Kody Evans; 17. (DNS) 89-Logan Roberson; 18. (DNS) 12D-Doug Drown
Non-Qualifer Race Finish (20 Laps): 1. 8K-Kyle Strickler[5]; 2. 97-Michael Chilton[3]; 3. 66C-Matt Cosner[1]; 4. 20TC-Tristan Chamberlain[8]; 5. 18-Trevor Landrum[6]; 6. 31AUS-Kye Blight[18]; 7. 1V-Vic Hill[4]; 8. 222-David Breazeale[10]; 9. 33-Jesse Lay[11]; 10. 22C-Brent Cornette[14]; 11. 12-Jason Jameson[16]; 12. 317-Blake Creech[12]; 13. 41-Jim Couch[17]; 14. 33AJ-Austin Lay[20]; 15. 15-James Rice[13]; 16. 1Z-Logan Zarin[15]; 17. (DNS) 157-Mike Marlar; 18. (DNS) 99B-Boom Briggs; 19. (DNS) 66JR-Eddie Carrier Jr; 20. (DNS) H22-Brandon Hardgrove
41st Annual Sunoco North/South 100 – Presented by Lucas Oil Feature Finish (100 Laps):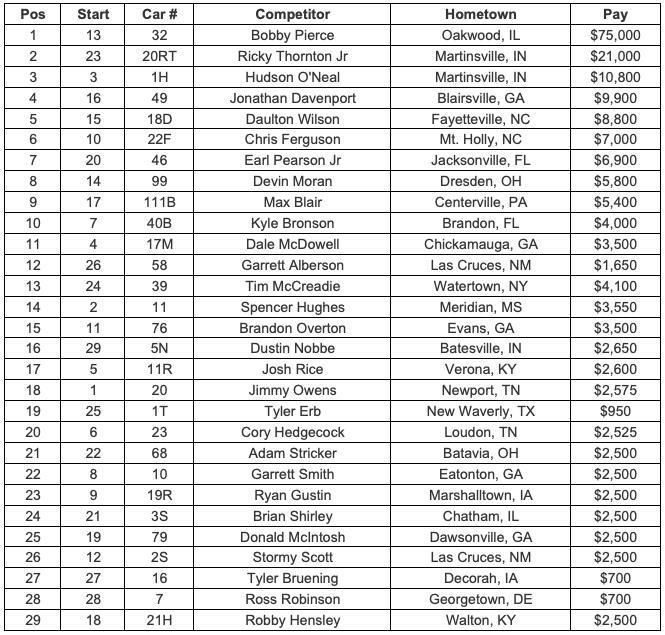 Race Statistics
Entrants: 59
Terminal Maintenance & Construction Pole Sitter: Jimmy Owens
Lap Leaders: Spencer Hughes (Lap 1); Jimmy Owens (Laps 2-22); Hudson O'Neal (Laps 23-80); Bobby Pierce (Laps 81-87); Ricky Thornton, Jr. (Laps 88-89); Bobby Pierce (Laps 90-100)
Wieland Feature Winner: Bobby Pierce
Arizona Sport Shirts Crown Jewel Cup Feature Winner: Bobby Pierce
Brandon Ford TV Challenge Feature Winner: Bobby Pierce
Margin of Victory: 2.019 seconds
Gorsuch Performance Solutions Cautions: Chris Ferguson (Lap 36); Max Blair, Stormy Scott, Adam Stricker, Donald McIntosh, Garrett Alberson (Lap 37); Donald McIntosh (Lap 40); Kyle Bronson (Lap 58); Debris (Lap 83); Debris (Lap 87); Tim McCreadie (Lap 91)
Series Provisionals: Ricky Thornton, Jr.; Tim McCreadie
Fast Time Provisional:?n/a
Series Emergency Provisionals: Tyler Erb; Garrett Alberson; Tyler Bruening; Ross Robinson
Track Provisional: Dustin Nobbe
Big River Steel Podium Top 3: Bobby Pierce, Ricky Thornton, Jr., Hudson O'Neal
Penske Shocks Top 5: Bobby Pierce, Ricky Thornton, Jr., Hudson O'Neal, Jonathan Davenport, Daulton Wilson
Todd Steel Buildings Hard Charger of the Race: Ricky Thornton, Jr. (Advanced 21 Positions)
Wilwood Brakes Lucky 7th Place Feature: Earl Pearson, Jr.
Deatherage Opticians Lucky 13th Place Feature: Tim McCreadie
Earnhardt Technologies Most Laps Led: Hudson O'Neal (59 Laps)
Sunoco Race for Gas Highest Finisher: Ricky Thornton, Jr.
Midwest Sheet Metal Spoiler Challenge Point Leader: Ricky Thornton, Jr.
O'Reilly Auto Parts Rookie of the Race: Max Blair
Etchberger Trucking Fastest Lap of the Race: Jimmy Owens (Lap 3 – 17.587 seconds)
MD3 Tough Break of the Race: Tim McCreadie
Outerwears Crew Chief of the Race: Bob Pierce (Bobby Pierce)
ARP Engine Builder of the Race: Longhorn Chassis
Miller Welders Chassis Builder of the Race: Vic Hill Race Engines
Time of Race: 56 minutes 23 seconds
The Big River Steel Chase for the Championship Presented by ARP Point Standings: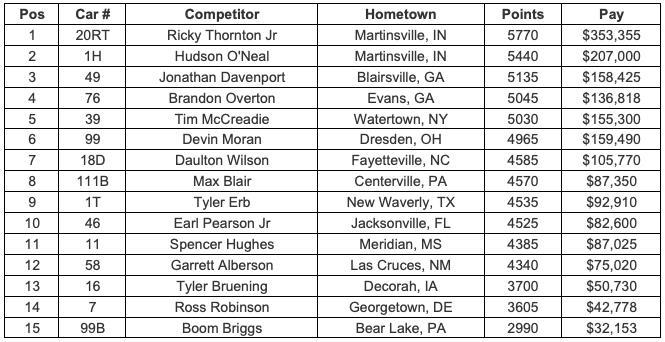 ---
Submitted By: Jeremy Shields
Back to News