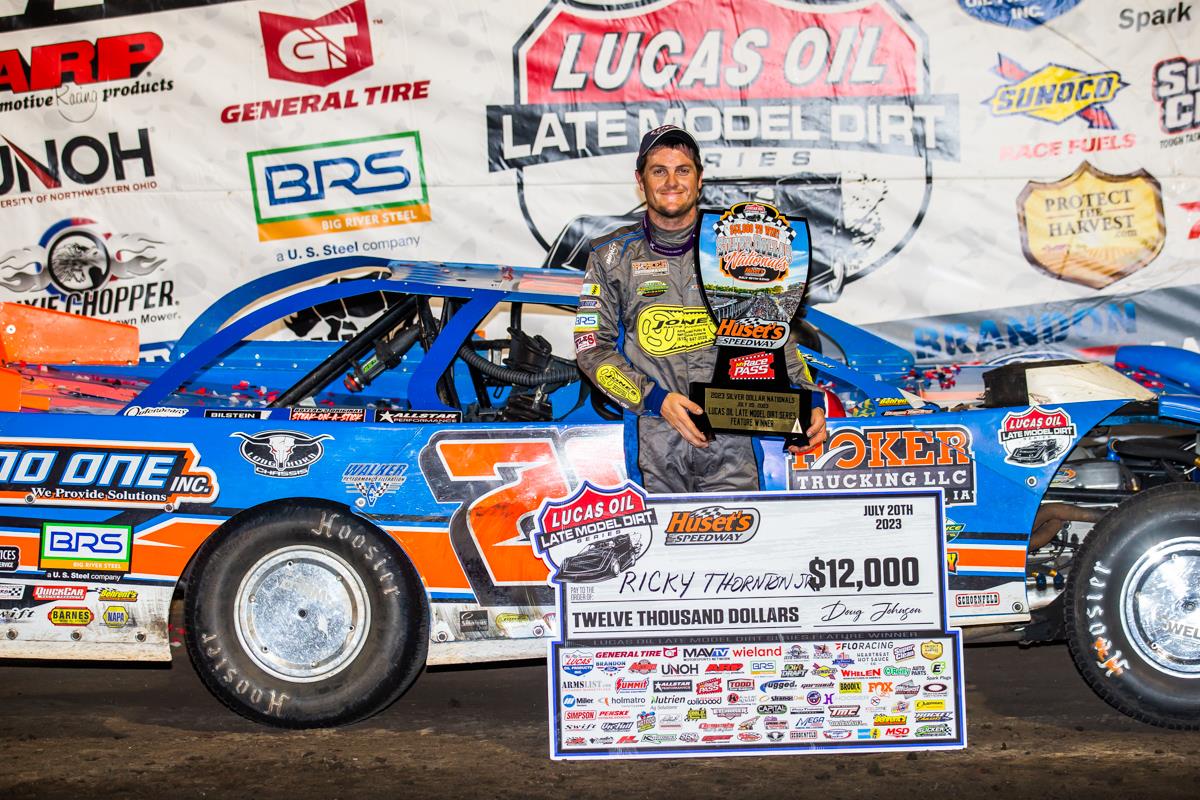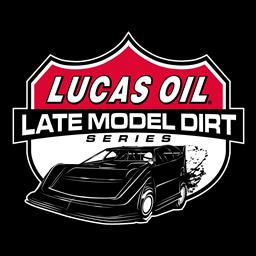 7/20/2023
Lucas Oil Late Model Dirt Series
---
Thornton Takes Lucas Oil Go 50 at Huset's
BRANDON, SD (July 20, 2023) – Ricky Thornton Jr. came from his sixth starting spot to grab the lead from Jonathan Davenport on lap 19 to win the Lucas Oil Late Model Dirt Series Go 50 on Thursday night at Huset's Speedway.
Thornton, the current Big River Steel Chase for the Championship – presented by ARP points leader picked up his 13th series win of the season as he crossed the finish line ahead of Bobby Pierce, Davenport, Chad Simpson, and Tim McCreadie.
Thornton who now has collected over $300,000 in winnings and bonuses so far this season in the Lucas Oil Late Model Dirt Series held steady on the bottom over the last half of the race to score his 18th career series win. "Man, that was wild there. I don't know I was really good right through the middle of one and two. It wasn't clean, but there was just enough traction where you could really get through it. I feel like this is a really big sprint car place and it's really cool to win here. Bobby's [Pierce] been really good probably the last two or three months. I know JD [Davenport] has been really good lately too. I think I started 12th here last year and got to the lead. I knew I had to get a really good start and not get mired back in the pack."
Pierce, making his first appearance with the Lucas Oil Late Model Dirt Series since winning the NAPA Auto Parts Gopher 50 at Deer Creek came in second to Thornton. "Yeah, I know I got a pretty slow run there through one and two on the bottom and at that time our car wasn't as good as his [Thornton]. He got that middle going there and after that I knew it would be hard to pass him back. It was a fun race though you know being the first time here and these guys have a race up on me here so we've got kind of a notebook now heading into the big race on Saturday we'll see what we can do."
Davenport rounded out the Big River Steel Podium in third as his two-race Lucas Oil Late Model Dirt Series win streak was snapped. "I don't think it was a disadvantage to lead early on tonight. I was just too tight there and I was just having to get too bent there. I gave my guys a little bit of body work to do. I think they need a little practice. I guess Ricky [Thornton] was just a little better and he could move around. I heard Bobby [Pierce] on the inside of me and so I didn't want to chop him and wreck us both getting into turn number one."
The winner's Todd and Vickie Burns-owned, SSI Motorsports, Longhorn Chassis is powered by a Clements Racing Engine and sponsored by Big River Steel, Hoker Trucking, Coltman Farms, Sub-Surface of Indiana, Dyno One Inc., West Side Tractor Sales, D&E Outside Services, Excel Floor Covering, Certified Inspection Services, Sunoco, Bilstein Shocks, Midwest Sheet Metal, and Murty Farms.
The rest of the top ten were Brandon Sheppard, Garrett Alberson, Daulton Wilson, Brandon Overton, Kyle Bronson.
Lucas Oil Late Model Dirt Series
Race Summary
Go 50
Thursday, July 20, 2023
Huset's Speedway – Brandon, SD
Allstar Performance Time Trials
Fast Time Group A: Jonathan Davenport / 12.905 seconds (overall)
Fast Time Group B: Ricky Thornton, Jr. / 13.046 seconds
Penske Shocks Heat Race #1 Finish (8 Laps, Top 4 Transfer): 1. 49-Jonathan Davenport[1]; 2. 40B-Kyle Bronson[3]; 3. 46-Earl Pearson Jr[2]; 4. 14M-Morgan Bagley[7]; 5. 66C-Matt Cosner[4]; 6. 199-Jesse Sobbing[6]; 7. 53-Andrew Kosiski[8]; 8. 07-Ben Sukup[5]; 9. 10W-Junior Coover[9]
Summit Racing Products Heat Race #2 Finish (8 Laps, Top 4 Transfer): 1. 25-Chad Simpson[1]; 2. 58-Garrett Alberson[3]; 3. 11-Spencer Hughes[5]; 4. 22-Daniel Hilsabeck[4]; 5. 49T-Jake Timm[6]; 6. 1H-Hudson O'Neal[9]; 7. 24-Bill Leighton[7]; 8. 14J-Jake Neal[8]; 9. 99-Devin Moran[2]
Simpson Race Products Heat Race #3 (8 Laps, Top 4 Transfer): 1. 32-Bobby Pierce[3]; 2. 20RT-Ricky Thornton Jr [1]; 3. 18D-Daulton Wilson[2]; 4. 7-Ross Robinson[4]; 5. 18-Chase Junghans[7]; 6. 28-Dennis Erb Jr[6]; 7. 25C-Shane Clanton[5]; 8. 111B-Max Blair[9]; 9. 16-Tyler Bruening[8]
AP1 Insurance Heat Race #4 (8 Laps, Top 4 Transfer): 1. 76-Brandon Overton[1]; 2. 39-Tim McCreadie[4]; 3. B5-Brandon Sheppard[5]; 4. 1T-Tyler Erb[2]; 5. 157-Mike Marlar[6]; 6. 8-Dillon McCowan[3]; 7. 76B-Blair Nothdurft[7]; 8. 04-Tad Pospisil[8]; 9. 99B-Boom Briggs[9]
Fast Shafts B-Main Race #1 (10 Laps, Top 3 Transfer): 1. 1H-Hudson O'Neal[4]; 2. 66C-Matt Cosner[1]; 3. 199-Jesse Sobbing[3]; 4. 49T-Jake Timm[2]; 5. 53-Andrew Kosiski[5]; 6. 24-Bill Leighton[6]; 7. 14J-Jake Neal[8]; 8. 07-Ben Sukup[7]; 9. 10W-Junior Coover[9]; 10. 99-Devin Moran[10]
UNOH B-Main Race #2 (10 Laps, Top 3 Transfer): 1. 157-Mike Marlar[2]; 2. 18-Chase Junghans[1]; 3. 28-Dennis Erb Jr[3]; 4. 25C-Shane Clanton[5]; 5. 8-Dillon McCowan[4]; 6. 111B-Max Blair[7]; 7. 16-Tyler Bruening[9]; 8. 76B-Blair Nothdurft[6]; 9. 99B-Boom Briggs[10]; 10. 04-Tad Pospisil[8]
Go 50 Feature Finish (50 Laps):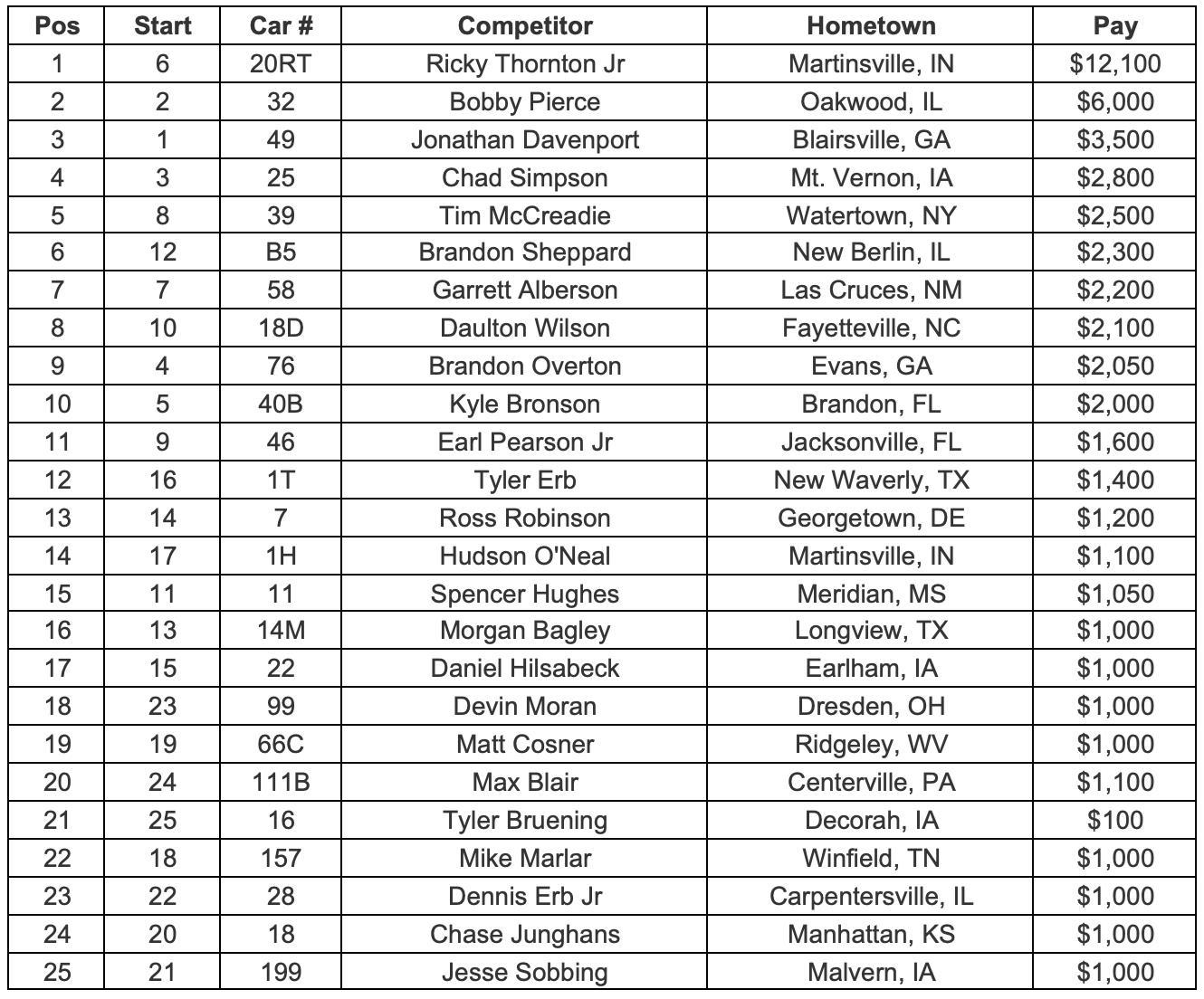 Race Statistics
Entrants: 36
Terminal Maintenance & Construction Pole Sitter: Jonathan Davenport
Lap Leaders: Jonathan Davenport (Laps 1-18); Ricky Thornton, Jr. (Laps 19-50)
Wieland Feature Winner: Ricky Thornton, Jr.
Arizona Sport Shirts Crown Jewel Cup Feature Winner: n/a
Brandon Ford TV Challenge Feature Winner: n/a
Margin of Victory: 0.579 seconds
Gorsuch Performance Solutions Cautions: n/a
Series Provisionals: Devin Moran; Max Blair
Fast Time Provisional: n/a
Series Emergency Provisionals: Tyler Bruening
Track Provisional: n/a
Big River Steel Podium Top 3: Ricky Thornton, Jr., Bobby Pierce, Jonathan Davenport
Penske Shocks Top 5: Ricky Thornton, Jr., Bobby Pierce, Jonathan Davenport, Chad Simpson, Tim McCreadie
Todd Steel Buildings Hard Charger of the Race: Brandon Sheppard (Advanced 6 Positions)
Wilwood Brakes Lucky 7th Place Feature: Garrett Alberson
Deatherage Opticians Lucky 13th Place Feature: Ross Robinson
Earnhardt Technologies Most Laps Led: (Laps)
Sunoco Race for Gas Highest Finisher: Ricky Thornton, Jr.
Midwest Sheet Metal Spoiler Challenge Point Leader: Ricky Thornton, Jr.
O'Reilly Auto Parts Rookie of the Race: Max Blair
Etchberger Trucking Fastest Lap of the Race: Jonathan Davenport (Lap 1 – 14.560 seconds)
MD3 Tough Break of the Race: Devin Moran
Outerwears Crew Chief of the Race: Anthony Burroughs (Ricky Thornton, Jr.)
ARP Engine Builder of the Race: Clements Racing Engines
Miller Welders Chassis Builder of the Race: Longhorn Chassis
Dirt Draft Fastest in Hot Laps: Daulton Wilson (12.917 seconds)
Time of Race: 12 minutes 56 seconds
The Big River Steel Chase for the Championship Presented by ARP Point Standings: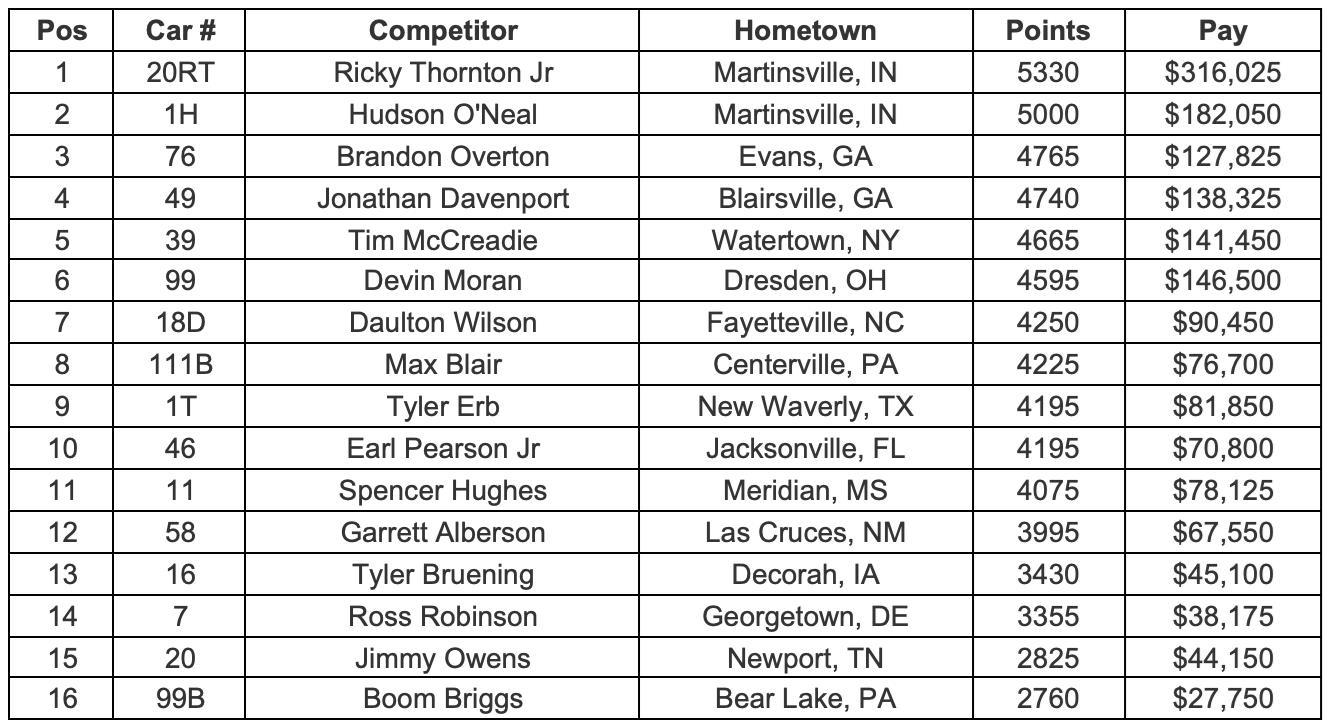 ---
Submitted By: Jeremy Shields
Back to News