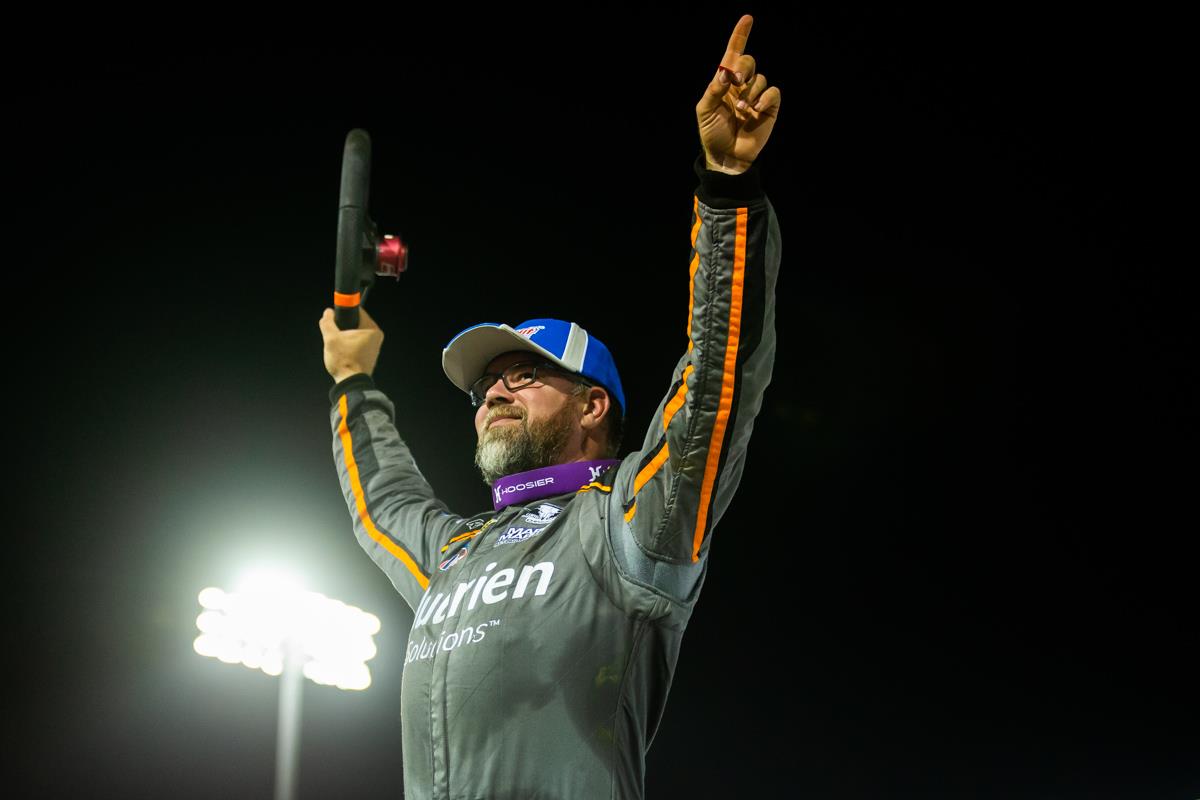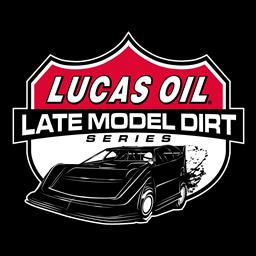 7/15/2023
Lucas Oil Late Model Dirt Series
---
Davenport Wins Record Tying Fourth Diamond Nationals at Lucas Oil Speedway
WHEATLAND, MO (July 15, 2023) – Jonathan Davenport led the final 45 laps of the 17th Annual CMH Diamond Nationals Presented by Summit Racing Equipment on Saturday night at Lucas Oil Speedway.
For Davenport, who earned $15,000 for the win, it was his second straight Lucas Oil Late Model Dirt Series victory and the 71st of his career in series history. The race was co-sanctioned with the Lucas Oi Midwest Late Model Racing Association (MLRA) Series.
Davenport's fourth win in the annual July event that has been held since 2007 tied him with Jimmy Owens for the most wins in the event history.
Devin Moran got by Ricky Thornton Jr. on the final lap to earn the runner-up spot. Brandon Overton who led the opening laps was fourth with Chris Simpson rounding out the top five drivers.
Davenport, moved into fourth place in the championship standings with the win after survivig a scary moment with a lapped car on the front stretch with just a few laps to go. "Let's keep it PG for what I said in the car. No, I couldn't believe I messed up and he got away from me the lap before, so I thought I'd better hug the bottom right there and he's slid up again. I got a good run on him, and he might have seen the layover flag he could have been pulling off and he turned left, and I had nowhere to go. Luckily my right front was far enough ahead of him I didn't hit wheels with him with the steering wheel so luckily it didn't cut a right rear down it was just our night."
The 39-year-old Blairsville, Georgia racer coming off a record season in dirt late model racing in 2022 with feels like his team his hitting its stride. "We just keep throwing stuff at it you know. We were stuck in our ways for a long time there at the beginning of the year just because we had such a good year last year. We've got the same cars, the same shocks, everything should work the same, but it's just the way this dirt late model racing goes you know. It's like you get too complacent and you quit working, and everybody catches up. So, we went to work. Normally what happens is that you learn a whole lot more what not to do than what to do."
Moran, the 2023 Show-Me 100 winner passed Thornton on the final lap to secure the runner-up spot. "Our Double Down Motorsports, Longhorn was really good again. That's three seconds in a row. It's good to be up front. Congrats to JD he did a really good job. I just got held up in lapped traffic a little bit. Obviously, we are getting better and better because we passed Ricky [Thornton Jr.] tonight and last time we were here he checked out on us. I have never really had a great track record here. I will say the track was awesome tonight we raced all over it there for a while - the top three there we all were running up front."
Thornton, who continues to lead the Big River Steel Chase for the Championship presented by ARP headed to Huset's Speedway next weekend now has a 230-point advantage over Hudson O'Neal rounded out the Big River Steel Podium in third. "I think we were really good tonight. I just wished they hadn't got it as muddy as they did. It took us a while before it got slick, we had harder tires on than these guys did. I really didn't want that yellow because I think before that I don't know if we could have run him [Davenport] down but at least we could have had a shot at it. I think we could have run second, but I'd really rather run third trying to go for the win that it would be following him around the bottom."
The winner's Lance and Darla Landers-owned, Double L Motorsports, Longhorn Chassis is powered by a Cornett Racing Engine and sponsored by Nutrien Ag Solutions, Dyna Gro Seed, Lucas Oil Products, Bilstein Shocks, VP Fuels, Mark Martin Automotive, Mega Plumbing of the Carolinas, ASC Warranty, and Midwest Sheet Metal.
Completing the top ten were Earl Pearson Jr. Tyler Bruening, Justin Duty, Hudson O'Neal, and Tim McCreadie.
Lucas Oil Late Model Dirt Series
Race Summary
CMH Diamond Nationals Presented by Summit Racing Equipment
Saturday, July 15, 2023
Lucas Oil Speedway – Wheatland, MO
Allstar Performance Time Trials
Fast Time Group A: Dustin Hodges / 15.389 seconds
Fast Time Group B: Ricky Thornton, Jr. / 15.272 seconds (overall)
Penske Shocks Heat Race #1 Finish (8 Laps, Top 4 Transfer): 1. 76-Brandon Overton[2]; 2. 22H-Dustin Hodges[1]; 3. 15J-Justin Duty[3]; 4. 39-Tim McCreadie[8]; 5. 8-Dillon McCowan[5]; 6. 46J-Jason Papich[4]; 7. 58-Garrett Alberson[9]; 8. 14G-Trevor Gundaker[7]; 9. 50-Kaeden Cornell[6]; 10. 82-Jace Parmley[10]
Summit Racing Products Heat Race #2 Finish (8 Laps, Top 4 Transfer): 1. 15L-Payton Looney[1]; 2. 32C-Chris Simpson[2]; 3. 46-Earl Pearson Jr[3]; 4. 16-Tyler Bruening[4]; 5. 22-Daniel Hilsabeck[6]; 6. 18D-Daulton Wilson[5]; 7. 1X-Aaron Marrant[9]; 8. 45-Cole Wells[8]; 9. 1A-Bryon Allison[7]; 10. 7J-Ryan Johnson[10]
Simpson Race Products Heat Race #3 (8 Laps, Top 4 Transfer): 1. 20RT-Ricky Thornton Jr[1]; 2. 99-Devin Moran[4]; 3. 11-Spencer Hughes[2]; 4. 1H-Hudson O'Neal[3]; 5. 111B-Max Blair[6]; 6. 174-Ethen Dotson[5]; 7. 7B-Mark Burgtorf[8]; 8. 50C-Kayden Clatt[7]; 9. 78S-Steve Stultz[9]; 10. 1TC-Tucker Cox[10]
AP1 Insurance Heat Race #4 (8 Laps, Top 4 Transfer): 1. 49-Jonathan Davenport[1]; 2. 1T-Tyler Erb[4]; 3. 25-Chad Simpson[2]; 4. 36-Logan Martin[6]; 5. 11H-Jeff Herzog[3]; 6. 99B-Boom Briggs[7]; 7. 7-Ross Robinson[5]; 8. 96-Dalton Imhoff[8]; 9. 0X-Jason Sivils[10]; 10. 42L-Lane Ehlert[9]
Fast Shafts B-Main Race #1 (10 Laps, Top 3 Transfer): 1. 22-Daniel Hilsabeck[2]; 2. 18D-Daulton Wilson[4]; 3. 8-Dillon McCowan[1]; 4. 58-Garrett Alberson[5]; 5. 46J-Jason Papich[3]; 6. 1X-Aaron Marrant[6]; 7. 14G-Trevor Gundaker[7]; 8. 1A-Bryon Allison[10]; 9. 45-Cole Wells[8]; 10. 50-Kaeden Cornell[9]; 11. 82-Jace Parmley[11]; 12. 7J-Ryan Johnson[12]
UNOH B-Main Race #2 (10 Laps, Top 3 Transfer): 1. 111B-Max Blair[1]; 2. 174-Ethen Dotson[3]; 3. 11H-Jeff Herzog[2]; 4. 99B-Boom Briggs[4]; 5. 50C-Kayden Clatt[7]; 6. 7-Ross Robinson[6]; 7. 78S-Steve Stultz[9]; 8. 1TC-Tucker Cox[11]; 9. 96-Dalton Imhoff[8]; 10. 0X-Jason Sivils[10]; 11. 7B-Mark Burgtorf[5]; 12. 42L-Lane Ehlert[12]
CMH Diamond Nationals Presented by Summit Racing Equipment Feature Finish (50 Laps):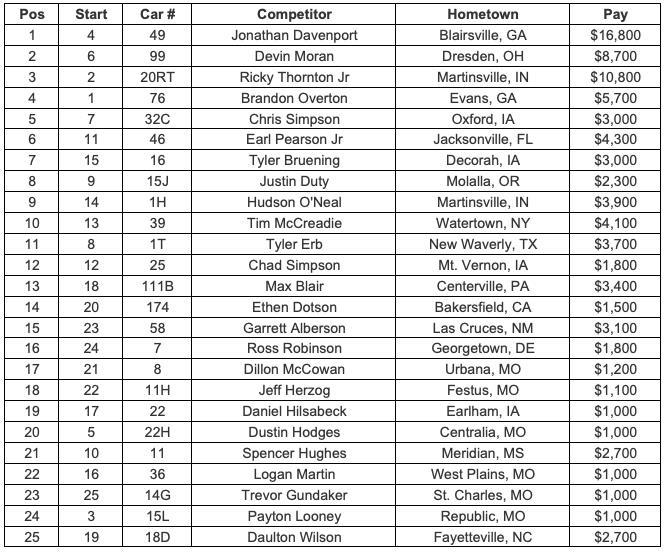 Race Statistics
Entrants: 40
Terminal Maintenance & Construction Pole Sitter: Brandon Overton
Lap Leaders: Brandon Overton (Laps 1-5); Jonathan Davenport (Laps 6-50)
Wieland Feature Winner: Jonathan Davenport
Arizona Sport Shirts Crown Jewel Cup Feature Winner: n/a
Brandon Ford TV Challenge Feature Winner: Jonathan Davenport
Margin of Victory: 1.465 seconds
Gorsuch Performance Solutions Cautions: Ross Robinson, Jeff Herzog, Garrett Alberson, Daulton Wilson (Lap 1); Spencer Hughes (Lap 37)
LOLMDS Provisionals: Garrett Alberson; Ross Robinson
LOLMDS Emergency Provisionals: n/a
MLRA Provisionals: Trevor Gundaker
MLRA Emergency Provisionals: n/a
Fast Time Provisional: n/a
Track Provisional: n/a
Big River Steel Podium Top 3: Jonathan Davenport, Devin Moran, Ricky Thornton, Jr.
Penske Shocks Top 5: Jonathan Davenport, Devin Moran, Ricky Thornton, Jr., Brandon Overton, Chris Simpson
Todd Steel Buildings Hard Charger of the Race: Tyler Bruening (Advanced 8 Positions)
Wilwood Brakes Lucky 7th Place Feature: Tyler Bruening
Deatherage Opticians Lucky 13th Place Feature: Max Blair
Earnhardt Technologies Most Laps Led: Jonathan Davenport (45 Laps)
Sunoco Race for Gas Highest Finisher: Ricky Thornton, Jr.
Midwest Sheet Metal Spoiler Challenge Point Leader: Ricky Thornton, Jr.
O'Reilly Auto Parts Rookie of the Race: Max Blair
Etchberger Trucking Fastest Lap of the Race: Jonathan Davenport (Lap 4 – 14.993 seconds)
MD3 Tough Break of the Race: Daulton Wilson
Outerwears Crew Chief of the Race: Cory Fostvedt (Jonathan Davenport)
ARP Engine Builder of the Race: Cornett Racing Engines
Miller Welders Chassis Builder of the Race: Longhorn Chassis
Dirt Draft Fastest in Hot Laps: Ricky Thornton, Jr. (15.352 seconds)
Time of Race: 25 minutes 41 seconds
The Big River Steel Chase for the Championship Presented by ARP Point Standings: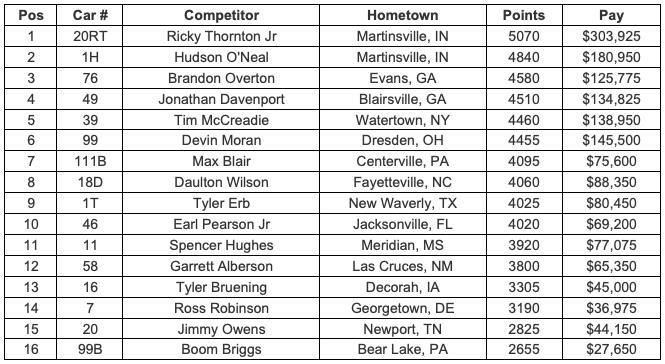 ---
Submitted By: Jeremy Shields
Back to News