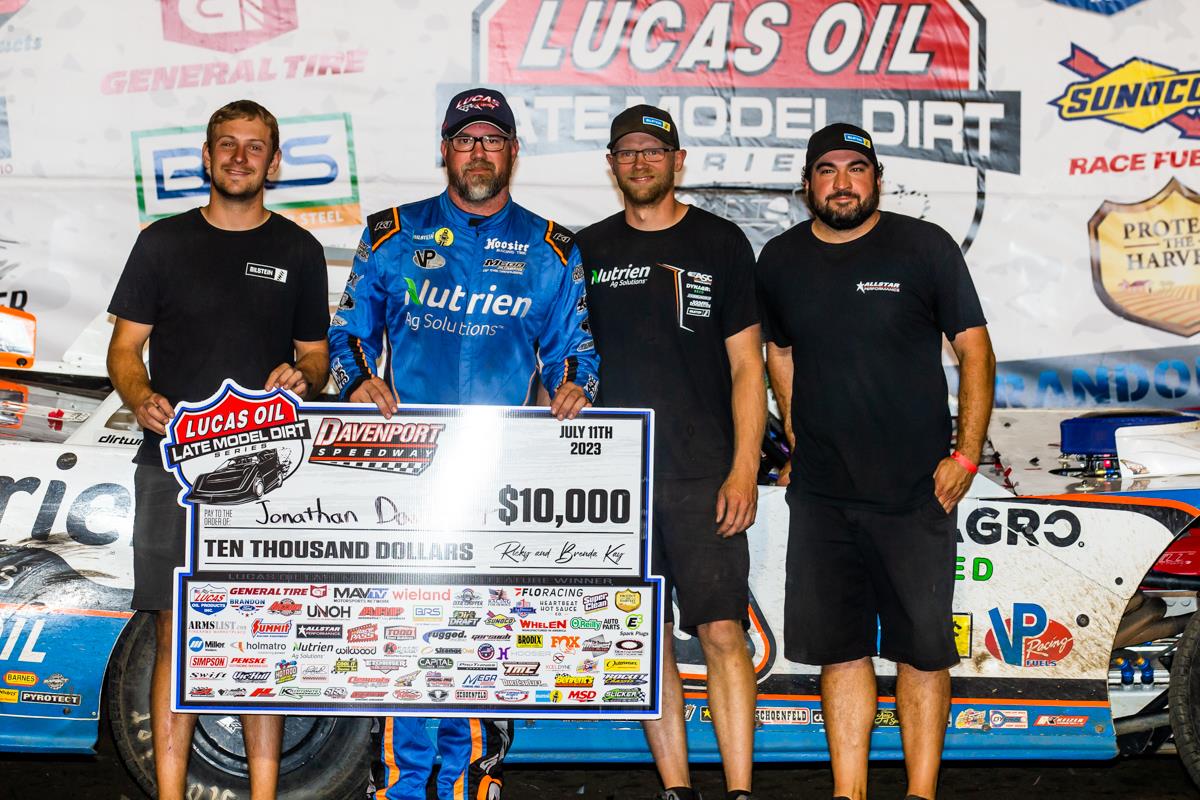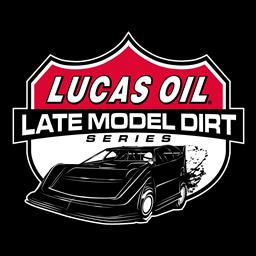 7/11/2023
Lucas Oil Late Model Dirt Series
---
Davenport Cashes in at Davenport on Tuesday Night
DAVENPORT, Iowa (July 11, 2023) – Jonathan Davenport raced to victory in Tuesday night's 40-lap Lucas Oil Late Model Dirt Series event sponsored by C&J Trucking and HD Equipment at Davenport Speedway. It was Davenport's first career win the Mississippi Valley Fairgrounds oval.
Devin Moran made it close at the end cutting an over three second deficit to within 0.680 seconds at the finish. Ricky Thornton Jr. the current Big River Steel Chase for the Championship presented by ARP leader was third followed by Hudson O'Neal and Brian Shirley, who earned the Todd Steel Building Hard Charger of the Race coming from 16th to round out the top five.
Davenport, who led 35 of the 40 laps earned his 70th career win in the Lucas Oil Late Model Dirt Series which ranks third all-time in series history. A close call with 6 laps remaining would allow Moran to close the gap when Davenport slipped off the track in turn four. "When in doubt throttle out is what my crew chief told me last week. I had used all the lip up down here in four that you could, and I used a little bit too much that lap. I knew if I hit the brake pedal, I was going to turn right, and it would be even worse, so I just kept my foot in it. The thing about this team is we are never going to give up. We are continuously working. That's how this sport goes somebody hits on a set-up and things start going their way. Ricky's [Thornton] done an awesome job and Hudson [O'Neal] as well, every now and then we will stumble onto something and hopefully its in the right direction."
Moran, who started on the pole and led laps 6-10 was second at the line - falling one spot short of a perfect night at Davenport. "I just needed to get in front of him [Davenport] at the start of the race. I probably should have slid him into one and then I tried in three and four and got into him a little bit. They did a really good job I guess I wasn't the kryptonite tonight. The car finally cleaned up some and we could start really making some speed. I thought he was going to smoke the wall. I saw his whole left side up in the air. Thanks to my crew for giving me such as great race car."
Thornton will maintain his series points lead heading into the next event at Tri-City Speedway on Friday night. "After the last couple of nights, I was just hoping not to get a flat. A third-place is awesome. I thought the track was going to stay faster longer than it really did with about five to go I thought I was going to have a shot around the bottom. We are happy with third it was a good points night for us. The tire choice was huge tonight. I am glad they came out and worked the track. I looked at and I thought wrong about the tires."
The winner's Lance and Darla Landers, Double L Motorsports, Longhorn Chassis is powered by a Cornett Racing Engine and is sponsored by Nutrien Ag Solutions, Dyna Gro Seed, Lucas Oil Products, Bilstein Shocks, VP Fuels, Mark Martin Automotive, Mega Plumbing of the Carolinas, ASC Warranty, and Midwest Sheet Metal.
Completing the top ten were Garrett Alberson, Tim McCreadie, Brandon Overton, Drake Troutman, and Max Blair.
Lucas Oil Late Model Dirt Series
Race Summary
Lucas Oil Late Models Presented by C & J Trucking / HD Equipment
Tuesday, July 11, 2023
Davenport Speedway – Davenport, IA
Allstar Performance Time Trials
Fast Time Group A: Devin Moran / 13.330 seconds (overall)
Fast Time Group B: Jonathan Davenport / 13.572 seconds
Penske Shocks Heat Race #1 Finish (8 Laps, Top 4 Transfer): 1. 99-Devin Moran[1]; 2. 1T-Tyler Erb[4]; 3. 11-Spencer Hughes[3]; 4. 16-Tyler Bruening[2]; 5. 99JR-Frank Heckenast Jr[6]; 6. 99B-Boom Briggs[7]; 7. 99L-Jeff Larson[8]; 8. (DNS) 7-Ross Robinson
Summit Racing Products Heat Race #2 Finish (8 Laps, Top 4 Transfer): 1. 20RT-Ricky Thornton Jr[1]; 2. 58-Garrett Alberson[3]; 3. 18D-Daulton Wilson[2]; 4. 174-Ethen Dotson[5]; 5. 39-Tim McCreadie[6]; 6. 25-Chad Simpson[4]; 7. 91-Mike Guldenpfennig[8]; 8. 17-Tim Simpson[7]
Simpson Race Products Heat Race #3 (8 Laps, Top 4 Transfer): 1. 49-Jonathan Davenport[1]; 2. 32C-Chris Simpson[5]; 3. 111B-Max Blair[4]; 4. 51-Matt Furman[7]; 5. 19R-Ryan Gustin[2]; 6. 29-Spencer Diercks[3]; 7. 42-Johnathan Huston[8]; 8. 15J-Justin Duty[6]
AP1 Insurance Heat Race #4 (8 Laps, Top 4 Transfer): 1. 7T-Drake Troutman[3]; 2. 1H-Hudson O'Neal[5]; 3. 76-Brandon Overton[1]; 4. 3S-Brian Shirley[7]; 5. 22-Daniel Hilsabeck[4]; 6. 46-Earl Pearson Jr[6]; 7. 10-Garrett Smith[2]; 8. 78S-Steve Stultz[8]
Fast Shafts B-Main Race #1 (10 Laps, Top 6 Transfer): 1. 99JR-Frank Heckenast Jr[1]; 2. 39-Tim McCreadie[3]; 3. 19R-Ryan Gustin[2]; 4. 29-Spencer Diercks[6]; 5. 46-Earl Pearson Jr[8]; 6. 15J-Justin Duty[14]; 7. 99B-Boom Briggs[5]; 8. 99L-Jeff Larson[9]; 9. 17-Tim Simpson[13]; 10. 10-Garrett Smith[12]; 11. 22-Daniel Hilsabeck[4]; 12. 42-Johnathan Huston[10]; 13. 91-Mike Guldenpfennig[11]; 14. 78S-Steve Stultz[16]; 15. 7-Ross Robinson[15]; 16. (DNS) 25-Chad Simpson
Lucas Oil Late Models Presented by C & J Trucking / HD Equipment Feature Finish (40 Laps):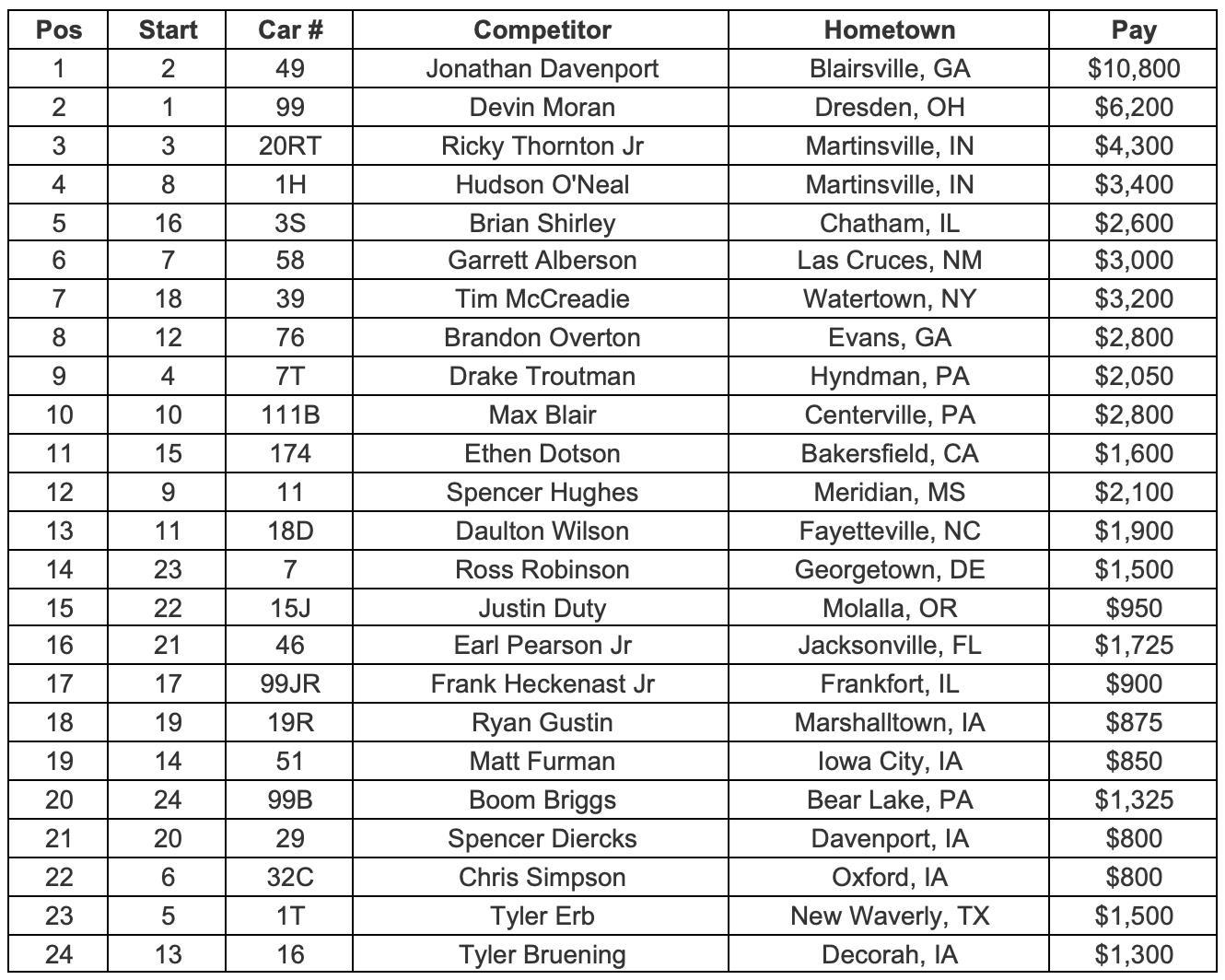 Race Statistics
Entrants: 32
Terminal Maintenance & Construction Pole Sitter: Devin Moran
Lap Leaders: Jonathan Davenport (Laps 1-5); Devin Moran (Laps 6-12); Jonathan Davenport (Laps 13-40)
Wieland Feature Winner: Jonathan Davenport
Arizona Sport Shirts Crown Jewel Cup Feature Winner: n/a
Brandon Ford TV Challenge Feature Winner: n/a
Margin of Victory: 0.680 seconds
Gorsuch Performance Solutions Cautions: Tyler Erb (Lap 12)
Fast Time Provisional: n/a
Series Emergency Provisionals: n/a
Track Provisional: n/a
Big River Steel Podium Top 3: Jonathan Davenport, Devin Moran, Ricky Thornton, Jr.
Penske Shocks Top 5: Jonathan Davenport, Devin Moran, Ricky Thornton, Jr., Hudson O'Neal, Brian Shirley
Todd Steel Buildings Hard Charger of the Race: Brian Shirley (Advanced 11 Positions)
Wilwood Brakes Lucky 7th Place Feature: Tim McCreadie
Deatherage Opticians Lucky 13th Place Feature: Daulton Wilson
Earnhardt Technologies Most Laps Led: Jonathan Davenport (34 Laps)
Sunoco Race for Gas Highest Finisher: Ricky Thornton, Jr.
Midwest Sheet Metal Spoiler Challenge Point Leader: Ricky Thornton, Jr.
O'Reilly Auto Parts Rookie of the Race: Max Blair
Etchberger Trucking Fastest Lap of the Race: Jonathan Davenport (Lap 9 – 14.014 seconds)
MD3 Tough Break of the Race: Tyler Bruening
Outerwears Crew Chief of the Race: Cory Fostvedt (Jonathan Davenport)
ARP Engine Builder of the Race: Cornett Racing Engines
Miller Welders Chassis Builder of the Race: Longhorn Chassis
Dirt Draft Fastest in Hot Laps: Hudson O'Neal (13.470 seconds)
Time of Race: 12 minutes 36 seconds
The Big River Steel Chase for the Championship Presented by ARP Point Standings: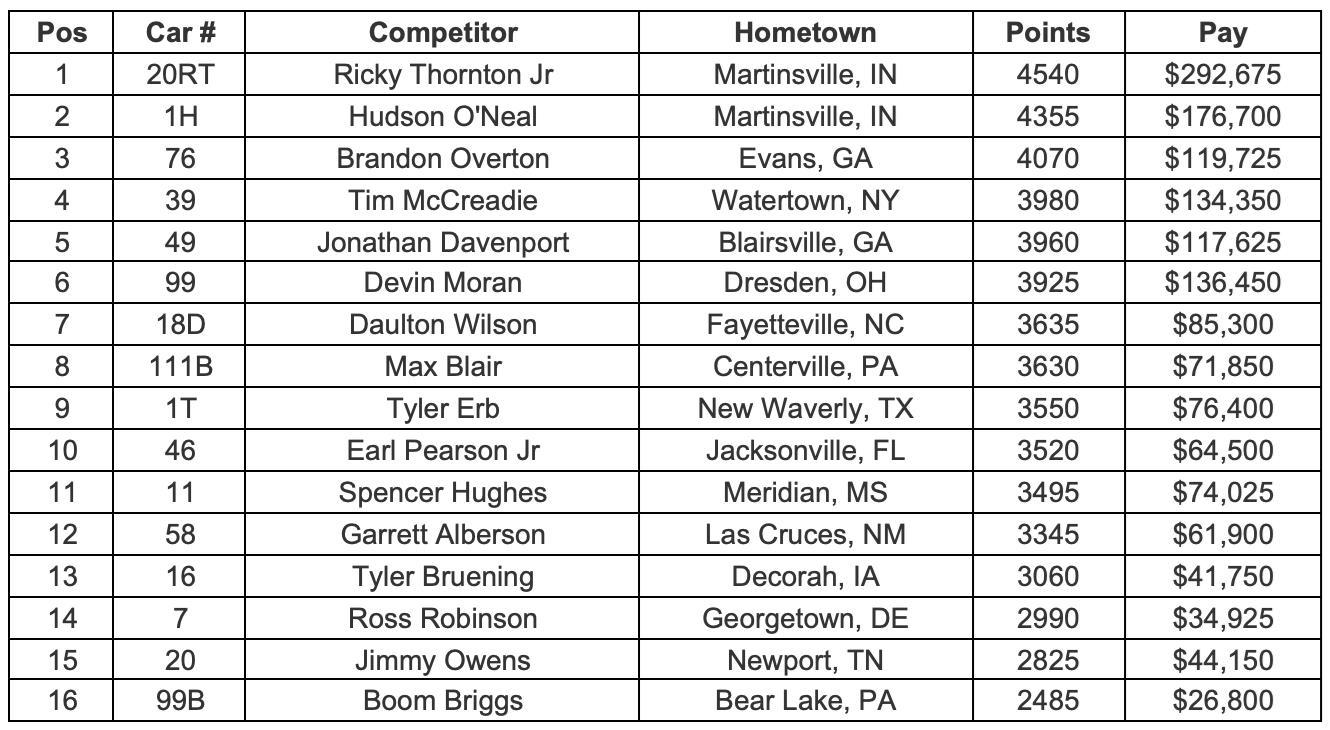 ---
Submitted By: Jeremy Shields
Back to News