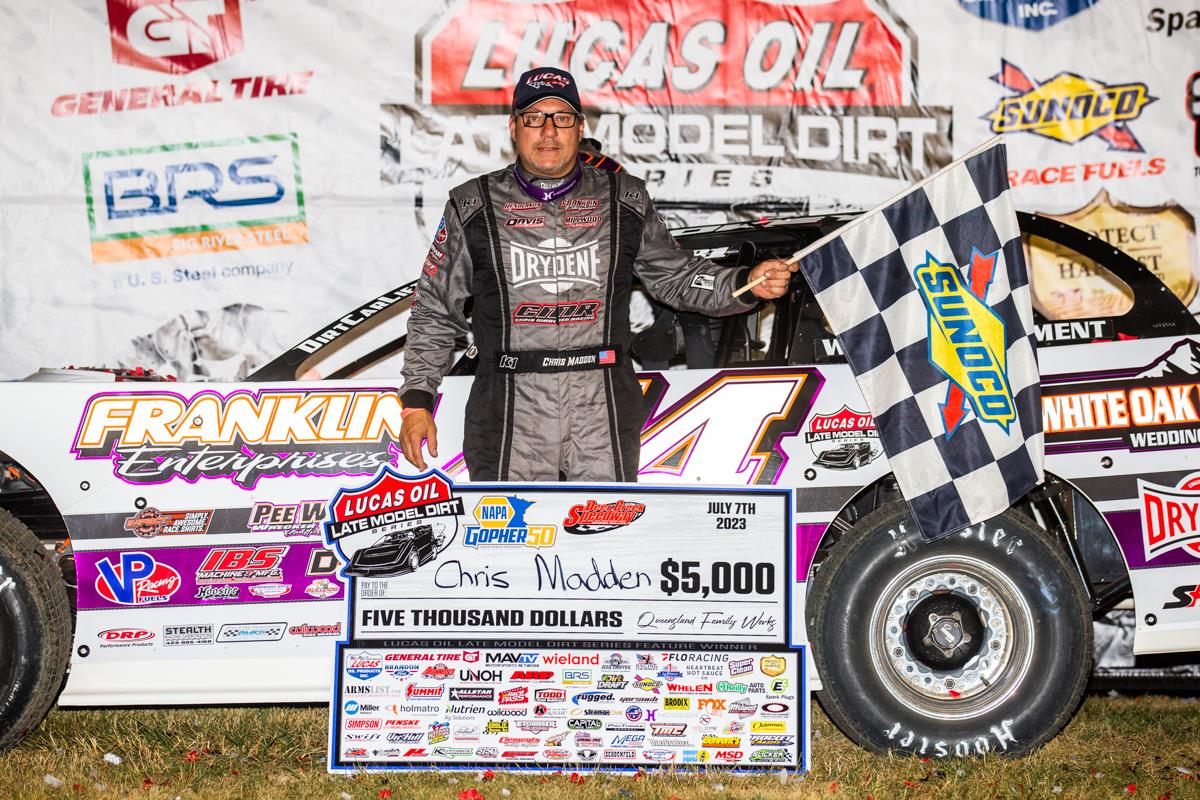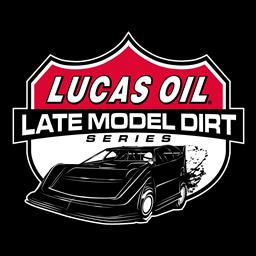 7/7/2023
Lucas Oil Late Model Dirt Series
---
Madden Rolls to Friday Night Win at Deer Creek
SPRING VALLEY, MN (July 7, 2023) – Chris Madden picked up his first Lucas Oil Late Model Dirt Series main event win of 2023 on Friday night at Deer Creek Speedway. Madden took the lead on the 13th lap from Brandon Overton and went on to win night two of the NAPA Auto Parts Gopher 50 weekend.
Madden crossed the finish line 1.539 seconds ahead of Overton. Bobby Pierce was third followed by Ricky Thornton Jr., and Jonathan Davenport. With the win, Madden became the 16th different winner this season with the Lucas Oil Late Model Dirt Series.
Madden in Lucas Oil Victory Lane for the 18th time in his career picked up $5,000 for the win plus an additional $750 from NAPA Auto Parts. Madden, who won the NAPA Auto Parts Gopher 50 in 2017 will be looking for his second win in the event which pays $50,000 to win on Saturday.
"I just found me a little line there where I could run the middle and got in the corner real good. When Brandon [Overton] got to traffic it's better to be behind a guy than leading him. We made a good run down here and got on the outside of him and we just got the lead there," said the 48-year-old South Carolina native.
"I think the racetrack was great tonight, not because I won but we could move around kind of all over the place. We made a few swings at it for this feature for tomorrow night so hopefully we are headed in the right direction. Hats off to my crew for working extremely hard on this car."
Overton, who entered the weekend third in the Lucas Oil Late Model Dirt Series championship led the first 12 laps before his fellow front row starter Madden passed him. "We were a little bit better tonight. Obviously, mother nature helped us a ton there's still a lot of brown out there. At least we didn't fall back. We are steadily working on it we aren't giving up. We love coming here. It's an awesome racetrack. The track was good for that little feature there. We'll take it," said the defending NAPA Auto Parts Gopher 50 winner.
Pierce, who was in contention for the win one night ago battled several laps with Overton to round out the Big River Steel Podium in third. "I think the big race tomorrow night is going to be really good. I have looked forward to this race and 75 laps is three times the length the last two nights have been. We will see how the track transitions you know. I think it was about to get to that point probably where in about 25 laps the middle would have become awfully slick. We were right there but we just couldn't make anything happen. It's going to be a really fun show tomorrow night. I am still kicking myself from yesterday we would have probably been on the pole after the last two nights."
The winner's CSM Motorsports, Rocket Chassis is powered by a Durham Racing Engine and sponsored by Drydene, Millwood Plumbing, Henderson Amusement, Franklin Enterprises, Penske Racing Shocks, White Oak Mountain Wedding Venue, Classic Trucking, Davis Diesel Service, Pyramid Materials, Pee Wee's Towing, Penske Racing Shocks, VP Fuels, and Worley Monument.
Completing the top ten were Hudson O'Neal, Devin Moran, Spencer Hughes, Tim McCreadie, Chad Simpson.
Lucas Oil Late Model Dirt Series
Race Summary
NAPA Auto Parts Gopher 50 – Night 2
Friday, July 7, 2023
Deer Creek Speedway – Spring Valley, MN
Allstar Performance Time Trials
Fast Time Group A: Mike Marlar / 14.372 seconds (overall)
Fast Time Group B: Jonathan Davenport / 14.615 seconds
Penske Shocks Heat Race #1 Finish (8 Laps, Top 4 Transfer): 1. 44-Chris Madden[5]; 2. 11-Spencer Hughes[2]; 3. 157-Mike Marlar[1]; 4. 10-Garrett Smith[4]; 5. 46-Earl Pearson Jr[3]; 6. 111B-Max Blair[6]; 7. 15J-Justin Duty[8]; 8. 15-Nick Anvelink[7]; 9. 10P-Paul Parker[9]; 10. 90-Lance Matthees[10]
Summit Racing Products Heat Race #2 Finish (8 Laps, Top 4 Transfer): 1. 20RT-Ricky Thornton Jr[2]; 2. 1H-Hudson O'Neal[3]; 3. 25-Chad Simpson[1]; 4. 16-Tyler Bruening[4]; 5. 32C-Chris Simpson[6]; 6. 7-Ross Robinson[5]; 7. 58-Garrett Alberson[7]; 8. 8-Dillon McCowan[8]; 9. 11L-Lance Hofer[9]
Simpson Race Products Heat Race #3 (8 Laps, Top 4 Transfer): 1. 76-Brandon Overton[2]; 2. 49-Jonathan Davenport[1]; 3. 1T-Tyler Erb[6]; 4. 18D-Daulton Wilson[4]; 5. 5-Brandon Sheppard[3]; 6. 1ST-Johnny Scott[5]; 7. 49T-Jake Timm[9]; 8. 55C-Chad Mahder[8]; 9. 99B-Boom Briggs[7]
AP1 Insurance Heat Race #4 (8 Laps, Top 4 Transfer): 1. 32-Bobby Pierce[1]; 2. 99-Devin Moran[3]; 3. 39-Tim McCreadie[4]; 4. 25C-Shane Clanton[2]; 5. 2S-Stormy Scott[5]; 6. 28S-Dustin Sorensen[6]; 7. 22-Daniel Hilsabeck[8]; 8. 77-Jordan Yaggy[9]; 9. 14G-Trevor Gundaker[7]
Fast Shafts B-Main Race #1 (10 Laps, Top 4 Transfer): 1. 111B-Max Blair[3]; 2. 46-Earl Pearson Jr[1]; 3. 58-Garrett Alberson[6]; 4. 8-Dillon McCowan[8]; 5. 7-Ross Robinson[4]; 6. 15J-Justin Duty[5]; 7. 32C-Chris Simpson[2]; 8. 11L-Lance Hofer[10]; 9. 15-Nick Anvelink[7]; 10. 10P-Paul Parker[9]; 11. 90-Lance Matthees[11]
UNOH B-Main Race #2 (10 Laps, Top 4 Transfer): 1. 5-Brandon Sheppard[1]; 2. 1ST-Johnny Scott[3]; 3. 2S-Stormy Scott[2]; 4. 28S-Dustin Sorensen[4]; 5. 49T-Jake Timm[5]; 6. 55C-Chad Mahder[7]; 7. 99B-Boom Briggs[9]; 8. 22-Daniel Hilsabeck[6]; 9. 77-Jordan Yaggy[8]; 10. 14G-Trevor Gundaker[10]
NAPA Auto Parts Gopher 50 Night 2 Feature Finish (25 Laps):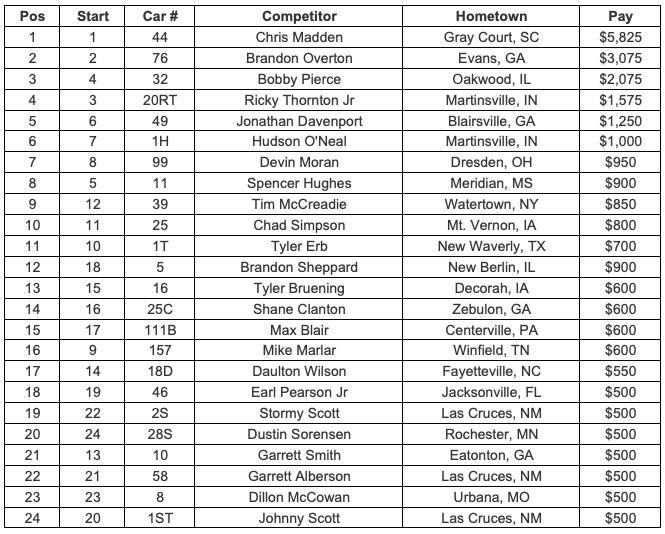 Race Statistics
Entrants: 37
Terminal Maintenance & Construction Pole Sitter: Chris Madden
Lap Leaders: Brandon Overton (Laps 1-13); Chris Madden (Laps 14-25)
Wieland Feature Winner: Chris Madden
Arizona Sport Shirts Crown Jewel Cup Feature Winner: n/a
Brandon Ford TV Challenge Feature Winner: n/a
Margin of Victory: 1.539 seconds
Gorsuch Performance Solutions Cautions: n/a
Fast Time Provisional: n/a
Series Emergency Provisionals: n/a
Track Provisional: n/a
Big River Steel Podium Top 3: Chris Madden, Brandon Overton, Bobby Pierce
Penske Shocks Top 5: Chris Madden, Brandon Overton, Bobby Pierce, Ricky Thornton, Jr., Jonathan Davenport
Todd Steel Buildings Hard Charger of the Race: Brandon Sheppard (Advanced 6 Positions)
Wilwood Brakes Lucky 7th Place Feature: Devin Moran
Deatherage Opticians Lucky 13th Place Feature: Tyler Bruening
Earnhardt Technologies Most Laps Led: Brandon Overton (13 Laps)
Sunoco Race for Gas Highest Finisher: Ricky Thornton, Jr.
Midwest Sheet Metal Spoiler Challenge Point Leader: Ricky Thornton, Jr.
O'Reilly Auto Parts Rookie of the Race: Max Blair
Etchberger Trucking Fastest Lap of the Race: Brandon Overton (Lap 2 – 14.402 seconds)
MD3 Tough Break of the Race: Ross Robinson
Outerwears Crew Chief of the Race: Ricky Arnold (Chris Madden)
ARP Engine Builder of the Race: Durham Racing Engines
Miller Welders Chassis Builder of the Race: Rocket Chassis
Dirt Draft Fastest in Hot Laps: Chad Simpson (14.209 seconds)
Time of Race: 6 minutes 33 seconds
NAPA Auto Parts Gopher 50 Line-Up (75 Laps):


FAST Shafts B-Main #1 (10 Laps | Top 3 Transfer):


UNOH B-Main #2 (10 Laps | Top 3 Transfer):


NAPA Auto Parts Gopher 50 Point Standings: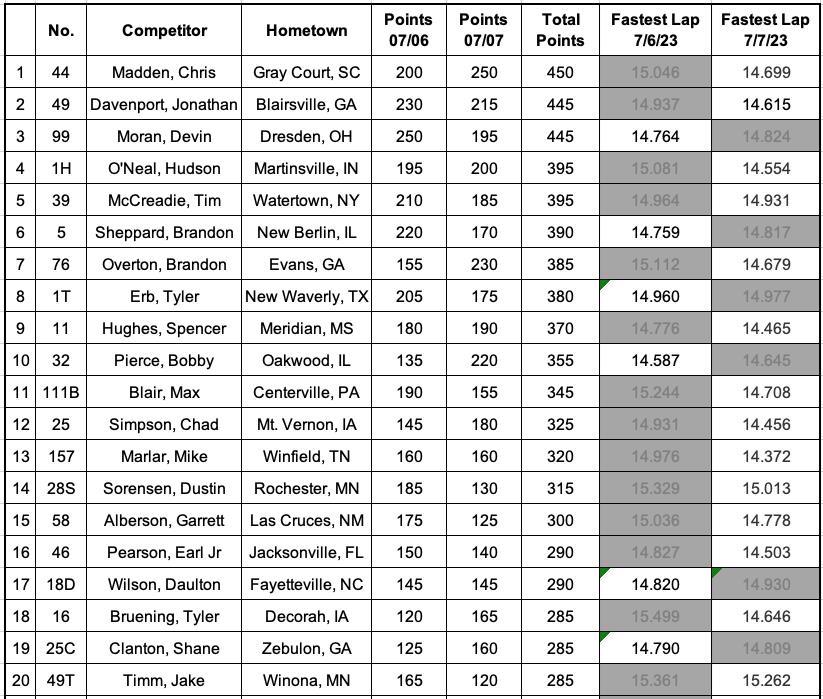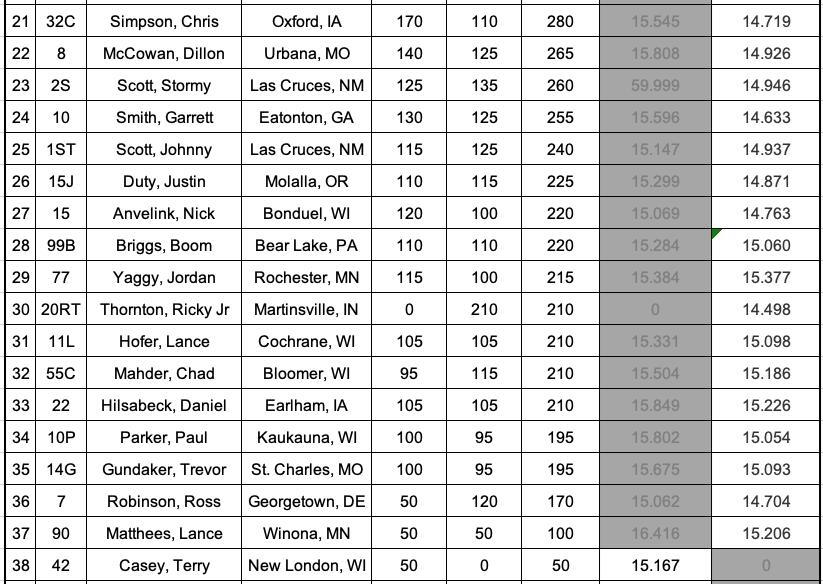 Ties are broken by the Fastest Lap from either night
---
Submitted By: Jeremy Shields
Back to News