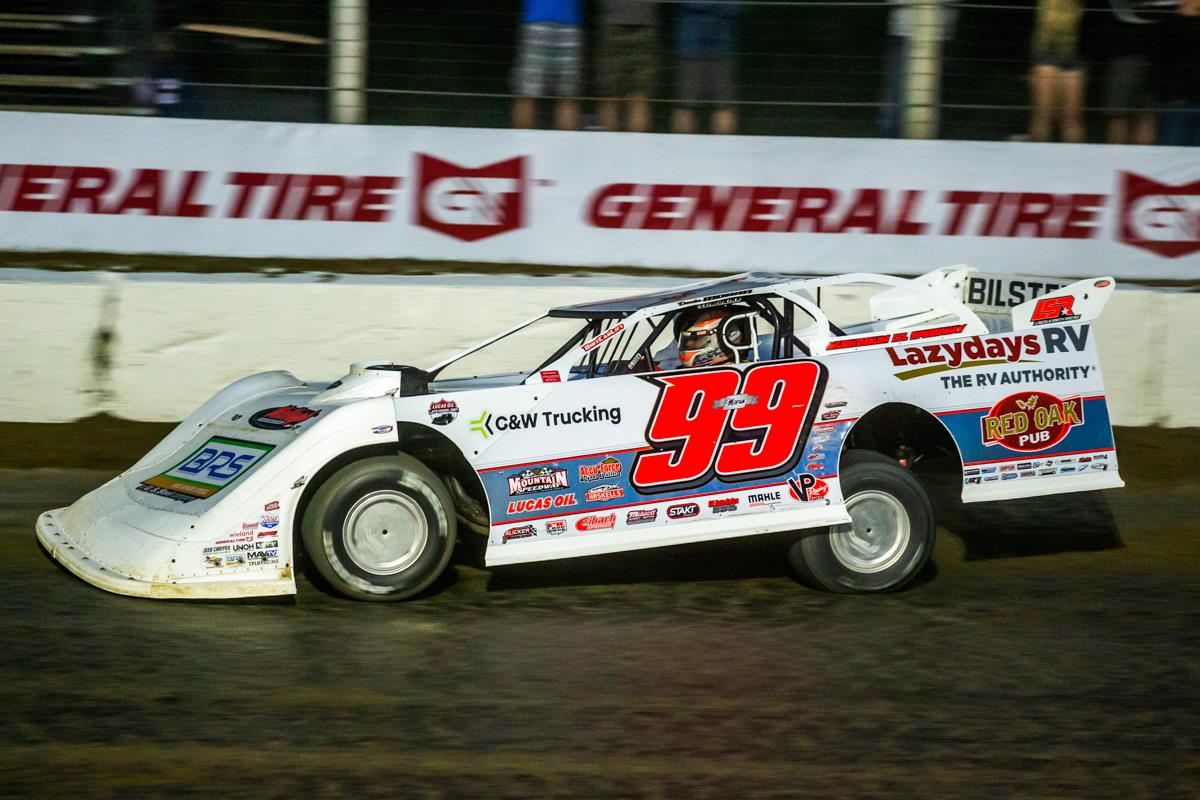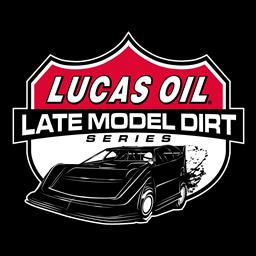 7/6/2023
Lucas Oil Late Model Dirt Series
---
Moran Wins Wild Thursday Night Preliminary at Deer Creek
SPRING VALLEY, Minn. (July 6, 2023) – Devin Moran survived a wild 25-lap preliminary feature on Thursday night at Deer Creek Speedway to earn his second Lucas Oil Late Model Dirt Series win of the season.
Moran took the lead on lap 12 when the first and second place running cars of Daulton Wilson and Bobby Pierce were forced pit side. Wilson suffered a flat tire while leading and Pierce after hard contact with the turn four wall.
Jonathan Davenport would come home in second followed by Brandon Sheppard, Tim McCreadie, and Tyler Erb.
Piece, who started from the pole led the opening lap until Wilson, who was seeking his first career win in the Lucas Oil Late Model Dirt Series picked up the lead on the second lap. Wilson and Pierce ran first and second until lap 11 when Wilson slowed with a right rear flat tire and Pierce developed issues after slamming into the turn four wall while racing the lead.
Wilson would pit for a new tire, but Pierce kept going as he was the new leader of the race. On the restart to begin lap 12 Pierce slowed bottling up the field as he would exit the track with right rear axle issues on his car. Moran then picked up the lead of the race and pulled away from Davenport to take a 2.66 second advantage at the checkers.
Moran, who started fifth picked up the eighth win of his Lucas Oil Late Model Dirt Series career. "The Double Down Motorsports Longhorn car was phenomenal tonight. This Deer Creek, it has owed me a win since about 2017. I about had one then. I hadn't really been back except one time since and what a phenomenal racetrack, phenomenal facility and it's going to be a lot of fun racing all weekend," said the 28-year-old Dresden, Ohio resident in Lucas Oil Victory Lane.
Moran explained his move to the front after Wilson and Pierce headed pitside clearing the way for Moran. "I had just got by Overton for fourth and the the caution came out. Then Daulton and Bobby and all that happened to them, and I got by JD. It's a super bummer especially for Daulton he is still looking for his first Lucas Oil win and I thought he might have one tonight. They're a great team. I don't know what happened to Bobby whether it was an axle that broke or something when he smoked the wall and, on that restart, he just couldn't go, just one wheel looked like it was driving."
Davenport who is seeking his first NAPA Gopher 50 win on Saturday night was one of the three different race leaders came home in second. "I guess I needed one more person to fall out of the race to be able to win tonight. Daulton had bad luck and the 32 went sliding when the caution came out, he hit the wall pretty hard he must have broken an axle or something. The previous restart Devin got by me. He was a little bit better than we were. He was a lot different on tires than we were. We were trying some different things for the big race on Saturday. Last year we were really good in the prelims and then we struggled in the big race. Everything we did last year just doesn't seem to cut the mustard this year."
Sheppard driving the Kevin Rumley-owned entry rounded out the Big River Steel Podium in third. "I guess I shouldn't be surprised you know I have got big shoes to fill in this thing, but the car was really good all night. Kevin and the guys gave me a great race car. I messed up a little bit there in the heat race, but we salvaged a really good run."
The winner's Roger Sellers, Double Down Motorsports owned Longhorn Chassis is powered by a Clements Racing Engine and sponsored by Big River Steel, Lazydays RV, C&W Trucking, Bilstein Shocks, CarSourceAuto.com, Red Oak Pub, Lucas Oil Products, Smoky Mountain Speedway, Lincoln Smith Racing, Midwest Sheet Metal, and McHugh Chrysler, Dodge, Jeep and Ram.
Completing the top ten were Chris Madden, Hudson O'Neal, Max Blair, Dustin Sorensen, and Spencer Hughes.
Following the checkered flag, Ricky Thornton Jr. made contact with another car resulting in his disqualification.
Lucas Oil Late Model Dirt Series
Race Summary
NAPA Auto Parts Gopher 50 – Night 1
Thursday, July 6, 2023
Deer Creek Speedway – Spring Valley, MN
Allstar Performance Time Trials
Fast Time Group A: Bobby Pierce / 14.587 seconds (overall)
Fast Time Group B: Daulton Wilson / 14.820 seconds
Penske Shocks Heat Race #1 Finish (8 Laps, Top 4 Transfer): 1. 32-Bobby Pierce[1]; 2. 99-Devin Moran[2]; 3. 25-Chad Simpson[4]; 4. 25C-Shane Clanton[3]; 5. 20RT-Ricky Thornton Jr[5]; 6. 28S-Dustin Sorensen[9]; 7. 42-Terry Casey[8]; 8. 10P-Paul Parker[10]; 9. 1H-Hudson O'Neal[7]; 10. 7-Ross Robinson[6]
Summit Racing Products Heat Race #2 Finish (8 Laps, Top 4 Transfer): 1. 11-Spencer Hughes[2]; 2. 5-Brandon Sheppard[1]; 3. 1T-Tyler Erb[4]; 4. 46-Earl Pearson Jr[3]; 5. 39-Tim McCreadie[5]; 6. 15-Nick Anvelink[6]; 7. 1ST-Johnny Scott[7]; 8. 99B-Boom Briggs[8]; 9. 11L-Lance Hofer[9]
Simpson Race Products Heat Race #3 (8 Laps, Top 4 Transfer): 1. 18D-Daulton Wilson[1]; 2. 157-Mike Marlar[2]; 3. 44-Chris Madden[3]; 4. 49T-Jake Timm[5]; 5. 111B-Max Blair[4]; 6. 16-Tyler Bruening[6]; 7. 2S-Stormy Scott[10]; 8. 32C-Chris Simpson[7]; 9. 22-Daniel Hilsabeck[9]; 10. 14G-Trevor Gundaker[8]
AP1 Insurance Heat Race #4 (8 Laps, Top 4 Transfer): 1. 49-Jonathan Davenport[1]; 2. 76-Brandon Overton[3]; 3. 58-Garrett Alberson[2]; 4. 10-Garrett Smith[7]; 5. 8-Dillon McCowan[8]; 6. 77-Jordan Yaggy[5]; 7. 55C-Chad Mahder[6]; 8. 15J-Justin Duty[4]; 9. 90-Lance Matthees[9]
Fast Shafts B-Main Race #1 (10 Laps, Top 4 Transfer): 1. 39-Tim McCreadie[2]; 2. 20RT-Ricky Thornton Jr[1]; 3. 1H-Hudson O'Neal[9]; 4. 28S-Dustin Sorensen[3]; 5. 15-Nick Anvelink[4]; 6. 1ST-Johnny Scott[6]; 7. 99B-Boom Briggs[8]; 8. 11L-Lance Hofer[10]; 9. 10P-Paul Parker[7]; 10. (DNS) 42-Terry Casey; 11. (DNS) 7-Ross Robinson
UNOH B-Main Race #2 (10 Laps, Top 4 Transfer): 1. 111B-Max Blair[1]; 2. 32C-Chris Simpson[7]; 3. 8-Dillon McCowan[2]; 4. 2S-Stormy Scott[5]; 5. 16-Tyler Bruening[3]; 6. 77-Jordan Yaggy[4]; 7. 15J-Justin Duty[8]; 8. 22-Daniel Hilsabeck[9]; 9. 14G-Trevor Gundaker[11]; 10. 55C-Chad Mahder[6]; 11. (DNS) 90-Lance Matthees
NAPA Auto Parts Gopher 50 Night 1 Feature Finish (25 Laps):

Race Statistics
Entrants: 38
Terminal Maintenance & Construction Pole Sitter: Bobby Pierce
Lap Leaders: Bobby Pierce (Lap 1); Daulton Wilson (Laps 2-11); Devin Moran (Laps 12-25)
Wieland Feature Winner: Devin Moran
Arizona Sport Shirts Crown Jewel Cup Feature Winner: n/a
Brandon Ford TV Challenge Feature Winner: n/a
Margin of Victory: 2.663 seconds
Gorsuch Performance Solutions Cautions: Shane Clanton (Lap 8); Chad Simpson (Lap 11); Bobby Pierce (Lap 11 Restart)
Fast Time Provisional: n/a
Series Emergency Provisionals: n/a
Track Provisional: n/a
Big River Steel Podium Top 3: Devin Moran, Jonathan Davenport, Brandon Sheppard
Penske Shocks Top 5: Devin Moran, Jonathan Davenport, Brandon Sheppard, Tim McCreadie, Tyler Erb
Todd Steel Buildings Hard Charger of the Race: Hudson O'Neal (Advanced 14 Positions)
Wilwood Brakes Lucky 7th Place Feature: Hudson O'Neal
Deatherage Opticians Lucky 13th Place Feature: Chris Simpson
Earnhardt Technologies Most Laps Led: Devin Moran (14 Laps)
Sunoco Race for Gas Highest Finisher: Brandon Sheppard
Midwest Sheet Metal Spoiler Challenge Point Leader: Ricky Thornton, Jr.
O'Reilly Auto Parts Rookie of the Race: Max Blair
Etchberger Trucking Fastest Lap of the Race: Bobby Pierce (Lap 6 – 15.353 seconds)
MD3 Tough Break of the Race: Daulton Wilson
Outerwears Crew Chief of the Race: Chuck Kimble (Devin Moran)
ARP Engine Builder of the Race: Clements Racing Engines
Miller Welders Chassis Builder of the Race: Longhorn Chassis
Dirt Draft Fastest in Hot Laps: Chad Simpson (14.460 seconds)
Time of Race: 17 minutes 49 seconds
---
Submitted By: Jeremy Shields
Back to News