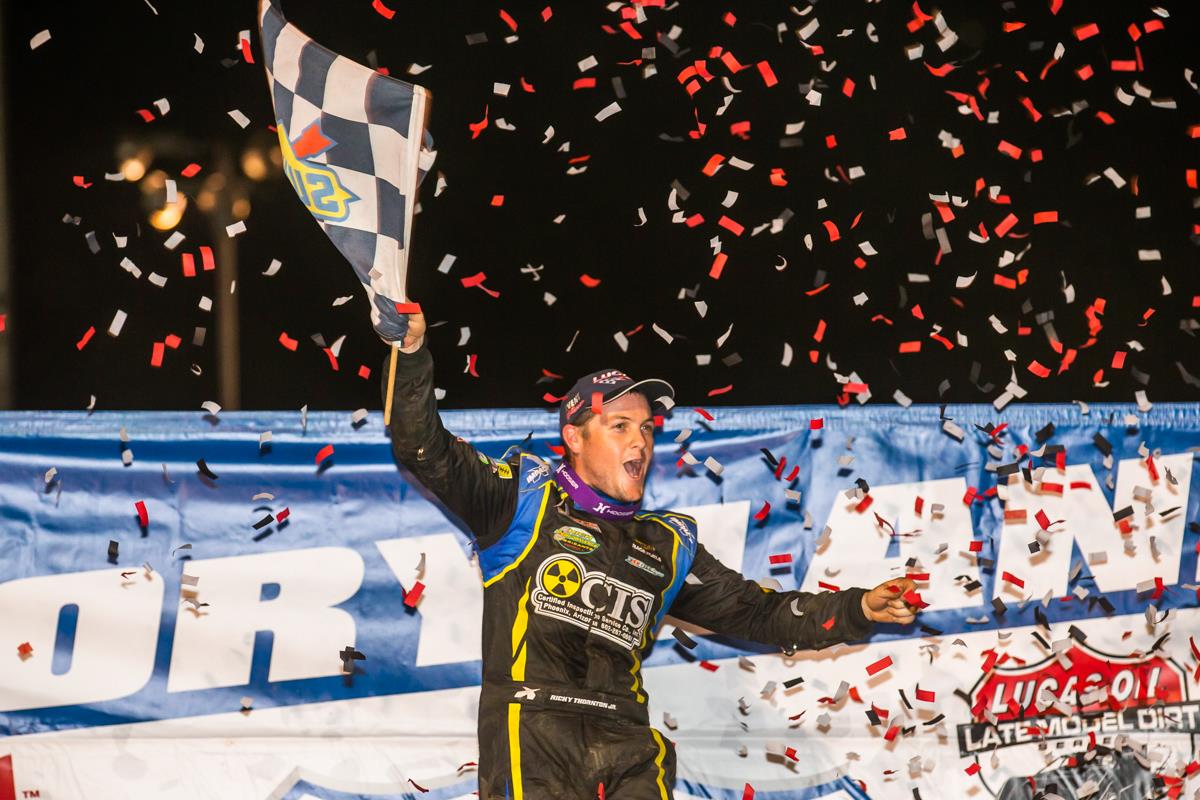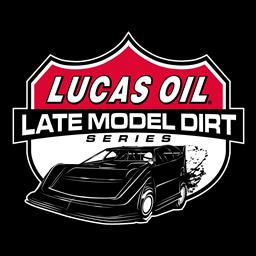 7/1/2023
Lucas Oil Late Model Dirt Series
---
Ricky Thornton Jr. Continues Winning Ways at Muskingum
ZANESVILLE, Ohio (July 1, 2023) – Ricky Thornton Jr. remained unstoppable on Saturday night at Muskingum County Speedway, scoring his third straight Arizona Sport Shirts Crown Jewel Cup victory. Thornton collected $30,000 for his triumph in the Freedom 60.
Thornton became the 16th different driver in the 17 championship points earning events held at the Moran-family-owned facility since the Lucas Oil Late Model Dirt Series first event there in 2005. Thornton took the lead on lap 26 from Brandon Overton and went unchallenged to the checkered flag.
Tim McCreadie came home in second followed by the Todd Steel Buildings Hard Charger of the Race Max Blair who rounded out the Big River Steel Podium in third. Blair charged from his 22nd starting spot to earn the honors. Hudson O'Neal was fourth with Devin Moran rounded out the top five drivers.
Overton held the lead from the drop of the green flag until Thornton, who started fourth, was able to close the gap on the Georgia racer by lap 24. Overton and Thornton exchanged slide jobs for the lead during the next two laps with Thornton finally able to clear Overton on lap 26 to take over the race lead.
Overton, O'Neal, and McCreadie all took turns in second behind Thornton for the next 30 laps, but none of them had anything for the #1-ranked dirt late model driver in the nation. McCreadie was able to clear O'Neal for second by lap 48 after the two had ran several laps neck-and-neck. Thornton's winning margin over McCreadie was just over two and half seconds at the finish.
Thornton's 12th Lucas Oil Late Model Dirt Series win of the season brought his three-week earnings total to over $130,000. "I really didn't feel that good around the top and Brandon [Overton] and Hud [O'Neal] were really good up there and then T-Mac got up there. I think it slowed down up there and so I moved down from there, and I got a lot better. We tore up a lot of stuff last night. I have got to give a big shoutout to DJ, Burroughs, and Jayco they worked their tails off getting the car ready for tonight."
"We had a lot of cautions early on and then the last one with about 14 to go. I think those cautions made the track a little bit racier it seemed like. On the restarts you could kind of move around a lot. You could find a different line that worked, and it probably helped me more than anything to be able to run around the bottom. I kind of knew where to pick up the pace when I got out in front, and I knew where to restart at. It worked out for us," said the 32-year-old Martinsville, Indiana resident.
McCreadie battled side-by-side for several laps with O'Neal during the race and had to hold off Blair at the end to pick up the runner-up spot. "He [Thornton] has been the car the beat everywhere we go. I am happy for our night. We really haven't been on the same straightaway with him for two months. I want to thank my guys at the shop and at Longhorn. I think we are back to where we can start tackling where the 20's at. It was a great weekend for us. I felt pretty good. I just hadn't been firing very well, but we've been firing well this weekend so I just tried to adjust this car so it would be better maybe later in the night. I got in trouble the first couple of starts."
Blair, the O'Reilly Auto Parts top rookie candidate moved up 19 spots to round out the top three drivers with his spectacular run. "We just had a really good car all weekend. I really wish that feature last night we were in played out differently. I am glad I ran third tonight. I wish I would have started higher tonight, but we had a great car tonight. It was a lot of fun out there the track was unbelievable tonight, you could race all over it. I don't think anybody is going to get where the 20RT is right now. He's special that's for sure. He's been really good all year. Just sitting on the frontstretch with these two [Thornton and McCreadie] is a pretty cool thing you know and to just think about the cars we drove by it's pretty surreal really. I didn't think this was how the day was going to end up."
The winner's Todd and Vickie Burns-owned, SSI Motorsports, Longhorn Chassis is powered by a Clements Racing Engine and sponsored by Big River Steel, Hoker Trucking, Coltman Farms, Sub-Surface of Indiana, Dyno One Inc., West Side Tractor Sales, D&E Outside Services, Certified Inspection Services Company, Inc., Sunoco Race Fuels, Bilstein Shocks, Midwest Sheet Metal, and Murty Farms.
Completing the top ten were Tyler Erb, Earl Pearson Jr., Brandon Overton, Garrett Alberson, and Jonathan Davenport.
Lucas Oil Late Model Dirt Series
Race Summary
Freedom 60 – Night 2
Saturday, July 1, 2023
Muskingum County Speedway – Zanesville, OH
Fast Shafts B-Main Race #1 Finish (10 Laps, Top 4 Transfer): 1. 11-Spencer Hughes[1]; 2. 1T-Tyler Erb[9]; 3. 55-Jesse Wisecarver[4]; 4. 111B-Max Blair[5]; 5. 10L-Nathon Loney[2]; 6. 66JR-Eddie Carrier Jr[3]; 7. S21-Seth Daniels[12]; 8. AUS1-Brent Vosbergen[15]; 9. 29-Clint Keenan[10]; 10. 46-Earl Pearson Jr[14]; 11. (DNS) 57-Caiden Black; 12. (DNS) 22-Cody Rogers; 13. (DNS) 5T-John Tweed; 14. (DNS) K11-George Klintworth; 15. (DNS) 145-Chase Frohnapfel
Freedom 60 Feature Finish (60 Laps):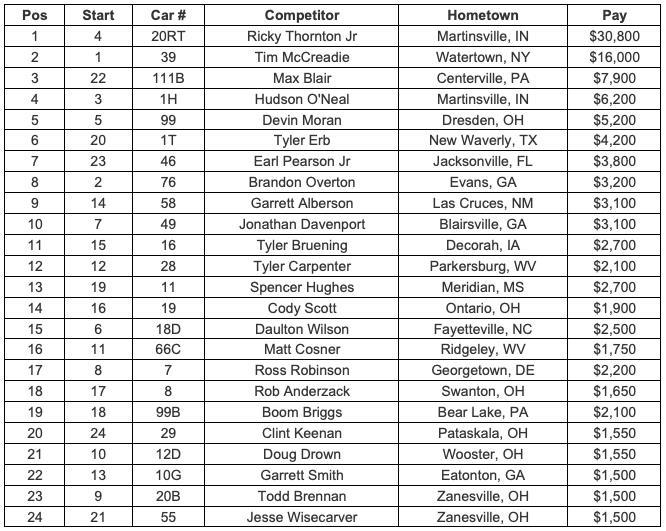 Race Statistics
Entrants: 33
Terminal Maintenance & Construction Pole Sitter: Tim McCreadie
Lap Leaders: Brandon Overton (Laps 1-25); Ricky Thornton, Jr. (Laps 26-60)
Wieland Feature Winner: Ricky Thornton, Jr.
Arizona Sport Shirts Crown Jewel Cup Feature Winner: Ricky Thornton, Jr.
Brandon Ford TV Challenge Feature Winner: n/a
Margin of Victory: 2.508 seconds
Gorsuch Performance Solutions Cautions: Doug Drown (Lap 2); Jesse Wisecarver, Clint Keenan (Lap 2 Restart); Cody Scott, Doug Drown, Clint Keenan, Garrett Smith, Spencer Hughes, Earl Pearson, Jr. (Lap 2 Restart); Doug Drown (Lap 42); Spencer Hughes (Lap 46)
Series Provisionals: Earl Pearson, Jr.
Series Emergency Provisionals: n/a
Track Provisional: Clint Keenan
Big River Steel Podium Top 3: Ricky Thornton, Jr., Tim McCreadie, Max Blair
Penske Shocks Top 5: Ricky Thornton, Jr., Tim McCreadie, Max Blair, Hudson O'Neal, Devin Moran
Todd Steel Buildings Hard Charger of the Race: Max Blair (Advanced 19 Positions)
Wilwood Brakes Lucky 7th Place Feature: Earl Pearson, Jr.
Deatherage Opticians Lucky 13th Place Feature: Spencer Hughes
Earnhardt Technologies Most Laps Led: Ricky Thornton, Jr. (35 Laps)
Sunoco Race for Gas Highest Finisher: Ricky Thornton, Jr.
Midwest Sheet Metal Spoiler Challenge Point Leader: Ricky Thornton, Jr.
O'Reilly Auto Parts Rookie of the Race: Max Blair
Etchberger Trucking Fastest Lap of the Race: Brandon Overton (Lap 1 – 16.844 seconds)
MD3 Tough Break of the Race: Daulton Wilson
Outerwears Crew Chief of the Race: Anthony Burroughs (Ricky Thornton, Jr.)
ARP Engine Builder of the Race: Clements Racing Engines
Miller Welders Chassis Builder of the Race: Longhorn Chassis
Dirt Draft Fastest in Hot Laps: Earl Pearson, Jr. (15.990 seconds)
Time of Race: 36 minutes 48 seconds
The Big River Steel Chase for the Championship Presented by ARP Point Standings: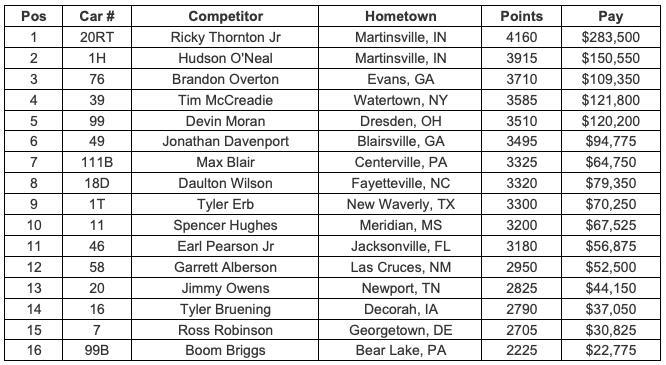 ---
Submitted By: Jeremy Shields
Back to News