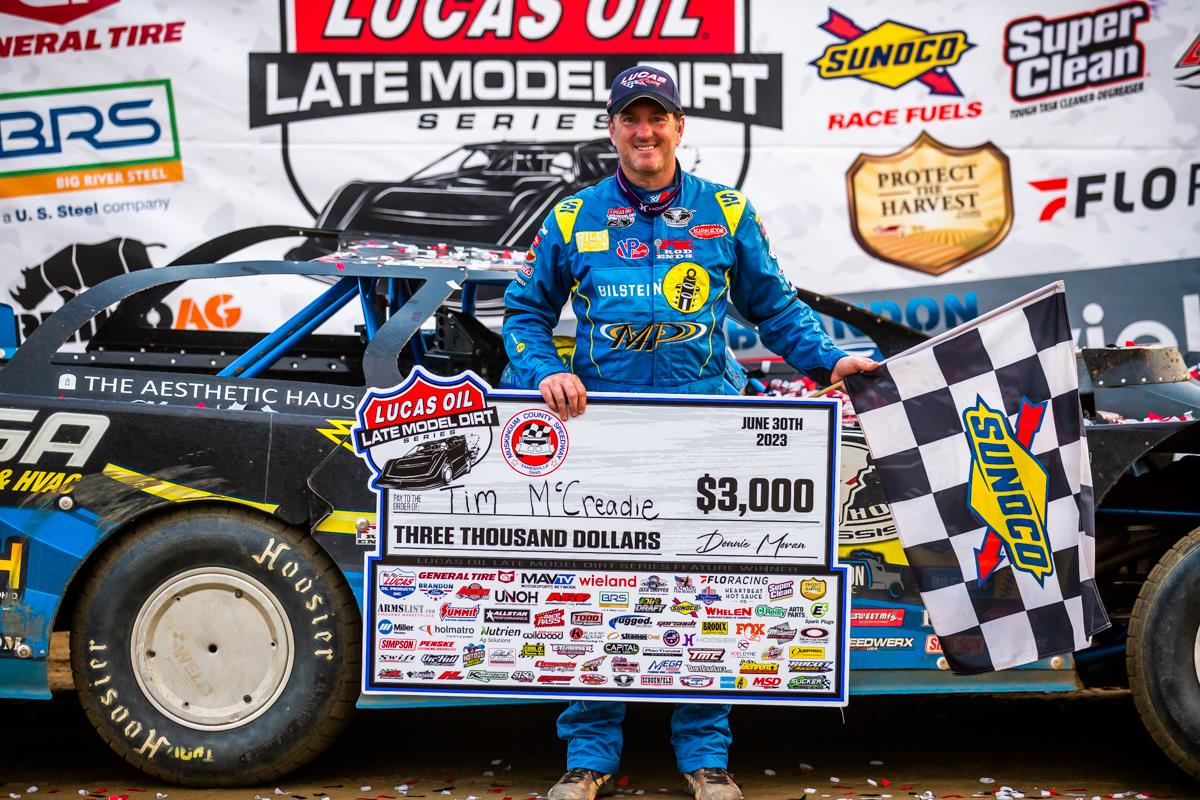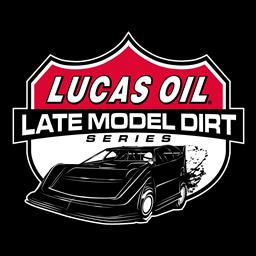 6/30/2023
Lucas Oil Late Model Dirt Series
---
McCreadie, O'Neal and Thornton Claim Muskingum County Preliminaries
ZANESVILLE, Ohio (June 30, 2023) – Tim McCreadie, Hudson O'Neal and Ricky Thornton Jr. each won their respective 20-lap preliminary features on Friday night at Muskingum County Speedway. The top six finishers in each of the features advance to Saturday night's Freedom 60 paying $30,000 to win for the Lucas Oil Late Model Dirt Series.
McCreadie led all 20 laps in the first feature of the night to earn his second Lucas Oil Late Model Dirt Series win of the season over sixth starting Brandon Overton, Jonathan Davenport, Doug Drown, and Cody Scott who all advanced to Saturday's main event.
McCreadie, the 2-time and reigning series champion who currently sits fourth in the championship points battled early on with Spencer Hughes for the lead. "It was tough running that first feature because you didn't know where to run. Then we started to get the top line run in and that's where I stayed for the rest of the race. Thanks to all my guys and everybody at Longhorn for busting their tails this week on the car. It was a tough weekend at Lernerville last Saturday, because we had to fight through so many issues, but we came here tonight, and the car was good. I am looking forward to seeing what we can do here tomorrow night."
The winner's Paylor Motorsports, Longhorn Chassis is powered by a Cornett Racing Engine and sponsored by Mega Plumbing of the Carolinas, Racing for Heroes, Bilstein Shocks, Armslist.com, Baker-Mitchell Company, Integrous Risk Solutions, Brad Benton Trucking Inc., and The Aesthetic Haus.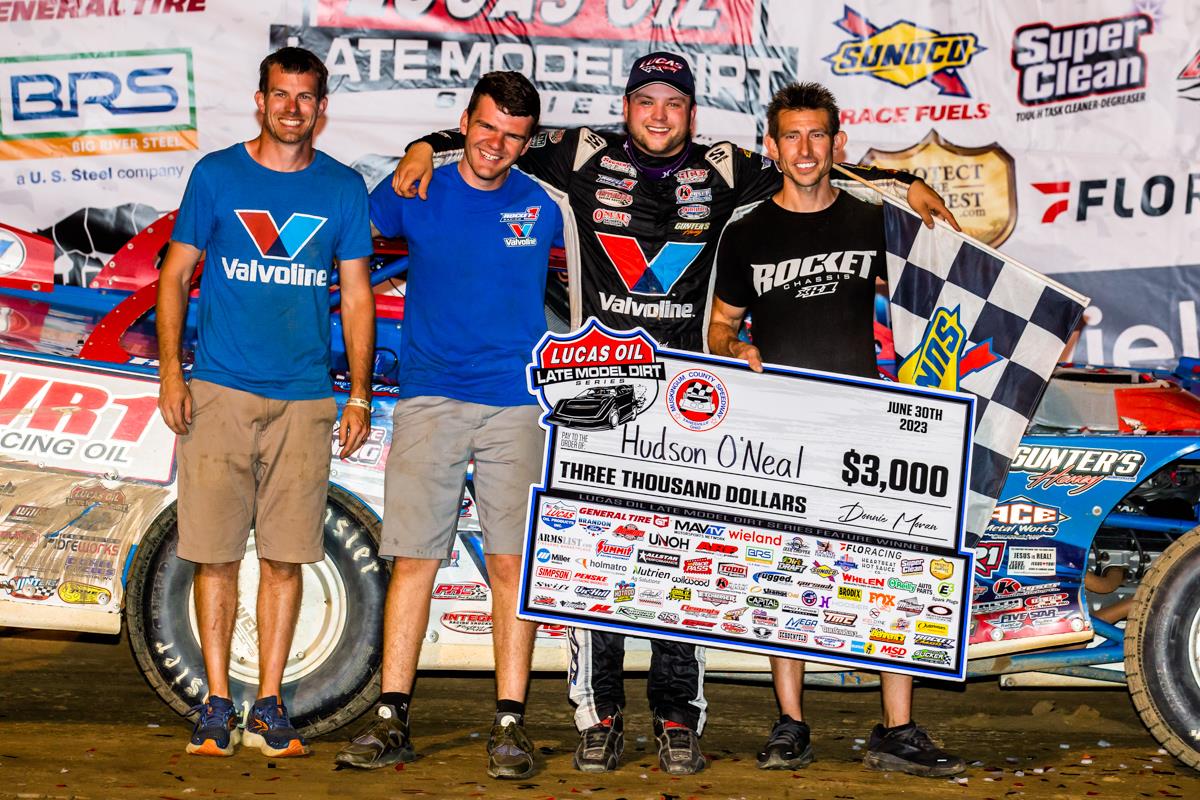 O'Neal won the second 20-lap feature taking the lead on lap 13 as race leader Max Blair, who had led the first 12 laps, suffered a left-rear flat tire forcing him to the hot pit. O'Neal then held off Devin Moran for his fourth series win the season. Trailing O'Neal and Moran across the finish line was Ross Robinson, who earned his first career Lucas Oil Late Model Dirt Series podium. Matt Cosner, Garrett Alberson, and Rob Anderzack all punched their tickets into the 60-lap feature on Saturday.
It was tight three-car battle for the lead between Blair, O'Neal and Moran with O'Neal emerged for the win despite changing track conditions during the race. "There were just huge chunks of mud everywhere. I tried to get up and come down the racetrack to cross him [Blair] over. The track was kind of dirty and I just centered it up and I really thought it folded our nose under. You had to drive it for all it was worth right there. So, we'll take this one, I thought it was a pretty good race and hopefully we can get a good starting spot for tomorrow that's for sure. I was getting frustrated a little bit because I felt I had a good racecar. I just couldn't do anything with it. We were able to pull out there at the end though."
The winner's Mark Richards Racing, Rocket Chassis is powered by a Durham Racing Engine and sponsored by Valvoline, Seubert Calf Ranches, Ace Metal Works, Rocket Pre-Owned Motors, Gunter's Honey, Petroff Towing, WR1 Sim Chassis, O'Neal's Salvage and Recycling, Sunoco Race Fuels, Integra Shocks, and Performance Grading.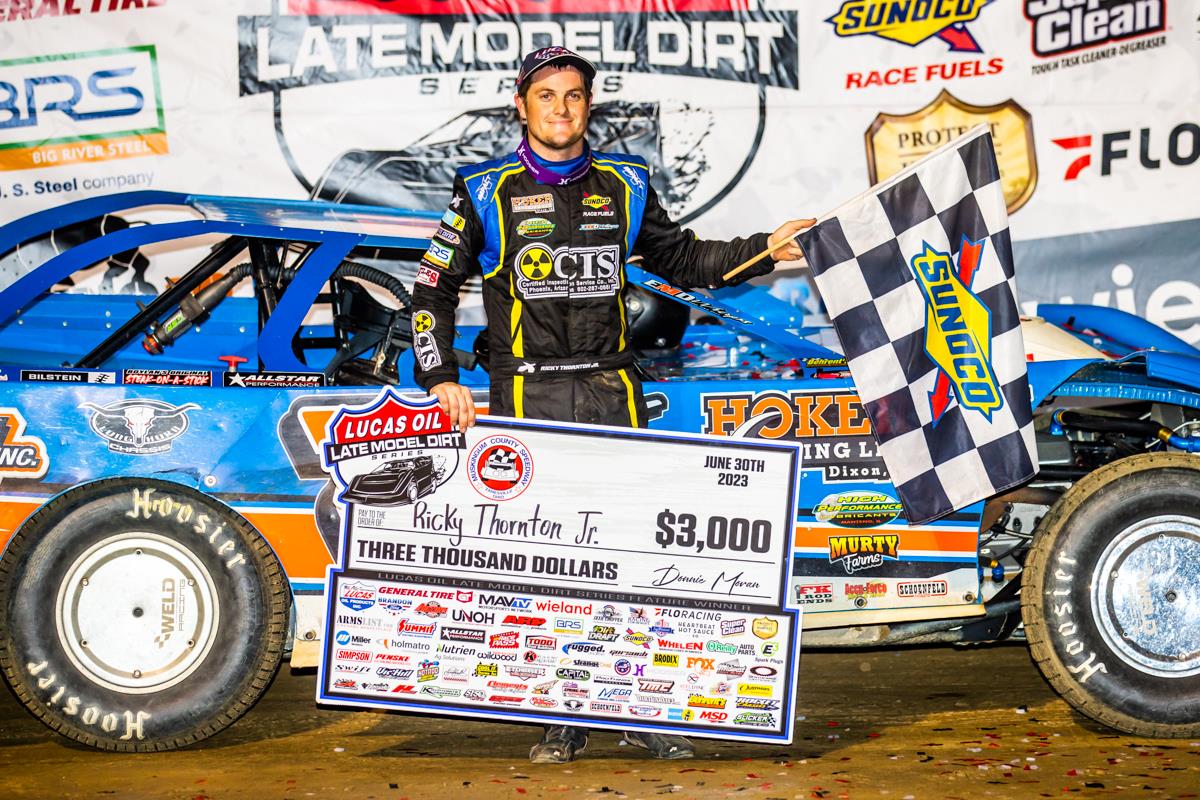 Thornton, the current Big River Steel Chase for the Championship presented by ARP leader waited until the white flag lap to track down Daulton Wilson, who had led the first 18 circuits. Wilson was second followed by Todd Brennan, who drove from sixth to third at the finish for his first career Lucas Oil Late Model Dirt Series podium spot. Tyler Carpenter, Tyler Bruening, and Boom Briggs rounded out the top six to advance to Saturday's main event.
Thornton, coming off back-to-back $50,000 victories at Smoky Mountain and Lernerville looks primed for another big payday on Saturday. "Really, I don't know how I got to him that quick. I felt like I was trying to run too hard to stay with him. He got barely too high in the corner, and I thought if I get to him am I going to be able to do anything with him? It worked out for us; it was cool. I knew if I could race into one and make him drive hard off two, I thought I had a shot and I did."
The winner's Todd and Vickie Burns-owned, SSI Motorsports Longhorn Chassis is powered by a Clements Racing Engine and sponsored by Big River Steel, Hoker Trucking, Coltman Farms, Sub-Surface of Indiana, Dyno One Inc., West Side Tractor Sales Company, D&E Outside Services, Certified Inspection Services, Sunoco Race Fuels, Bilstein Shocks, Midwest Sheet Metal, ad Murty Farms.
Lucas Oil Late Model Dirt Series
Race Summary
Freedom 60 – Night 1
Friday, June 30, 2023
Muskingum County Speedway – Zanesville, OH
Allstar Performance Time Trials
Overall Fast Time: Spencer Hughes | 15.587 seconds
A-Feature #1 Feature Finish (20 Laps):


A-Feature #2 Feature Finish (20 Laps):


A-Feature #3 Feature Finish (20 Laps):


Race Statistics
Entrants: 32
A-Feature #1 Terminal Maintenance & Construction Pole Sitter: Spencer Hughes
A-Feature #2 Terminal Maintenance & Construction Pole Sitter: Devin Moran
A-Feature #3 Terminal Maintenance & Construction Pole Sitter: Daulton Wilson
A-Feature #1 Lap Leaders: Tim McCreadie (20 Laps)
A-Feature #2 Lap Leaders: Max Blair (Laps 1-12); Hudson O'Neal (Laps 13-20)
A-Feature #3 Lap Leaders: Daulton Wilson (Laps 1-18); Ricky Thornton, Jr. (Laps 19-20)
A-Feature #1 Wieland Feature Winner: Tim McCreadie
A-Feature #2 Wieland Feature Winner: Hudson O'Neal
A-Feature #3 Wieland Feature Winner: Ricky Thornton, Jr.
Arizona Sport Shirts Crown Jewel Cup Feature Winner: n/a
Brandon Ford TV Challenge Feature Winner: n/a
A-Feature #1 Margin of Victory: 0.860 seconds
A-Feature #2 Margin of Victory: 0.813 seconds
A-Feature #3 Margin of Victory: 1.180 seconds
A-Feature #1 Gorsuch Performance Solutions Cautions: Cody Rogers (Lap 5); Cody Rogers (Lap 7); Spencer Hughes (Lap 18)
A-Feature #2 Gorsuch Performance Solutions Cautions: Debris (Lap 11); Max Blair (Lap 16)
A-Feature #3 Gorsuch Performance Solutions Cautions: Seth Daniels (Lap 4)
Series Provisionals: n/a
Fast Time Provisional: n/a
Series Emergency Provisionals: n/a
Track Provisional: n/a
A-Feature #1 Big River Steel Podium Top 3: Tim McCreadie, Brandon Overton, Jonathan Davenport
A-Feature #2 Big River Steel Podium Top 3: Hudson O'Neal, Devin Moran, Ross Robinson
A-Feature #3 Big River Steel Podium Top 3: Ricky Thornton, Jr., Daulton Wilson, Todd Brennan
A-Feature #1 Penske Shocks Top 5: Tim McCreadie, Brandon Overton, Jonathan Davenport, Doug Drown, Garrett Smith
A-Feature #2 Penske Shocks Top 5: Hudson O'Neal, Devin Moran, Ross Robinson, Matt Cosner, Garrett Alberson
A-Feature #3 Penske Shocks Top 5: Ricky Thornton, Jr., Daulton Wilson, Todd Brennan, Tyler Carpenter, Tyler Bruening
A-Feature #1 Todd Steel Buildings Hard Charger of the Race: Doug Drown (Advanced 5 Positions)
A-Feature #2 Todd Steel Buildings Hard Charger of the Race: Ross Robinson (Advanced 5 Positions)
A-Feature #3 Todd Steel Buildings Hard Charger of the Race: Todd Brennan (Advanced 3 Positions)
A-Feature #1 Wilwood Brakes Lucky 7th Place Feature: Spencer Hughes
A-Feature #2 Wilwood Brakes Lucky 7th Place Feature: Nathon Loney
A-Feature #3 Wilwood Brakes Lucky 7th Place Feature: Eddie Carrier, JR.
Deatherage Opticians Lucky 13th Place Feature: n/a
A-Feature #1 Earnhardt Technologies Most Laps Led: Tim McCreadie (20 Laps)
A-Feature #2 Earnhardt Technologies Most Laps Led: Max Blair (12 Laps)
A-Feature #3 Earnhardt Technologies Most Laps Led: Daulton Wilson (18 Laps)
A-Feature #1 Sunoco Race for Gas Highest Finisher: Cody Scott
A-Feature #2 Sunoco Race for Gas Highest Finisher: Hudson O'Neal
A-Feature #3 Sunoco Race for Gas Highest Finisher: Ricky Thornton, Jr.
Midwest Sheet Metal Spoiler Challenge Point Leader: Ricky Thornton, Jr.
O'Reilly Auto Parts Rookie of the Race: n/a
A-Feature #1 Etchberger Trucking Fastest Lap of the Race: Tim McCreadie (Lap 9– 15.671 seconds)
A-Feature #2 Etchberger Trucking Fastest Lap of the Race: Hudson O'Neal (Lap 2– 15.411 seconds)
A-Feature #3 Etchberger Trucking Fastest Lap of the Race: Daulton Wilson (Lap 2– 15.608 seconds)
A-Feature #1 MD3 Tough Break of the Race: Spencer Hughes
A-Feature #2 MD3 Tough Break of the Race: Earl Pearson, Jr.
A-Feature #3 MD3 Tough Break of the Race: Tyler Erb
A-Feature #1 Outerwears Crew Chief of the Race: Scott Fegter (Tim McCreadie)
A-Feature #2 Outerwears Crew Chief of the Race: Danny White (Hudson O'Neal
A-Feature #3 Outerwears Crew Chief of the Race: Anthony Burroughs (Ricky Thornton, Jr.)
A-Feature #1 ARP Engine Builder of the Race: Cornett Racing Engines
A-Feature #2 ARP Engine Builder of the Race: Durham Race Engines
A-Feature #3 ARP Engine Builder of the Race: Clements Racing Engines
A-Feature #1 Miller Welders Chassis Builder of the Race: Longhorn Chassis
A-Feature #2 Miller Welders Chassis Builder of the Race: Rocket Chassis
A-Feature #3 Miller Welders Chassis Builder of the Race: Longhorn Chassis
Dirt Draft Fastest in Hot Laps: Jonathan Davenport (15.639 seconds)
A-Feature #1 Time of Race: 19 minutes 30 seconds
A-Feature #2 Time of Race: 11 minutes 10 seconds
A-Feature #3 Time of Race: 8 minutes 31 seconds
Saturday Fast Shafts B-Main #1 (10 Laps | Top 4 Transfer) Line-Ups


Freedom 60 A-Main (60 Laps) Line-Up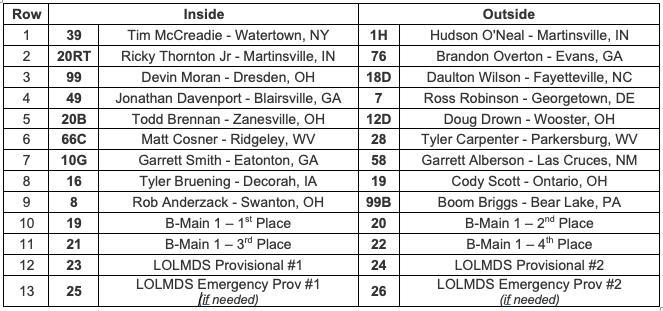 ---
Submitted By: Jeremy Shields
Article Media
Back to News