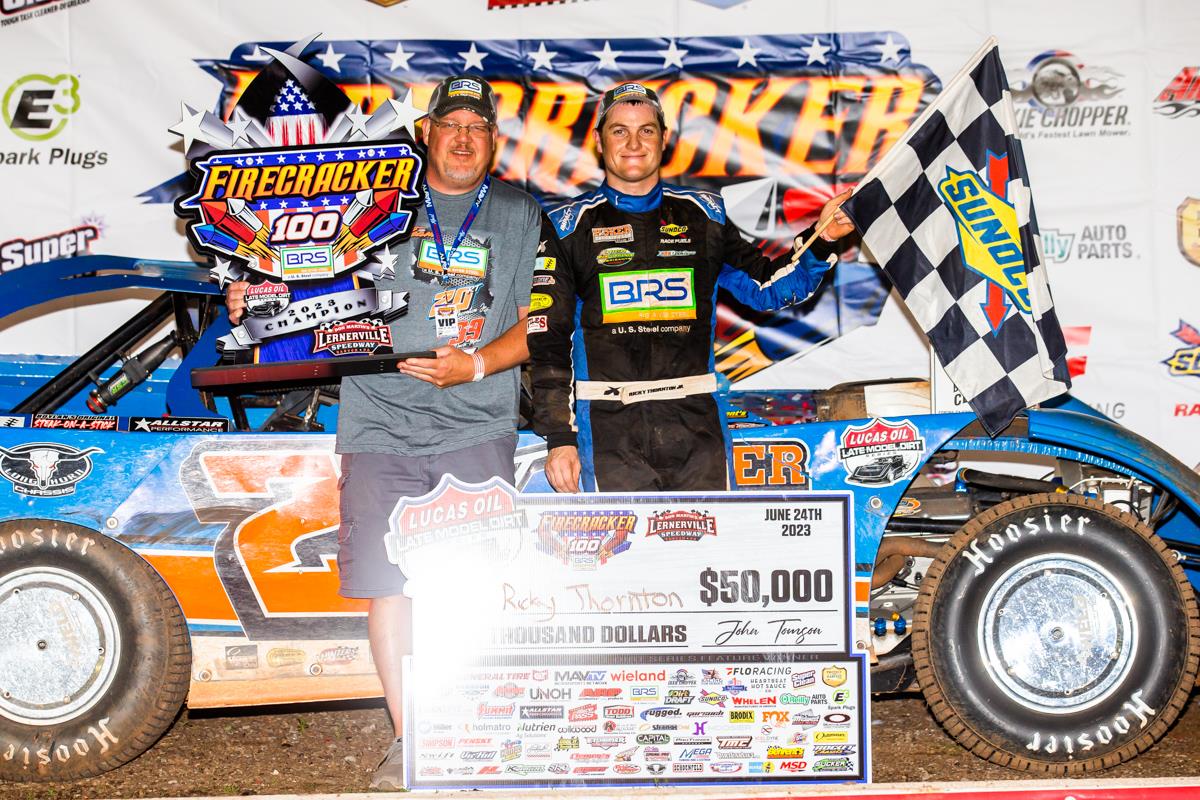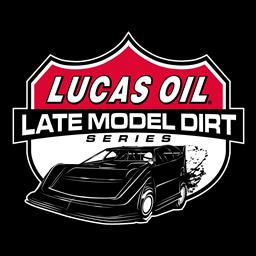 6/24/2023
Lucas Oil Late Model Dirt Series
---
Ricky Thornton Jr. Cashes in on First Career Firecracker 100 at Lernerville
SARVER, Pa. (June 24, 2023) – Ricky Thornton Jr. pulled away on lap 81 from an outstanding battle for the lead with Hudson O'Neal to win the 17th Annual Firecracker 100 presented by Big River Steel on Saturday night. Thornton earned $50,000 for his 10th Lucas Oil Late Model Dirt Series victory of 2023.
Thornton and O'Neal battled side-by-side for several circuits with the two exchanging the lead at least six times during that span. Thornton was able to eventually shake O'Neal and pull away to nearly a straightaway lead as the checkered flag fell. Jonathan Davenport, who led the first 44 laps was third with Gregg Satterlee and Devin Moran rounding out the top five drivers.
Thornton, who entered the event as the #1 ranked dirt late model driver in the nation, proved why with another crown jewel victory that he adds to his growing resume. "I really didn't know what to do on those restarts and I'm like you know what I was running around the bottom and if I could keep him [O'Neal] pinched him down there maybe late in the race I could get rolling through the middle and get back by him. I don't know I guess I just saved my stuff long enough and whenever I needed to use it I really could. I know it's cool because there is a bunch of Big River Steel employees here."
"I really don't know how I pulled away from him [O'Neal]. I felt like I had a really good race with JD [Davenport] for a while and then Hudson got by me, and I just rolled through the middle, and he [O'Neal] got behind a lapped car. I wasn't positive what tires he had on. I know they had talked about going soft there and they were kind of committed to the bottom and I don't know what they ended up on. I felt like I gave the race away once he got by me. I got behind Earl [Pearson Jr.] and I just kicked it into another gear and I through a Hail Mary to the top and it stuck. I was able to run there for a long-time and then with about 15 to go I moved back down to the middle" said the 32-year-old Lucas Oil Late Model Dirt Series points leader.
O'Neal, who like Thornton was seeking his first career win in the Firecracker 100 ended up nearly five seconds behind Thornton at the finish as they fought tooth-and-nail for the race lead for several laps. "I don't know if I had anything left for him [Thornton]. I was just so married to that bottom it was just hard to deal with some of those lapped cars because I just couldn't quite get a run on them like I needed. Then that bottom got so thin it made it even harder. Ricky had harder tires and was able to move out on the race track a little bit. Maybe I didn't give it a fair enough shot. We have kind of been behind the eight-ball all week. We struggled to find our stride and I just felt like we just got better and better as the week along."
Davenport rounded out the Big River Steel Podium in third. "Hudson was on a little bit different tire than me, and Ricky was. Me and Ricky were on the same tires I believe. We were just a little too tight and once it got slicker and slicker it showed up more and more. I couldn't turn down in the corner like I needed to. This was a brand-new car. That is the best we have ever been here by far. So, we will take a top three it was a good points night for us in the big scheme of things. Congrats to Ricky he's just really, really good right now."
The winner's Todd and Vickie Burns-owned, SSI Motorsports, Longhorn Chassis is powered by a Clements Racing Engine and sponsored by Big River Steel, Hoker Trucking, Coltman Farms, Sub-Surface of Indiana, Dyno One Inc., West Side Tractor Sales Company, Certified Inspection Services Company, Inc., Sunoco Race Fuels, Bilstein Shocks, Midwest Sheet Metal, and Murty Farms.
Completing the top ten were Brandom Overton, Michael Norris, Ken Schaltenbrand, Mason Zeigler, and Max Blair.
Lucas Oil Late Model Dirt Series
Race Summary
17th Annual Firecracker 100 Presented by Big River Steel Night 3
Saturday, June 24, 2023
Lernerville Speedway – Sarver, PA
Penske Shocks Heat Race #1 Finish (8 Laps, Top 3 Transfer): 1. 49-Jonathan Davenport[1]; 2. 58-Garrett Alberson[3]; 3. 11-Spencer Hughes[2]; 4. 3RK-Daryl Charlier[7]; 5. 46-Earl Pearson Jr[5]; 6. 4S-Ryan Montgomery[4]; 7. 14A-Dan Angelicchio[6]; 8. (DNS) 96-Mike Smith; 9. (DNS) 66-Todd Bachman
Summit Racing Products Heat Race #2 Finish (8 Laps, Top 3 Transfer): 1. 20RT-Ricky Thornton Jr[3]; 2. 111B-Max Blair[1]; 3. 1Z-Logan Zarin[4]; 4. 18D-Daulton Wilson[2]; 5. 9-Breyton Santee[6]; 6. 55C-Chris Schneider[7]; 7. (DNS) 22B-Darrell Bossard; 8. (DNS) 97-Kevin Smith; 9. (DNS) 10K-Zachary Kane
Simpson Race Products Heat Race #3 Finish (8 Laps, Top 3 Transfer): 1. 76-Brandon Overton[1]; 2. 1H-Hudson O'Neal[2]; 3. 7-Ross Robinson[3]; 4. 15K-Cody Overton[6]; 5. 29-Ken Schaltenbrand[4]; 6. AUS1-Brent Vosbergen[5]; 7. 1L-Chuckie Lepsch[8]; 8. (DNS) 25S-Cory Sines; 9. (DNS) 184-Kyle Lukon
AP1 Insurance Heat Race #4 Finish (8 Laps, Top 3 Transfer): 1. 39-Tim McCreadie[1]; 2. 1*-Chub Frank[3]; 3. 1C-Alex Ferree[4]; 4. 16-Tyler Bruening[2]; 5. B22-Bump Hedman[5]; 6. 14-Braeden Dillinger[6]; 7. 11P-Joshua Powell[8]; 8. (DNS) 01-Ron Hall
Lucas Oil Heat Race #5 Finish (8 Laps, Top 3 Transfer): 1. 10-Michael Norris[1]; 2. 48-Colton Flinner[3]; 3. 9Y-Levi Yetter[5]; 4. 1T-Tyler Erb[2]; 5. 20D-Doug Eck[7]; 6. 10L-Gary Lyle[6]; 7. 8K-Kyle Strickler[8]; 8. 25Z-Mason Zeigler[4]
Lucas Oil Heat Race #6 Finish (8 Laps, Top 3 Transfer): 1. 99-Devin Moran[1]; 2. 22-Gregg Satterlee[2]; 3. J4-John Garvin Jr[6]; 4. 99B-Boom Briggs[3]; 5. 55-Benji Hicks[5]; 6. 77-Tyler Dietz[8]; 7. 11T-Trevor Collins[4]; 8. 20N-Nicholas Eck[7]
Fast Shafts B-Main Race #1 Finish (10 Laps, Top 3 Transfer): 1. 18D-Daulton Wilson[2]; 2. 29-Ken Schaltenbrand[6]; 3. 46-Earl Pearson Jr[4]; 4. 3RK-Daryl Charlier[1]; 5. 4S-Ryan Montgomery[7]; 6. 14A-Dan Angelicchio[10]; 7. AUS1-Brent Vosbergen[9]; 8. 55C-Chris Schneider[8]; 9. 9-Breyton Santee[5]; 10. 1L-Chuckie Lepsch[11]; 11. 15K-Cody Overton[3]
UNOH B-Main Race #2 Finish (10 Laps, Top 3 Transfer): 1. 1T-Tyler Erb[2]; 2. 99B-Boom Briggs[3]; 3. 25Z-Mason Zeigler[13]; 4. 16-Tyler Bruening[1]; 5. 55-Benji Hicks[6]; 6. 11P-Joshua Powell[10]; 7. 14-Braeden Dillinger[7]; 8. 11T-Trevor Collins[12]; 9. B22-Bump Hedman[4]; 10. 20D-Doug Eck[5]; 11. 20N-Nicholas Eck[14]; 12. 10L-Gary Lyle[8]; 13. 77-Tyler Dietz[9]; 14. (DNS) 8K-Kyle Strickler
17th Annual Firecracker 100 Presented by Big River Steel Feature Finish (100 Laps):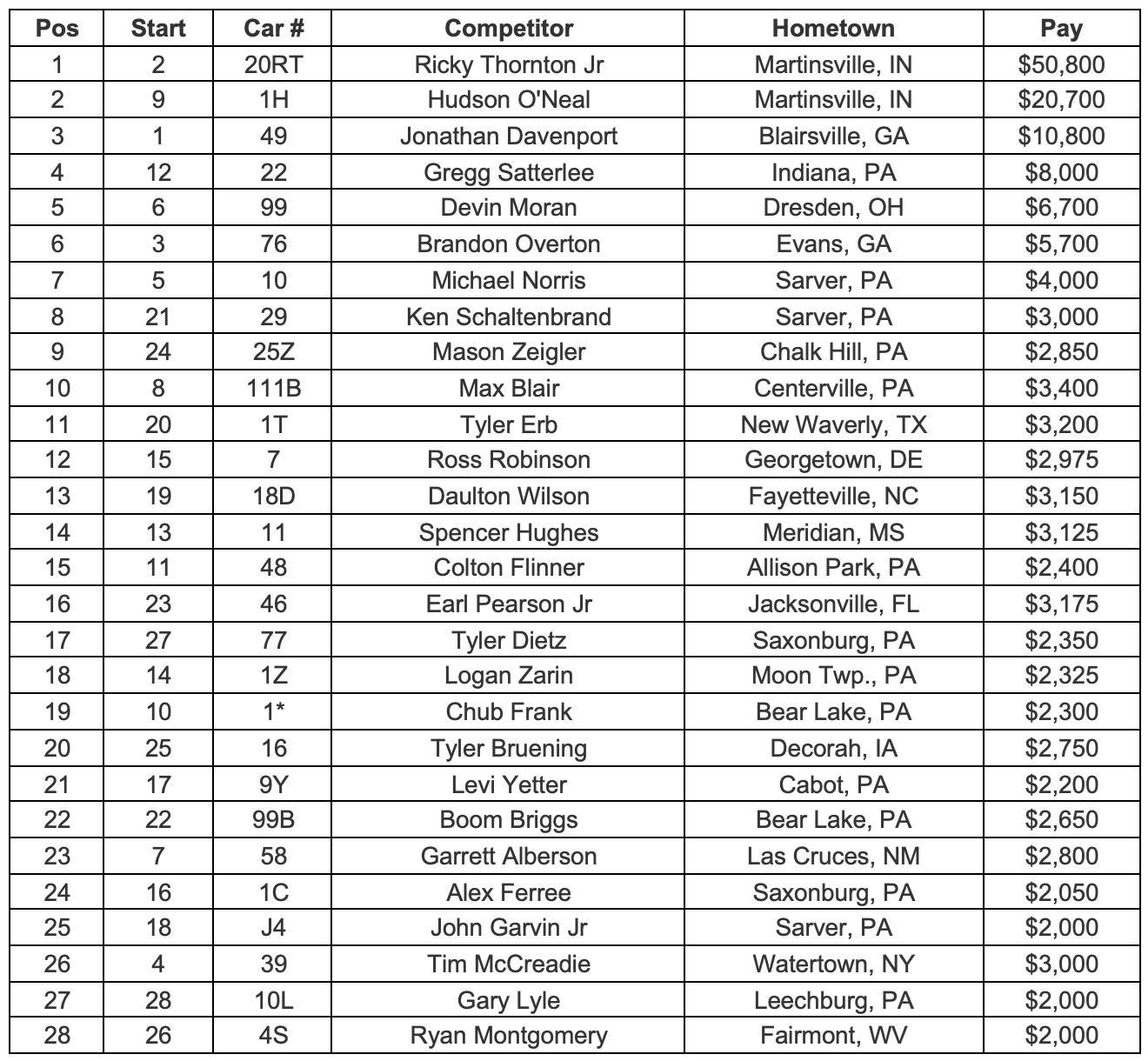 Race Statistics
Entrants: 51
Terminal Maintenance & Construction Pole Sitter: Jonathan Davenport
Lap Leaders: Jonathan Davenport (Laps 1-44); Ricky Thornton, Jr. (Laps 45-52); Hudson O'Neal (Laps 53-56); Ricky Thornton, Jr. (Laps 57-70); Hudson O'Neal (Laps 71-74); Ricky Thornton, Jr. (Laps 75-100)
Wieland Feature Winner: Ricky Thornton, Jr.
Arizona Sport Shirts Crown Jewel Cup Feature Winner: Ricky Thornton, Jr.
Brandon Ford TV Challenge Feature Winner: Ricky Thornton, Jr.
Margin of Victory: 4.912 seconds
Stop-Tech Brakes Cautions: Tim McCreadie (Lap 31); Logan Zarin (Lap 33); John Garvin, Earl Pearson, Jr., Garrett Alberson, Alex Ferree (Lap 33 restart)
Series Provisionals: Tyler Bruening
Firecracker Points Provisional: Ryan Montgomery
Series Emergency Provisionals: n/a
Track Provisional: Tyler Dietz; Gary Lyle
Big River Steel Podium Top 3: Ricky Thornton, Jr., Hudson O'Neal, Jonathan Davenport
Penske Shocks Top 5: Ricky Thornton, Jr., Hudson O'Neal, Jonathan Davenport, Gregg Satterlee, Devin Moran
Todd Steel Buildings Hard Charger of the Race: Mason Zeigler (Advanced 15 Positions)
Wilwood Brakes Lucky 7th Place Feature: Michael Norris
Deatherage Opticians Lucky 13th Place Feature: Daulton Wilson
Earnhardt Technologies Most Laps Led: Ricky Thornton, Jr. (47 Laps)
Sunoco Race for Gas Highest Finisher: Ricky Thornton, Jr.
Midwest Sheet Metal Spoiler Challenge Point Leader: Ricky Thornton, Jr.
O'Reilly Auto Parts Rookie of the Race: Max Blair
Etchberger Trucking Fastest Lap of the Race: Jonathan Davenport (Lap 6 – 16.680 seconds)
MD3 Tough Break of the Race: Tim McCreadie
Outerwears Crew Chief of the Race: Anthony Burroughs (Ricky Thornton, Jr.)
ARP Engine Builder of the Race: Clements Racing Engines
Miller Welders Chassis Builder of the Race: Longhorn Chassis
Dirt Draft Fastest in Hot Laps: Spencer Hughes (16.247 seconds)
Time of Race: 55 minutes 52 seconds
The Big River Steel Chase for the Championship Presented by ARP Point Standings: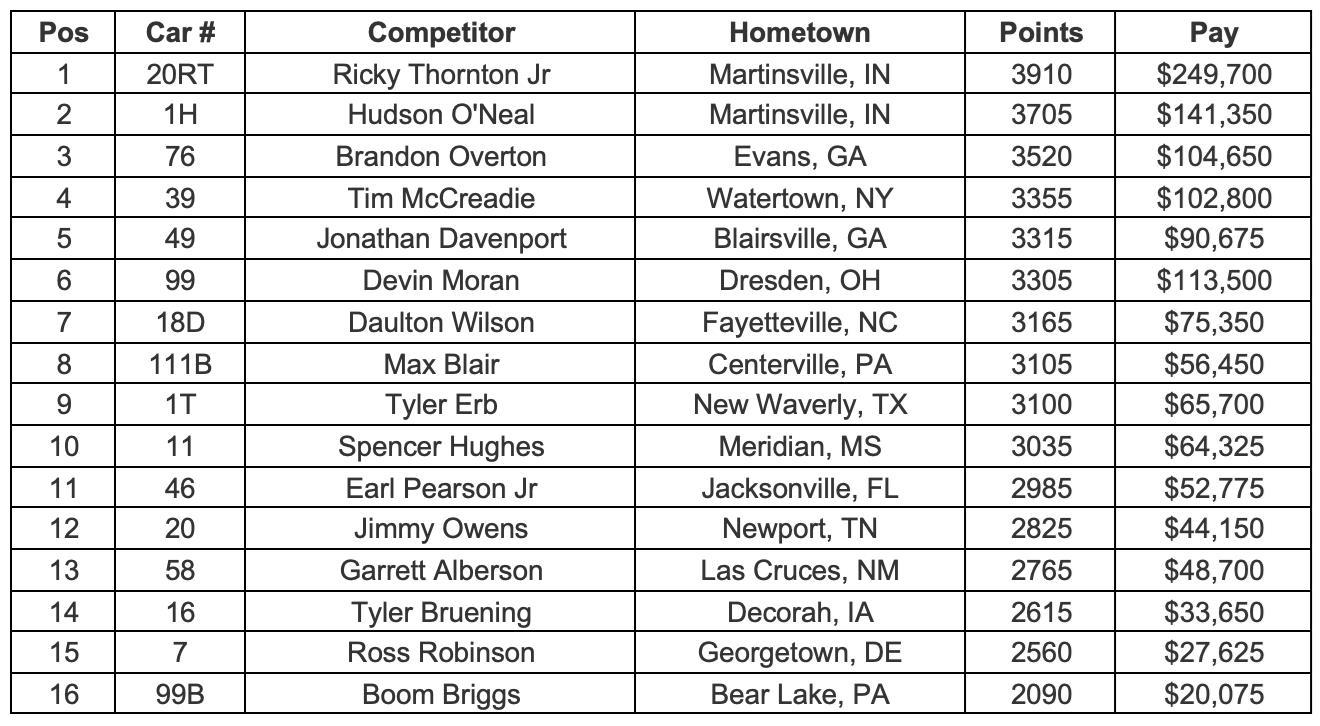 ---
Submitted By: Jeremy Shields
Back to News