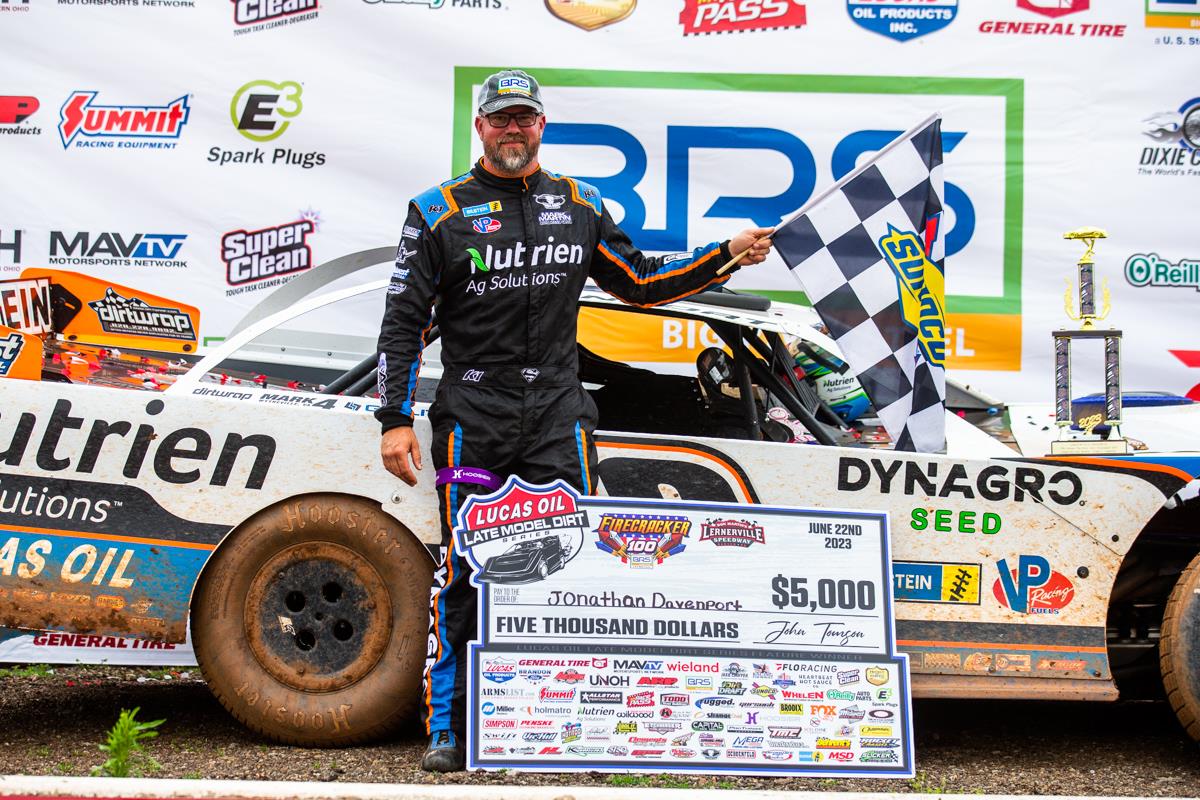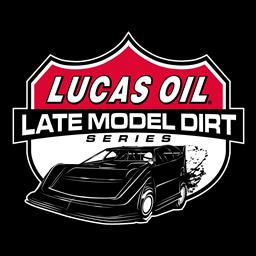 6/23/2023
Lucas Oil Late Model Dirt Series
---
Davenport and McCreadie Split Afternoon Features at Lernerville
SARVER, Pa. (June 23, 2023) – Two former Lucas Oil Late Model Dirt Series National Champions, Jonathan Davenport and Tim McCreadie each went to Victory Lane during Friday afternoon's two preliminary features.
Davenport claimed his fourth Lucas Oil Late Model Dirt Series win of the season, leading all 25 circuits for his 69th career win in the Series. Michael Norris fought off several contenders for second place, finishing ahead of Brandon Overton, Max Blair, and Mason Zeigler.
McCreadie claimed his first Lucas Oil Late Model Dirt Series win of the season, leading the entire distance as the reigning Firecracker 100 winner becomes the 14th different winner this season on the tour. A heated battle for second on back the entire way saw Spencer Hughes grab the runner-up spot ahead of Devin Moran, Hudson O'Neal, and Daulton Wilson.
Davenport returning to the Lucas Oil Late Model Dirt Series full-time in 2023 picked up his first career win at Lernerville. "Man, I sure hope we can get us one here tomorrow night. This place here hasn't been very good to me, but it's special to my heart. A few weeks after my best friend died in 2013, his dad and I came out here and we put his ashes around the top of this place. Ever since then this place has eluded me. It's awesome that we got the win today. I never came off the top. I was thinking about my old friend Peanut the whole time. I just have to thank my crew for this win. This is a brand-new car. It wasn't much more than a frame to start the week."
Norris gained the runner-up spot in front of his home track fans. "I hope this is the year we can finally get that Firecracker victory. I have got a pretty good piece under me. We were a little tight in that feature. I really had to hang onto to it. Kudos to the track crew. The track is actually pretty nice considering all the rain we got last night. I hope it's our year, but every time somebody asks me it's like yeah, I hope so. I guess I won't know until we start the feature and do the first lap and I see how I feel."
Overton coming off a rough three weeks will be looking for his third career Firecracker win on Saturday night. "We have got a little bit of work to do. At least we are up here towards at the front. We have been pretty bad here lately. We have had a lot of bad luck as well. It's just been hard to get caught up. We haven't quit and we are not going to."
The winner's Double L Motorsports, Longhorn Chassis is powered by a Cornett Racing Engine and sponsored by Nutrien Ag Solutions, Dyna Gro Seed, Lucas Oil Products, Bilstein Shocks, VP Fuels, Mark Martin Automotive, ASC Warranty, and Midwest Sheet Metal.
Completing the top ten finishers in the Group A feature were Tyler Bruening, Boom Briggs, Earl Pearson Jr., and Ken Schaltenbrand.
McCreadie's 35th career Lucas Oil Late Model Dirt Series win came in a caution plagued Group B 25-lapper. "It's a little treacherous on the cushion and there's slick spots everywhere. It's not an easy track to race on. It was probably to my benefit to be out front to be able to see where every little nook and cranny of the cushion is and be smooth. I struggled a little bit in traffic there. Lernerville did a very good job on the track. The place when I got here this morning, I thought maybe it wasn't even going to be ready. It had a little bit of a cushion but that's part of racing, but the rest of it's nice. Hopefully we keep running good."
Hughes continues to edge closer to his first career Lucas Oil Late Model Dirt Series win, surviving a race-long battle with several other drivers to grab the runner-up position. "We just need to keep tuning on it. I wasn't quite as good up against the cushion there at the end. I was just a little too free. Most of the time I am not that good up on a big curb like that anyway. It was just a real good run for us."
Moran was also in the hotly contested race for a podium spot as he came home in third. "Hudson [O'Neal] messed up right there a little bit at the end. Spencer and Hud were crossing each other over and I just stayed committed to that top. Man, that was a lot of fun. There was a lot of cautions unfortunately, but we were racing all over, it was a blast."
The winner's Paylor Motorsports, Longhorn Chassis is powered by Cornett Racing Engine and sponsored by Mega Plumbing of the Carolinas, Racing for Heroes, Bilstein Shocks, Armslist.com, Baker Mitchell Company Integrous Risk Solutions, Brad Benton Trucking Inc., and The Aesthetic Haus.
Completing the top ten in the second feature were Ross Robinson, Garrett Alberson, Kyle Strickler, Chub Frank, and Alex Ferree.
Lucas Oil Late Model Dirt Series
Race Summary
17th Annual Firecracker 100 Presented by Big River Steel Night #1
Thursday, June 22, 2023
Lernerville Speedway – Sarver, PA
Allstar Performance Time Trials
Fast Time Group A: Jonathan Davenport | 15.155 seconds (overall)
Fast Time Group B: Spencer Hughes | 15.494 seconds
Penske Shocks Heat Race #1 – Group A Finish (8 Laps, All Transfer): 1. 49-Jonathan Davenport[1]; 2. 10-Michael Norris[3]; 3. 16-Tyler Bruening[4]; 4. 11T-Trevor Collins[5]; 5. 55C-Chris Schneider[7]; 6. 25S-Cory Sines[8]; 7. 22-Gregg Satterlee[2]; 8. 9-Breyton Santee[6]; 9. 11P-Joshua Powell[9]
Summit Racing Products Heat Race #2 – Group A Finish (8 Laps, All Transfer): 1. 25Z-Mason Zeigler[2]; 2. 20RT-Ricky Thornton Jr[1]; 3. 46-Earl Pearson Jr[4]; 4. 1T-Tyler Erb[3]; 5. 1Z-Logan Zarin[5]; 6. 48-Colton Flinner[9]; 7. B22-Bump Hedman[8]; 8. 10L-Gary Lyle[7]; 9. 10K-Zachary Kane[6]
Simpson Race Products Heat Race #3 – Group A Finish (8 Laps, All Transfer): 1. 76-Brandon Overton[2]; 2. 111B-Max Blair[1]; 3. 99B-Boom Briggs[3]; 4. J4-John Garvin Jr[4]; 5. 29-Ken Schaltenbrand[5]; 6. 22B-Darrell Bossard[6]; 7. 96-Mike Smith[7]; 8. 20N-Nicholas Eck[8]
Penske Shocks Heat Race #1 – Group B Finish (8 Laps, Top 4 Transfer): 1. 39-Tim McCreadie[2]; 2. 11-Spencer Hughes[1]; 3. 7-Ross Robinson[4]; 4. 1C-Alex Ferree[3]; 5. 1*-Chub Frank[6]; 6. 77-Tyler Dietz[5]; 7. 66-Todd Bachman[8]; 8. 01-Ron Hall[9]; 9. 20D-Doug Eck[7]
Summit Racing Products Heat Race #2 – Group B Finish (8 Laps, All Transfer): 1. 15K-Cody Overton[4]; 2. 99-Devin Moran[2]; 3. 4S-Ryan Montgomery[5]; 4. 55-Benji Hicks[3]; 5. 8K-Kyle Strickler[1]; 6. 14-Braeden Dillinger[6]; 7. 97-Kevin Smith[8]; 8. (DNS) 184-Kyle Lukon
Simpson Race Products Heat Race #3 – Group B Finish (8 Laps, All Transfer): 1. 1H-Hudson O'Neal[1]; 2. 18D-Daulton Wilson[3]; 3. 9Y-Levi Yetter[2]; 4. 3RK-Daryl Charlier[5]; 5. 58-Garrett Alberson[4]; 6. AUS1-Brent Vosbergen[7]; 7. 14A-Dan Angelicchio[6]; 8. 1L-Chuckie Lepsch[8]
17th Annual Firecracker 100 Presented by Big River Steel Group A Feature Finish (25 Laps):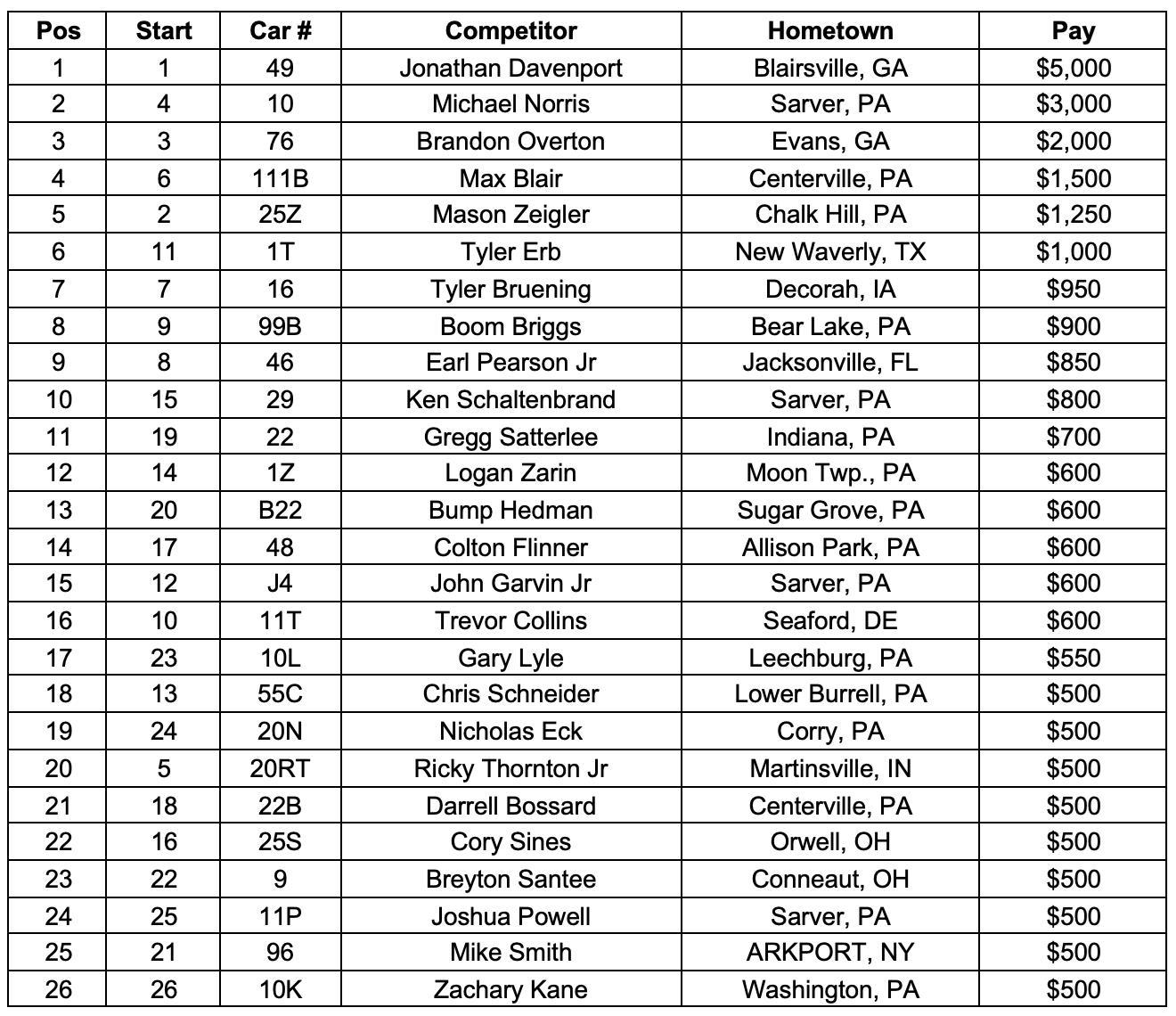 17th Annual Firecracker 100 Presented by Big River Steel Group B Feature Finish (25 Laps):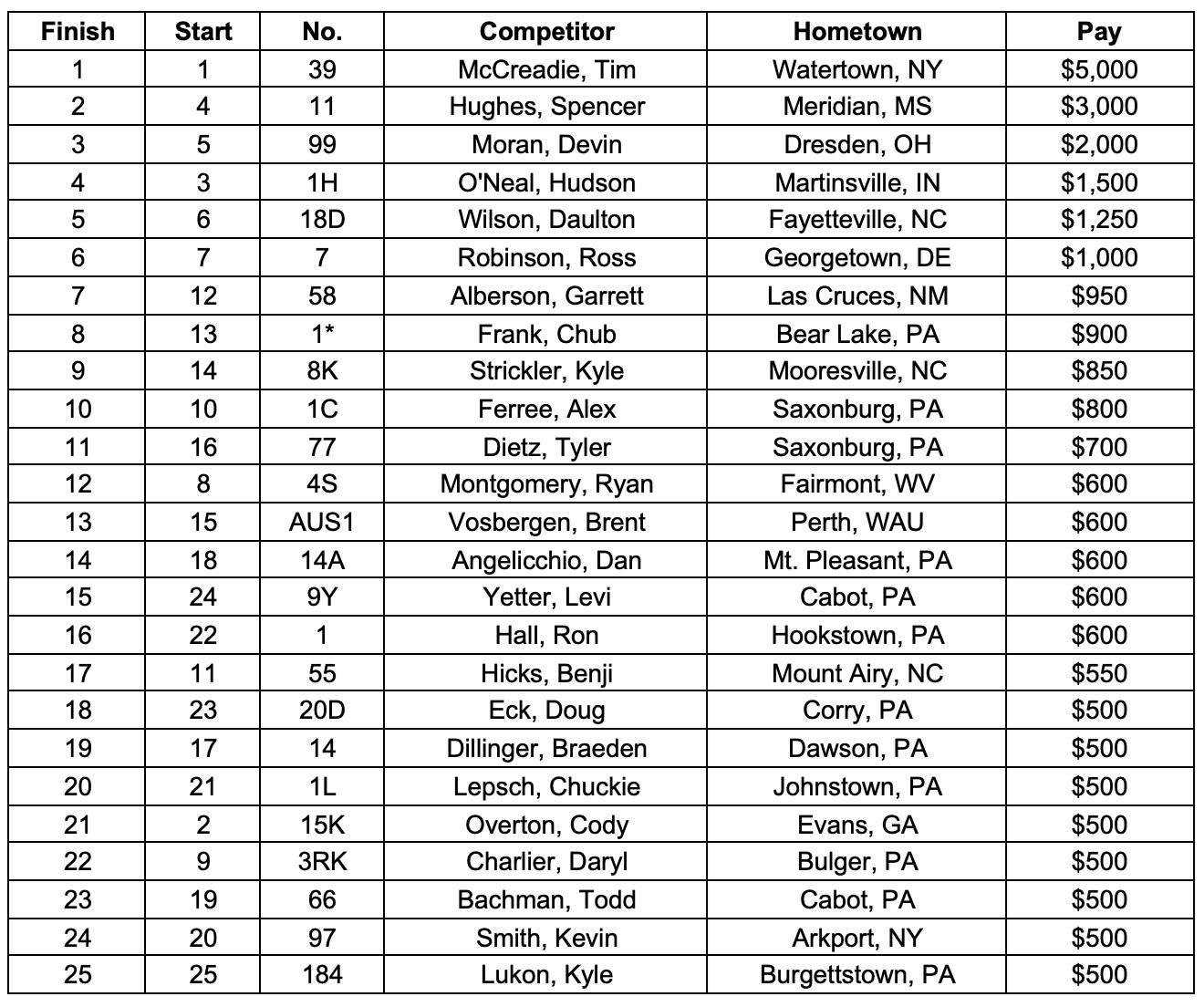 Race Statistics
Entrants: 51
Group A Terminal Maintenance & Construction Pole Sitter: Jonathan Davenport
Group B Terminal Maintenance & Construction Pole Sitter: Tim McCreadie
Group A Lap Leaders: Jonathan Davenport (Laps 1-25)
Group B Lap Leaders: Tim McCreadie (Laps 1-25)
Group A Wieland Feature Winner: Jonathan Davenport
Group B Wieland Feature Winner: Tim McCreadie
Arizona Sport Shirts Crown Jewel Cup Feature Winner: n/a
Brandon Ford TV Challenge Feature Winner: n/a
Group A Margin of Victory: 3.964 seconds
Group B Margin of Victory: 3.259 seconds
Group A Gorsuch Performance Solutions Cautions: Colton Flinner (Lap 7); Ricky Thornton, Jr., Cory Sines (Lap 16)
Group B Gorsuch Performance Solutions Cautions: Kevin Smith (Initial Start); Dan Angelicchio (Lap 2); Ryan Montgomery, Alex Ferree (Lap 3); Cody Overton, Daryl Charlier (Lap 4); Alex Ferree (Lap 5); Braeden Dillinger (Lap 6); Debris (Lap 19); Debris (Lap 20)
Series Provisionals: n/a
Fast Time Provisional: n/
Series Emergency Provisionals: n/a
Track Provisional: n/a
Group A Big River Steel Podium Top 3: Jonathan Davenport, Michael Norris, Brandon Overton
Group B Big River Steel Podium Top 3: Tim McCreadie, Spencer Hughes, Devin Moran
Group A Penske Shocks Top 5: Jonathan Davenport, Michael Norris, Brandon Overton, Max Blair, Mason Zeigler
Group B Penske Shocks Top 5: Tim McCreadie, Spencer Hughes, Devin Moran, Hudson O'Neal, Daulton Wilson
Group A Todd Steel Buildings Hard Charger of the Race: Gregg Satterlee (Advanced 8 Positions)
Group B Todd Steel Buildings Hard Charger of the Race: Levi Yetter (Advanced 9 Positions)
Group A Wilwood Brakes Lucky 7th Place Feature: Tyler Bruening
Group B Wilwood Brakes Lucky 7th Place Feature: Garrett Alberson
Group A Deatherage Opticians Lucky 13th Place Feature: Bump Hedman
Group B Deatherage Opticians Lucky 13th Place Feature: Brent Vosbergen
Group A Earnhardt Technologies Most Laps Led: Jonathan Davenport (25 Laps)
Group B Earnhardt Technologies Most Laps Led: Tim McCreadie (25 Laps)
Group A Sunoco Race for Gas Highest Finisher: Earl Pearson Jr.
Group A Sunoco Race for Gas Highest Finisher: Hudson O'Neal
Midwest Sheet Metal Spoiler Challenge Point Leader: Ricky Thornton, Jr.
O'Reilly Auto Parts Rookie of the Race: Max Blair
Group A Etchberger Trucking Fastest Lap of the Race: Jonathan Davenport (Lap 3 – 15.794 seconds)
Group B Etchberger Trucking Fastest Lap of the Race: Cody Overton (Lap 2 – 17.582 seconds)
Group A MD3 Tough Break of the Race: Ricky Thornton, Jr.
Group B MD3 Tough Break of the Race: Cody Overton
Group A Outerwears Crew Chief of the Race: Cory Fostvedt (Jonathan Davenport)
Group B Outerwears Crew Chief of the Race: Scott Fegter (Tim McCreadie)
Group A ARP Engine Builder of the Race: Clements Racing Engines
Group B ARP Engine Builder of the Race: Cornett Racing Engines
Group A Miller Welders Chassis Builder of the Race: Longhorn Chassis
Group B Miller Welders Chassis Builder of the Race: Longhorn Chassis
Dirt Draft Fastest in Hot Laps: Ryan Montgomery (15.228 seconds)
Group A Time of Race: 13 minutes 41 seconds
Group B Time of Race: 32 minutes 26 seconds
17th Annual Firecracker 100 Presented by Big River Steel Point Standings: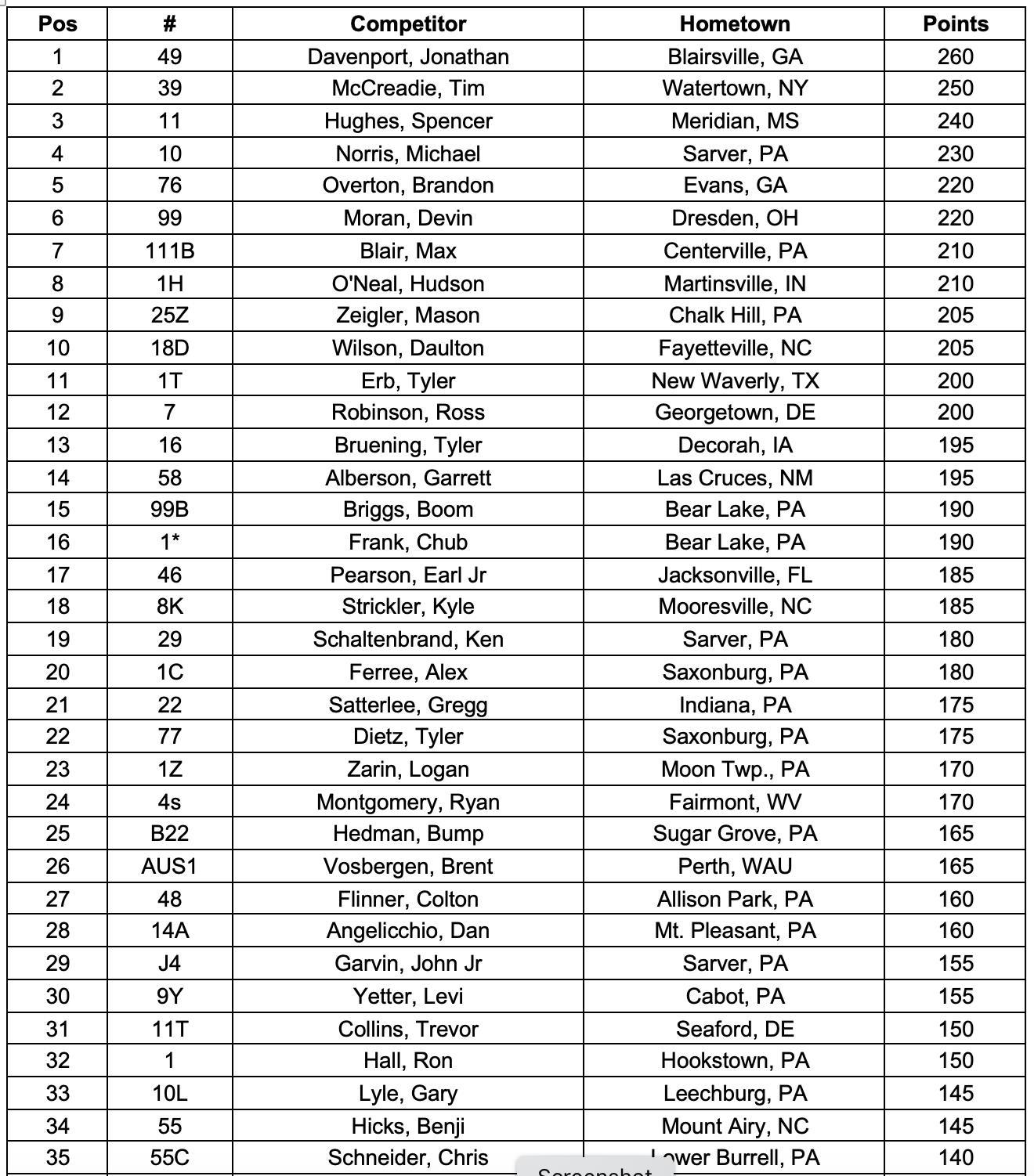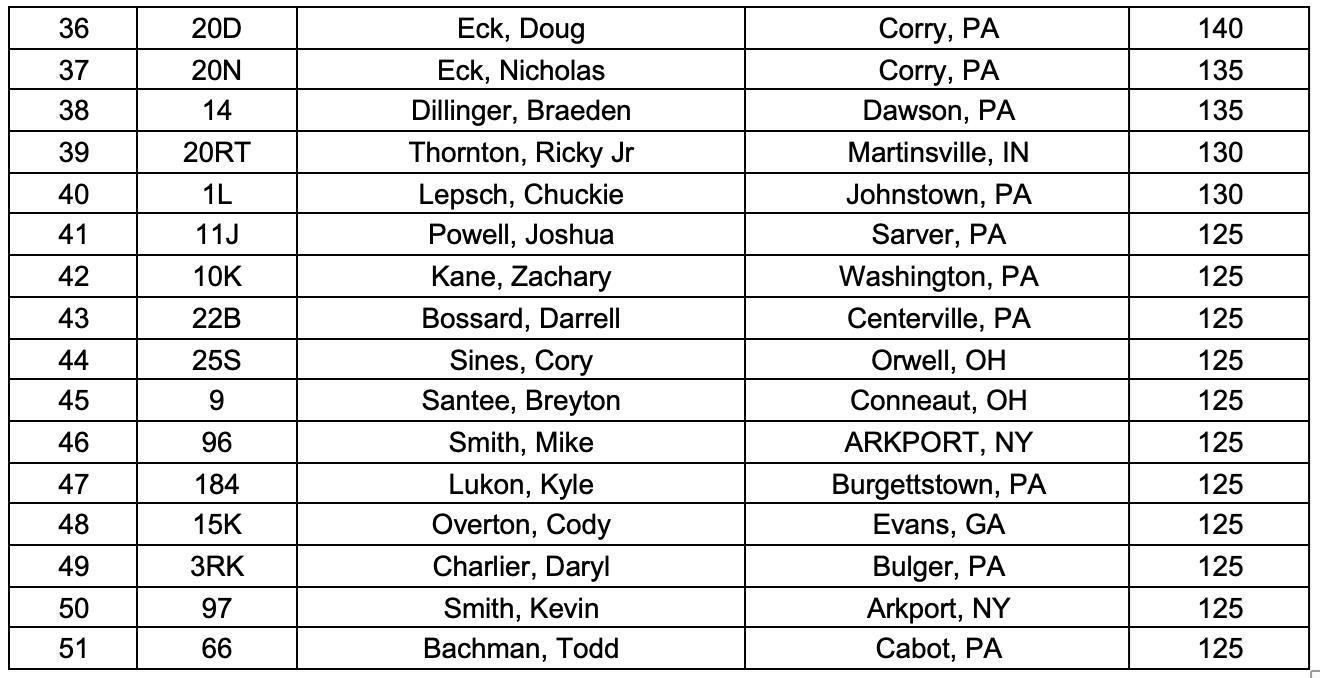 ---
Submitted By: Jeremy Shields
Article Media
Back to News