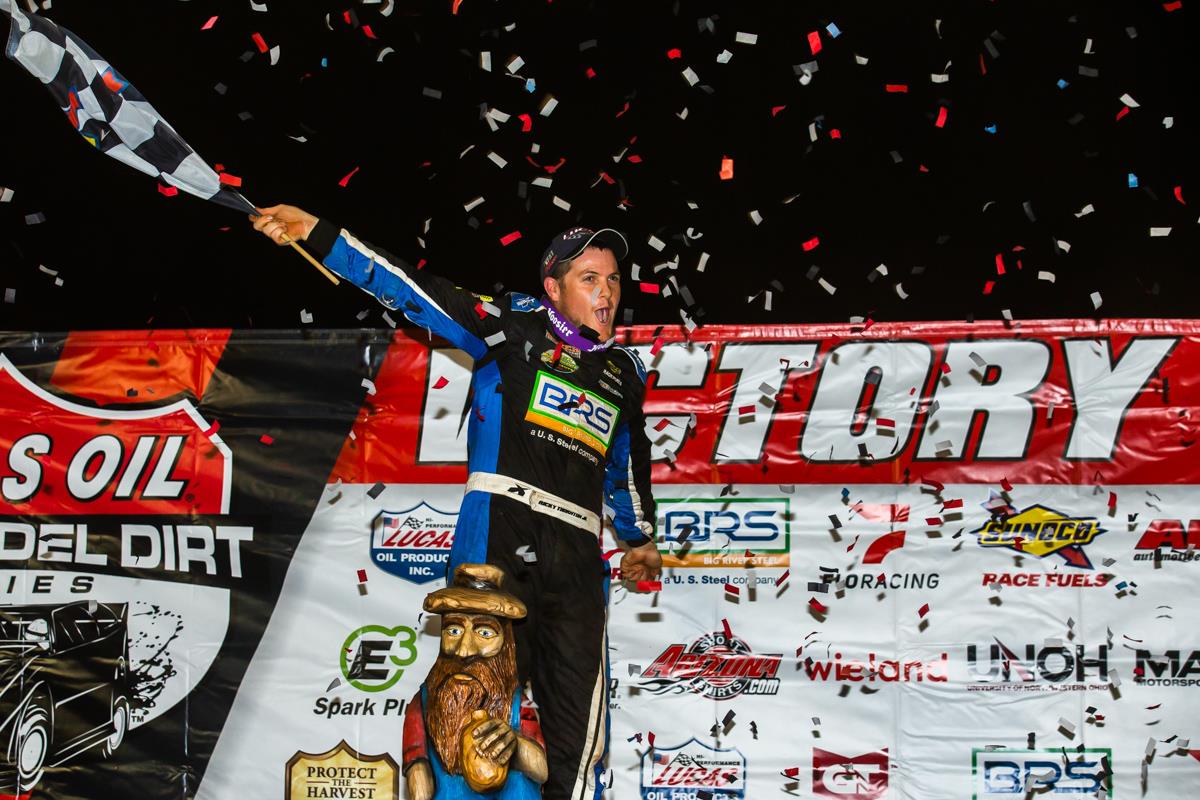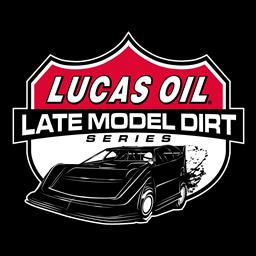 6/17/2023
Lucas Oil Late Model Dirt Series
---
Thornton Takes Mountain Moonshine Classic in Convincing Fashion
MARYVILLE, Tenn. (June 18, 2023) – Ricky Thornton Jr. took the lead on lap 26 from Chris Ferguson and dominated the final 34 laps to win the Mountain Moonshine Classic on Saturday night at Smoky Mountain Speedway.
The $50,000 to win triumph was Thornton's eighth Lucas Oil Late Model Dirt Series victory of 2023.
The fourth-starting Thornton, the current Lucas Oil Late Model Dirt Series points leader, held a healthy advantage at the finish line winning by over six seconds ahead of Hudson O'Neal. Chris Ferguson crossed the line in third with Jonathan Davenport and Kyle Strickler completing the top five drivers.
Ferguson bolted to the lead at the start of the 60-lap race ahead of pole sitter and dash winner, Spencer Hughes. Hughes held the second spot until a restart after a lap four caution when he fell third behind Thornton. Thornton then hounded Ferguson for the next 20-plus laps and was finally able to take the lead from him on lap 26.
O'Neal slid into the second position on lap 37 but by then Thornton was well out in front and without any caution flags and several lapped cars between the two, Thornton had put enough distance between himself and O'Neal to secure the win.
In Lucas Oil Victory Lane for the 13th time in his career the 32-year-old Martinsville, Indiana resident continued his outstanding 2023 season and inched closer to the $200,000 mark in season winnings with the series. "It was an awesome night for us. I am glad they went out and worked the track before the feature. It made it so you could run the top in both corners there for a while. Fergy got out front. I tried to move around to see what was better or worse. I moved down through the middle, I wouldn't say I was any faster, but I was making more consistent laps I felt. The top finally slowed down enough to where I was able to get to Chris. He started moving around and it was too late for him. Luckily the lapped cars weren't in the way."
O'Neal will maintain second in the points headed to the Big River Steel Firecracker 100 next weekend at Lernerville Speedway. "It really was a good night. You know we just got behind yesterday qualifying and we had to start farther back in one of those preliminary features. We were just able to salvage our way up through every race. We were able to get a little better and a little better. We had a really good race car. I just used my stuff up so hard around that top trying to get to second and by the time I got to second Ricky was driving off and I was running out of steam. So, we are happy to finish second from where we started in seventh. I think this track turned out to be away better than anyone thought it was going to be. We raced all over it for 40 or 50 laps. They can't hang their head about that. They did a good job."
Ferguson, who led the first 25 laps, came home in third. "Congratulations to Ricky and Hudson. That was some good racing there. I had a lot of fun out there. Hats to the track crew here at Smoky Mountain they did a great job getting this thing turned around tonight. I am just thankful to be up here again. I am just happy to be leading some laps. Ricky has been on a tear this year."
The winner's Todd and Vickie Burns-owned, SSI Motorsports, Longhorn Chassis is powered by a Clements Racing Engine and sponsored by Big River Steel, Hoker Trucking, Sub-Surface of Indiana, Dyno One Inc., West Side Tractor Sales, D&E Outside Services, Certified Inspection Service Company, Inc., Midwest Sheet Metal, Sunoco Race Fuels, Bilstein Shocks, and Murty Farms.
Completing the top ten were Carson Ferguson, Tyler Erb, Spencer Hughes, Jimmy Owens, and Tim McCreadie.
Race Summary
Mountain Moonshine Classic Presented by FK Rod Ends & East Tennessee Auto Group Night 2
Saturday, June 17, 2023
Smoky Mountain Speedway – Maryville, TN
Penske Shocks Heat Race #1 Finish (8 Laps, Top 3 Transfer): 1. 1H-Hudson O'Neal[1]; 2. 111B-Max Blair[4]; 3. 99-Devin Moran[2]; 4. 157-Mike Marlar[3]; 5. 58-Garrett Alberson[5]; 6. AUS1-Brent Vosbergen[6]; 7. 34-Ellery Leake[7]
Summit Racing Products Heat Race #2 Finish (8 Laps, Top 3 Transfer): 1. 20-Jimmy Owens[1]; 2. 17M-Dale McDowell[2]; 3. 23-Cory Hedgecock[3]; 4. 10-Garrett Smith[4]; 5. 12D-Doug Drown[5]; 6. M2-Caden Mullinax[6]
Simpson Race Products Heat Race #3 (8 Laps, Top 3 Transfer): 1. 18D-Daulton Wilson[1]; 2. 1T-Tyler Erb[2]; 3. 46-Earl Pearson Jr[4]; 4. 7-Ross Robinson[3]; 5. J27-Jay Scott[5]; 6. 1G-Rusty Ballenger[6]; 7. 5T-John Tweed[7]
AP1 Insurance Heat Race #4 Finish (8 Laps, Top 3 Transfer): 1. 39-Tim McCreadie[1]; 2. 99B-Boom Briggs[4]; 3. 16-Tyler Bruening[2]; 4. 76-Brandon Overton[3]; 5. 83-Jensen Ford[6]; 6. 54-David Breazeale[5]; 7. 7M-Donald McIntosh[7]
Mountain Moonshine Classic Dash Finish (6 Laps, Finish Determines Top 6 Starting Positions in A-Main): 1. 11-Spencer Hughes[1]; 2. 22F-Chris Ferguson[2]; 3. 93-Carson Ferguson[3]; 4. 20RT-Ricky Thornton Jr[4]; 5. 49-Jonathan Davenport[6]; 6. 8K-Kyle Strickler[5]
Fast Shafts B-Main Race #1 Finish (10 Laps, Top 4 Transfer): 1. 157-Mike Marlar[1]; 2. 10-Garrett Smith[2]; 3. 76-Brandon Overton[4]; 4. 7-Ross Robinson[3]; 5. 12D-Doug Drown[6]; 6. J27-Jay Scott[7]; 7. 83-Jensen Ford[8]; 8. 1G-Rusty Ballenger[11]; 9. AUS1-Brent Vosbergen[9]; 10. 54-David Breazeale[12]; 11. 7M-Donald McIntosh[15]; 12. M2-Caden Mullinax[10]; 13. 34-Ellery Leake[13]; 14. 5T-John Tweed[14]; 15. (DNS) 58-Garrett Alberson
Mountain Moonshine Classic Presented by FK Rod Ends & East Tennessee Auto Group Night 2 Feature Finish (60 Laps):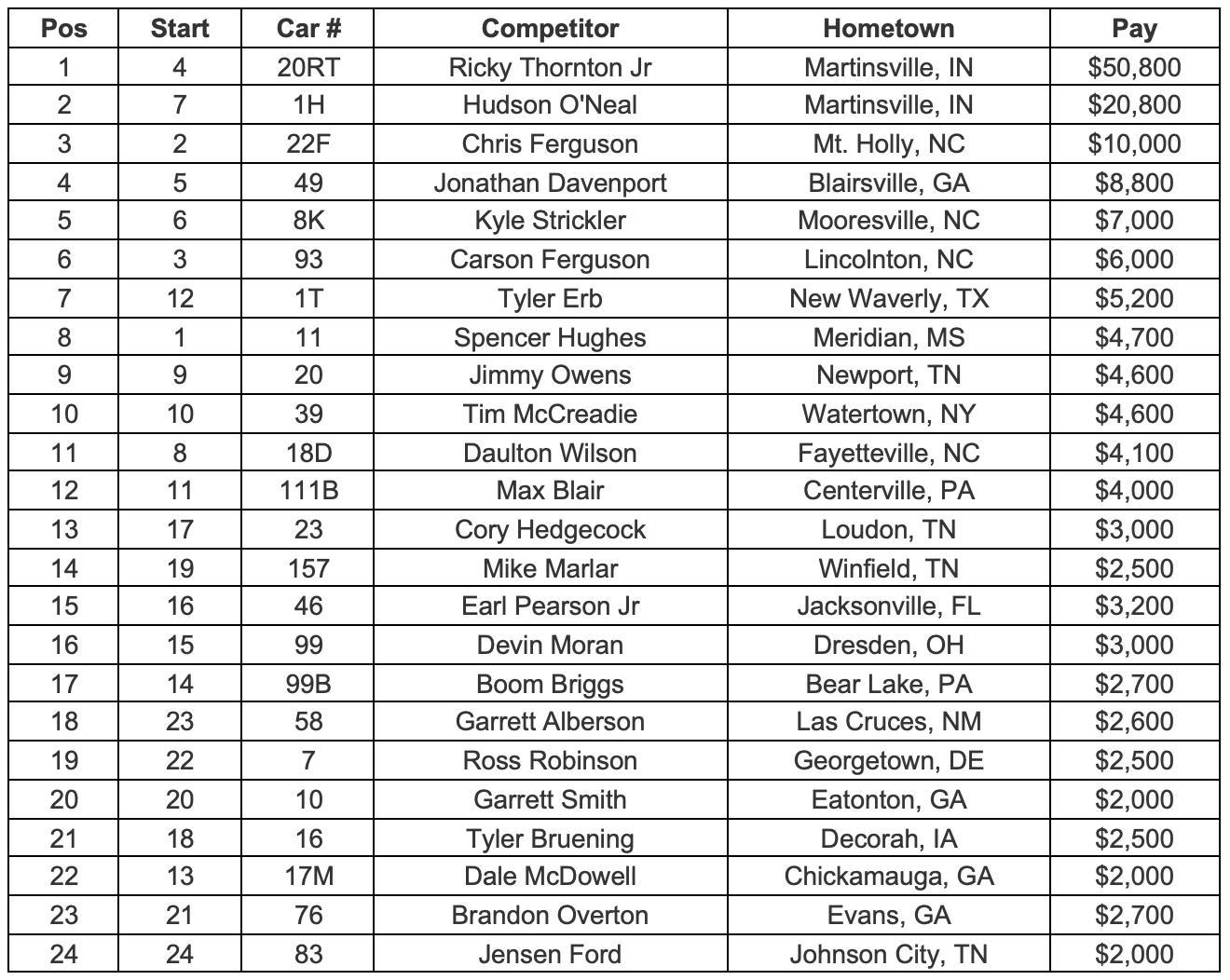 Race Statistics
Entrants: 44
Terminal Maintenance & Construction Pole Sitter: Spencer Hughes
Lap Leaders: Chris Ferguson (Laps 1-25); Ricky Thornton, Jr. (Laps 26-60)
Wieland Feature Winner: Ricky Thornton, Jr.
Arizona Sport Shirts Crown Jewel Cup Feature Winner: Ricky Thornton, Jr.
Brandon Ford TV Challenge Feature Winner: n/a
Margin of Victory: 6.533 seconds
Stop-Tech Brakes Cautions: Tyler Bruening (Lap 4)
Series Provisionals: Garrett Alberson
Fast Time Provisional: Jensen Ford
Series Emergency Provisionals: n/a
Track Provisional: n/a
Big River Steel Podium Top 3: Ricky Thornton, Jr., Hudson O'Neal, Chris Ferguson
Penske Shocks Top 5: Ricky Thornton, Jr., Hudson O'Neal, Chris Ferguson, Jonathan Davenport, Kyle Strickler
Todd Steel Buildings Hard Charger of the Race: Hudson O'Neal (Advanced 5 Positions)
Wilwood Brakes Lucky 7th Place Feature: Tyler Erb
Deatherage Opticians Lucky 13th Place Feature: Cory Hedgecock
Earnhardt Technologies Most Laps Led: Ricky Thornton, Jr. (35 Laps)
Sunoco Race for Gas Highest Finisher: Ricky Thornton, Jr.
Midwest Sheet Metal Spoiler Challenge Point Leader: Ricky Thornton, Jr.
O'Reilly Auto Parts Rookie of the Race: Max Blair
Etchberger Trucking Fastest Lap of the Race: Chris Ferguson (Lap 1 – 15.490 seconds)
MD3 Tough Break of the Race: Brandon Overton
Outerwears Crew Chief of the Race: Anthony Burroughs (Ricky Thornton, Jr.)
ARP Engine Builder of the Race: Clements Racing Engines
Miller Welders Chassis Builder of the Race: Longhorn Chassis
Dirt Draft Fastest in Hot Laps: Hudson O'Neal (15.284 seconds)
Time of Race: 19 minutes 37 seconds
The Big River Steel Chase for the Championship Presented by ARP Point Standings: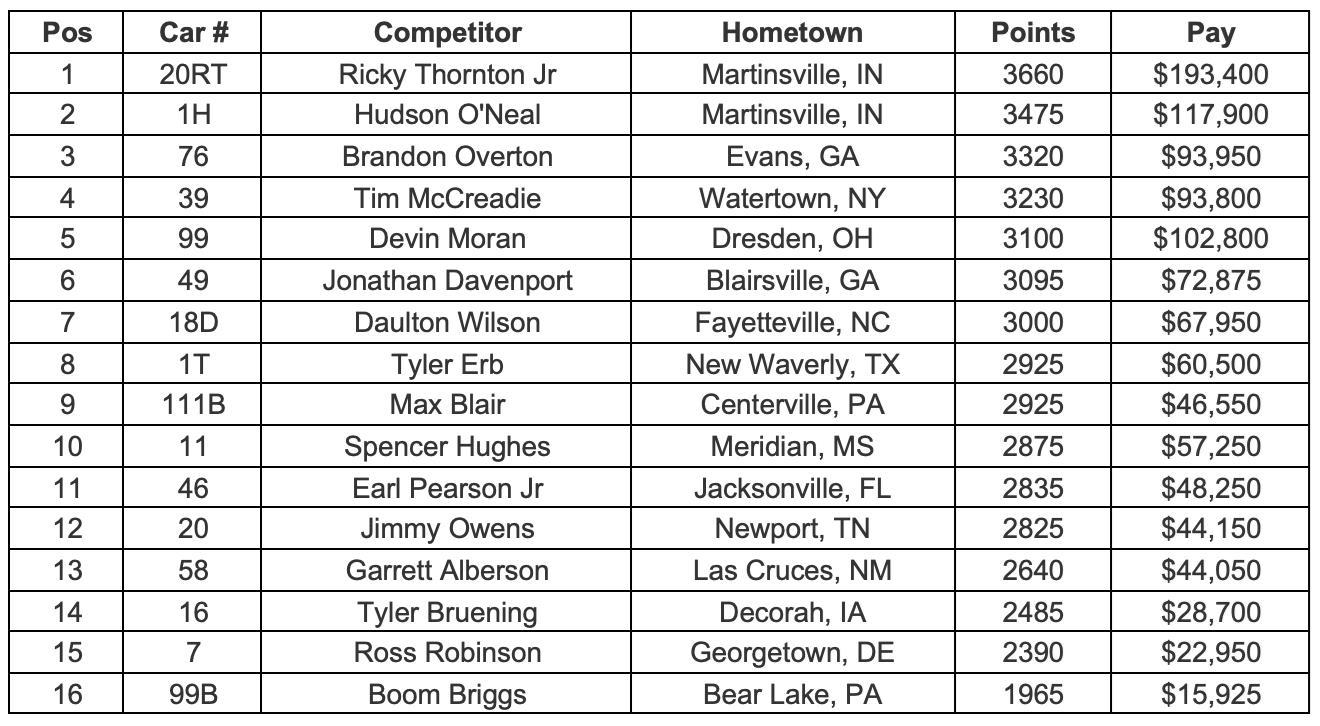 ---
Submitted By: Jeremy Shields
Back to News