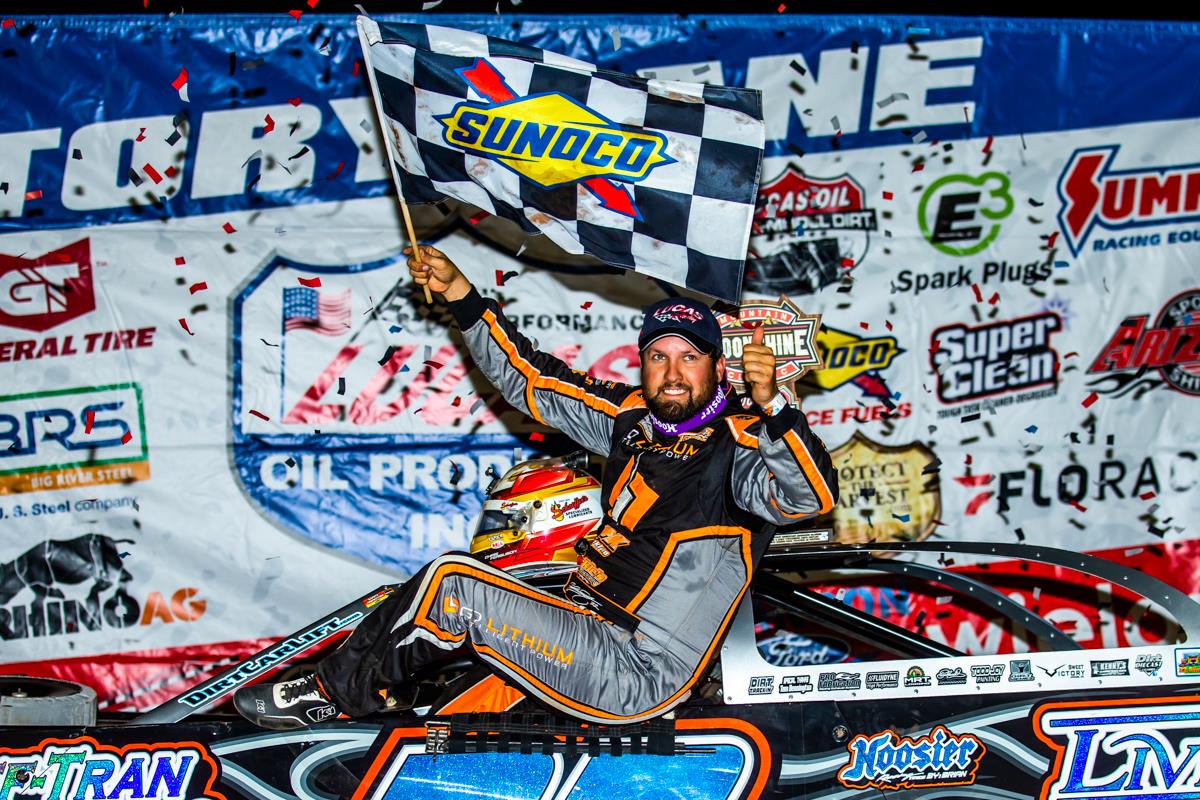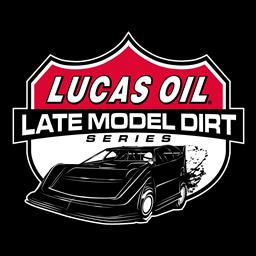 6/16/2023
Lucas Oil Late Model Dirt Series
---
Ferguson and Thornton Take Friday Night Prelims at Smoky Mountain
MARYVILLE, Tenn. (June 16, 2023) – Chris Ferguson outdueled his cousin Carson Ferguson to win the first 30-lap Lucas Oil Late Model Dirt Series preliminary main event on Friday night at Smoky Mountain Speedway. The current Lucas Oil Late Model Dirt Series championship point leader Ricky Thornton Jr. passed new track record holder Kyle Strickler on lap 18 and pulled away for the win in the 30-lap nightcap.
Trailing the Fergusons across the finish line in the first preliminary A-Main were Jonathan Davenport, Hudson O'Neal, and Jimmy Owens. Finishing behind Thornton and Strickler in the second preliminary were Spencer Hughes, Daulton Wilson, and Tim McCreadie.
Chris Ferguson in Lucas Oil Victory Lane for the fourth time in his career said, "God is great. We had a rough weekend last weekend. This is a very humbling sport, we're glad to be back in victory lane for sure. That was a heck of race between me and Carson. We battled down the frontstretch for the lead. I knew it was going to be about who gets into turn one and we were able to just kind of lean on him a little bit and drive off in there. I was just praying under that last caution because we lost the brakes during the race. He [Carson] is going to win a lot more races than me."
Carson Ferguson, who had a strong showing on preliminary night a year ago at Smoky Mountain Speedway ran second the entire 30 laps as he held off Davenport to advance into tomorrow night's A-Main. "He [Chris] got me there at the start, but I stayed right there with him. I was more worried about Jonathan there. He pulled up alongside me a few times. It was a good night to be named Ferguson for sure."
Davenport, coming off the second Dirt Late Model Dream win of his career at Eldora last weekend rounded out the Big River Steel Podium to advance to the $50,000 to win main event on Saturday night. "We had a really good car. We were in the hunt most of the way. I am just glad to survive and lock ourselves into the big show tomorrow night."
The winner's Bryan Conard-owned, Team Zero Race Car is powered by a Clements Racing Engine and sponsored by Spartan Transportation LLC, Diff-Tran Machining, K&K Trucking, Live Oak Aesthetic Family Dentistry, Schaeffer's Racing Oil, Carolina Roofing and Gutters, The Racing Warehouse, Heckle's Plumbing, Rosewood Assisted Living, Keith's Handyman Services, Little Mountain Farm, Carver and Sons Roofing, Western Clean-Up Corporation, Fox Shocks, and Beau Tie Limousine Service.
Completing the top ten in the Group A A-Main were Devin Moran, Dale McDowell, Mike Marlar, Cory Hedgecock, and Max Blair.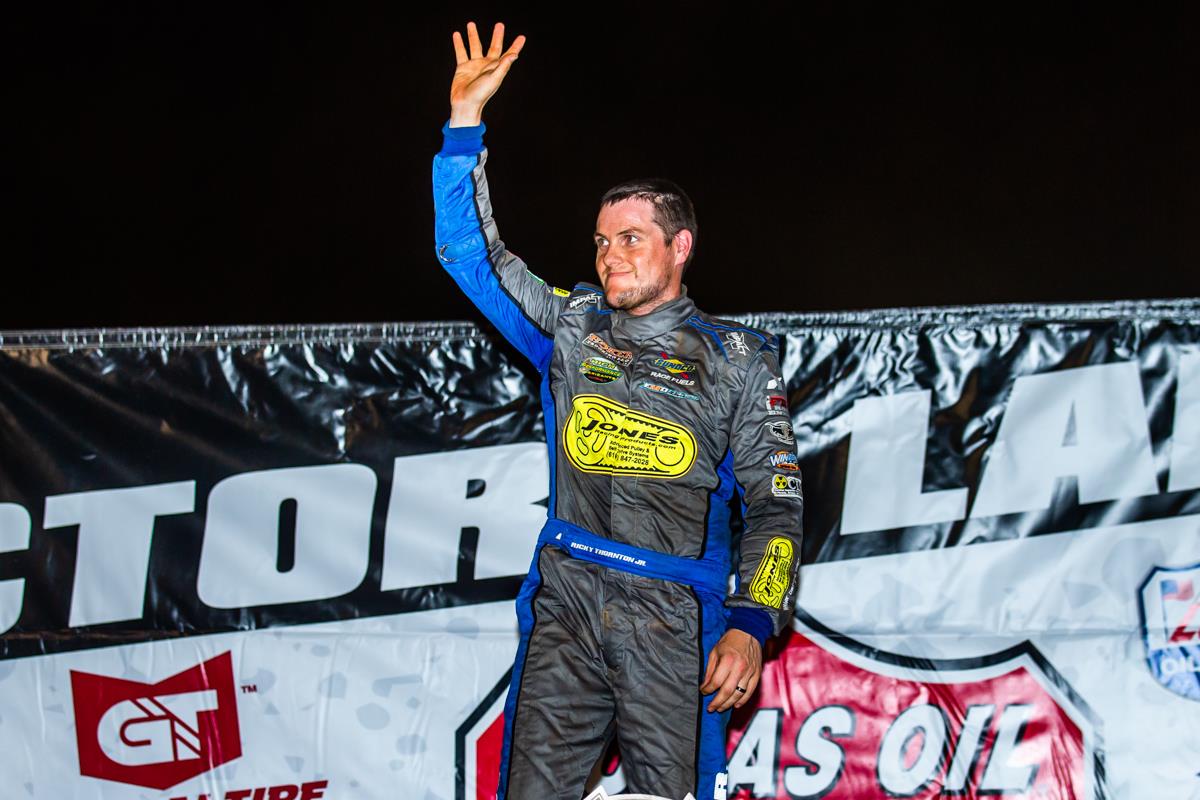 Despite the preliminary night was not for championship points, Thornton scored his seventh series win of the season and the 12th of his career as he locked himself into the $50,000 to win Mountain Moonshine Classic on Saturday night.
"I knew if I didn't get a good start there to get by him [Strickler] right off the bat I was just going to follow him and run second. They went single file on the restarts it worked out because I didn't know if I would have picked the top or the bottom if they went to Delaware double file. The car was really good. Like I said I was content on running second. Kyle got to Papich there and he was trying so hard to get by him right away. I didn't know if he saw the Papich had a flat left front or not. He got tight over there in three and four and I got by him and then luckily the yellow came out after the lapped was scored."
Strickler, who set a new track record on the now 3/8-mile oval after turns three and four were shortened during the off-season led the first 17 laps until getting passed by Thornton. "I am really happy we have speed. I don't know maybe its just because I haven't been in that position here lately. It was frustrating. Thank goodness it wasn't for tomorrow night so maybe we lost one tonight and maybe we can win one tomorrow night."
Spencer Hughes rounded out the podium in the third as he, like Thornton and Strickler, locked himself into the 60-lap race on Saturday night. "It's huge to get locked in for tomorrow night. Congrats to Ricky and Kyle they drove a great race under challenging circumstances there. We were really good there at the beginning. I think something got tweaked a little bit and I really fell back there at the end. Our goal was to get locked in and we did."
The winner's Todd and Vickie Burns, SSI Motorsports-owned, Longhorn Chassis is powered by a Clements Racing Engine and sponsored by Big River Steel, Hoker Trucking, Sub-Surface of Indiana, Dyno One Inc., West Side Tractor Sales, D&E Outside Services, Sunoco Race Fuels, Bilstein Shocks, Midwest Sheet Metal ad Murty Farms.
Completing the top ten in the second feature were Tyler Erb, Tyler Bruening, Ross Robinson, Brandon Overton, and Earl Pearson Jr.
Lucas Oil Late Model Dirt Series
Race Summary
Mountain Moonshine Classic presented by FK Rod Ends & East Tennessee Auto Outlet
Friday, June 16, 2023
Smoky Mountain Speedway – Marysville, TN
Allstar Performance Time Trials
Fast Time Group A: Chris Ferguson / 13.733 seconds
Fast Time Group B: Kyle Strickler / 13.691 seconds (overall)
Mountain Moonshine Classic presented by FK Rod Ends & East Tennessee Auto Outlet Group A Feature Finish (30 Laps):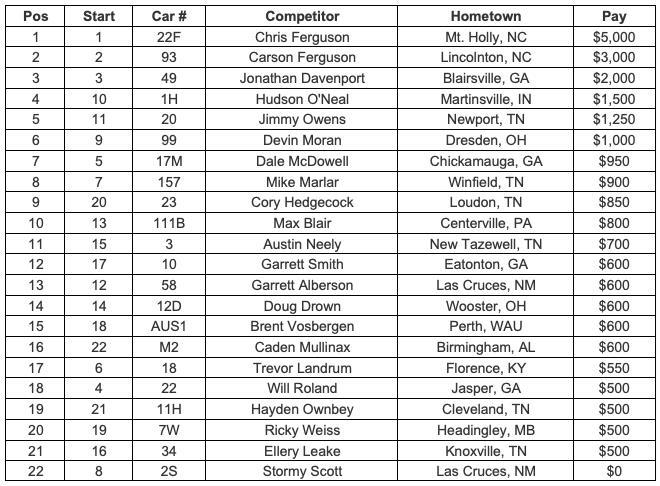 Mountain Moonshine Classic presented by FK Rod Ends & East Tennessee Auto Outlet Group B Feature Finish (30 Laps):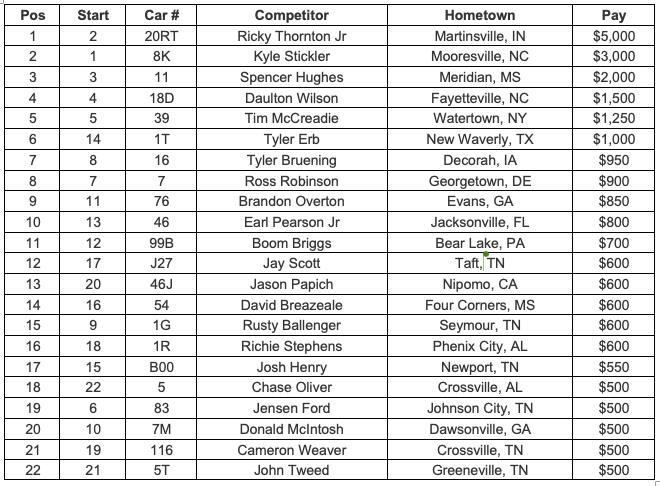 Race Statistics
Entrants: 44
Group A Terminal Maintenance & Construction Pole Sitter: Chris Ferguson
Group B Terminal Maintenance & Construction Pole Sitter: Kyle Strickler
Group A Lap Leaders: Chris Ferguson (Laps 1-30)
Group B Lap Leaders: Kyle Strickler (Laps 1-17); Ricky Thornton, Jr. (Laps 18-30)
Group A Wieland Feature Winner: Chris Ferguson
Group B Wieland Feature Winner: Ricky Thornton, Jr.
Arizona Sport Shirts Crown Jewel Cup Feature Winner: n/a
Brandon Ford TV Challenge Feature Winner: n/a
Group A Margin of Victory: 1.073 seconds
Group B Margin of Victory: 0.824 seconds
Group A Gorsuch Performance Solutions Cautions: Doug Drown (Lap 5); Will Roland (Lap 18); Trevor Landrum, Garrett Alberson (Lap 21)
Group B Gorsuch Performance Solutions Cautions: Jensen Ford (Lap 1); Josh Henry (Lap 7); Debris (Lap 9); Rusty Ballenger (Lap 18)
Series Provisionals: n/a
Fast Time Provisional: n/a
Series Emergency Provisionals: n/a
Track Provisional: n/a
Group A Big River Steel Podium Top 3: Chris Ferguson, Carson Ferguson, Jonathan Davenport
Group B Big River Steel Podium Top 3: Ricky Thornton, Jr., Kyle Strickler, Spencer Hughes
Group A Penske Shocks Top 5: Chris Ferguson, Carson Ferguson, Jonathan Davenport, Hudson O'Neal, Jimmy Owens
Group B Penske Shocks Top 5: Ricky Thornton, Jr., Kyle Strickler, Spencer Hughes, Daulton Wilson, Tim McCreadie
Group A Todd Steel Buildings Hard Charger of the Race: Cory Hedgecock (Advanced 11 Positions)
Group B Todd Steel Buildings Hard Charger of the Race: Tyler Erb (Advanced 8 Positions)
Group A Wilwood Brakes Lucky 7th Place Feature: Dale McDowell
Group A Wilwood Brakes Lucky 7th Place Feature: Tyler Bruening
Group A Deatherage Opticians Lucky 13th Place Feature: Garrett Alberson
Group B Deatherage Opticians Lucky 13th Place Feature: Jason Papich
Group A Earnhardt Technologies Most Laps Led: Chris Ferguson (30 Laps)
Group B Earnhardt Technologies Most Laps Led: Kyle Strickler (17 Laps)
Group A Sunoco Race for Gas Highest Finisher: Hudson O'Neal
Group B Sunoco Race for Gas Highest Finisher: Ricky Thornton, Jr.
Midwest Sheet Metal Spoiler Challenge Point Leader: Ricky Thornton, Jr.
O'Reilly Auto Parts Rookie of the Race: n/a
Group A Etchberger Trucking Fastest Lap of the Race: Chris Ferguson (Lap 3 – 13.762 seconds)
Group A Etchberger Trucking Fastest Lap of the Race: Kyle Strickler (Lap 14 – 14.084 seconds)
Group A MD3 Tough Break of the Race: Trevor Landrum
Group B MD3 Tough Break of the Race: Donald McIntosh
Group A Outerwears Crew Chief of the Race: Bryan Conard (Chris Ferguson)
Group B Outerwears Crew Chief of the Race: Anthony Burroughs (Ricky Thornton, Jr.)
Group A ARP Engine Builder of the Race: Clements Racing Engines
Group B ARP Engine Builder of the Race: Clements Racing Engines
Group A Miller Welders Chassis Builder of the Race: Team Zero Race Cars
Group B Miller Welders Chassis Builder of the Race: Longhorn Chassis
Dirt Draft Fastest in Hot Laps: Hudson O'Neal (14.278 seconds)
Group A Time of Race: 28 minutes 23 seconds
Group B Time of Race: 20 minutes 08 seconds
---
Submitted By: Jeremy Shields
Article Media
Back to News