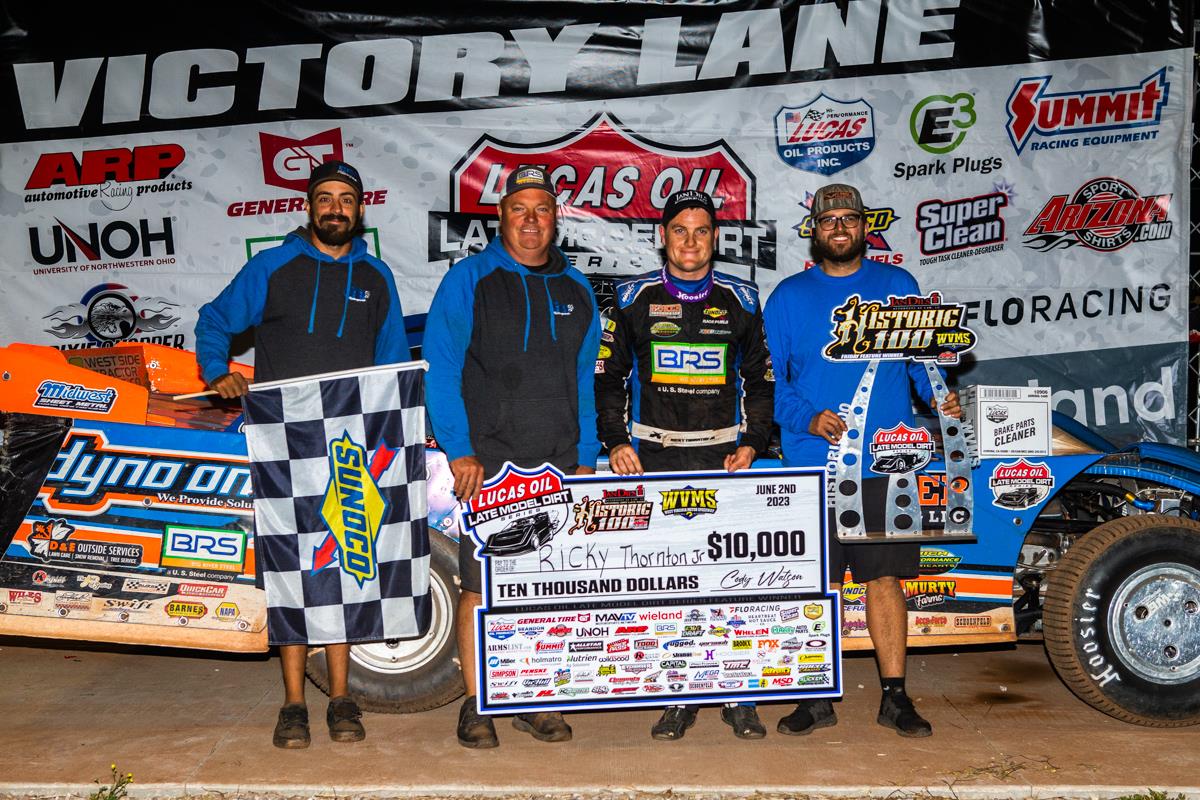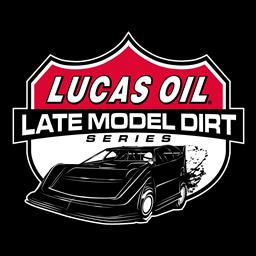 6/2/2023
Lucas Oil Late Model Dirt Series
---
Thornton Earns Sixth Win of the Season at West Virginia Motor Speedway
MINERAL WELLS, W.Va. (June 2, 2023) – Ricky Thornton Jr. went from third to first on the 20th lap of the 30-lap main event on Friday night at West Virginia Motor Speedway – earning his sixth Lucas Oil Late Model Dirt Series win of the season.
Thornton drove by Jimmy Owens and then race leader Daulton Wilson before pulling away for the win on the opening night of the Jan Dils Attorneys at Law "Historic 100" presented by Arizona Sport Shirts. Tim McCreadie would advance to the second spot at the finish followed by Wilson, Hudson O'Neal, and Owens.
Wilson jumped to the lead from his outside front row starting spot as Owens went to second and Thornton, the pole-sitter, dropped to third. Wilson set a quick pace as the North Carolina driver was looking for this first career Lucas Oil Late Model Dirt Series win. Wilson and Owens ran first and second for the first 19 laps to the race, until Thornton made his daring third-to-first move on lap 20.
The only caution of the race came out with eight laps remaining. On the restart, Thornton pulled away from McCreadie, who had moved to second on the restart. Thornton went on to win by over two seconds against the two-time and reigning National Champion.
It was Thornton's 11th career Lucas Oil Late Model Dirt Series win as he continues to lead the championship standings heading into Saturday night's $50,000 to win finale. "I felt bad for Daulton there, he really didn't know where to go to get by Ross [Robinson]. Daulton turned to the bottom and Jimmy turned to the bottom and I figured I would kind of Hail-Mary it and hope it stuck and it did. I slid Daulton down there; it wasn't the cleanest slider. I am sure Daulton will owe me one. I got the job done and we really had a good car all night long."
"I just didn't really get the start I needed to be able to get out front," said the 32-year-old who now calls Martinsville, Indiana home. "I fell back to third. I was running hard and just trying to conserve my stuff and when we got to traffic, I really could pick up my pace. It just worked out for us."
McCreadie climbed back to the front and after a lap 22 restart tried to stay within striking distance of Thornton but could not muster a challenge in the closing laps. "It was a good night for us tonight. The guys at Longhorn work hard. We have a lot of help with us thankfully because if I have to start working on this car we are in trouble. There are so many people that show up that don't get paid, and they are good as anybody that does get paid."
Wilson, who came close to his first series win at Fairbury last month rounded out the Big River Steel Podium in third-place. "I guess you have to lose them before you can win them. We've had a couple of them this year. We had the best car and got out front in the first 20 laps, but you know it was a 30-lap race. Hats off to Ricky and Timmy they did what they had to do. They had good cars. We will work on ours a little bit and come back tomorrow to see if we can put a whole night together."
The winner's Todd and Vickie Burns-owned, SSI Motorsports, Longhorn Chassis is powered by a Clements Racing Engine and sponsored my Big River Steel, Hoker Trucking, Sub-Surface of Indiana, Dyno One Inc., West Side Tractor Dales Company, Certified Inspection Services Company, Inc., Midwest Sheet Metal, Sunoco Race Fuels, Bilstein Shocks, and Murty Farms.
Completing the top ten were Jonathan Davenport, Brandon Overton, Gregg Satterlee, Devin Moran, and Spencer Hughes.
Lucas Oil Late Model Dirt Series
Race Summary
Jan Dils Attorneys at Law "Historic 100" presented by Arizona Sport Shirts – Night 1
Friday, June 2, 2023
West Virginia Motor Speedway – Mineral Wells, WV
Allstar Performance Time Trials
Fast Time Group A: Ricky Thornton, Jr. / 18.939 seconds (overall)
Fast Time Group B: Tim McCreadie / 19.136 seconds
Penske Shocks Heat Race #1 Finish (8 Laps, All Transfer): 1. 20RT-Ricky Thornton Jr[1]; 2. 20-Jimmy Owens[2]; 3. 99-Devin Moran[3]; 4. 76-Brandon Overton[4]; 5. 1T-Tyler Erb[5]; 6. 111B-Max Blair[7]; 7. 7-Ross Robinson[6]; 8. 113-Brandon Francis[8]
Summit Racing Products Heat Race #2 Finish (8 Laps, All Transfer): 1. 18D-Daulton Wilson[1]; 2. 49-Jonathan Davenport[3]; 3. 22-Gregg Satterlee[2]; 4. 16-Tyler Bruening[4]; 5. 17T-Tyler Evans[5]; 6. 58-Garrett Alberson[6]; 7. 66C-Matt Cosner[7]; 8. 0-Edward Shuman[8]
Simpson Race Products Heat Race #3 (8 Laps, All Transfer): 1. 39-Tim McCreadie[1]; 2. 1H-Hudson O'Neal[3]; 3. 66JR-Eddie Carrier Jr[4]; 4. 11-Spencer Hughes[2]; 5. 99B-Boom Briggs[5]; 6. 46-Earl Pearson Jr[6]; 7. 71R-Rod Conley[7]; 8. C4-Freddie Carpenter[8]; 9. 44KC-KC Burdette[9]
Historic 100 – Night 1 Feature Finish (30 Laps):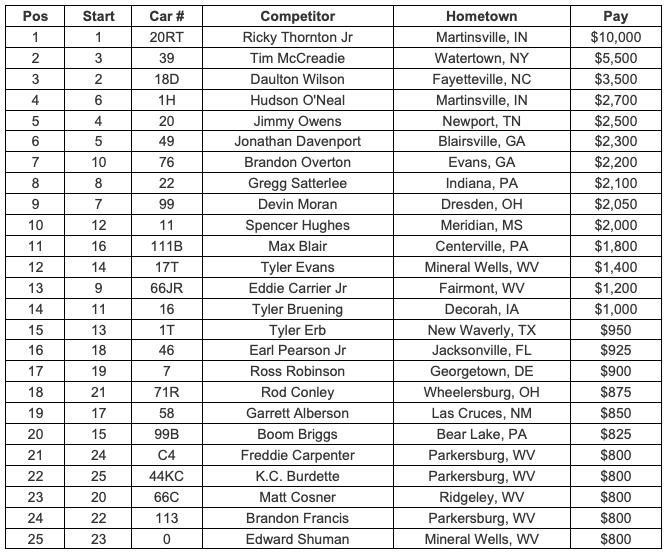 Race Statistics
Entrants: 25
Terminal Maintenance & Construction Pole Sitter: Ricky Thornton, Jr.
Lap Leaders: Daulton Wilson (Laps 1-19); Ricky Thornton, Jr. (Laps 20-30)
Wieland Feature Winner: Ricky Thornton, Jr.
Arizona Sport Shirts Crown Jewel Cup Feature Winner: n/a
Brandon Ford TV Challenge Feature Winner: n/a
Margin of Victory: 2.046 seconds
Gorsuch Performance Solutions Cautions: Earl Pearson, Jr. (Lap 22)
Series Provisionals: n/a
Fast Time Provisional: n/a
Series Emergency Provisionals: n/a
Track Provisional: n/a
Big River Steel Podium Top 3: Ricky Thornton, Jr., Tim McCreadie, Daulton Wilson
Penske Shocks Top 5: Ricky Thornton, Jr., Tim McCreadie, Daulton Wilson, Hudson O'Neal, Jimmy Owens
Todd Steel Buildings Hard Charger of the Race: Max Blair (Advanced 5 Positions)
Wilwood Brakes Lucky 7th Place Feature: Brandon Overton
Deatherage Opticians Lucky 13th Place Feature: Eddie Carrier, Jr.
Earnhardt Technologies Most Laps Led: Daulton Wilson (19 Laps)
Sunoco Race for Gas Highest Finisher: Ricky Thornton, Jr.
Midwest Sheet Metal Spoiler Challenge Point Leader: Ricky Thornton, Jr.
O'Reilly Auto Parts Rookie of the Race: Max Blair
Etchberger Trucking Fastest Lap of the Race: Ricky Thornton, Jr. (Lap 27 – 19.870 seconds)
MD3 Tough Break of the Race: Earl Pearson, Jr.
Outerwears Crew Chief of the Race: Anthony Burroughs (Ricky Thornton, Jr.)
ARP Engine Builder of the Race: Clements Racing Engines
Miller Welders Chassis Builder of the Race: Longhorn Chassis
Dirt Draft Fastest in Hot Laps: Tim McCreadie (19.164 seconds)
Time of Race: 13 minutes 56 seconds
Big River Steel Chase for the Championship Presented by ARP Point Standings: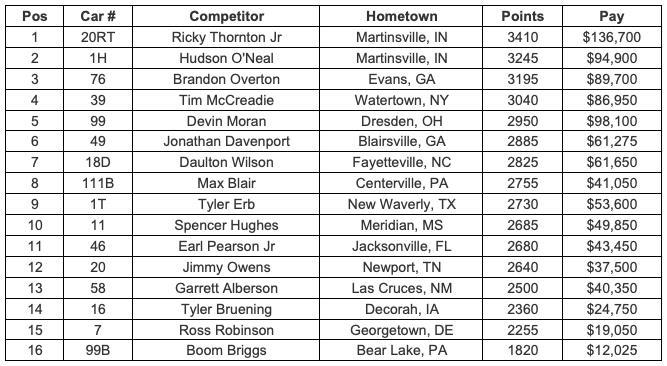 ---
Submitted By: Jeremy Shields
Back to News