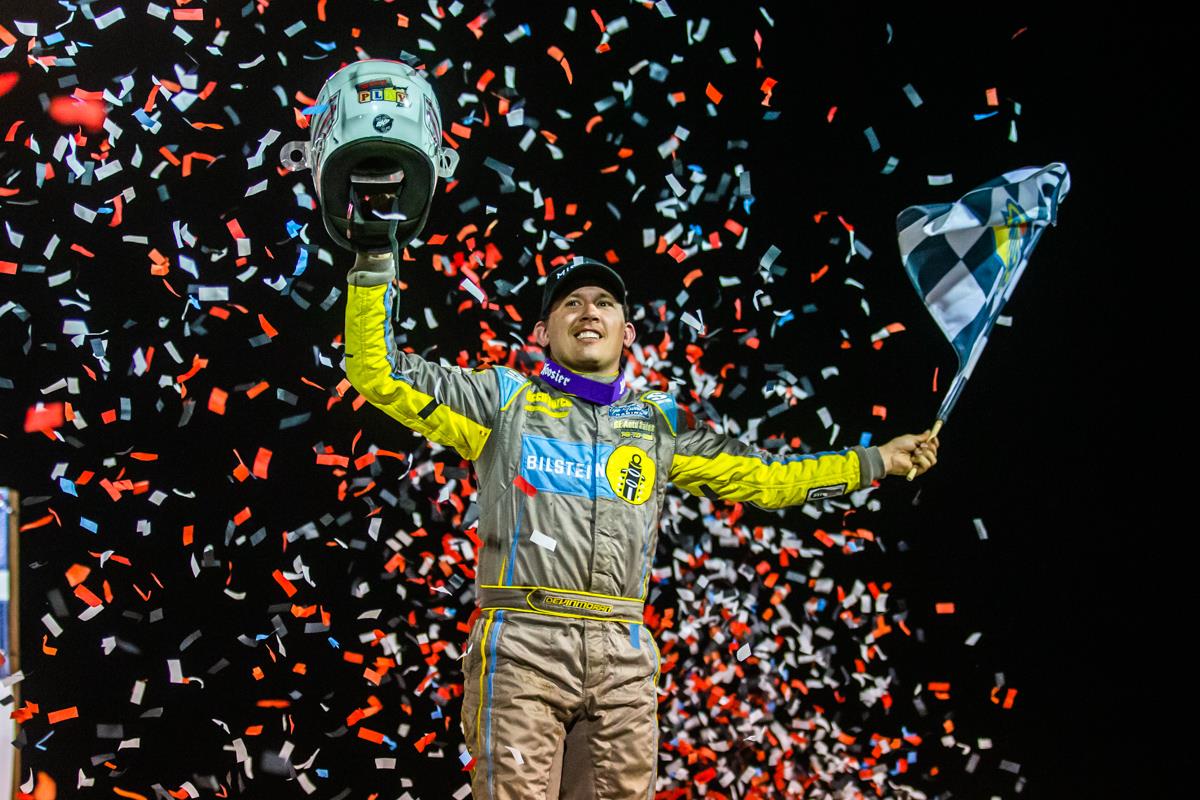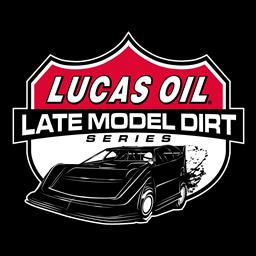 5/27/2023
Lucas Oil Late Model Dirt Series
---
Devin Moran Inherits Lucas Oil Show-Me 100 Victory
WHEATLAND, Mo. (May 27, 2023) – Devin Moran was declared the winner of the 31st Annual Lucas Oil Show-Me 100 presented by the Missouri Division of Tourism after the initial winner Ricky Thornton Jr. was penalized four spots post-race for a droop limiter infraction.
Moran earned a career-best payday of $50,000 in the crown jewel event and becomes the ninth different winner in the past nine Show-Me 100 events. Moran also marks the 16th different driver to win the traditional Memorial Weekend event in its 31-year history.
Tim McCreadie was moved to second in the final rundown with Spencer Hughes, Chris Ferguson and Thornton rounding out the top five drivers.
Jonathan Davenport, who was looking for a weekend sweep after winning the Cowboy Classic on Thursday night and the Tribute to Don and Billie Gibson on Friday night grabbed the lead at the drop of the green flag.
Thornton would run in the second spot for the first 20 laps before McCreadie was able to wrestle the spot away from him. McCreadie stayed in the second spot until lap 31 when Thornton regained the position. Hughes was one of the fastest cars on the track at the time - moving from eighth to third and then eventually to second by lap 36. After a lap 37 restart, Hughes yielded the second spot back to Thornton.
Thornton would then track down Davenport as the two went back-and-forth in the battle for the lead. Thornton cleared Davenport for the point on lap 58 becoming the first driver other than Davenport to lead a lap in three nights of racing. Thornton then pulled away from Davenport stretching his lead out by several car lengths.
Overton's night ended a few laps from the finish as he brought out the caution when he made hard contact with the wall coming off turn four. After one final restart, Thornton would outrun Moran to the checkers, but would drop to fifth in the running order following post-race tech.
In Lucas Oil Victory Lane for the seventh time in his career Moran was asked his thoughts on the biggest win of his racing career. "This is like the best-worst win of my life. I just won the freaking Show-Me 100 and $50,000, but Ricky was the best car in the field and right there before that last caution I was making a boatload of time in one and two. I was just charging really hard to get through there, I was feeling really good. I don't now what our lap times were compared to the 20RT before that caution. I got a really good restart for sure."
Moran gave credit to his victory to Kevin Rumley in his post-race interview. "First and foremost, there is a bad son-of-a-gun in North Carolina named Kevin Rumley. This win, 110% of it goes to that man. My entire career has been working our tails off. We've worked as many hours as you could imagine this week. Obviously, I want to thank Roger [Sellers] and his family for giving me this opportunity." It was the second Show-Me 100 victory for the Double Down Motorsports team as they went to Victory Lane in 2021 with Hudson O'Neal behind the wheel.
McCreadie was moved up one spot at the finish to claim the runnerup spot and a $20,000 payday. "I didn't know until I saw Overton bring out the caution, I didn't know if they had scored a lap. We just do our best and we had some luck, and we'll take it."
Hughes, who ran as high as second during the race rounded out the Big River Steel Podium in third. "It's great to get another good finish. We have been running really good here lately. In the past we have struggled in the long races. We have been fast in them before, we've run in the top five a lot, but to finish one off on the podium means a lot for us. We were really good for a long time there. At the end those other guys could get more consistently through three and four than I could. We are glad to put together another good run."
The winner's Roger Sellers-owned, Double Down Motorsports, Longhorn Chassis is powered by a Cornett Racing Engine and sponsored by Big River Steel, Lazydays RV, C&W Trucking, Lucas Oil Products, McHugh Chrysler, Dodge, and Jeep., Bilstein Shocks, CarSourceAuto.com, Red Oak Pub, Smoky Mountain Speedway, and Lincoln Smith Racing.
Completing the top ten were Dillon McCowan, Tyler Erb, Garrett Alberson, Daulton Wilson, and Ricky Weiss.
Lucas Oil Late Model Dirt Series
Race Summary
31st Annual Lucas Oil Show-Me 100 presented by Missouri Division of Tourism
Saturday, May 27, 2023
Lucas Oil Speedway – Wheatland, MO
Fast Shafts B-Main Race #1 (15 Laps, Top 2 Transfer): 1. 18D-Daulton Wilson[1]; 2. 15-Justin Duty[4]; 3. 45-Cole Wells[2]; 4. 50-Kaeden Cornell[8]; 5. 11H-Jeff Herzog[3]; 6. 93-Mason Oberkramer[6]; 7. 51-Larry Ferris[7]; 8. 54-David Breazeale[5]; 9. 3-Brennon Willard[11]; 10. 26-Glen Powell[13]; 11. 1A-Bryon Allison[12]; 12. 49J-Justin Wells[9]; 13. (DNS) 94-Austin Rettig; 14. (DNS) 78S-Steve Stultz
UNOH B-Main Race #2 (15 Laps, Top 2 Transfer): 1. 1H-Hudson O'Neal[1]; 2. 22-Daniel Hilsabeck[2]; 3. 56JR-Tony Jackson Jr[4]; 4. 22H-Dustin Hodges[7]; 5. 14M-Morgan Bagley[3]; 6. 1S-Jeremy Shaw[6]; 7. 96-Dalton Imhoff[10]; 8. 82-Jace Parmley[5]; 9. 11K-Jon Kirby[8]; 10. 50C-Kayden Clatt[11]; 11. 19M-Colby Moore[12]; 12. 14R-Jeff Roth[9]; 13. 29-Chandler Moenning[13]; 14. (DNS) 04-Tad Pospisil
MyRacePass B-Main Race #2 (15 Laps, Top 2 Transfer): 1. USA28-Kylan Garner[5]; 2. 15L-Payton Looney[1]; 3. 15V-Kolby Vandenbergh[8]; 4. USA1-Chris Hawkins[10]; 5. 15T-Matt Johnson[7]; 6. 1X-Aaron Marrant[12]; 7. 7D-Dusty Leonard[6]; 8. 2-Tyler Stevens[2]; 9. 99B-Boom Briggs[9]; 10. 14G-Trevor Gundaker[4]; 11. 7-Ross Robinson[11]; 12. (DNS) 21XXX-Neil Baggett; 13. (DNS) 14RM-Reid Millard; 14. (DNS) 36-Mark Daye
Midwest Sheet Metal Show-Me Challenge (20 Laps): 1. 15V-Kolby Vandenbergh[3]; 2. 14M-Morgan Bagley[7]; 3. 93-Mason Oberkramer[9]; 4. USA1-Chris Hawkins[6]; 5. 22H-Dustin Hodges[5]; 6. 96-Dalton Imhoff[12]; 7. 7D-Dusty Leonard[13]; 8. 1S-Jeremy Shaw[10]; 9. 15T-Matt Johnson[8]; 10. 1A-Bryon Allison[20]; 11. 3-Brennon Willard[16]; 12. 45-Cole Wells[1]; 13. 14R-Jeff Roth[23]; 14. 26-Glen Powell[18]; 15. 50-Kaeden Cornell[4]; 16. 19M-Colby Moore[21]; 17. 50C-Kayden Clatt[19]; 18. 56JR-Tony Jackson Jr[2]; 19. 82-Jace Parmley[15]; 20. 1X-Aaron Marrant[11]; 21. 11K-Jon Kirby[17]; 22. (DNS) 54-David Breazeale; 23. (DNS) 49J-Justin Wells
31st Annual Lucas Oil Show-Me 100 Presented by Missouri Division of Tourism Feature Finish (100 Laps):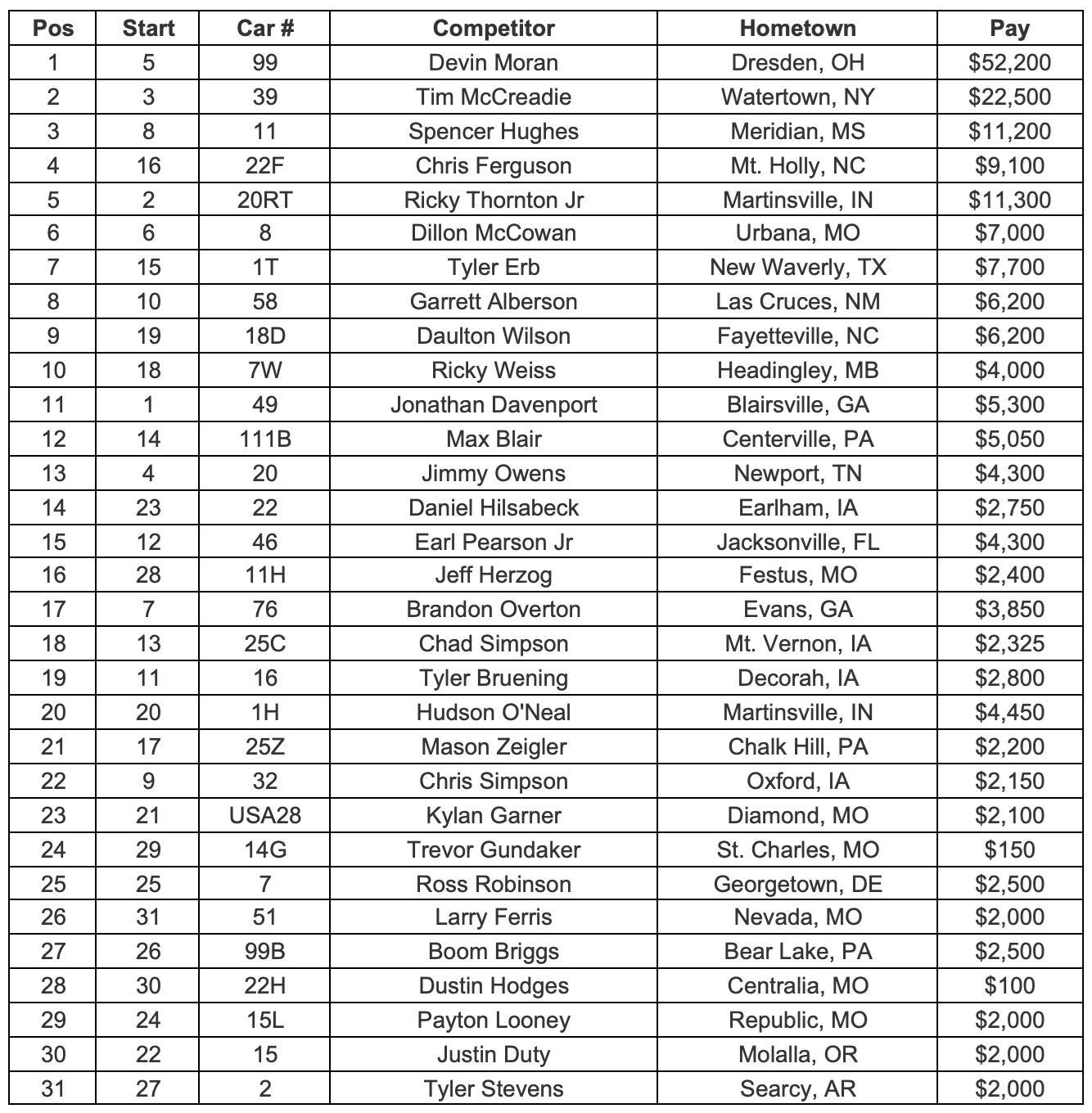 Race Statistics
Entrants: 60
Terminal Maintenance & Construction Pole Sitter: Jonathan Davenport
Lap Leaders: Jonathan Davenport (Laps 1-57); Ricky Thornton, Jr. (Laps 58-100)
Wieland Feature Winner: Devin Moran
Arizona Sport Shirts Crown Jewel Cup Feature Winner: Devin Moran
Brandon Ford TV Challenge Feature Winner: Devin Moran
Margin of Victory: 0.688 seconds
Gorsuch Performance Solutions Cautions: Chris Simpson (Lap 19); Boom Briggs (Lap 21); Larry Ferris (Lap 21 restart); Ross Robinson (Lap 34); Daulton Wilson, Tyler Erb (Lap 37); Chris Simpson (Lap 41); Ross Robinson, Larry Ferris (Lap 44); Jimmy Owens (Lap 47); Jeff Herzog (Lap 49); Hudson O'Neal (Lap 66); Chad Simpson (Lap 96); Brandon Overton (Lap 96 restart); Jonathan Davenport (Lap 98)
Series Provisionals: Ross Robinson; Boom Briggs
Fast Time Provisional: n/a
Series Emergency Provisionals: n/a
MLRA Series Provisionals: Tyler Hodges; Jeff Herzog
MLRA Emergency Provisionals: Trevor Gundaker; Dustin Hodges
Track Provisional: Larry Ferris
Big River Steel Podium Top 3: Devin Moran, Tim McCreadie, Spencer Hughes
Penske Shocks Top 5: Devin Moran, Tim McCreadie, Spencer Hughes, Chris Ferguson, Ricky Thornton, Jr.
Todd Steel Buildings Hard Charger of the Race: Chris Ferguson (Advanced 11 Positions)
Wilwood Brakes Lucky 7th Place Feature: Tyler Erb
Deatherage Opticians Lucky 13th Place Feature: Jimmy Owens
Earnhardt Technologies Most Laps Led: Jonathan Davenport (57 Laps)
Sunoco Race for Gas Highest Finisher: Ricky Thornton, Jr.
Midwest Sheet Metal Spoiler Challenge Point Leader: Ricky Thornton, Jr.
O'Reilly Auto Parts Rookie of the Race: Max Blair
Etchberger Trucking Fastest Lap of the Race: Jonathan Davenport (Lap 3 – 15.020 seconds)
MD3 Tough Break of the Race: Hudson O'Neal
Outerwears Crew Chief of the Race: Chuck Kimble (Devin Moran)
ARP Engine Builder of the Race: Cornett Racing Engines
Miller Welders Chassis Builder of the Race: Longhorn Chassis
Dirt Draft Fastest in Hot Laps: Kylan Garner (15.580 seconds)
Time of Race: 60 minutes 19 seconds
Big River Steel Chase for the Championship Presented by ARP Point Standings: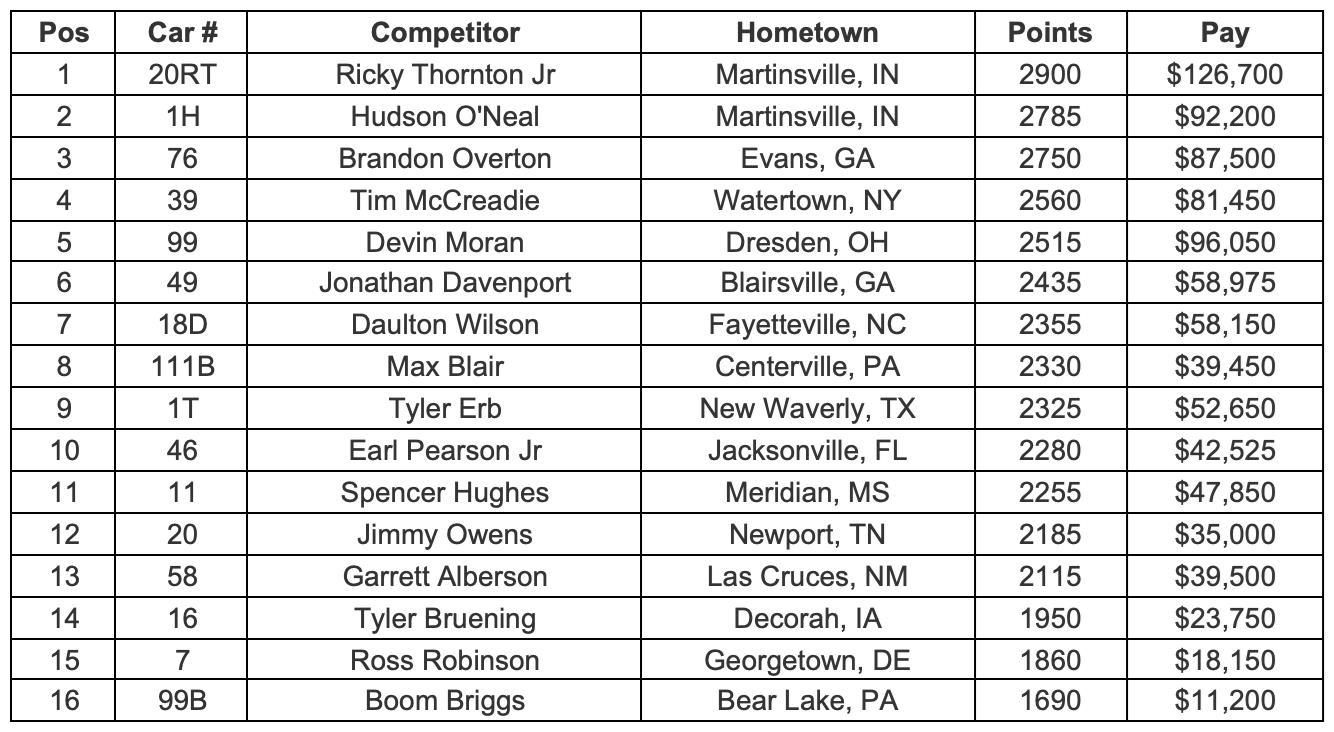 ---
Submitted By: Jeremy Shields
Back to News