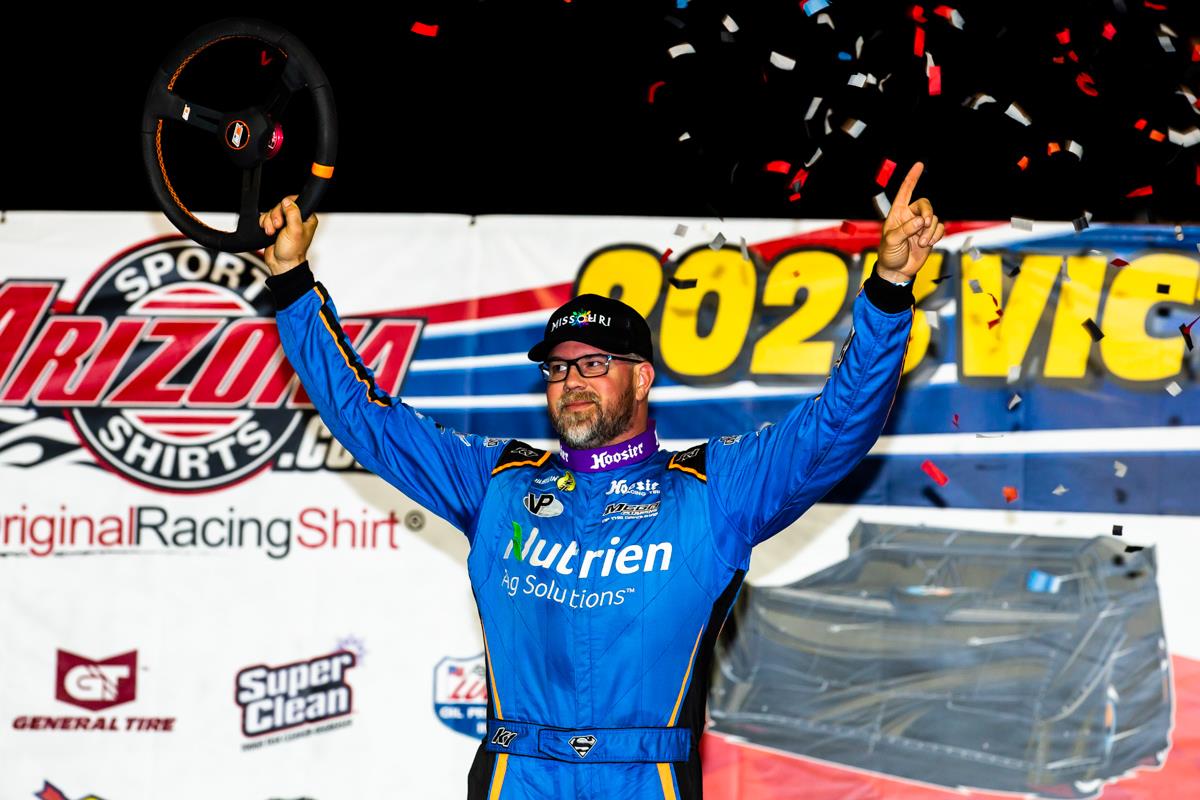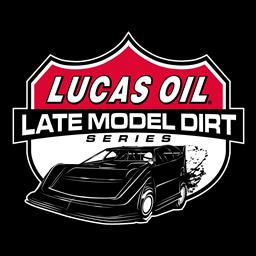 5/26/2023
Lucas Oil Late Model Dirt Series
---
Davenport Doubles Down at Lucas Oil Speedway
WHEATLAND, Mo. (May 26, 2023) – Jonathan Davenport has stamped himself as one of the favorites heading into the 31st Annual Lucas Oil Show-Me 100 presented by Missouri Division of Tourism on Saturday night.
The 3-time Lucas Oil Late Model Dirt Series National Champion withstood last lap challenges from Tim McCreadie and Ricky Thornton Jr. in capturing the Tribute to Don and Billie Gibson on Friday night.
For the 39-year-old Blairsville, Georgia native it was his second straight Lucas Oil Late Model Dirt Series win as he also took first place honors on Thursday night's Cowboy Classic. It was also Davenport's third straight Lucas Oil MLRA win dating back to his April 1st triumph in the Spring Nationals.
Even though the results will show that Davenport led all 40 laps on Friday night it was far from an easy victory, his 68th in his Lucas Oil Late Model Dirt Series career. McCreadie finished in second with Thornton placing third at the finish, after starting in 24th.
Thornton transferred through his heat race but had to bring out a back-up car after suffering engines issues in the final laps. Thornton who pitted early in the race drove through the field to earn the Todd Steel Buildings Hard Charger of the Race, passing 21 cars on his way to rounding out the Big River Steel Podium.
Payton Looney, the 2020 Show-Me 100 champion, and Brandon Overton who both challenged for the lead ended up fourth and fifth in the final rundown.
Davenport stormed to the lead in the early going as Jeff Herzog ran in second for the first three laps until Overton got the spot before a caution on lap four. Looney would follow Overton to the front as they started to close over Davenport when a caution came out again with 13 laps scored. When the race resumed Davenport still held the lead despite pressure from Overton and Looney as Looney took over the second position by lap 15 and began cutting into Davenport's lead.
Overton had got back by Looney by lap 29 and held the spot for just four laps until Looney moved past him again. Looney would hold the second spot with five laps remaining and appeared to be headed to a podium finish. Unfortunately, he started to fade in the waning laps falling to fourth at the finish after yielding to both McCreadie and Thornton in the final circuits.
Davenport held on for the win despite both McCreadie and Thornton closing rapidly on the final lap. "I knew I was getting slower and slower around the top. I was just getting looser. I was taking the long way around the top, there wasn't anything to lean on, so I had to come off of it. I tried to get a good run down the straightaway to keep my momentum up. Eventually I knew something would come around the bottom, so I moved down there."
"I was just too free in the center of the corner to stay down there," Davenport added. "I saw the white flag so I just kind of floated through one and two and I tried to block the bottom and the top on the last lap. So, I really had no idea where to be there. It's good to see the 49 and the 39 run first and second. As much as we talk and run up and down the road, you can't hardly run the same thing because our driving styles are so different. We bounce a lot of ideas off of each other," said the driver who is seeking his second career Show-Me 100 victory.
McCreadie, who is looking for his first career Show-Me 100 triumph came home in the runner-up spot to Davenport in Friday night's 40 lapper. "I don't think we ever slow down. We don't fire very good, so we fell way back in the beginning. I just diamond the racetrack until it gets completely shiny until where I can do it with my foot. When you are flat on the deck for the first 15 laps I am just slipping. I think everybody just came to us. We had a couple of restarts and we got up there and was fighting for it but once JD maneuvered it I kind of got dead in the water. We will take a second and try to find some more speed tomorrow."
Thornton's drive to the front was electrifying as the current Lucas Oil Late Model Dirt Series point leader completed a trying night with a third-place finish. "We weren't going anywhere there early on. We pitted under caution and changed a couple of small things to find some traction and after that I really took off. Hats off to my crew they busted their tails, and we had some other teams helping as well. I was able to finish the heat race, but we hurt the motor. We got the back-up out and old "Daisy" still has it," as Thornton referenced the nickname of his second car the team pulled out of the trailer to start on the tail of the main event.
The winner's Lance and Darla Landers, Double L Motorsports, Longhorn Chassis is powered by a Clements Racing Engines and sponsored by Nutrien Ag Solutions, Dyno Gro Seed, Lucas Oil Products, Bilstein Shocks, VP Fuels, Mark Martin Automotive, ASC Warranty, and Midwest Sheet Metal.
Completing the top ten were Chris Ferguson, Jimmy Owens, Devin Moran, Earl Pearson Jr., and Max Blair.
Lucas Oil Late Model Dirt Series
Race Summary
Tribute to Don & Billie Gibson
Friday, May 26, 2023
Lucas Oil Speedway – Wheatland, MO
Allstar Performance Time Trials
Fast Time Group A: Jeff Herzog / 15.611 seconds (overall)
Fast Time Group B: Jimmy Owens / 16.104 seconds
Penske Shocks Heat Race #1 Finish (8 Laps, Top 3 Transfer): 1. 11H-Jeff Herzog[1]; 2. 22F-Chris Ferguson[3]; 3. 2-Tyler Stevens[6]; 4. 11-Spencer Hughes[8]; 5. 22H-Dustin Hodges[2]; 6. 96-Dalton Imhoff[5]; 7. 99B-Boom Briggs[7]; 8. 15V-Kolby Vandenbergh[4]; 9. 7W-Ricky Weiss[9]; 10. 1X-Aaron Marrant[10]
Summit Racing Products Heat Race #2 Finish (8 Laps, Top 3 Transfer): 1. 76-Brandon Overton[1]; 2. 25C-Chad Simpson[2]; 3. 32-Chris Simpson[3]; 4. 22-Daniel Hilsabeck[4]; 5. 15-Justin Duty[6]; 6. 93-Mason Oberkramer[5]; 7. 56JR-Tony Jackson Jr[9]; 8. 51-Larry Ferris[8]; 9. 7-Ross Robinson[7]; 10. 26-Glen Powell[10]
Simpson Race Products Heat Race #3 (8 Laps, Top 3 Transfer): 1. 15L-Payton Looney[1]; 2. 58-Garrett Alberson[4]; 3. 46-Earl Pearson Jr[2]; 4. 1H-Hudson O'Neal[6]; 5. 111B-Max Blair[5]; 6. 16-Tyler Bruening[3]; 7. 82-Jace Parmley[7]; 8. 15T-Matt Johnson[9]; 9. 1A-Bryon Allison[8]
AP1 Insurance Heat Race #4 (8 Laps, Top 3 Transfer): 1. 49-Jonathan Davenport[3]; 2. 20-Jimmy Owens[1]; 3. 99-Devin Moran[4]; 4. 21XXX-Neil Baggett[2]; 5. 14G-Trevor Gundaker[5]; 6. 49J-Justin Wells[8]; 7. 50-Kaeden Cornell[7]; 8. 1S-Jeremy Shaw[6]; 9. 3-Brennon Willard[9]
Lucas Oil Heat Race #5 (8 Laps, Top 3 Transfer): 1. 39-Tim McCreadie[3]; 2. 45-Cole Wells[1]; 3. 20RT-Ricky Thornton Jr[4]; 4. 54-David Breazeale[2]; 5. 94-Austin Rettig[5]; 6. 1T-Tyler Erb[7]; 7. 14R-Jeff Roth[8]; 8. 7D-Dusty Leonard[6]; 9. 19M-Colby Moore[9]
Lucas Oil Heat Race #6 (8 Laps, Top 3 Transfer): 1. 8-Dillon McCowan[1]; 2. 25Z-Mason Zeigler[3]; 3. 18D-Daulton Wilson[6]; 4. USA28-Kylan Garner[2]; 5. USA1-Chris Hawkins[4]; 6. 14M-Morgan Bagley[7]; 7. 50C-Kayden Clatt[9]; 8. 14RM-Reid Millard[5]; 9. 11K-Jon Kirby[8]
Fast Shafts B-Main Race #1 (10 Laps, Top 2 Transfer): 1. 22-Daniel Hilsabeck[2]; 2. 11-Spencer Hughes[1]; 3. 7W-Ricky Weiss[11]; 4. 93-Mason Oberkramer[6]; 5. 22H-Dustin Hodges[3]; 6. 56JR-Tony Jackson Jr[8]; 7. 15-Justin Duty[4]; 8. 99B-Boom Briggs[7]; 9. 15V-Kolby Vandenbergh[9]; 10. 96-Dalton Imhoff[5]; 11. 1X-Aaron Marrant[13]; 12. 51-Larry Ferris[10]; 13. 26-Glen Powell[14]; 14. (DNS) 7-Ross Robinson
UNOH B-Main Race #2 (10 Laps, Top 2 Transfer): 1. 1H-Hudson O'Neal[1]; 2. 111B-Max Blair[3]; 3. 21XXX-Neil Baggett[2]; 4. 16-Tyler Bruening[5]; 5. 14G-Trevor Gundaker[4]; 6. 50-Kaeden Cornell[8]; 7. 82-Jace Parmley[7]; 8. 49J-Justin Wells[6]; 9. 1S-Jeremy Shaw[10]; 10. 15T-Matt Johnson[9]; 11. 1A-Bryon Allison[11]; 12. 3-Brennon Willard[12]
MyRacePass B-Main Race #2 (10 Laps, Top 2 Transfer): 1. 54-David Breazeale[1]; 2. 14M-Morgan Bagley[6]; 3. 1T-Tyler Erb[5]; 4. USA28-Kylan Garner[2]; 5. 14R-Jeff Roth[7]; 6. 11K-Jon Kirby[12]; 7. 7D-Dusty Leonard[9]; 8. USA1-Chris Hawkins[4]; 9. 50C-Kayden Clatt[8]; 10. 14RM-Reid Millard[10]; 11. 19M-Colby Moore[11]; 12. 94-Austin Rettig[3]
Tribute to Don & Billie Gibson Feature Finish (40 Laps):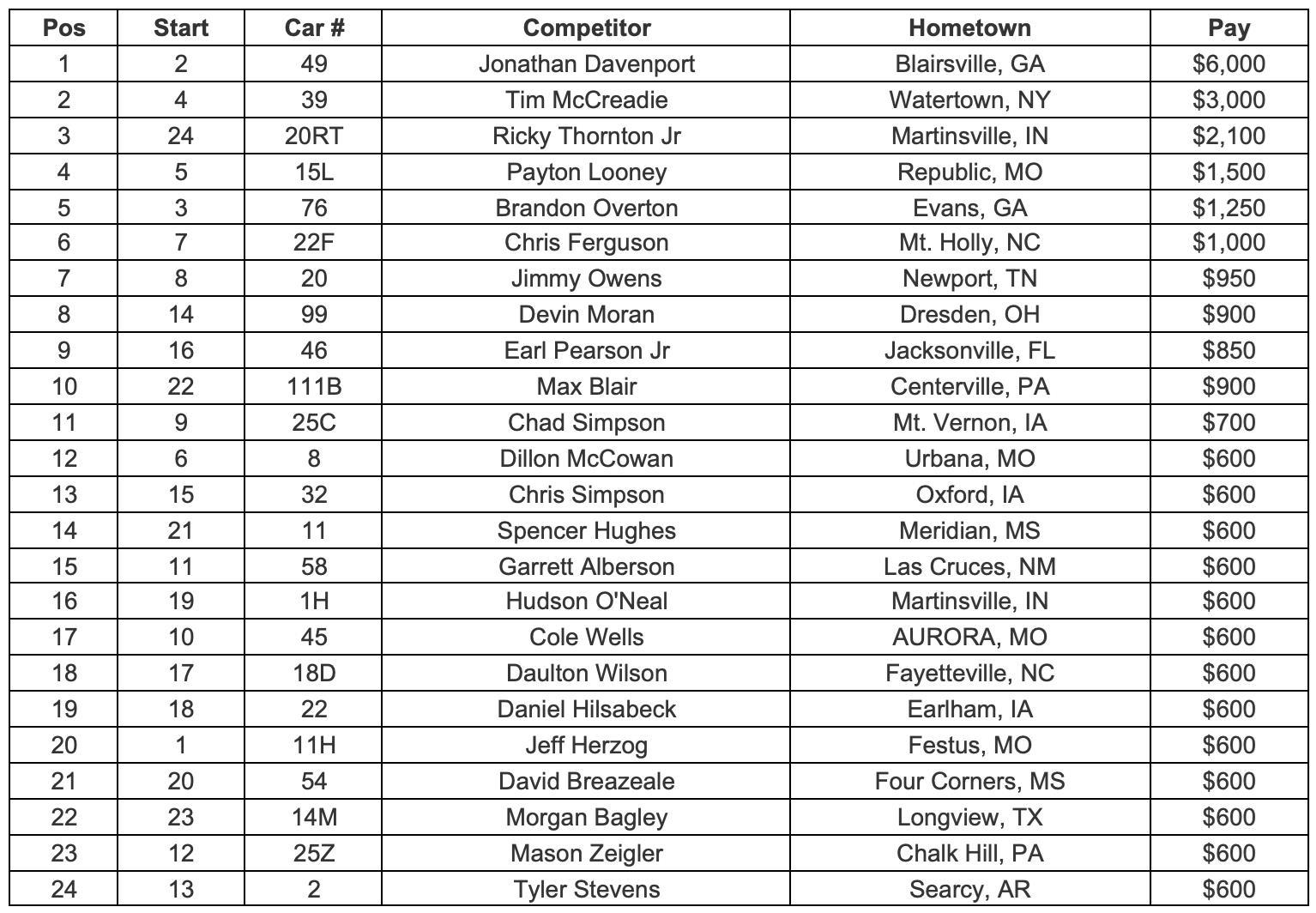 Race Statistics
Entrants: 57
Terminal Maintenance & Construction Pole Sitter: Jeff Herzog
Lap Leaders: Jonathan Davenport (Laps 1-40)
Wieland Feature Winner: Jonathan Davenport
Arizona Sport Shirts Crown Jewel Cup Feature Winner: n/a
Brandon Ford TV Challenge Feature Winner: Jonathan Davenport
Margin of Victory: 0.271 seconds
Gorsuch Performance Solutions Cautions: n/a
Fast Time Provisional: n/a
Series Emergency Provisionals: n/a
Track Provisional: n/a
Big River Steel Podium Top 3: Jonathan Davenport, Tim McCreadie, Ricky Thornton, Jr.
Penske Shocks Top 5: Jonathan Davenport, Tim McCreadie, Ricky Thornton, Jr., Payton Looney, Brandon Overton
Todd Steel Buildings Hard Charger of the Race: Ricky Thornton, Jr. (Advanced 21 Positions)
Wilwood Brakes Lucky 7th Place Feature: Jimmy Owens
Deatherage Opticians Lucky 13th Place Feature: Chris Simpson
Earnhardt Technologies Most Laps Led: Jonathan Davenport (40 Laps)
Sunoco Race for Gas Highest Finisher: Ricky Thornton, Jr.
Midwest Sheet Metal Spoiler Challenge Point Leader: Ricky Thornton, Jr.
O'Reilly Auto Parts Rookie of the Race: Max Blair
Etchberger Trucking Fastest Lap of the Race: Chad Simpson (Lap 4 – 15.208 seconds)
MD3 Tough Break of the Race: Mason Zeigler
Outerwears Crew Chief of the Race: Cory Fostvedt (Jonathan Davenport)
ARP Engine Builder of the Race: Clements Racing Engines
Miller Welders Chassis Builder of the Race: Longhorn Chassis
Dirt Draft Fastest in Hot Laps: Tyler Erb (15.698 seconds)
Time of Race: 22 minutes 23 seconds
31st Lucas Oil Show-Me 100 Presented by the Missouri Division of Tourism Line-Up (100 Laps):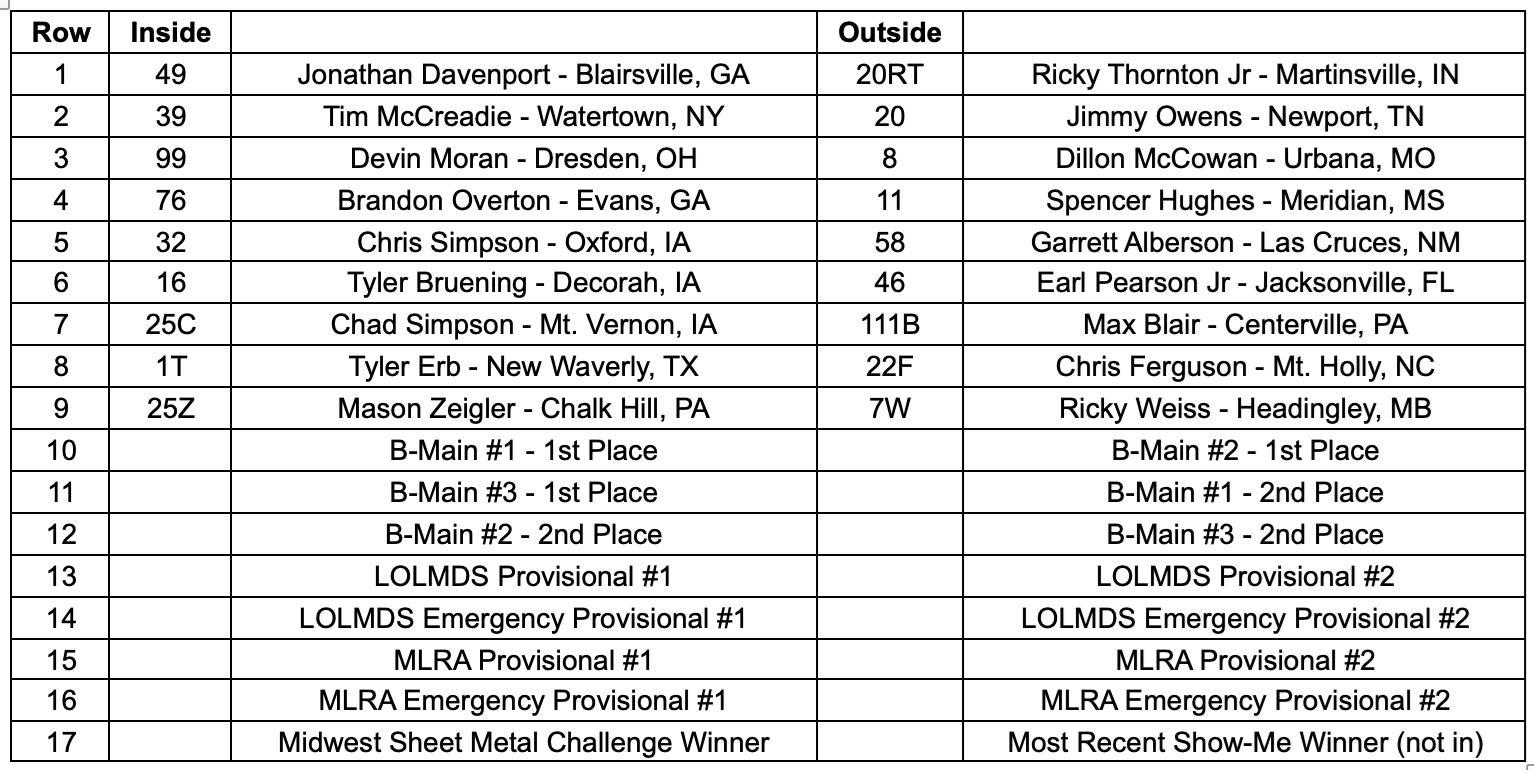 Fast Shafts B-Main #1 Line-Up (15 Laps, Top 2 Transfer):


UNOH B-Main #2 Line-Up (15 Laps, Top 2 Transfer):


MyRacePass B-Main #3 Line-Up (15 Laps, Top 2 Transfer):


31st Annual Lucas Oil Show-Me 100 presented by Missouri Division of Tourism Points: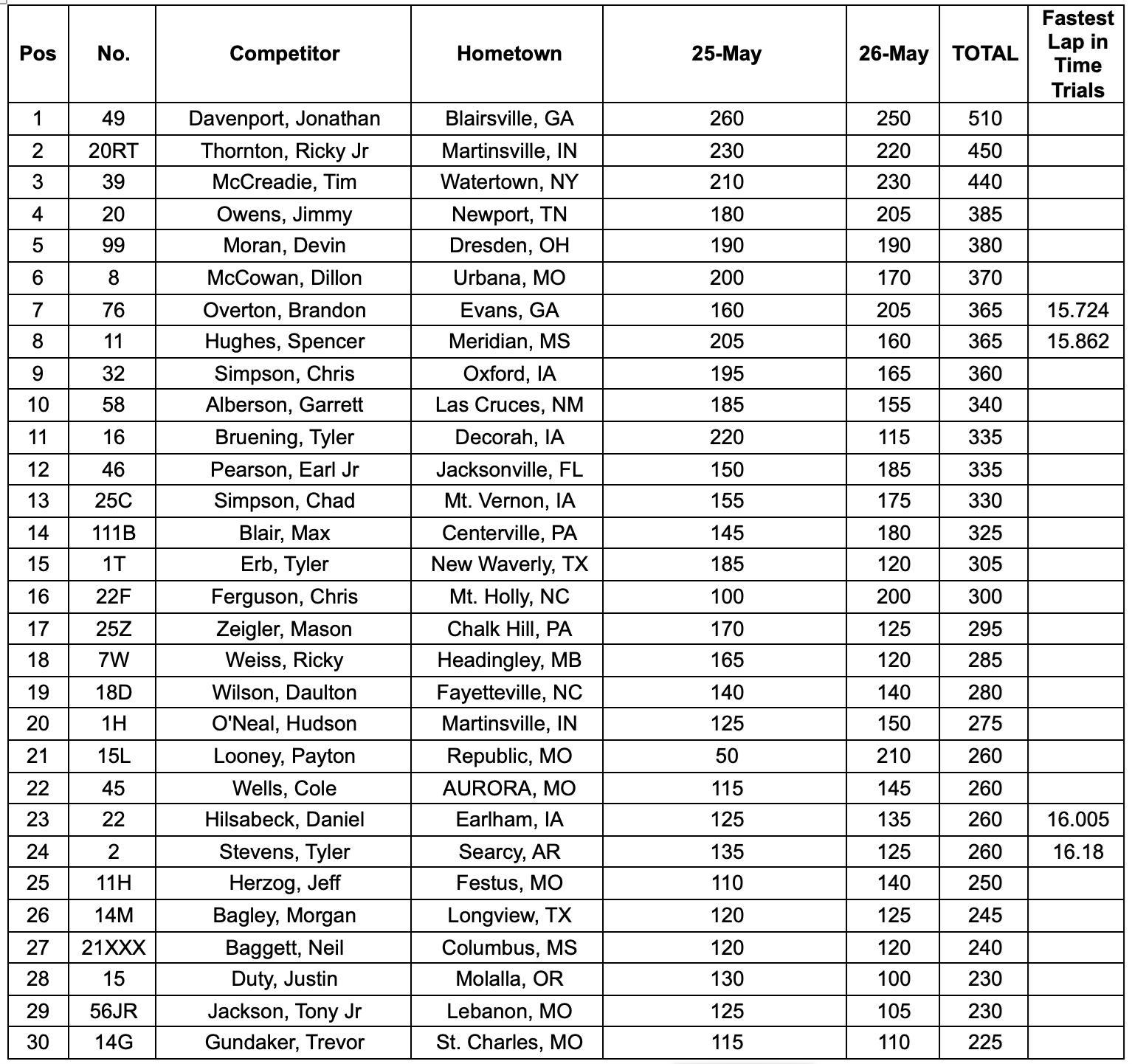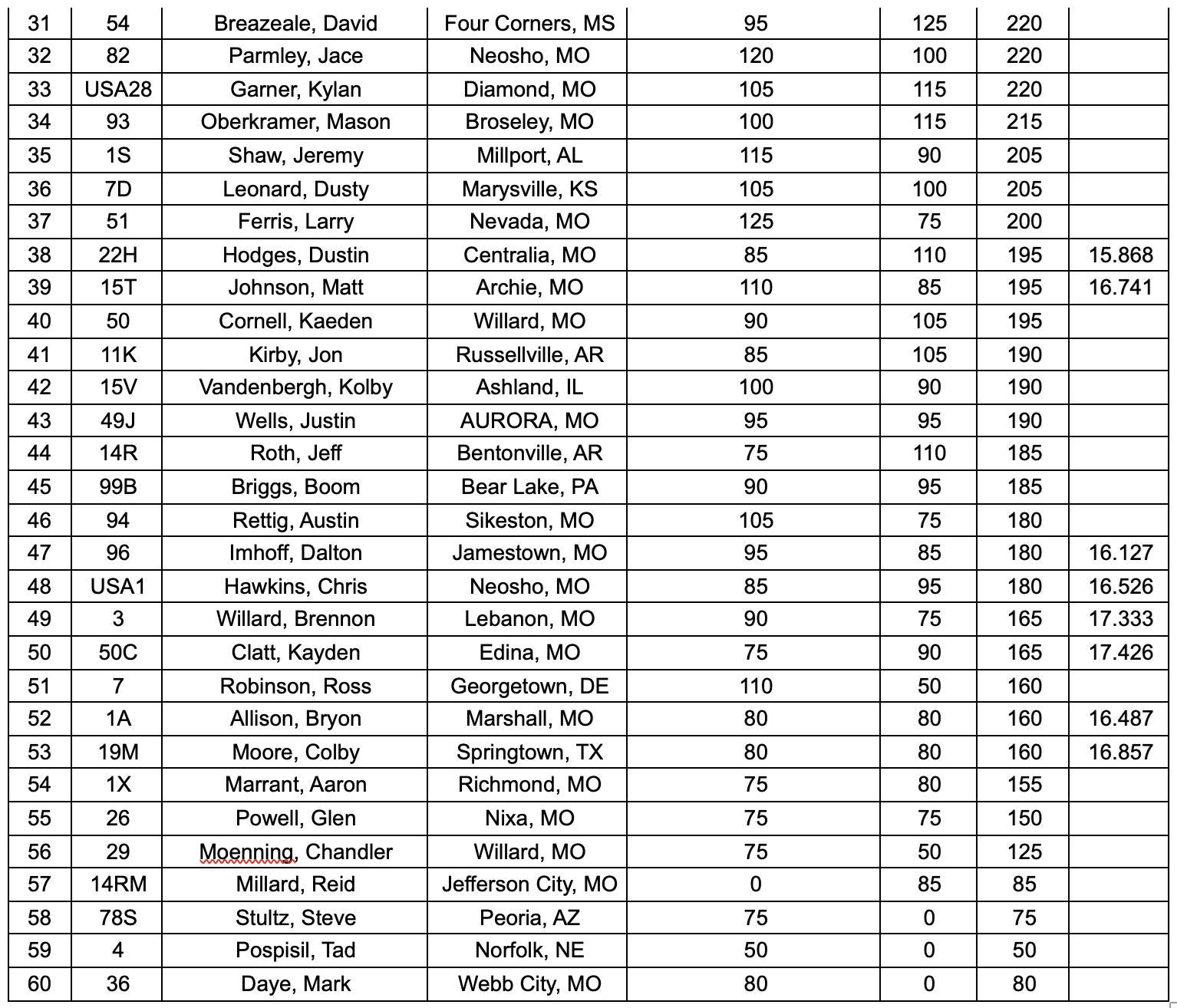 Ties broken by highest points night first, then by fastest qualifying lap either day
---
Submitted By: Jeremy Shields
Back to News