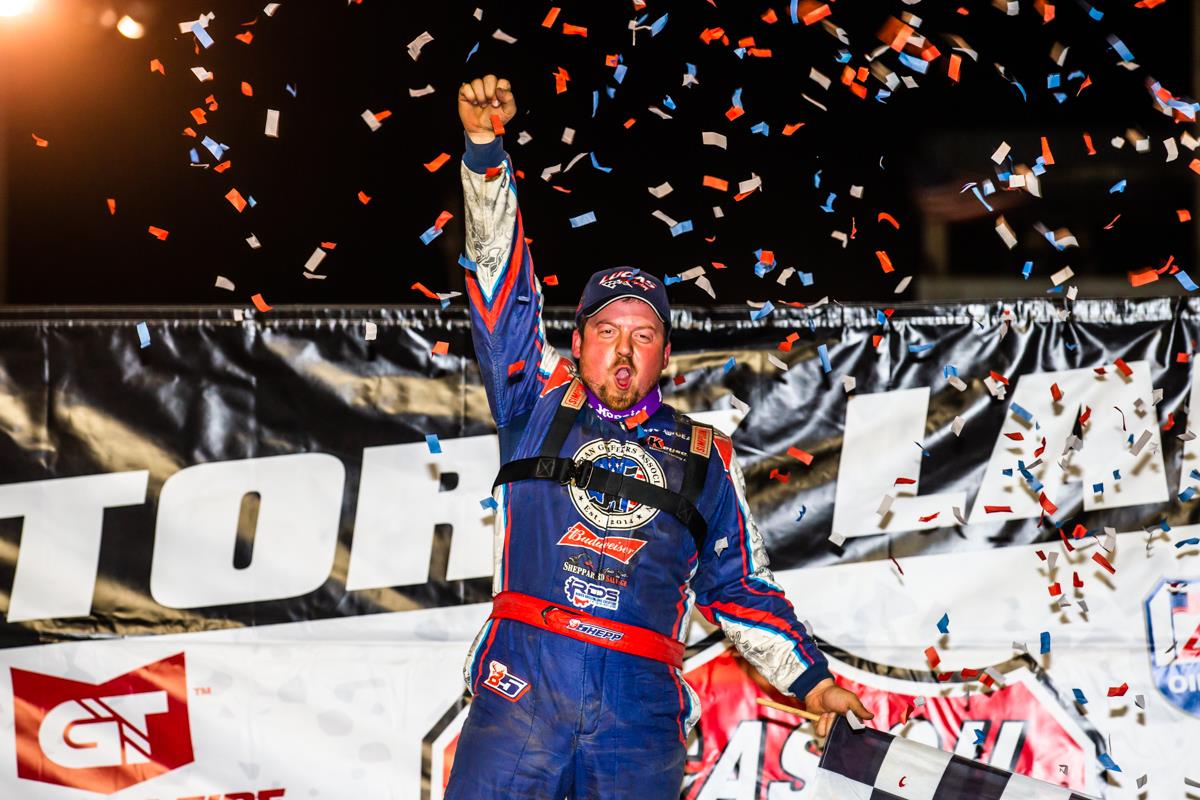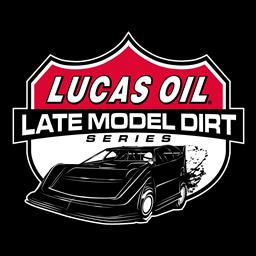 5/15/2023
Lucas Oil Late Model Dirt Series
---
Sheppard Charges to Farmer City 74 Triumph
FARMER CITY, Ill. (May 15, 2023) – Brandon Sheppard worked forward from his 14th starting position to take the lead on lap 47 of the Farmer City 74 on Monday night. Sheppard then led the rest of the way for the $25,000 payday in the first-ever appearance at the track by the Lucas Oil Late Model Dirt Series.
Sheppard became the 11th different winner in 16 Lucas Oil Late Model Dirt Series races in 2023. The Illinois native crossed the finish line ahead Gordy Gundaker and 18th starting Brian Shirley. Gundaker had led the first 46 laps of the race from his outside pole starting position.
Rounding out the top five were 21st starting Ricky Thornton Jr., and Hudson O'Neal, who recovered from a lap seven flat tire to race his way into the top five and back to the top of the Big River Steel Chase for Championship presented by ARP standings.
For the first half of the race Gundaker ran virtually unchallenged as Shirley and Sheppard were making their way through the field. Sheppard was able to overtake Shirley for second and set his sights on the high-flying Gundaker. Sheppard closed the gap on Gundaker in traffic as he slipped by the Missouri driver with 27 laps remaining.
Sheppard then pulled away to win by 1.251 seconds over Gundaker, who recorded his best career finish with the Lucas Oil Late Model Dirt Series.
In Lucas Oil Victory Lane for the 29th time in his career Sheppard was relishing the win in front of his home-state fans. "I don't even know honestly how I did it. That was Farmer City at its best right there. That's the Farmer City that I am used to. Put it up against the wall and it got slick where you can race all over it. It was right on, hats off to the track crew. Hats off to my team as well they have been working their tails off all year, we've been up-and-down a lot."
"This means the world to get to do this," said the 30-year-old New Berlin, Illinois native. "Man, we have been working hard. It's been a long year. I am just super-proud of everybody involved with the team. It's been a really trying year for us and my team has no quit in them. We haven't given up on anything. We just keep plugging away on this thing week in and week out."
Gundaker, who was looking for his first career Lucas Oil Late Model Dirt Series win and the biggest of his career came home in second. "I can't hang my head on running second to Brandon and this group of cars. I got tight there for like five laps and just really screwed up. I am not much of a cushion banger as most of you know. I just made a few mistakes, and you can't make mistakes against these guys. I saw Brandon down there creeping. I was just trying to fight him off and doing everything I could. Yes, I'm bummed, but you can't hang your head running second."
Shirley, a former Knoxville Late Model Nationals winner, rounded out the Big River Steel Podium in third. "The track started to give way a little bit. We probably didn't have the setup good enough for 74 laps. I want to thank everyone for coming out tonight. It was good race."
The winner's Sheppard-Riggs Racing-owned Longhorn Chassis is powered by a Cornett Racing Engine and sponsored by True Timber Camo, Valvoline, Dennis G. Woodworth, Attorney at Law, Wyld Gear, Riggs Drilling Solutions, Sunoco Race Fuels, Bilstein Shocks, and Sheppard Auto Sales and Salvage.
Completing the top ten were Jimmy Owens, Dennis Erb Jr., Daulton Wilson, Max Blair, and Devin Moran.
Lucas Oil Late Model Dirt Series
Race Summary
Farmer City 74
Monday, May 15, 2023
Farmer City Raceway – Farmer City, IL
Allstar Performance Time Trials
Fast Time Group A: Bobby Pierce / 12.556 seconds
Fast Time Group B: Gordy Gundaker / 12.472 seconds (overall)
Penske Shocks Heat Race #1 Finish (8 Laps, Top 4 Transfer): 1. 20-Jimmy Owens[3]; 2. 42-Mckay Wenger[4]; 3. 18B-Shannon Babb[2]; 4. 25-Jason Feger[6]; 5. 58-Garrett Alberson[10]; 6. 4G-Bob Gardner[7]; 7. 1T-Tyler Erb[8]; 8. 7-Ross Robinson[9]; 9. 33H-Roben Huffman[11]; 10. 32-Bobby Pierce[1]; 11. 19R-Ryan Gustin[5]
Summit Racing Products Heat Race #2 Finish (8 Laps, Top 4 Transfer): 1. 49-Jonathan Davenport[2]; 2. 18D-Daulton Wilson[1]; 3. 46-Earl Pearson Jr[5]; 4. B12-Kevin Weaver[4]; 5. 111B-Max Blair[8]; 6. 10-Garrett Smith[3]; 7. 16-Tyler Bruening[6]; 8. 18-Chase Junghans[9]; 9. 89M-Mike Spatola[7]; 10. 7W-JC Waller[10]
Simpson Race Products Heat Race #3 (8 Laps, Top 4 Transfer): 1. 11G-Gordy Gundaker[1]; 2. 28-Dennis Erb Jr[2]; 3. 99JR-Frank Heckenast Jr[3]; 4. B5-Brandon Sheppard[6]; 5. 3S-Brian Shirley[5]; 6. 99-Devin Moran[7]; 7. 99B-Boom Briggs[9]; 8. 24-Ryan Unzicker[8]; 9. 80-Rich Dawson[10]; 10. 157-Mike Marlar[4]
AP1 Insurance Heat Race #4 Finish (8 Laps, Top 4 Transfer): 1. 1H-Hudson O'Neal[1]; 2. 76-Brandon Overton[4]; 3. 39-Tim McCreadie[2]; 4. 96V-Tanner English[3]; 5. 20RT-Ricky Thornton Jr[5]; 6. 26H-Kyle Hammer[6]; 7. 11-Spencer Hughes[7]; 8. 89-Logan Roberson[9]; 9. 162-Logan Moody[8]; 10. 33 4-Billy Hough[10]
Fast Shafts B-Main Race #1 Finish (10 Laps, Top 3 Transfer): 1. 111B-Max Blair[2]; 2. 58-Garrett Alberson[1]; 3. 10-Garrett Smith[4]; 4. 1T-Tyler Erb[5]; 5. 18-Chase Junghans[8]; 6. 32-Bobby Pierce[11]; 7. 16-Tyler Bruening[6]; 8. 89M-Mike Spatola[10]; 9. 19R-Ryan Gustin[13]; 10. 7-Ross Robinson[7]; 11. 33H-Roben Huffman[9]; 12. 7W-JC Waller[12]; 13. 4G-Bob Gardner[3]
UNOH B-Main Race #2 Finish (10 Laps, Top 3 Transfer): 1. 3S-Brian Shirley[1]; 2. 99-Devin Moran[3]; 3. 20RT-Ricky Thornton Jr[2]; 4. 99B-Boom Briggs[5]; 5. 11-Spencer Hughes[6]; 6. 26H-Kyle Hammer[4]; 7. 33 4-Billy Hough[12]; 8. (DNS) 24-Ryan Unzicker; 9. (DNS) 89-Logan Roberson; 10. (DNS) 80-Rich Dawson; 11. (DNS) 162-Logan Moody; 12. (DNS) 157-Mike Marlar
Farmer City 74 Feature Finish (74 Laps):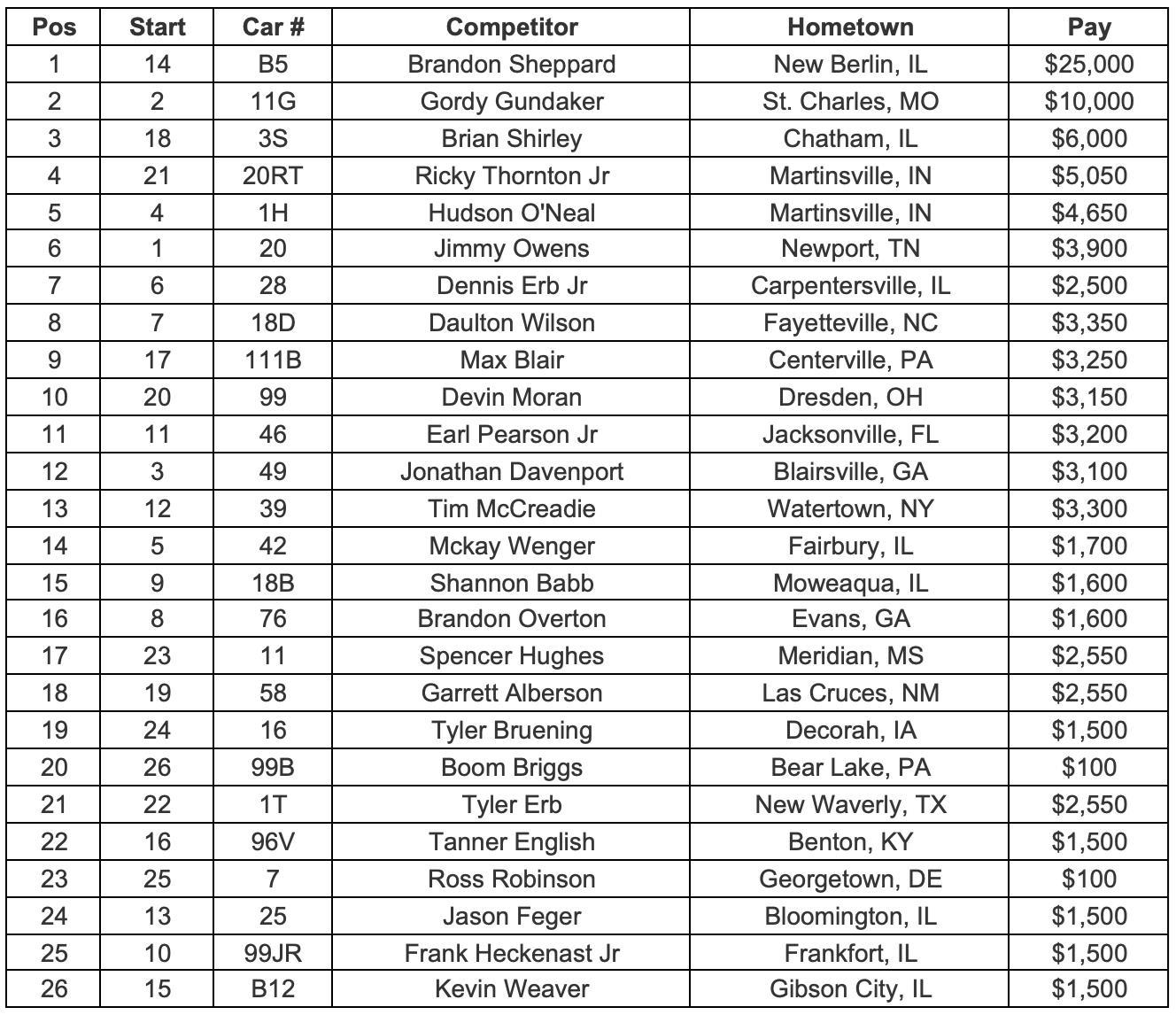 Race Statistics
Entrants: 41
Terminal Maintenance & Construction Pole Sitter: Jimmy Owens
Lap Leaders: Gordy Gundaker (Laps 1-46); Brandon Overton (Laps 47-74)
Wieland Feature Winner: Brandon Sheppard
Arizona Sport Shirts Crown Jewel Cup Feature Winner: n/a
Brandon Ford TV Challenge Feature Winner: n/a
Margin of Victory: 1.251 seconds
Gorsuch Performance Solutions Cautions: Hudson O'Neal (Lap 8); Tim McCreadie (Laps 28); Ross Robinson (Lap 34); Spencer Hughes (Lap 48); Tyler Erb (Lap 58); Debris (Lap 71)
Series Provisionals: Spencer Hughes; Tyler Bruening
Fast Time Provisional: n/a
Series Emergency Provisionals: Ross Robinson; Boom Briggs
Track Provisional: n/a
Big River Steel Podium Top 3: Brandon Sheppard, Gordy Gundaker, Brian Shirley
Penske Shocks Top 5: Brandon Sheppard, Gordy Gundaker, Brian Shirley, Ricky Thornton, Jr., Hudson O'Neal
Todd Steel Buildings Hard Charger of the Race: Ricky Thornton, Jr. (Advanced 17 Positions)
Wilwood Brakes Lucky 7th Place Feature: Dennis Erb, Jr.
Deatherage Opticians Lucky 13th Place Feature: Tim McCreadie
Earnhardt Technologies Most Laps Led: Gordy Gundaker (42 Laps)
Sunoco Race for Gas Highest Finisher: Brandon Sheppard
Midwest Sheet Metal Spoiler Challenge Point Leader: Brandon Overton
O'Reilly Auto Parts Rookie of the Race: Max Blair
Etchberger Trucking Fastest Lap of the Race: Gordy Gundaker (Lap 2 – 13.166 seconds)
MD3 Tough Break of the Race: Tyler Erb
Outerwears Crew Chief of the Race: Corey Richman (Brandon Sheppard)
ARP Engine Builder of the Race: Durham Racing Engines
Miller Welders Chassis Builder of the Race: Longhorn Chassis
Dirt Draft Fastest in Hot Laps: Devin Moran (12.717 seconds)
Time of Race: 36 minutes 37 seconds
The Big River Steel Chase for the Championship Presented by ARP Point Standings: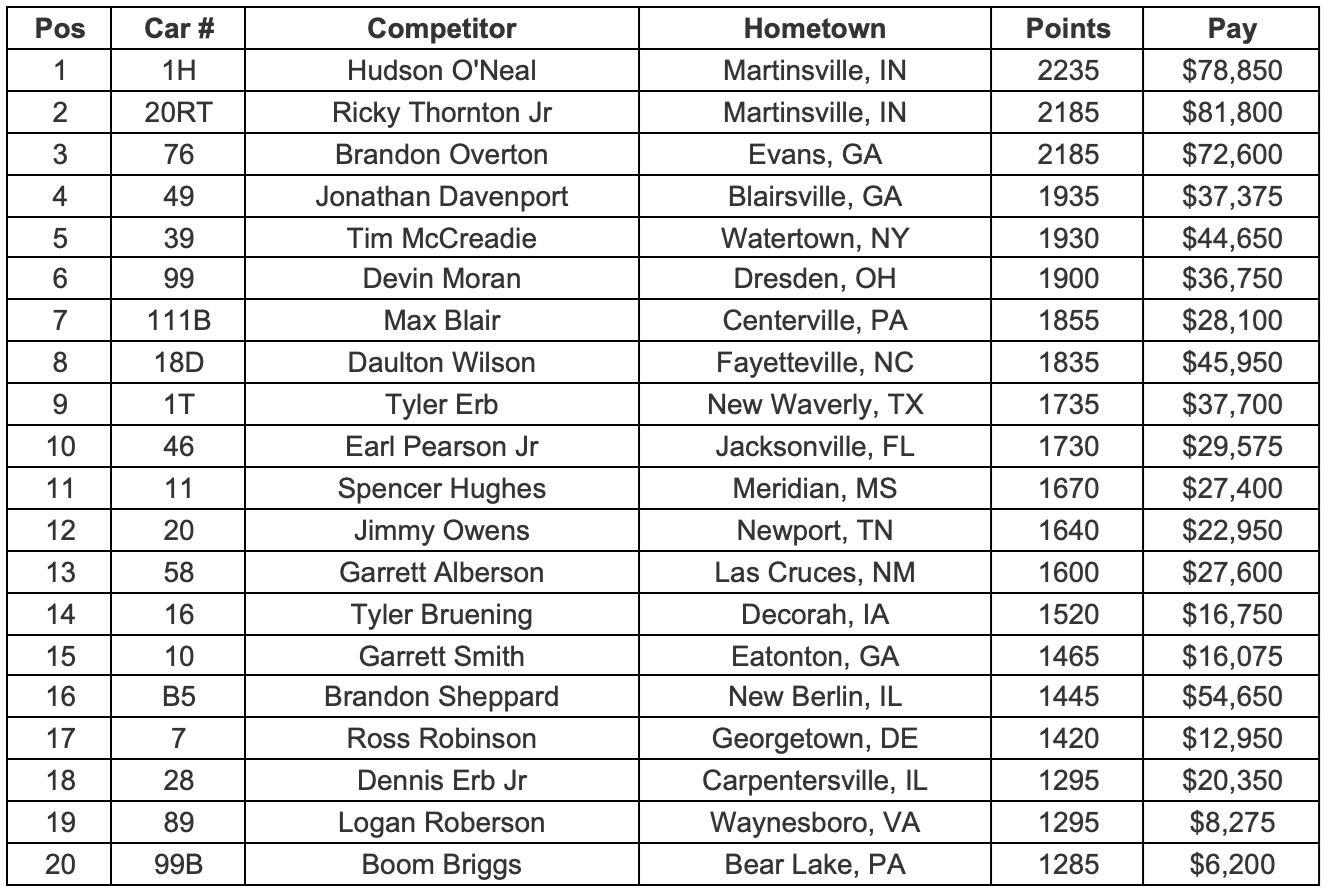 ---
Submitted By: Jeremy Shields
Back to News