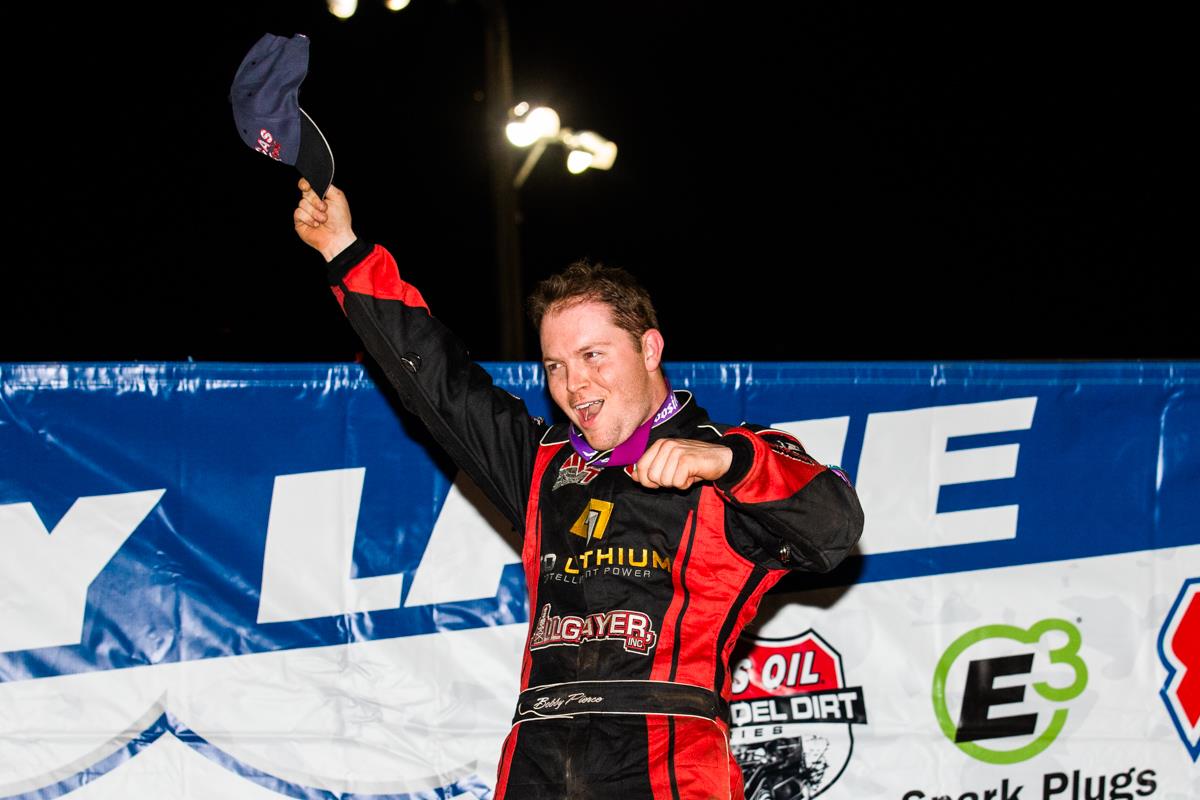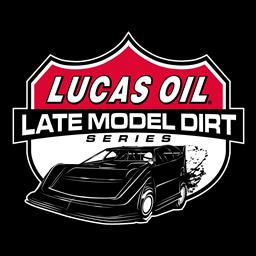 5/13/2023
Lucas Oil Late Model Dirt Series
---
Pierce Rules Lucas Oil Late Model Dirt Series Debut at Fairbury
FAIRBURY, Ill. (May 13, 2023) – Bobby Pierce took the lead after a lap 37 restart and lead the last 23 laps of the FALS Spring Shootout Presented by Titan Industries on Saturday night at Fairbury Speedway.
Pierce became the tenth different winner this season on the Lucas Oil Late Model Dirt Series - pocketing $30,000 for the win.
Pierce, who started eighth held off Dalton Wilson and Brandon Sheppard for the win. Completing the top five were Brandon Overton and Jimmy Owens. With his fourth-place finish Overton is the new point leader in the Big River Steel Chase for the Championship presented by ARP.
Shannon Babb grabbed the lead at the start of the race as he dueled it out with Dennis Erb Jr. who rode the bottom from fifth to take the lead from Babb on lap six.
The first caution of the race came out with ten laps scored for Jonathan Davenport. On the restart Erb led Babb and Hudson O'Neal, who had slipped back to third after starting from the pole. O'Neal took second from Babb on lap 18 and then started to close the gap on Erb as was encountering heavy traffic in front of him.
A restart on lap 36 would see Erb and O'Neal complete one lap before contact between the two in turn one. With Erb's driver side door facing the field a caution immediately flew for safety concerns, with Babb also coming to a stop trying to avoid the incident. Erb would have to restart on the tail of the field after being charged with the caution. Erb's night would come to an end three circuits later with a broke driveshaft.
On the restart O'Neal would be the race leader but before he would officially lead a lap Pierce nipped him at the scoring line to take the lead for the first time in the race with 37 laps in the record books. Wilson, who started 11th showed his strength on the bottom-side as he and O'Neal would go at it for second. With ten laps to go it was Pierce, Wilson and O'Neal in a battle for the race lead.
Wilson came close to sneaking by Pierce at the scoring loop as O'Neal went to the outside to regain the second spot on lap 52. O'Neal didn't give up on Pierce as he started to reel him in. O'Neal would drift high in turn two with two laps to go, but O'Neal's night would end shortly thereafter as he climbed the wall inflicting front end damage to his car.
A green-white-checkered restart would see Pierce hold off Wilson by 0.471 seconds at the finish.
In Lucas Oil Victory Lane for the 13th time in his career Pierce showed his exuberance after exiting his race car. "It's redemption from last night at Farmer City for sure. I just messed up yesterday and my team told me to get back in the car and drive it. I have got to give a huge thanks to them. I went home last night, and they got the job done on the car. We won with a Longhorn at Fairbury on the cushion. It was an awesome night. I was pumped there. It was exciting to run the bottom or the top. It was super difficult up top. The whole race I really didn't know where to go on the track. I figured if someone was going to pass me let it be on the top. If I could slide them and pass them back, then that's what I was going to do. I was just trying to find out where I was best at."
Wilson in his second full season with the Lucas Oil Late Model Dirt Series earned $15,000 for his runner-up finish in only his second-ever appearance at Fairbury. "We have been busting our tails lately. About 3 hours ago we were in trailer with straps on this thing and the door shut. We thought it was done after the rain. To even get this race in tonight was amazing. We had a really good car. We have had some real good speed here lately. We are getting better. I hope this shows we are here, and we finally put a whole night together."
Sheppard came from tenth to round out the podium in third. "I didn't know if I had a chance at the end with two to go. The last two laps they were two-wide in front of me so there wasn't anywhere to go. My car was really good. I wasn't very good at the beginning of the race. I didn't know if I was a little too hard on tires of what. It really took me until halfway to get rolling. Once we got going, I was just kind of waiting for someone to make a move in front of me and go the opposite direction of which way I wanted to go so I could make a pass."
The winner's Longhorn Chassis is powered by a Vic Hill Racing Engine and sponsored by Hoker Trucking, Allgayer Inc., Mesilla Valley Transportation, Senior Life Insurance, Rio Grande Waste Services, PureMax Racing Oil, Toyota of Danville, Bloomington-Normal Truck Performance, VP Fuels, A-Plus Vacuum, Velocita Suits, Bilstein Shocks, Leka Tree Service, and Carnaghi Towing and Repair.
Completing the top ten were Spencer Hughes, Devin Moran, Gordy Gundaker, Tyler Bruening, and Max Blair.
Lucas Oil Late Model Dirt Series
Race Summary
FALS Spring Shootout Presented by Titan Industries
Saturday, May 13, 2023
Fairbury Speedway – Fairbury, IL
Allstar Performance Time Trials
Fast Time Group A: Hudson O'Neal / 12.794 seconds (overall)
Fast Time Group B: Jimmy Owens / 12.870 seconds
Penske Shocks Heat Race #1 Finish (10 Laps, Top 4 Transfer): 1. 1H-Hudson O'Neal[1]; 2. 28-Dennis Erb Jr[3]; 3. B12-Kevin Weaver[2]; 4. 99B-Boom Briggs[5]; 5. 39-Tim McCreadie[7]; 6. 76-Brandon Overton[6]; 7. 46-Earl Pearson Jr[8]; 8. 3-Dale Markham[4]; 9. 7-Ross Robinson[9]; 10. 20RT-Ricky Thornton Jr[11]; 11. 76T-Titus Sneed[10]
Summit Racing Products Heat Race #2 Finish (10 Laps, Top 4 Transfer): 1. 10-Garrett Smith[1]; 2. 157-Mike Marlar[2]; 3. 18D-Daulton Wilson[4]; 4. 24-Ryan Unzicker[3]; 5. 58-Garrett Alberson[6]; 6. 111B-Max Blair[7]; 7. 1T-Tyler Erb[5]; 8. 99-Devin Moran[10]; 9. 33 4-Billy Hough[11]; 10. 80-Rich Dawson[8]; 11. (DNS) 174-Ethen Dotson
Simpson Race Products Heat Race #3 (10 Laps, Top 4 Transfer): 1. 18B-Shannon Babb[2]; 2. 20-Jimmy Owens[1]; 3. B5-Brandon Sheppard[4]; 4. 49-Jonathan Davenport[3]; 5. 11G-Gordy Gundaker[6]; 6. 7T-Drake Troutman[7]; 7. 99JR-Frank Heckenast Jr[5]; 8. 130-Chase Osterhoff[8]; 9. J12-Jason Wagner[11]; 10. 10S-Scott Schmitt[10]; 11. (DNS) 4G-Bob Gardner
AP1 Insurance Heat Race #4 Finish (10 Laps, Top 4 Transfer): 1. 11-Spencer Hughes[1]; 2. 32-Bobby Pierce[2]; 3. 42-Mckay Wenger[3]; 4. 16-Tyler Bruening[4]; 5. 3S-Brian Shirley[6]; 6. 25-Jason Feger[5]; 7. 89M-Mike Spatola[9]; 8. 7W-JC Waller[10]; 9. 89-Logan Roberson[7]; 10. (DNS) 18-Chase Junghans
Fast Shafts B-Main Race #1 Finish (12 Laps, Top 3 Transfer): 1. 39-Tim McCreadie[1]; 2. 58-Garrett Alberson[2]; 3. 76-Brandon Overton[3]; 4. 111B-Max Blair[4]; 5. 1T-Tyler Erb[6]; 6. 46-Earl Pearson Jr[5]; 7. 99-Devin Moran[8]; 8. 20RT-Ricky Thornton Jr[11]; 9. 7-Ross Robinson[9]; 10. 3-Dale Markham[7]; 11. 76T-Titus Sneed[13]; 12. (DNS) 33 4-Billy Hough; 13. (DNS) 80-Rich Dawson; 14. (DNS) 174-Ethen Dotson
UNOH B-Main Race #2 Finish (12 Laps, Top 3 Transfer): 1. 11G-Gordy Gundaker[1]; 2. 3S-Brian Shirley[2]; 3. 89M-Mike Spatola[6]; 4. 25-Jason Feger[4]; 5. 7T-Drake Troutman[3]; 6. 89-Logan Roberson[10]; 7. 10S-Scott Schmitt[11]; 8. 130-Chase Osterhoff[7]; 9. J12-Jason Wagner[9]; 10. (DNS) 99JR-Frank Heckenast Jr; 11. (DNS) 7W-JC Waller; 12. (DNS) 18-Chase Junghans; 13. (DNS) 4G-Bob Gardner
FALS Spring Shootout Presented by Titan Industries Feature Finish (60 Laps):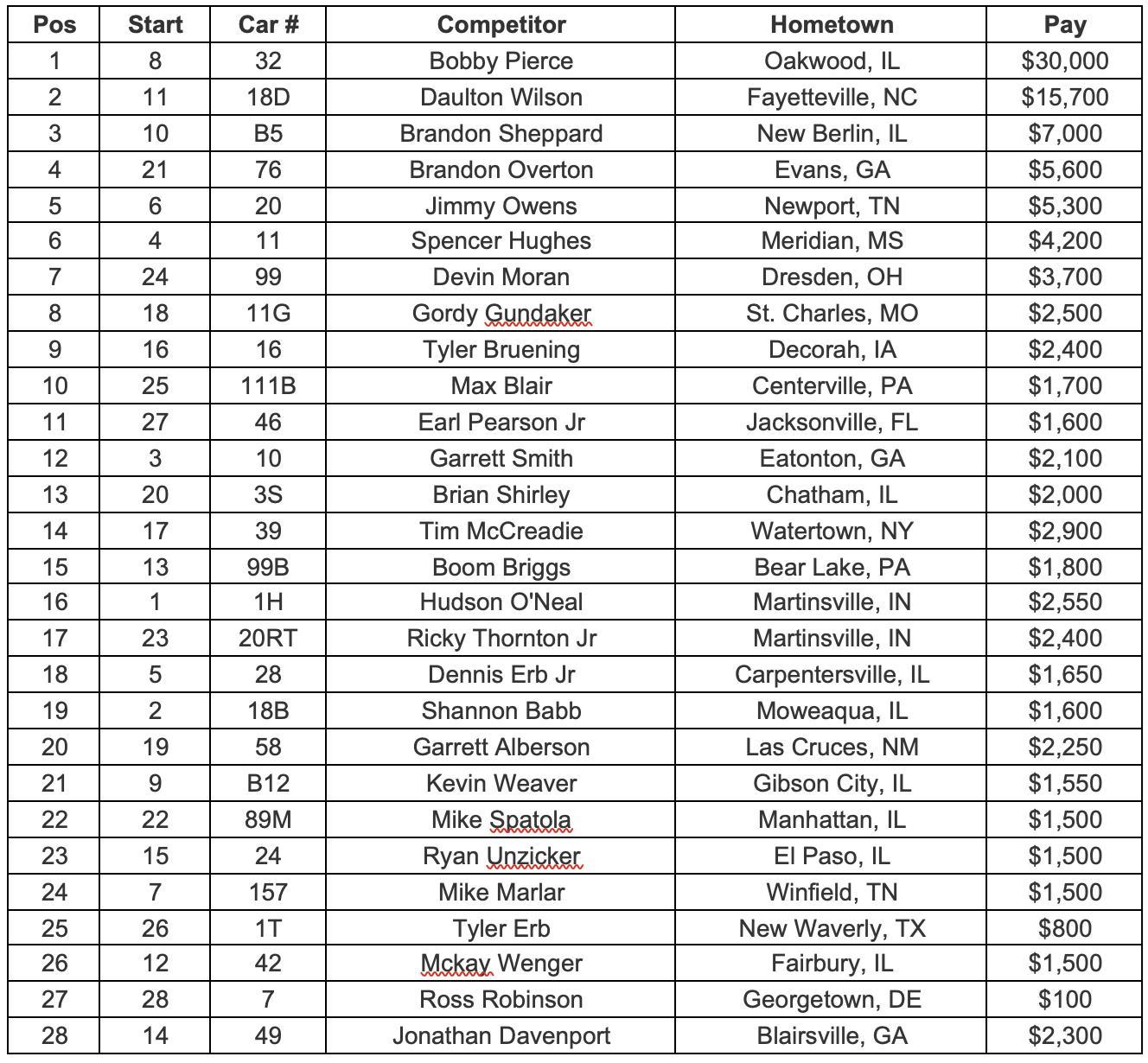 Race Statistics
Entrants: 43
Terminal Maintenance & Construction Pole Sitter: Hudson O'Neal
Lap Leaders: Shannon Babb (Laps 1-5); Dennis Erb, Jr. (Laps 6-36); Bobby Pierce (37-60)
Wieland Feature Winner: Bobby Pierce
Arizona Sport Shirts Crown Jewel Cup Feature Winner: Bobby Pierce
Brandon Ford TV Challenge Feature Winner: n/a
Margin of Victory: 0.470 seconds
Gorsuch Performance Solutions Cautions: Jonathan Davenport (Lap 10); Boom Briggs (Lap 25); Garrett Alberson (Lap 35); Dennis Erb, Jr., Shannon Babb (Lap 36); Dennis Erb, Jr., Garrett Smith (Lap 39); Ricky Thornton, Jr. (Lap 46); Debris (Lap 46 Restart); Debris (Lap 48); Hudson O'Neal (Lap 58)
Series Provisionals: Ricky Thornton, Jr.; Devin Moran
Fast Time Provisional: n/a
Series Emergency Provisionals: Max Blair; Tyler Erb; Earl Pearson, Jr.; Ross Robinson
Track Provisional: n/a
Big River Steel Podium Top 3: Bobby Pierce, Daulton Wilson, Brandon Sheppard
Penske Shocks Top 5: Bobby Pierce, Daulton Wilson, Brandon Sheppard, Brandon Overton, Jimmy Owens
Todd Steel Buildings Hard Charger of the Race: Brandon Overton (Advanced 17 Positions)
Wilwood Brakes Lucky 7th Place Feature: Devin Moran
Deatherage Opticians Lucky 13th Place Feature: Brian Shirley
Earnhardt Technologies Most Laps Led: Dennis Erb, Jr. (31 Laps)
Sunoco Race for Gas Highest Finisher: Brandon Sheppard
Midwest Sheet Metal Spoiler Challenge Point Leader: Hudson O'Neal
O'Reilly Auto Parts Rookie of the Race: Max Blair
Etchberger Trucking Fastest Lap of the Race: Dennis Erb, Jr. (Lap 3 – 12.864 seconds)
MD3 Tough Break of the Race: Shannon Babb
Outerwears Crew Chief of the Race: Bob Pierce (Bobby Pierce)
ARP Engine Builder of the Race: Vic Hill Race Engines
Miller Welders Chassis Builder of the Race: Longhorn Chassis
Dirt Draft Fastest in Hot Laps: Jimmy Owens (13.409 seconds)
Time of Race: 42 minutes 53 seconds
The Big River Steel Chase for the Championship Presented by ARP Point Standings: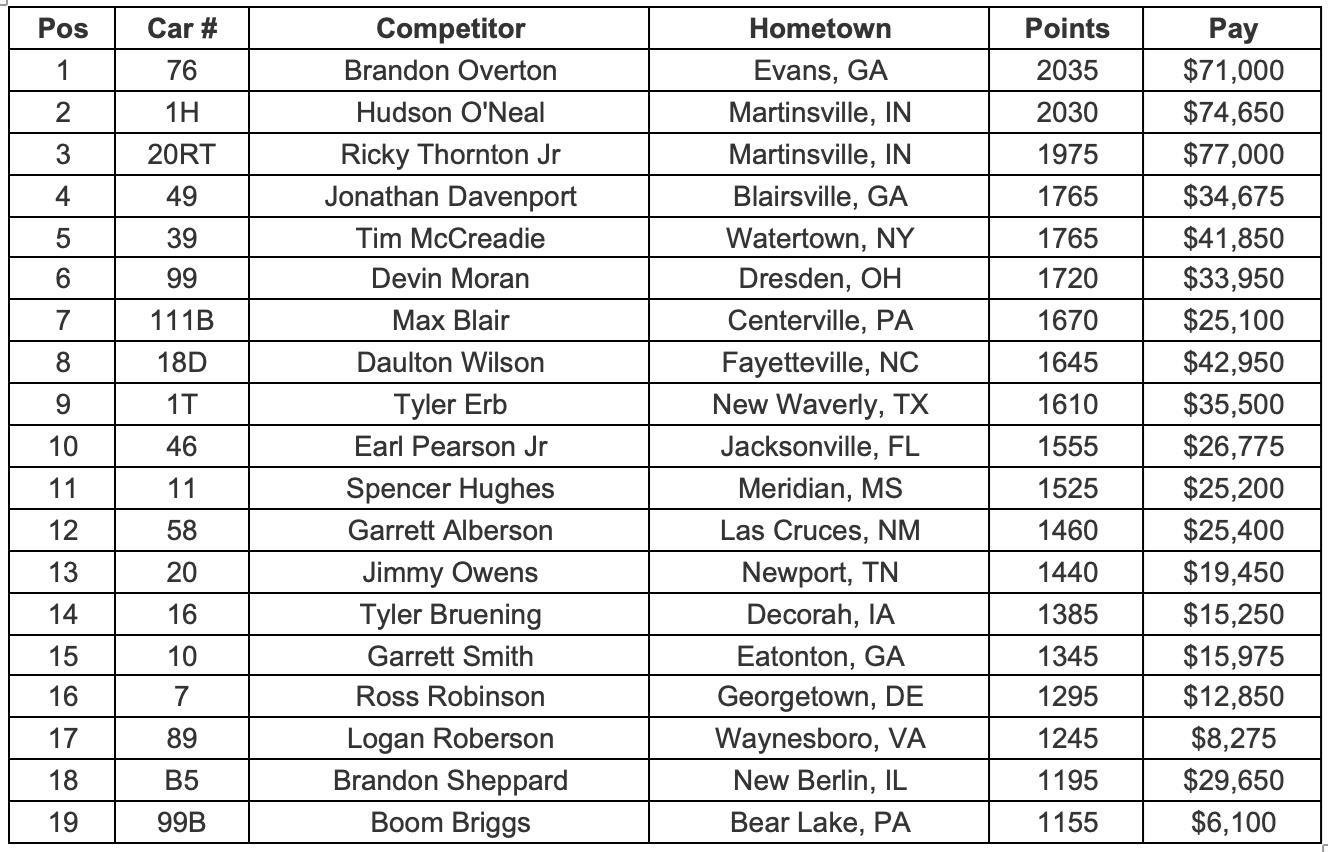 ---
Submitted By: Jeremy Shields
Back to News