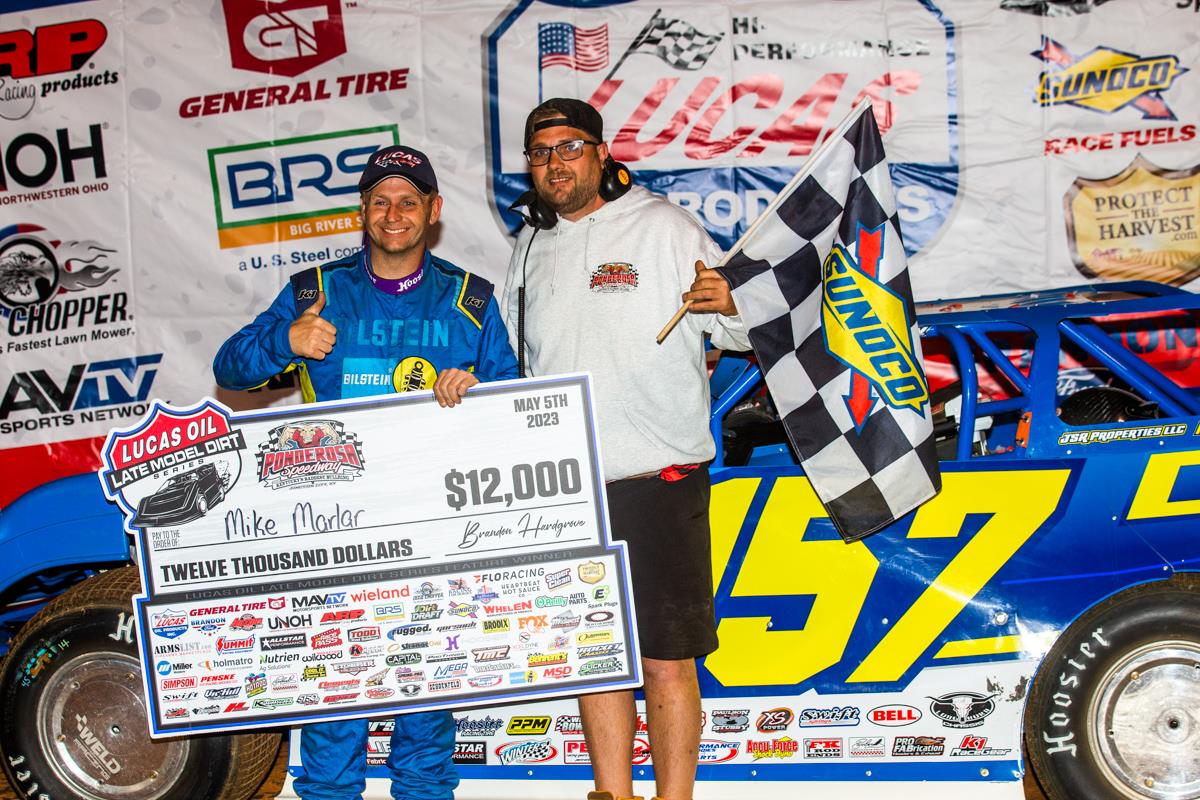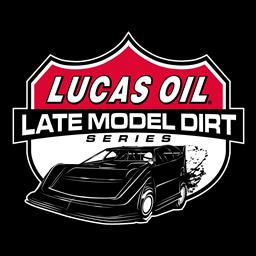 5/5/2023
Lucas Oil Late Model Dirt Series
---
Marlar Snaps O'Neal's Win Streak with Ponderosa Triumph
JUNCTION CITY, Ky. (May 5, 2023) – Mike Marlar ended Hudson O'Neal's three-race win streak on the Lucas Oil Late Model Dirt Series by taking the top spot in the 19th Annual John Bradshaw Memorial sponsored by Tim Short Auto Group. Marlar led wire-to-wire holding off O'Neal to become the ninth different winner this year with the series on Friday night at Ponderosa Speedway.
Marlar finished just 0.574 seconds ahead of O'Neal at the checkers to earn his 19th career Lucas Oil Late Model Dirt Series victory. Trailing Marlar and O'Neal across the stripe were Brandon Overton, Jonathan Davenport, and Ricky Thornton Jr.
Marlar grabbed the lead at the start of the race with Overton holding down the second position. Overton ran in second tucked behind Marlar for the first 21 laps of the race until the only Gorsuch Performance Solutions caution flew for a slowing Earl Pearson Jr.
On the lap 22 restart O'Neal got by Overton to take over second. O'Neal then chased Marlar through lapped traffic closing to within a couple of car lengths of the Tennessee racer on several occasions as they raced through lapped traffic.
Marlar held his line on the final lap to hold off O'Neal for the win before a packed grandstand and pit area.
"I want to thank my car owner and all of these great sponsors," said the victorious Marlar in Lucas Oil Victory Lane. "It takes a lot of people to have a great race team. It's fun when it's working good. The car was really good again tonight. We had that one caution and sometimes your tires cool off, or the track bleeds and other things happen under caution. It's usually a good thing especially when you have a clean track in front of you. You run these cars on such a fine line."
"It's cool the John Bradshaw Memorial has got to be as big as it is," Marlar added. "When it first started it was $5,000 to win and we were just lucky to have a race that paid that around here. So, all of these big races we are having around here now it's' getting big crowds like tonight. I don't think I have seen this many fans here."
O'Neal heads to Florence on Saturday maintaining the series points lead with his runner-up finish. "We had a good race car. It took me forever to get to second and the restart helped. I had to deal with a rock there with about 20 laps to go and it broke my shield. It took my focus off the race a little bit. I just couldn't quite get back to him [Marlar]. We'll take a second anytime you can stand on the frontstretch it's a really good night."
Overton, who finished second to O'Neal on Thursday night at Atomic rounded out the podium with a third place run at Ponderosa. "We'll get 'em. It was another good points night. We are right there just knocking on the door. It's hard to change the car when it's that fast early on. We will just take some notes and keep building on it and head to Florence."
The winner's Ronnie Delk-owned Longhorn Chassis is powered by a Clements Racing Engine and sponsored by Delk Equipment, Can-Am Auto Salvage, Petroff Towing, Bilstein Shocks, Paulson-Stussy Construction, Mesilla Valley Transportation, Midwest Sheet Metal, and Capital Race Decals.
Completing the top ten were Josh Rice, Spencer Hughes, Tyler Erb, Zack Dohm, and Devin Moran.
Lucas Oil Late Model Dirt Series
Race Summary
19th Annual John Bradshaw Memorial
Friday, May 5, 2023
Ponderosa Speedway – Junction City, KY
Allstar Performance Time Trials
Fast Time Group A: Jonathan Davenport / 12.785 seconds
Fast Time Group B: Brandon Overton / 12.631 seconds (overall)
Penske Shocks Heat Race #1 Finish (8 Laps, Top 4 Transfer): 1. 157-Mike Marlar[3]; 2. 49-Jonathan Davenport[1]; 3. 7-Ross Robinson[4]; 4. 23-Cory Hedgecock[5]; 5. 20-Jimmy Owens[8]; 6. 13W-David Webb[7]; 7. 16-Tyler Bruening[6]; 8. 99C-Camaron Marlar[2]
Summit Racing Products Heat Race #2 Finish (8 Laps, Top 4 Transfer): 1. 18D-Daulton Wilson[1]; 2. 11-Spencer Hughes[3]; 3. 99-Devin Moran[7]; 4. 8K-Kyle Strickler[5]; 5. 58-Garrett Alberson[2]; 6. 39-Tim McCreadie[4]; 7. 99B-Boom Briggs[6]; 8. 20B-Brad Dyer[8]
Simpson Race Products Heat Race #3 (8 Laps, Top 4 Transfer): 1. 76-Brandon Overton[1]; 2. 20RT-Ricky Thornton Jr[3]; 3. 11R-Josh Rice[2]; 4. 46-Earl Pearson Jr[4]; 5. 10-Garrett Smith[6]; 6. 16J-Justin Rattliff[5]; 7. 83-Jensen Ford[8]; 8. 1G-Rusty Ballenger[7]
AP1 Insurance Heat Race #4 Finish (8 Laps, Top 4 Transfer): 1. 1H-Hudson O'Neal[1]; 2. 111B-Max Blair[2]; 3. 17D-Zack Dohm[3]; 4. 1T-Tyler Erb[5]; 5. 89-Logan Roberson[7]; 6. D8-Dustin Linville[6]; 7. 109-Eli Beets[4]
Fast Shafts B-Main Race #1 Finish (10 Laps, Top 6 Transfer): 1. 20-Jimmy Owens[1]; 2. 58-Garrett Alberson[3]; 3. 39-Tim McCreadie[7]; 4. 10-Garrett Smith[2]; 5. 13W-David Webb[5]; 6. D8-Dustin Linville[8]; 7. 89-Logan Roberson[4]; 8. 99B-Boom Briggs[11]; 9. 99C-Camaron Marlar[13]; 10. 16J-Justin Rattliff[6]; 11. 16-Tyler Bruening[9]; 12. 1G-Rusty Ballenger[14]; 13. 20B-Brad Dyer[15]; 14. 83-Jensen Ford[10]; 15. (DNS) 109-Eli Beets
19th Annual John Bradshaw Memorial Feature Finish (50 Laps):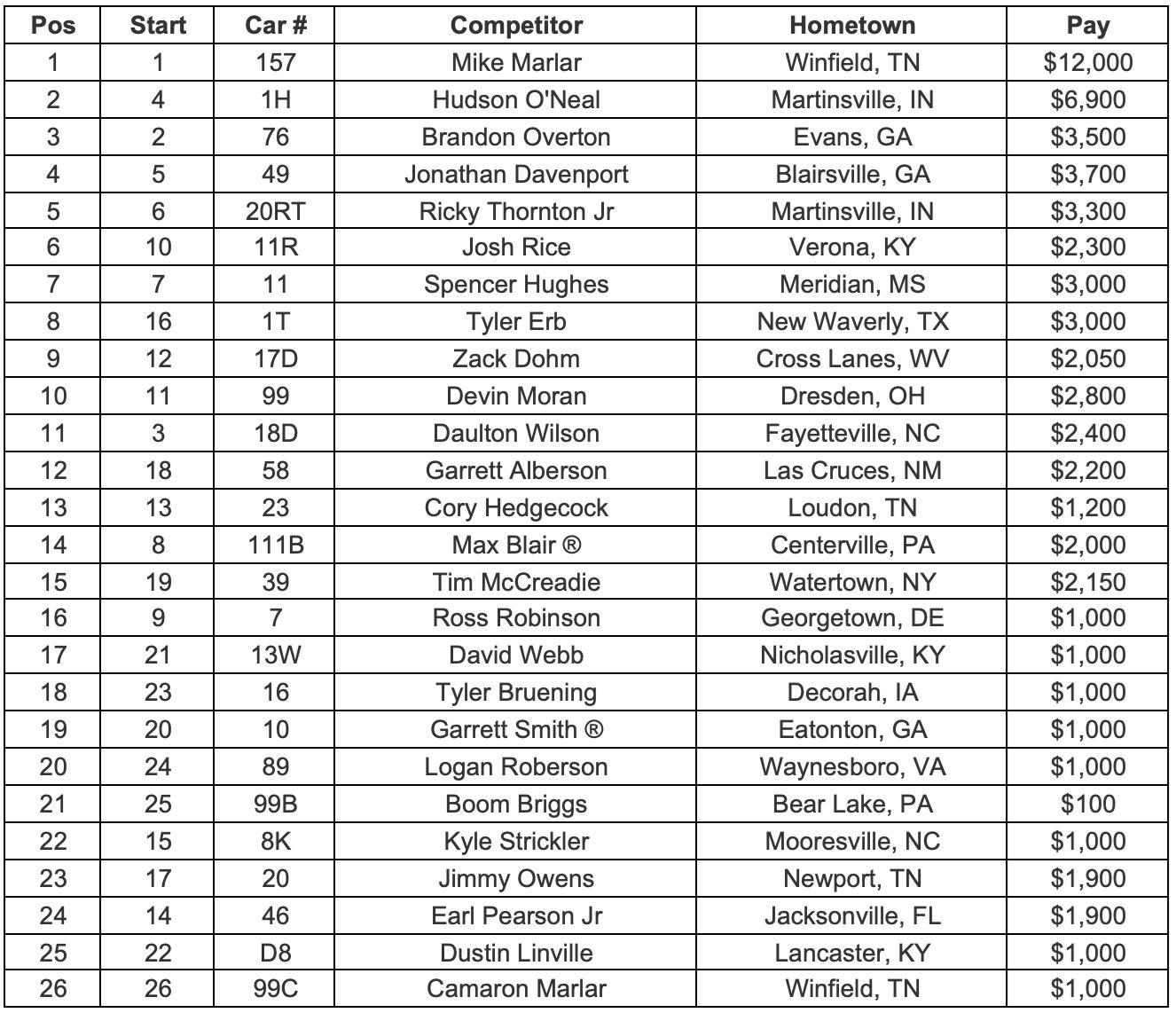 Race Statistics
Entrants: 31
Terminal Maintenance & Construction Pole Sitter: Mike Marlar
Lap Leaders: Mike Marlar (Laps 1-50)
Wieland Feature Winner: Mike Marlar
Arizona Sport Shirts Crown Jewel Cup Feature Winner: n/a
Brandon Ford TV Challenge Feature Winner: n/a
Margin of Victory: 0.574 seconds
Gorsuch Performance Solutions Cautions: Earl Pearson, Jr. (Lap 21); Jimmy Owens (Lap 21 restart)
Series Provisionals: Tyler Bruening; Logan Roberson
Fast Time Provisional: n/a
Series Emergency Provisionals: Boom Briggs
Track Provisional: Camaron Marlar
Big River Steel Podium Top 3: Mike Marlar, Hudson O'Neal, Brandon Overton
Penske Shocks Top 5: Mike Marlar, Hudson O'Neal, Brandon Overton, Jonathan Davenport, Ricky Thornton, Jr.
Todd Steel Buildings Hard Charger of the Race: Tyler Erb (Advanced 8 Positions)
Wilwood Brakes Lucky 7th Place Feature: Spencer Hughes
Deatherage Opticians Lucky 13th Place Feature: Cory Hedgecock
Earnhardt Technologies Most Laps Led: Mike Marlar (50 Laps)
Sunoco Race for Gas Highest Finisher: Hudson O'Neal
Midwest Sheet Metal Spoiler Challenge Point Leader: Hudson O'Neal
O'Reilly Auto Parts Rookie of the Race: Max Blair
Etchberger Trucking Fastest Lap of the Race: Mike Marlar (Lap 3 – 13.949 seconds)
MD3 Tough Break of the Race: Earl Pearson, Jr.
Outerwears Crew Chief of the Race: Josh Davis (Mike Marlar)
ARP Engine Builder of the Race: Clements Racing Engines
Miller Welders Chassis Builder of the Race: Longhorn Chassis
Dirt Draft Fastest in Hot Laps: Jonathan Davenport (12.7679 seconds)
Time of Race: 16 minutes 04 seconds
The Big River Steel Chase for the Championship Presented by ARP Point Standings: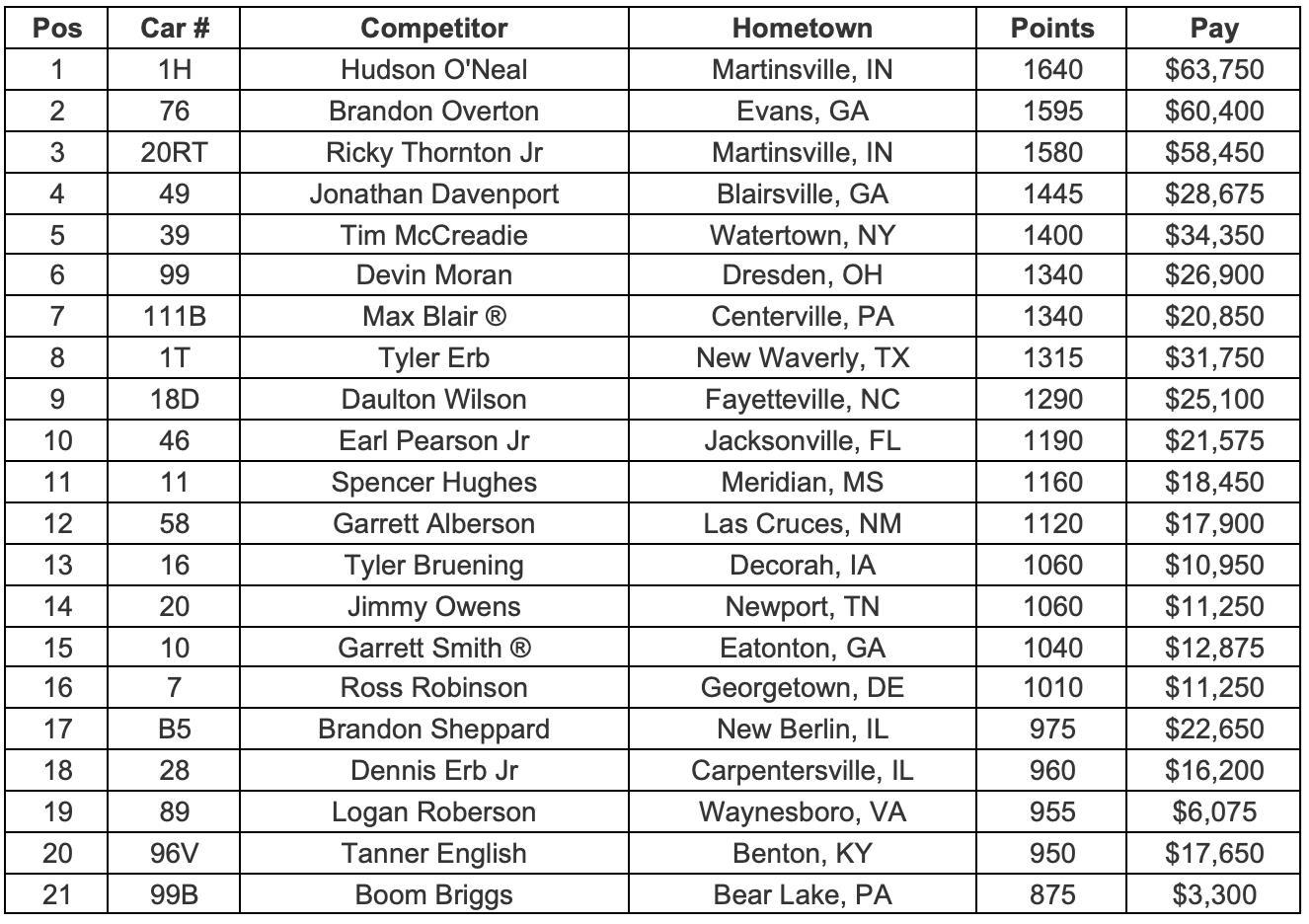 ---
Submitted By: Jeremy Shields
Back to News