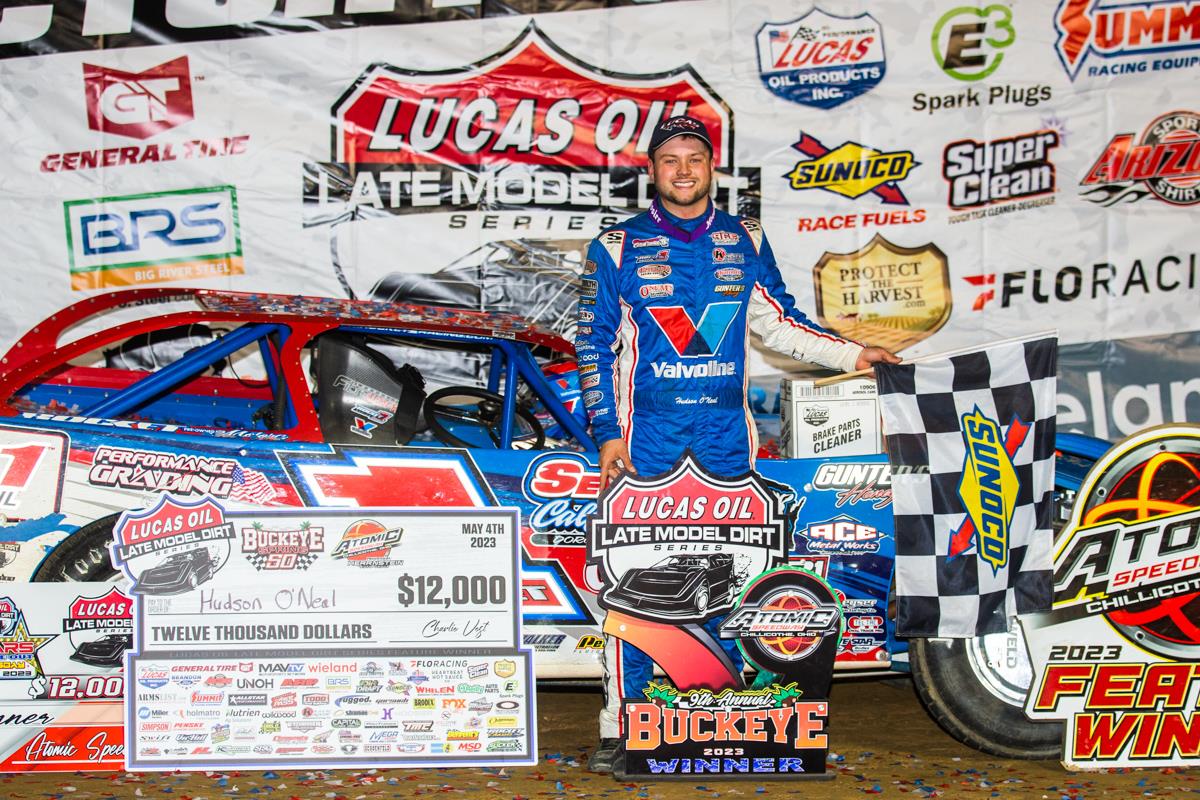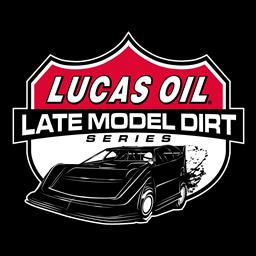 5/4/2023
Lucas Oil Late Model Dirt Series
---
O'Neal Keeps Rolling with Lucas Oil Victory at Atomic
CHILLICOTHE, Ohio (May 4, 2023) – Hudson O'Neal regained the lead on lap 27 and went on to win Thursday night at the Atomic Speedway in the return of "The Night the Stars Come Out." The victory marks O'Neal's third consecutive Lucas Oil Late Model Dirt Series triumph.
O'Neal will head to Friday night's Lucas Oil Late Model Dirt Series event at Ponderosa Speedway sporting the Midwest Sheet Metal orange spoiler indicating he is the new series points leader by 35 points. Brandon Overton made it close at the finish coming home just .303 seconds behind the winner to take the runner-up spot – he now moves to second place in the championship point standings.
Mike Marlar in his first Lucas Oil Late Model Dirt Series race of 2023 rounded out the podium in third. Kyle Larson, who won the All-Star Circuit of Champions A-Main rallied from 14th to finish fourth. Jonathan Davenport, who led laps 2-26 came home in fifth.
O'Neal and Davenport started on the front row of the 50-lap main event with O'Neal leading the first circuit following several slide jobs between the two. Davenport would gain the lead on lap 2 and hold it until O'Neal got around him for good with 23 laps remaining in the race.
The 22-year-old Indiana native picked up his 21st career series win breaking a tie with Tyler Erb for 10th place on the all-time win list. "What a race that was. That cushion was treacherous. I made a bunch of mistakes on it, but it was just so big. It was built up there on the wall and it was real forgiving. If you made a little mistake it wasn't going to hurt, you. That break was killing us, we have been sitting around and ready to get going again."
Regarding his battle early on with Davenport, O'Neal said it was important to get the lead on the first lap. "We were driving our tails off. It's fun whenever you get to race like that. We had a good race car from the beginning. I was a little too forgiving at the beginning and I got into a pace where I was a little bit slower than I wanted to be. My guys told me to just get up on the wheel. These guys build an awesome piece where you can bang off the cushion like that."
Overton came home in second after tracking down O'Neal in the closing laps. "I knew I wasn't going to pass him [O'Neal] because we were running the same line. So, we just got a run through the middle there and did everything we could. We had a good run and we almost got him. Traffic was slowing him down a little bit. We could make up a little time in three and four. We just were a couple of little tweaks away from diving right by him."
Marlar survived a skirmish with Ricky Thornton, Jr. to round the podium. "I had just got by him [Thornton] a couple of laps before then. I was kind of using the diamond line down there in three and four. He couldn't see that I was doing that behind him. So, I passed him and cleared him. We slid each other for a lap or two and got sorted out and then I come out ahead of it. I then went back to my diamond line, and he wasn't ready for it, I guess. So, it was probably just as much my fault as his."
The winner's Mark Richards Racing, Rocket Chassis is powered by an Andy Durham Racing Engine and sponsored by Valvoline, Seubert Calf Ranches, Ace Metal Works, Gunter's Honey, Petroff Towing, WR1 Sim Chassis, O'Neal's Salvage and Recycling, Sunoco Race Fuels, Integra Racing Shocks, Performance Grading, and Rocket Pre-Owned Motors.
Completing the top ten were Tyler Erb, Camaron Marlar, Max Blair, Josh Rice, and Tim McCreadie.
Lucas Oil Late Model Dirt Series
Race Summary
Buckeye Spring 50 | Night the Stars Come Out
Thursday, May 4, 2023
Atomic Speedway – Chillicothe, OH
Allstar Performance Time Trials
Fast Time Group A: Hudson O'Neal / 13.233 seconds
Fast Time Group B: Jonathan Davenport / 13.071 seconds (overall)
Penske Shocks Heat Race #1 Finish (8 Laps, Top 4 Transfer): 1. 1H-Hudson O'Neal[1]; 2. 28-Tyler Carpenter[2]; 3. 11R-Josh Rice[5]; 4. 16-Tyler Bruening[3]; 5. 83-Jensen Ford[4]; 6. 4G-Kody Evans[6]; 7. 12D-Doug Drown[7]; 8. 145-Chase Frohnapfel[10]; 9. 00-Justin Cooper[9]; 10. 144-Austin Seelig[11]; 11. (DNS) 95J-Jerry Bowersock
Summit Racing Products Heat Race #2 Finish (8 Laps, Top 4 Transfer): 1. 46-Earl Pearson Jr[1]; 2. 99C-Camaron Marlar[4]; 3. 68-Adam Stricker[3]; 4. 20B-Todd Brennan[8]; 5. 1T-Tyler Erb[2]; 6. 58-Garrett Alberson[5]; 7. 71C-RJ Conley[7]; 8. 7-Ross Robinson[6]; 9. 14-Braeden Dillinger[9]; 10. 90-Vern Lefevers[10]
Simpson Race Products Heat Race #3 (8 Laps, Top 4 Transfer): 1. 49-Jonathan Davenport[1]; 2. 20RT-Ricky Thornton Jr[3]; 3. 20-Jimmy Owens[2]; 4. 6K-Kyle Larson[4]; 5. 18D-Daulton Wilson[6]; 6. 39-Tim McCreadie[5]; 7. 111B-Max Blair[7]; 8. 89-Logan Roberson[8]; 9. 8K-Kyle Strickler[11]; 10. S21-Seth Daniels[10]; 11. (DNS) 55-Jesse Wisecarver
AP1 Insurance Heat Race #4 Finish (8 Laps, Top 4 Transfer): 1. 76-Brandon Overton[1]; 2. 157-Mike Marlar[3]; 3. 99B-Boom Briggs[2]; 4. 10-Garrett Smith[4]; 5. 99-Devin Moran[7]; 6. 11-Spencer Hughes[6]; 7. 71R-Rod Conley[9]; 8. C4-Freddie Carpenter[5]; 9. 21K-Kirk Phillips[8]; 10. (DNS) 7T-Drake Troutman
Fast Shafts B-Main Race #1 Finish (10 Laps, Top 3 Transfer): 1. 1T-Tyler Erb[2]; 2. 83-Jensen Ford[1]; 3. 58-Garrett Alberson[4]; 4. 4G-Kody Evans[3]; 5. 71C-RJ Conley[6]; 6. 12D-Doug Drown[5]; 7. 145-Chase Frohnapfel[7]; 8. 00-Justin Cooper[9]; 9. 7-Ross Robinson[8]; 10. 14-Braeden Dillinger[10]; 11. 144-Austin Seelig[11]; 12. 90-Vern Lefevers[12]; 13. (DNS) 95J-Jerry Bowersock
UNOH B-Main Race #2 Finish (10 Laps, Top 3 Transfer): 1. 39-Tim McCreadie[3]; 2. 18D-Daulton Wilson[1]; 3. 111B-Max Blair[5]; 4. 8K-Kyle Strickler[9]; 5. 89-Logan Roberson[7]; 6. 11-Spencer Hughes[4]; 7. C4-Freddie Carpenter[8]; 8. 99-Devin Moran[2]; 9. 21K-Kirk Phillips[10]; 10. S21-Seth Daniels[11]; 11. (DNS) 71R-Rod Conley; 12. (DNS) 55-Jesse Wisecarver; 13. (DNS) 7T-Drake Troutman
Buckeye Spring 50 | Night the Stars Come Out Feature Finish (50 Laps):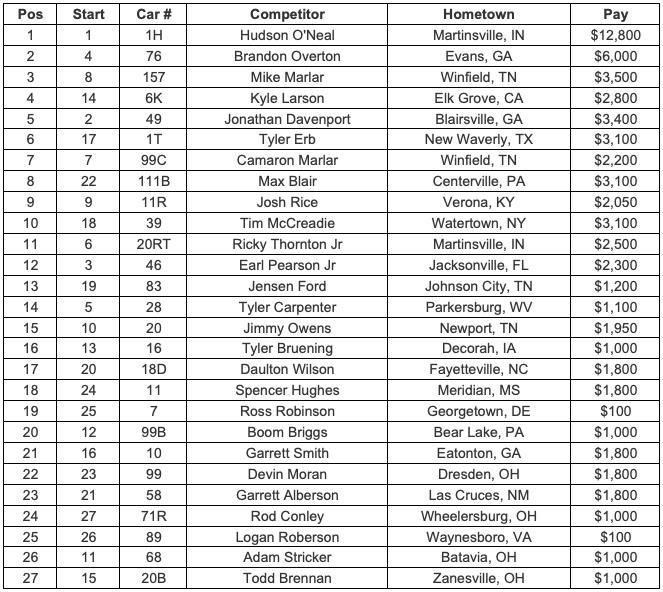 Race Statistics
Entrants: 42
Terminal Maintenance & Construction Pole Sitter: Hudson O'Neal
Lap Leaders: Hudson O'Neal (Lap 1); Jonathan Davenport (Laps 2-26); Hudson O'Neal (Laps 27-50)
Wieland Feature Winner: Hudson O'Neal
Arizona Sport Shirts Crown Jewel Cup Feature Winner: n/a
Brandon Ford TV Challenge Feature Winner: n/a
Margin of Victory: 0.303 seconds
Stop-Tech Brakes Cautions: Ricky Thornton, Jr. (Lap 11)
Series Provisionals: Devin Moran; Spencer Hughes
Fast Time Provisional: n/a
Series Emergency Provisionals: Ross Robinson; Logan Roberson
Track Provisional: Rod Conley
Big River Steel Podium Top 3: Hudson O'Neal, Brandon Overton, Mike Marlar
Penske Shocks Top 5: Hudson O'Neal, Brandon Overton, Mike Marlar, Kyle Larson, Jonathan Davenport
Todd Steel Buildings Hard Charger of the Race: Max Blair (Advanced 14 Positions)
Wilwood Brakes Lucky 7th Place Feature: Camaron Marlar
Deatherage Opticians Lucky 13th Place Feature: Jensen Ford
Earnhardt Technologies Most Laps Led: Hudson O'Neal (25 Laps)
Sunoco Race for Gas Highest Finisher: Hudson O'Neal
Midwest Sheet Metal Spoiler Challenge Point Leader: Ricky Thornton, Jr.
O'Reilly Auto Parts Rookie of the Race: Max Blair
Etchberger Trucking Fastest Lap of the Race: Jonathan Davenport (Lap 3 – 14.595 seconds)
MD3 Tough Break of the Race: Ricky Thornton, Jr.
Outerwears Crew Chief of the Race: Danny White (Hudson O'Neal)
ARP Engine Builder of the Race: Durham Race Engines
Miller Welders Chassis Builder of the Race: Rocket Chassis
Dirt Draft Fastest in Hot Laps: Jonathan Davenport (13.1672 seconds)
Time of Race: 18 minutes 44 seconds
Big River Steel Chase for the Championship Presented by ARP Point Standings: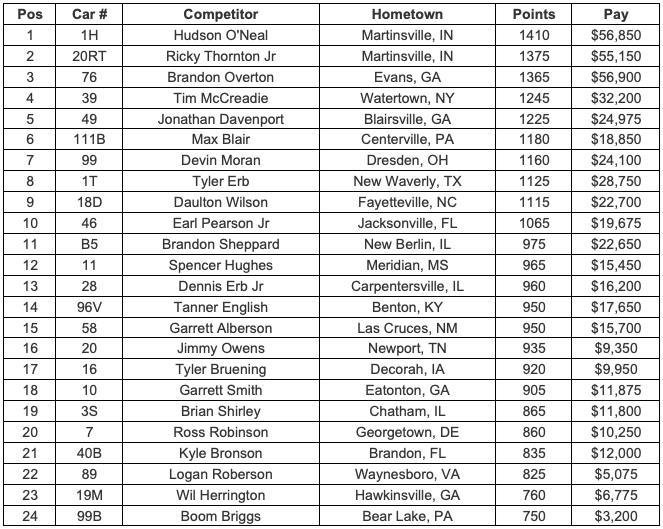 ---
Submitted By: Jeremy Shields
Back to News