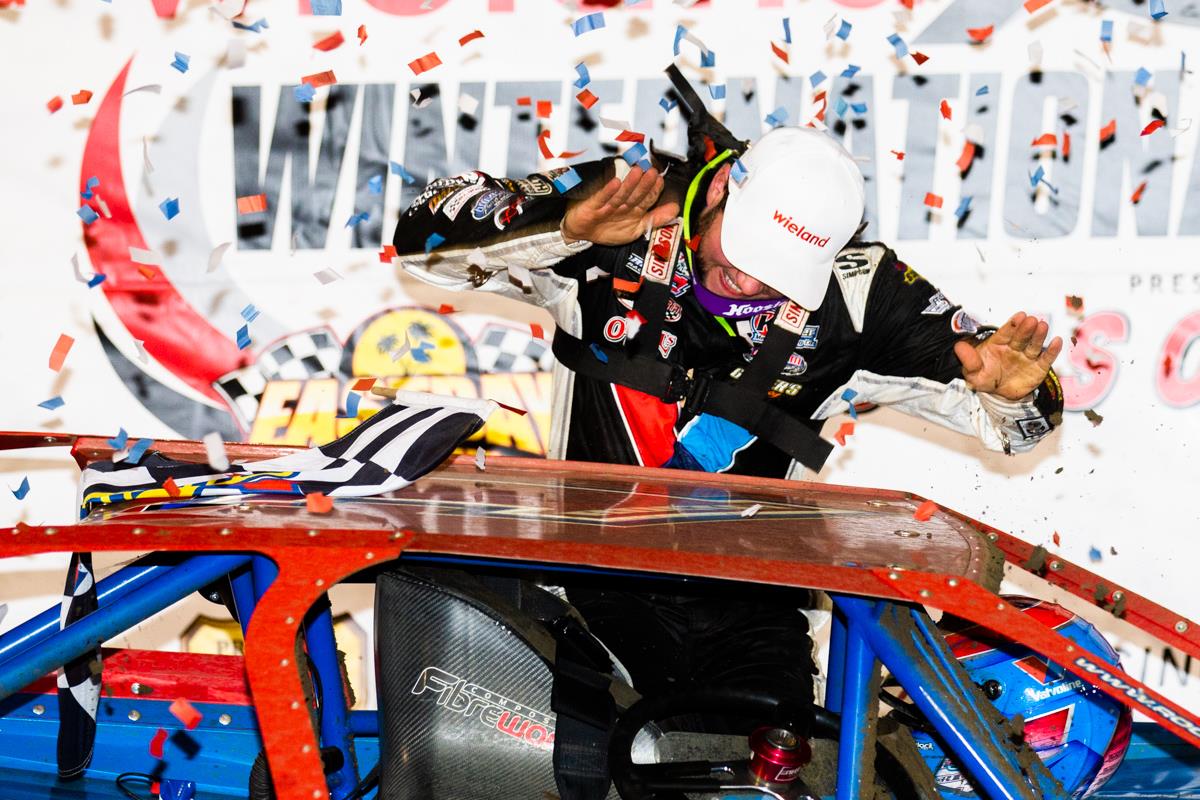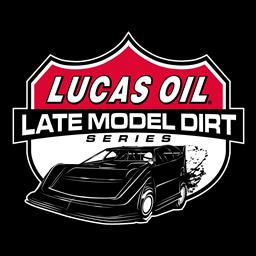 2/10/2023
Lucas Oil Late Model Dirt Series
---
O'Neal Goes Back-to-Back in Wieland Winternationals at East Bay
TAMPA, Fla. (February 10, 2023) – Hudson O'Neal went back-to-back for Rocket1 Racing by winning Friday night's 47th Annual Wieland Winternationals - presented by Lucas Oil at East Bay Raceway Park.
O'Neal, who also led every lap of Thursday night's race went wire-to-wire to score his fourth career victory at the "Clay by the Bay" in a span of 24 hours.
Daulton Wilson made a valiant charge in the final laps to finish second. Wilson had cut more than a second off O'Neal's lead before getting into the fourth turn wall which took him out of contention for the victory.
Ashton Winger, a first-time Lucas Oil Late Model Dirt Series winner on Tuesday night, came from ninth to finish in third. Devin Moran, who challenged O'Neal for the lead for several laps was fourth, and current Lucas Oil Late Model Dirt Series championship point leader Ricky Thornton Jr. crossed the line in fifth.
O'Neal jumped to lead with fellow front row starter Garrett Smith falling in line behind him. Smith stayed in second with Wednesday's night winner Ryan Gustin holding down the third spot. Gustin moved past Smith for second right before Smith got sideways in turn two forcing a caution flag.
O'Neal still held the top spot on a lap-19 restart as Moran started to flex his muscle overhauling Gustin for second. Moran then started to put the heat on O'Neal and by the halfway mark Moran could get a run on O'Neal but could not quite clear him for the lead.
After coming close to taking the lead, Moran fell to third after a lap 32 restart as Wilson picked up the spot. From there Wilson cut a second off O'Neal's lead within a few laps but contact with the wall ended his bid for the win as he was forced to hold of Winger for second at the finish.
In Lucas Oil Victory Lane for the 20th time in his career, O'Neal became the third two-time winner on the series this year joining Thornton and Brandon Overton. "That was 50 laps of getting it on. The track was in great shape tonight. We were way more maneuverable tonight to get around those lapped cars. Hats off to the East Bay crew they got the track way better. We could race all over it. I could see Devin [Moran] several times underneath me there before the last caution. I knew I needed to get up on the wheel and go because I knew he was."
"Our confidence level is sky high right now no doubt," O'Neal added. To be able to win like we did last night in a little bit slower conditions than we had tonight. You can have a bad fast track and still be able to hang on. We just must continue to qualify good and heat race good and stay up front and when you start on the front row of these features it makes everything easier."
Wilson survived a scrap with the wall to finish second. "I saw the number 1 car get bigger, second is great but when you get that close, I was giving it everything I had. I hadn't been up there that high in four and I just overshot it. Hats to Hudson's guys they have been working hard and they have a good race car. Thanks to my guys this is a brand-new car. My car owner said to bring it out and it's pretty good."
Winger who scored his first ever Lucas Oil Late Model Dirt Series win two nights earlier was pleased to be back on the Big River Steel podium. "It widened out about halfway and you could kind of move around on it. Man, those restarts are close. There are some guys that aren't sure where they want to be, they kind of go swipe at you. I started ninth, heck I ended back in 13th at one point you get so bottled up."
The winner's Rocket1 Racing, Rocket Chassis is powered by a Durham Racing Engine and sponsored by Valvoline, Seubert Calf Ranches, Ace Metal Works, Gunter's Honey, Petroff Towing, WR1 Sim Chassis, O'Neal's Salvage and Recycling, Sunoco Race Fuels, Integra Racing Shocks, Performance Grading, and Rocket Pre-Owned Motors.
Completing the top ten were Garrett Alberson, Jonathan Davenport, Brandon Overton, Wil Herrington, and Logan Roberson.
Lucas Oil Late Model Dirt Series
Race Summary
47th Annual Wieland Winternationals Presented by Lucas Oil – Night 5
Friday, February 10, 2023
East Bay Raceway Park – Tampa, FL
Allstar Performance Time Trials
Fast Time Group A: Garrett Smith / 14.707 seconds
Fast Time Group B: Hudson O'Neal / 14.706 seconds (overall)
Penske Shocks Heat Race #1 Finish (8 Laps, Top 3 Transfer): 1. 10-Garrett Smith[1]; 2. 1T-Tyler Erb[2]; 3. 46-Earl Pearson Jr[3]; 4. 2S-Stormy Scott[6]; 5. 130-Chase Osterhoff[7]; 6. 212-Josh Putnam[9]; 7. 83-Jensen Ford[4]; 8. 17SS-Brenden Smith[10]; 9. 5S-Steve Sheppard Jr[11]; 10. 19M-Wil Herrington[8]; 11. (DNS) 21K-Kenneth Howell
Summit Racing Products Heat Race #2 Finish (8 Laps, Top 3 Transfer): 1. 99-Devin Moran[1]; 2. 12-Ashton Winger[2]; 3. 28-Dennis Erb Jr[3]; 4. 79-Ross Bailes[5]; 5. 111B-Max Blair[4]; 6. 99B-Boom Briggs[7]; 7. 16-Tyler Bruening[10]; 8. S21-Seth Daniels[6]; 9. 6B-Adam Boyd[8]; 10. 12D-Doug Drown[9]
Simpson Race Products Heat Race #3 (8 Laps, Top 3 Transfer): 1. 19R-Ryan Gustin[1]; 2. 49-Jonathan Davenport[2]; 3. 40B-Kyle Bronson[4]; 4. 89J-Mark Whitener[6]; 5. 89M-Mike Spatola[5]; 6. 81J-Jack Riggs[3]; 7. 89-Logan Roberson[7]; 8. 7-Ross Robinson[9]; 9. D8-Dustin Mitchell[8]; 10. 4G-Carson Ferguson[10]
AP1 Insurance Heat Race #4 Finish (8 Laps, Top 3 Transfer): 1. 1H-Hudson O'Neal[1]; 2. 58-Garrett Alberson[2]; 3. 39-Tim McCreadie[3]; 4. B5-Brandon Sheppard[4]; 5. 18-Chase Junghans[6]; 6. 66C-Matt Cosner[5]; 7. 1Z-Logan Zarin[7]; 8. 187-David McCoy[8]; 9. 81-Jason Riggs[11]; 10. 29-Larry Grube[10]; 11. (DNS) 31-Tyler Millwood
Lucas Oil Heat Race #5 Finish (8 Laps, Top 3 Transfer): 1. 96V-Tanner English[2]; 2. 20-Jimmy Owens[3]; 3. 76B-Blair Nothdurft[1]; 4. 25B-Mike Benedum[4]; 5. 21M-Billy Moyer Jr[5]; 6. 20B-Todd Brennan[7]; 7. 25Z-Mason Zeigler[8]; 8. 91-Rusty Schlenk[9]; 9. 2X-John Henderson[6]; 10. KB-Kerry King[10]
Lucas Oil Heat Race #6 Finish (8 Laps, Top 3 Transfer): 1. 18D-Daulton Wilson[2]; 2. 3S-Brian Shirley[1]; 3. 76-Brandon Overton[4]; 4. 20RT-Ricky Thornton Jr[3]; 5. 86-Kyle Beard[5]; 6. 1C-Kenny Collins[6]; 7. 11-Spencer Hughes[9]; 8. 66JR-Eddie Carrier Jr[7]; 9. 55-Benji Hicks[8]; 10. 5T-John Tweed[10]
Fast Shafts B-Main Race #1 Finish (10 Laps, Top 2 Transfer): 1. 2S-Stormy Scott[1]; 2. 79-Ross Bailes[2]; 3. 111B-Max Blair[4]; 4. 130-Chase Osterhoff[3]; 5. 99B-Boom Briggs[6]; 6. 19M-Wil Herrington[13]; 7. 212-Josh Putnam[5]; 8. 16-Tyler Bruening[8]; 9. 17SS-Brenden Smith[9]; 10. S21-Seth Daniels[10]; 11. 12D-Doug Drown[14]; 12. 6B-Adam Boyd[12]; 13. 5S-Steve Sheppard Jr[11]; 14. (DNS) 83-Jensen Ford; 15. (DNS) 21K-Kenneth Howell
UNOH B-Main Race #2 Finish (10 Laps, Top 2 Transfer): 1. 89J-Mark Whitener[1]; 2. B5-Brandon Sheppard[2]; 3. 18-Chase Junghans[4]; 4. 89M-Mike Spatola[3]; 5. 89-Logan Roberson[7]; 6. 7-Ross Robinson[9]; 7. 66C-Matt Cosner[6]; 8. 1Z-Logan Zarin[8]; 9. D8-Dustin Mitchell[11]; 10. 81-Jason Riggs[12]; 11. 29-Larry Grube[14]; 12. 187-David McCoy[10]; 13. 81J-Jack Riggs[5]; 14. 4G-Carson Ferguson[13]; 15. (DNS) 31-Tyler Millwood
MyRacePass B-Main Race #3 Finish (10 Laps, Top 2 Transfer): 1. 20RT-Ricky Thornton Jr[2]; 2. 21M-Billy Moyer Jr[3]; 3. 25B-Mike Benedum[1]; 4. 86-Kyle Beard[4]; 5. 91-Rusty Schlenk[9]; 6. 11-Spencer Hughes[8]; 7. 66JR-Eddie Carrier Jr[10]; 8. 25Z-Mason Zeigler[7]; 9. 1C-Kenny Collins[6]; 10. 55-Benji Hicks[12]; 11. 5T-John Tweed[14]; 12. 20B-Todd Brennan[5]; 13. (DNS) 2X-John Henderson; 14. (DNS) KB-Kerry King
47th Annual Wieland Winternationals Presented by Lucas Oil - Night 5 Feature Finish (50 Laps):

Race Statistics
Entrants: 62
Terminal Maintenance & Construction Pole Sitter: Garrett Smith
Lap Leaders: Hudson O'Neal (Laps 1-50)
Wieland Feature Winner: Hudson O'Neal
Arizona Sport Shirts Crown Jewel Cup Feature Winner: n/a
Brandon Ford TV Challenge Feature Winner: Hudson O'Neal
Margin of Victory: 3.044 seconds
Stop-Tech Brakes Cautions: Garrett Smith, Tanner English (Lap 12); Mark Whitener (Lap 16); Jimmy Owens, Kyle Bronson, Brian Shirley (Lap 19); Tyler Erb (Lap 32)
Series Provisionals: Spencer Hughes; Ross Robinson
Fast Time Provisional: n/a
Series Emergency Provisionals: Max Blair; Tyler Bruening; Wil Herrington; Logan Roberson
Track Provisional: n/a
Big River Steel Podium Top 3: Hudson O'Neal, Daulton Wilson, Ashton Winger
Penske Shocks Top 5: Hudson O'Neal, Daulton Wilson, Ashton Winger, Devin Moran, Ricky Thornton, Jr.
Todd Steel Buildings Hard Charger of the Race: Wil Herrington (Advanced 20 Positions)
Wilwood Brakes Lucky 7th Place Feature: Jonathan Davenport
Deatherage Opticians Lucky 13th Place Feature: Brandon Sheppard
Earnhardt Technologies Most Laps Led: Hudson O'Neal (50 Laps)
Sunoco Race for Gas Highest Finisher: Hudson O'Neal
Midwest Sheet Metal Spoiler Challenge Point Leader: Ricky Thornton, Jr.
O'Reilly Auto Parts Rookie of the Race: n/a
Etchberger Trucking Fastest Lap of the Race: Hudson O'Neal (Lap 13 – 14.875 seconds)
MD3 Tough Break of the Race: Tyler Erb
Outerwears Crew Chief of the Race: Danny White (Hudson O'Neal)
ARP Engine Builder of the Race: Durham Race Engines
Miller Welders Chassis Builder of the Race: Rocket Chassis
Dirt Draft Fastest in Hot Laps: Hudson O'Neal (15.407 seconds)
Time of Race: 30 minutes 22 seconds
The Big River Steel Chase for the Championship Presented by ARP Point Standings: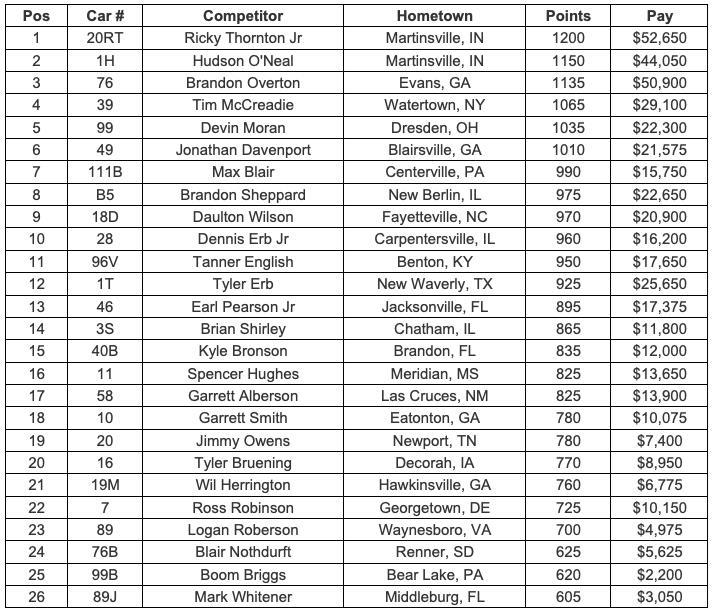 ---
Submitted By: Jeremy Shields
Back to News