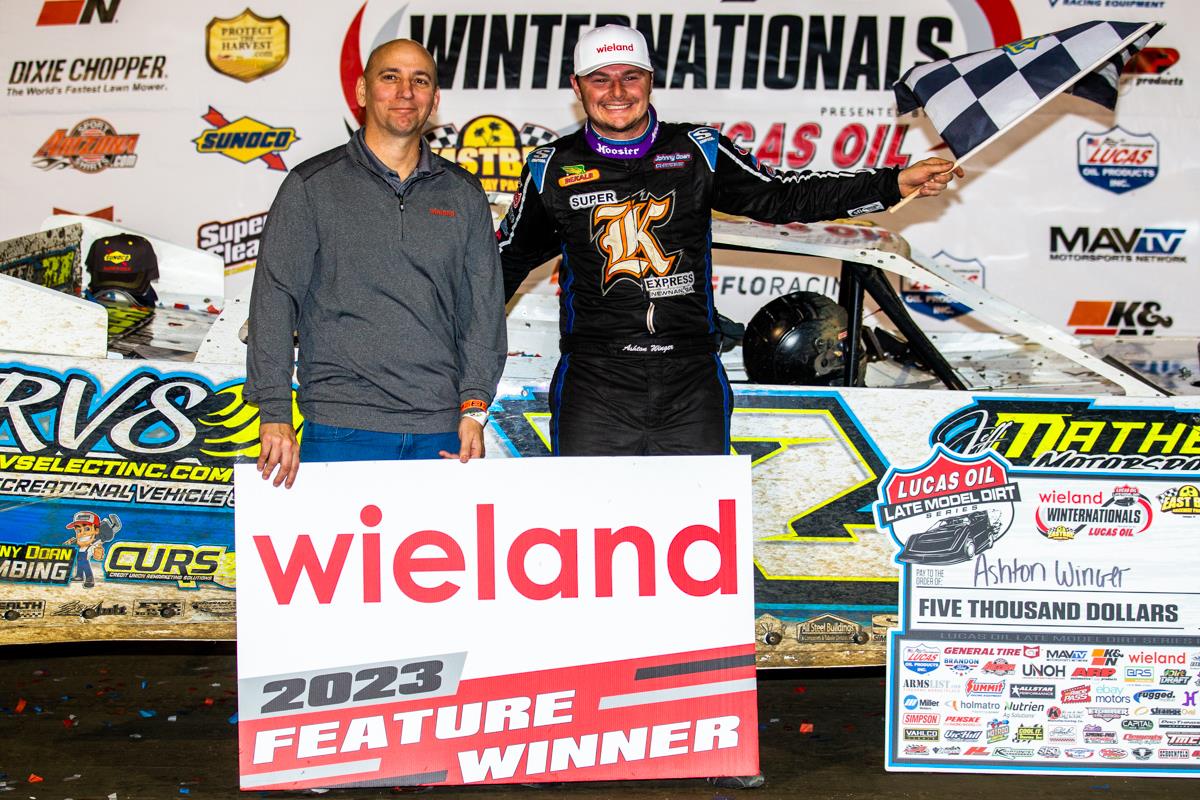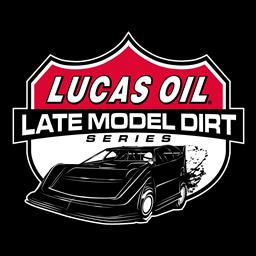 2/7/2023
Lucas Oil Late Model Dirt Series
---
Winger Earns First Career Lucas Oil Victory at East Bay
TAMPA, Fla. (February 7, 2023) – Ashton Winger picked up his first career Lucas Oil Late Model Dirt Series victory on Tuesday night during the 47th Annual Wieland Winternationals - presented by Lucas Oil at East Bay Raceway Park. With the win Winger becomes the 87th different driver to win a Lucas Oil Late Model Dirt Series event in series history.
The 23-year-old Georgia native went to the lead at the start of the 30-lap main event and other than a brief time when Kyle Bronson got by him in turn number two, he officially led every lap after getting back around Bronson at the scoring loop.
For the second night in a row Hudson O'Neal finished in second with Brandon Sheppard coming home in third. The remainder of the top five were Brandon Overton and Dennis Erb Jr.
Winger took the lead at the start with O'Neal moving into the second spot. Bronson was the car on the move early in the race. After starting in fifth Bronson moved past O'Neal for second on lap six. There were back-to-back cautions that cleared traffic for Winger after he was about to pick up the tail end of the field.
After a lap eight restart Bronson kept the pressure on Winger and was able to take the lead briefly after Winger slipped in turn two. However, by the time the two drivers crossed the line Winger was still in front. Bronson continued to hold the second spot until Sheppard was able to get by him with ten laps to go. Bronson, while running third slowed coming off turn two on lap 24 forcing the final caution of the race.
On the restart after Bronson had exited the race O'Neal and Sheppard would get Winger in their sightlines, but Winger was able to pull away in the waning laps to secure the victory.
"It's awesome to win in front of these people," said Winger in Lucas Oil Victory Lane as he became the sixth different winner in eight races so far in 2023. "I felt like we've been really close this year. We were really close here last year. It's hard not to get emotional. My mom and dad gave up everything for me to be here. I know it's only $5,000 to win, but to beat these guys, Hudson and Sheppy are two of the best in country. I felt like when I got into a rhythm, I was pretty good there, but the track was treacherous and the longer and longer it went I don't know what was going to happen. Like I said I got into a rhythm, and then on those restarts I messed up bad there that one time and Kyle [Bronson] got by me and going into three and four I pretty much held it to the floor to get the lead back"
O'Neal in his first full season piloting the Rocket House car finished 1.833 seconds behind Winger at the finish line. "I gave it all I had. I drove my heart out, but I just couldn't quite get to him [Winger]. There was one time there the last couple of laps I got around that bottom and I thought ok maybe if I could get to him one time, I could burn it and about that time I was driving back to him I got my tires hot and I just faded back from him."
Sheppard, who owns nine career wins at East Bay, finished in third after not making the feature on Monday night. "I really needed to get by Ashton [Winger] going down the back straightaway and get back to the bottom. The car was good tonight we were glad to be in the hunt and in the race tonight. It was a big turnaround from last night and I can't thank my guys enough for working their tails off on this thing and not giving up after we missed the show last night."
The winner's Jeff Mathews Motorsports, Rocket Chassis is powered by a Durham Racing Engine and sponsored by Recreational Vehicle Service, Keyser Manufacturing, Integra Racing Shocks, Super K Express, Wraptech, FK Rod Ends, Johnny Doan Plumbing, Credit Union Remarketing, and Angry Elephant Tattoos and Piercings.
Completing the top ten were Garrett Smith, Ryan Gustin, Tim McCreadie, Mark Whitener, and Devin Moran.
Lucas Oil Late Model Dirt Series
Race Summary
47th Annual Wieland Winternationals – Presented by Lucas Oil
Tuesday, February 7, 2023
East Bay Raceway Park – Tampa, FL
Allstar Performance Time Trials
Fast Time Group A: Dennis Erb, Jr. / 14.797 seconds (overall)
Fast Time Group B: Hudson O'Neal / 14.860 seconds
Penske Shocks Heat Race #1 Finish (8 Laps, Top 3 Transfer): 1. 12-Ashton Winger[2]; 2. 28-Dennis Erb Jr[1]; 3. 99-Devin Moran[3]; 4. 3S-Brian Shirley[4]; 5. 7-Ross Robinson[5]; 6. 16-Tyler Bruening[6]; 7. 25Z-Mason Zeigler[8]; 8. 187-David McCoy[10]; 9. 25B-Mike Benedum[9]; 10. (DNS) 20RT-Ricky Thornton Jr
Summit Racing Products Heat Race #2 Finish (8 Laps, Top 3 Transfer): 1. 10-Garrett Smith[1]; 2. 18D-Daulton Wilson[3]; 3. 66JR-Eddie Carrier Jr[4]; 4. 58-Garrett Alberson[6]; 5. 22*-Payton Freeman[7]; 6. 91-Rusty Schlenk[8]; 7. 1C-Kenny Collins[9]; 8. 17SS-Brenden Smith[10]; 9. 20B-Todd Brennan[5]; 10. 111B-Max Blair[2]
Simpson Race Products Heat Race #3 (8 Laps, Top 3 Transfer): 1. 40B-Kyle Bronson[2]; 2. 89J-Mark Whitener[3]; 3. 11-Spencer Hughes[4]; 4. 1T-Tyler Erb[7]; 5. 81J-Jack Riggs[5]; 6. KB-Kerry King[6]; 7. D8-Dustin Mitchell[1]; 8. 4S-Danny Snyder[10]; 9. 6-Blake Spencer[8]; 10. 55-Benji Hicks[9]
AP1 Insurance Heat Race #4 Finish (8 Laps, Top 3 Transfer): 1. 1H-Hudson O'Neal[1]; 2. 19R-Ryan Gustin[2]; 3. 39-Tim McCreadie[3]; 4. 21M-Billy Moyer Jr[5]; 5. 81-Jason Riggs[4]; 6. 12D-Doug Drown[6]; 7. S21-Seth Daniels[8]; 8. 29-Larry Grube[7]; 9. C4-Freddie Carpenter[9]; 10. 75-Daniel Adam[10]
Lucas Oil Heat Race #5 Finish (8 Laps, Top 3 Transfer): 1. B5-Brandon Sheppard[1]; 2. 19M-Wil Herrington[3]; 3. 79-Ross Bailes[2]; 4. 96V-Tanner English[5]; 5. 89M-Mike Spatola[4]; 6. 31-Tyler Millwood[6]; 7. 47W-Tyler Riggs[7]; 8. 21K-Jimmy Owens[9]; 9. 99B-Boom Briggs[8]; 10. 22B-Perry Brown[10]
Lucas Oil Heat Race #6 Finish (8 Laps, Top 3 Transfer): 1. 2X-Brandon Overton[2]; 2. 76B-Blair Nothdurft[1]; 3. 46-Earl Pearson Jr[3]; 4. 89-Logan Roberson[4]; 5. 212-Josh Putnam[6]; 6. 83-Jensen Ford[5]; 7. 86-Kyle Beard[7]; 8. 1Z-Logan Zarin[8]; 9. 5T-John Tweed[9]; 10. (DNS) 3B-Billy Boyd Sr
Fast Shafts B-Main Race #1 Finish (10 Laps, Top 2 Transfer): 1. 3S-Brian Shirley[1]; 2. 7-Ross Robinson[3]; 3. 58-Garrett Alberson[2]; 4. 91-Rusty Schlenk[6]; 5. 25Z-Mason Zeigler[7]; 6. 22*-Payton Freeman[4]; 7. 1C-Kenny Collins[8]; 8. 17SS-Brenden Smith[10]; 9. 187-David McCoy[9]; 10. 25B-Mike Benedum[11]; 11. 16-Tyler Bruening[5]; 12. 20B-Todd Brennan[12]; 13. (DNS) 20RT-Ricky Thornton Jr; 14. (DNS) 111B-Max Blair
UNOH B-Main Race #2 Finish (10 Laps, Top 2 Transfer): 1. 1T-Tyler Erb[1]; 2. 12D-Doug Drown[6]; 3. 29-Larry Grube[10]; 4. C4-Freddie Carpenter[12]; 5. S21-Seth Daniels[8]; 6. 75-Daniel Adam[14]; 7. 81J-Jack Riggs[3]; 8. 81-Jason Riggs[4]; 9. 21M-Billy Moyer Jr[2]; 10. (DNS) KB-Kerry King; 11. (DNS) D8-Dustin Mitchell; 12. (DNS) 4S-Danny Snyder; 13. (DNS) 6-Blake Spencer; 14. (DNS) 55-Benji Hicks
MyRacePass B-Main Race #3 Finish (10 Laps, Top 2 Transfer): 1. 89-Logan Roberson[2]; 2. 96V-Tanner English[1]; 3. 212-Josh Putnam[4]; 4. 89M-Mike Spatola[3]; 5. 86-Kyle Beard[8]; 6. 31-Tyler Millwood[5]; 7. 1Z-Logan Zarin[10]; 8. 99B-Boom Briggs[11]; 9. 5T-John Tweed[12]; 10. 21K-Jimmy Owens[9]; 11. 47W-Tyler Riggs[7]; 12. 83-Jensen Ford[6]; 13. (DNS) 22B-Perry Brown; 14. (DNS) 3B-Billy Boyd Sr
Wieland Winternationals Night 2 Feature Finish (30 Laps):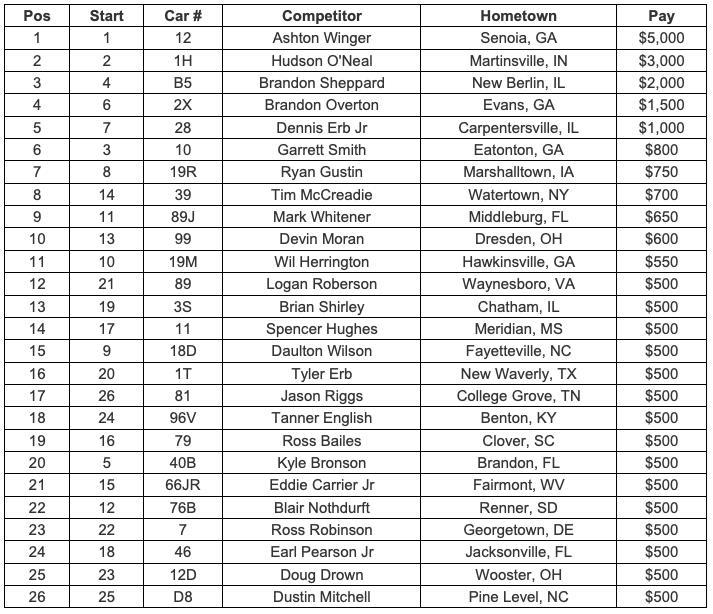 Race Statistics
Entrants: 60
Terminal Maintenance & Construction Pole Sitter: Ashton Winger
Lap Leaders: Ashton Winger (Laps 1-30)
Wieland Feature Winner: Ashton Winger
Arizona Sport Shirts Crown Jewel Cup Feature Winner: n/a
Brandon Ford TV Challenge Feature Winner: n/a
Margin of Victory: 1.833 seconds
Stop-Tech Brakes Cautions: Dustin Mitchell (Lap 8); Eddie Carrier, Jr. (Lap 21); Kyle Bronson (Lap 24)
Series Provisionals: n/a
Group A Fast Time Provisional: Dustin Mitchell
Group B Fast Time Provisional: Jason Riggs
Series Emergency Provisionals: n/a
Track Provisional: n/a
Big River Steel Podium Top 3: Ashton Winger, Hudson O'Neal, Brandon Sheppard
Penske Shocks Top 5: Ashton Winger, Hudson O'Neal, Brandon Sheppard, Brandon Overton, Dennis Erb, Jr.
Todd Steel Buildings Hard Charger of the Race: Logan Roberson (Advanced 9 Positions)
Wilwood Brakes Lucky 7th Place Feature: Ryan Gustin
Deatherage Opticians Lucky 13th Place Feature: Brian Shirley
Earnhardt Technologies Most Laps Led: Ashton Winger (30 Laps)
Sunoco Race for Gas Highest Finisher: Hudson O'Neal
Midwest Sheet Metal Spoiler Challenge Point Leader: Ricky Thornton, Jr.
O'Reilly Auto Parts Rookie of the Race: n/a
Etchberger Trucking Fastest Lap of the Race: Ashton Winger (Lap 13 – 15.355 seconds)
MD3 Tough Break of the Race: Kyle Bronson
Outerwears Crew Chief of the Race: Gary Winger (Ashton Winger)
ARP Engine Builder of the Race: Durham Racing Engines
Miller Welders Chassis Builder of the Race: Rocket Chassis
Dirt Draft Fastest in Hot Laps: Jensen Ford (14.893 seconds)
Time of Race: 14 minutes 42 seconds
---
Submitted By: Jeremy Shields
Back to News