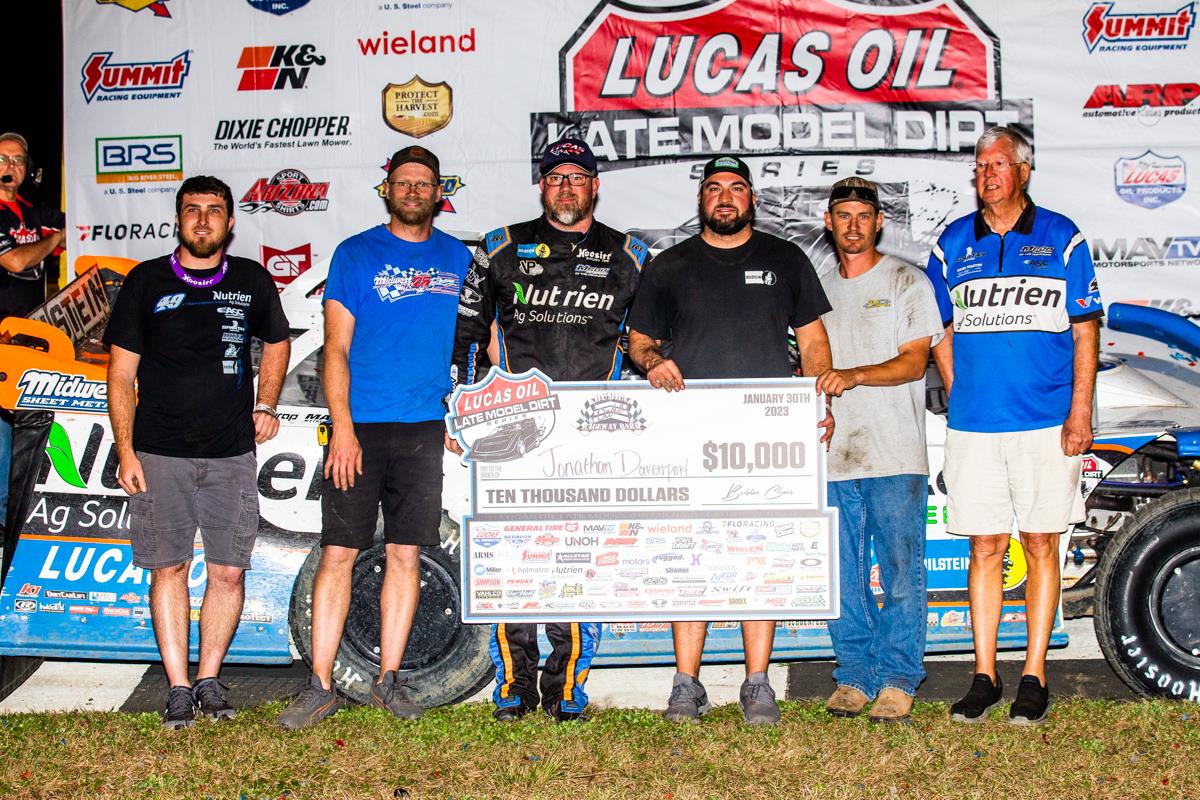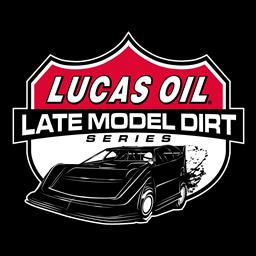 1/30/2023
Lucas Oil Late Model Dirt Series
---
Davenport Collects First Lucas Oil Win of 2023 at Bubba
OCALA, Fla. (January 30, 2023) – Jonathan Davenport regained the lead from Dennis Erb Jr. on lap 29 and then led the last 12 laps to win Monday night's Lucas Oil Late Model Dirt Series event at Bubba Raceway Park. It was Davenport's 66th career Lucas Oil Late Model Dirt Series win.
Ashton Winger made a late-race charge to come home in second followed by Erb Jr. The remainder of the top five were Tyler Erb and Devin Moran.
Davenport took the lead at the start of the race as Winger, who started from the pole, moved into second behind his fellow Georgia racer. Those two ran first and second until Erb Jr. was able to get by Winger for second with 20 laps complete.
Erb Jr. then tracked down Davenport and coming off turn number four for to complete lap 26 he was able to get underneath Davenport to take over the lead. Erb Jr. would lead two more circuits as Davenport went to the outside of the track off turn number two to regain the top spot on lap 29.
Davenport then had to contend with the tail-end of the field when a caution flew with 37 laps scored. On the restart Winger found some speed on the outside of Erb Jr. coming off turn number two as he moved back into second. Winger then was making a bid on Davenport for the lead when the caution came out for Ricky Thornton Jr. with one lap to go.
With the green and white flag waving simultaneously, Davenport held his line and went on to become the fourth different winner in the first five Lucas Oil Late Model Dirt Series events of 2023.
"I was thinking I screwed up there off turn four. It was getting slick there off of the corner," said Davenport. "I left the bottom open. He [Erb Jr.] raced me clean. I had a pick there with Bronson, so I just drove it hard to try and get back by him [Erb Jr.] for the lead. On the last restart I knew somebody was going to throw a Hail-Mary around the top there. I didn't know exactly how good it was."
"It feels good to be back in Victory Lane here," Davenport added. "My guys have been working hard, just circumstantial stuff, I think that's the reason we haven't been up here, I really don't know how I found the right line. I kept just trying to find a little brown there. I was afraid I was going to move around move out of the fast line. I just kept changing my line a little bit every lap just trying to find something a little better and it paid off."
Winger, in his first series race of the season on Sunday night finished third, finished one spot better with his Monday night performance. "There is nothing to be angry about. JD just outdrove me there. I had two shots probably at the start and that last restart where I was able to find that middle down there in one and two and roll it for a corner and I just didn't really get turned enough down here to catch the brown down the straightaway and I let Dennis [Erb Jr.] get back up beside me and it was all I could do to hang onto second. We ran well and this is awesome. But I expect a lot out of myself. We had a good run and didn't tear anything up."
Erb Jr., who was seeking his first Lucas Oil Late Model Dirt Series win since East Bay a year ago, rounded out the Big River Steel Podium. "We got up there and probably should have moved around a little bit. Our car was working well. We just had a little problem over in three and four we just couldn't get off the corner good over there. All-in-all after last night having a good finish here tonight really helps."
The winner's Lance and Darla Landers, Double L Motorsports-owned, Longhorn Chassis is powered by a Clements Racing Engine and sponsored by Nutrien Ag Solutions, Dyno Gro Seed, Lucas Oil Products, VP Fuels, Mark Martin Automotive, ASC Warranty, Mega Plumbing of the Carolinas, Midwest Sheet Metal and Bilstein Shocks.
Completing the top ten were Tim McCreadie, Chase Junghans, Brandon Overton, Max Blair, and Earl Pearson Jr.
Lucas Oil Late Model Dirt Series
Race Summary
Winter Nationals – Night #2
Monday, January 30, 2023
Bubba Raceway Park – Ocala, FL
Allstar Performance Time Trials
Fast Time Group A: Ashton Winger / 14.462 seconds (overall)
Fast Time Group B: Earl Pearson, Jr. / 14.420 seconds
Penske Shocks Heat Race #1 Finish (8 Laps, Top 4 Transfer): 1. 12-Ashton Winger[1]; 2. 20RT-Ricky Thornton Jr[2]; 3. 66C-Matt Cosner[5]; 4. 10-Garrett Smith[3]; 5. 39-Tim McCreadie[6]; 6. 89-Logan Roberson[7]; 7. 5-Mark Whitener[4]; 8. 7-Ross Robinson[8]; 9. 99B-Boom Briggs[9]; 10. 17SS-Brenden Smith[10]
Summit Racing Products Heat Race #2 Finish (8 Laps, Top 4 Transfer): 1. 28-Dennis Erb Jr[1]; 2. 111B-Max Blair[2]; 3. 1H-Hudson O'Neal[5]; 4. 3S-Brian Shirley[4]; 5. 81J-Jack Riggs[7]; 6. 20-Jimmy Owens[9]; 7. 18D-Daulton Wilson[6]; 8. 96V-Tanner English[10]; 9. 25B-Mike Benedum[8]; 10. 58-Garrett Alberson[3]
Simpson Race Products Heat Race #3 (8 Laps, Top 4 Transfer): 1. 49-Jonathan Davenport[2]; 2. 76-Brandon Overton[3]; 3. 46-Earl Pearson Jr[1]; 4. 16-Tyler Bruening[10]; 5. 2-GR Smith[7]; 6. 76B-Blair Nothdurft[8]; 7. 11-Spencer Hughes[6]; 8. 6-Blake Spencer[5]; 9. 23-Chad Walter[9]; 10. 14W-Dustin Walker[4]
AP1 Insurance Heat Race #4 Finish (8 Laps, Top 4 Transfer): 1. 1T-Tyler Erb[1]; 2. 18-Chase Junghans[3]; 3. 99-Devin Moran[4]; 4. 19M-Wil Herrington[5]; 5. 6K-Kyle Larson[2]; 6. 40B-Kyle Bronson[7]; 7. B5-Brandon Sheppard[6]; 8. 22*-Payton Freeman[8]; 9. (DNS) 25C-Shane Clanton
Fast Shafts B-Main Race #1 Finish (10 Laps, Top 3 Transfer): 1. 39-Tim McCreadie[1]; 2. 81J-Jack Riggs[2]; 3. 89-Logan Roberson[3]; 4. 18D-Daulton Wilson[6]; 5. 20-Jimmy Owens[4]; 6. 99B-Boom Briggs[9]; 7. 58-Garrett Alberson[12]; 8. 7-Ross Robinson[7]; 9. 17SS-Brenden Smith[11]; 10. 96V-Tanner English[8]; 11. (DNS) 5-Mark Whitener; 12. (DNS) 25B-Mike Benedum
UNOH B-Main Race #2 Finish (10 Laps, Top 3 Transfer): 1. 40B-Kyle Bronson[4]; 2. 76B-Blair Nothdurft[3]; 3. 6K-Kyle Larson[2]; 4. 11-Spencer Hughes[5]; 5. B5-Brandon Sheppard[6]; 6. 2-GR Smith[1]; 7. 23-Chad Walter[9]; 8. (DNS) 6-Blake Spencer; 9. (DNS) 22*-Payton Freeman; 10. (DNS) 14W-Dustin Walker; 11. (DNS) 25C-Shane Clanton
Winter Nationals - Night #2 Feature Finish (40 Laps):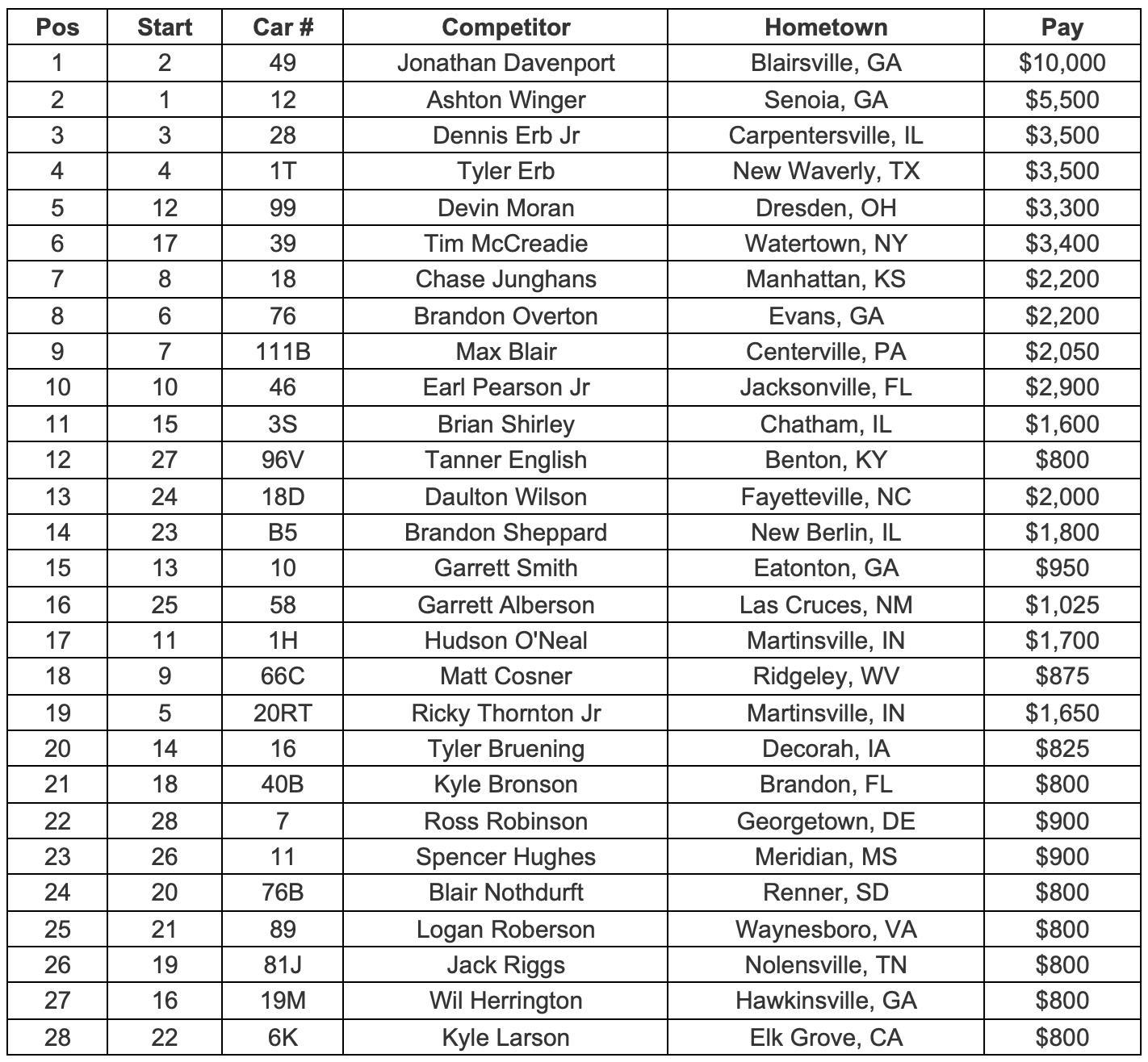 Race Statistics
Entrants: 39
Terminal Maintenance & Construction Pole Sitter: Ashton Winger
Lap Leaders: Jonathan Davenport (Laps 1-25); Dennis Erb, Jr. (Laps 26-28); Jonathan Davenport (Laps 29-40)
Wieland Feature Winner: Jonathan Davenport
Arizona Sport Shirts Crown Jewel Cup Feature Winner: n/a
Brandon Ford TV Challenge Feature Winner: n/a
Margin of Victory: 1.061 seconds
Stop-Tech Brakes Cautions: Jack Riggs, Hudson O'Neal, Loan Roberson, Wil Herrington (Lap 1); Kyle Bronson (Lap 1 Restart); Blair Nothdurft (Lap 37); Ricky Thornton, Jr. (Lap 39)
Series Provisionals: Brandon Sheppard; Daulton Wilson
Fast Time Provisional: n/a
Series Emergency Provisionals: Garrett Alberson; Spencer Hughes; Tanner English; Ross Robinson
Track Provisional: n/a
Big River Steel Podium Top 3: Jonathan Davenport, Ashton Winger, Dennis Erb, Jr.
Penske Shocks Top 5: Jonathan Davenport, Ashton Winger, Dennis Erb, Jr., Tyler Erb, Devin Moran
Todd Steel Buildings Hard Charger of the Race: Tanner English (Advanced 15 Positions)
Wilwood Brakes Lucky 7th Place Finisher: Chase Junghans
Deatherage Opticians Lucky 13th Place Finisher: Daulton Wilson
Earnhardt Technologies Most Laps Led: Jonathan Davenport (37 Laps)
Sunoco Race for Gas Highest Finisher: Tyler Erb
Midwest Sheet Metal Spoiler Challenge Point Leader: Brandon Overton
O'Reilly Auto Parts Rookie of the Race: n/a
Etchberger Trucking Fastest Lap of the Race: Jonathan Davenport (Lap 1 – 14.924 seconds)
MD3 Tough Break of the Race: Ricky Thornton, Jr.
Outerwears Crew Chief of the Race: Cory Fostvedt (Jonathan Davenport)
ARP Engine Builder of the Race: Clements Racing Engines
Miller Welders Chassis Builder of the Race: Longhorn Chassis
Dirt Draft Fastest in Hot Laps: Kyle Larson (14.695 seconds)
Time of Race: 23 minutes 32 seconds
The Big River Steel Chase for the Championship Presented by ARP Point Standings: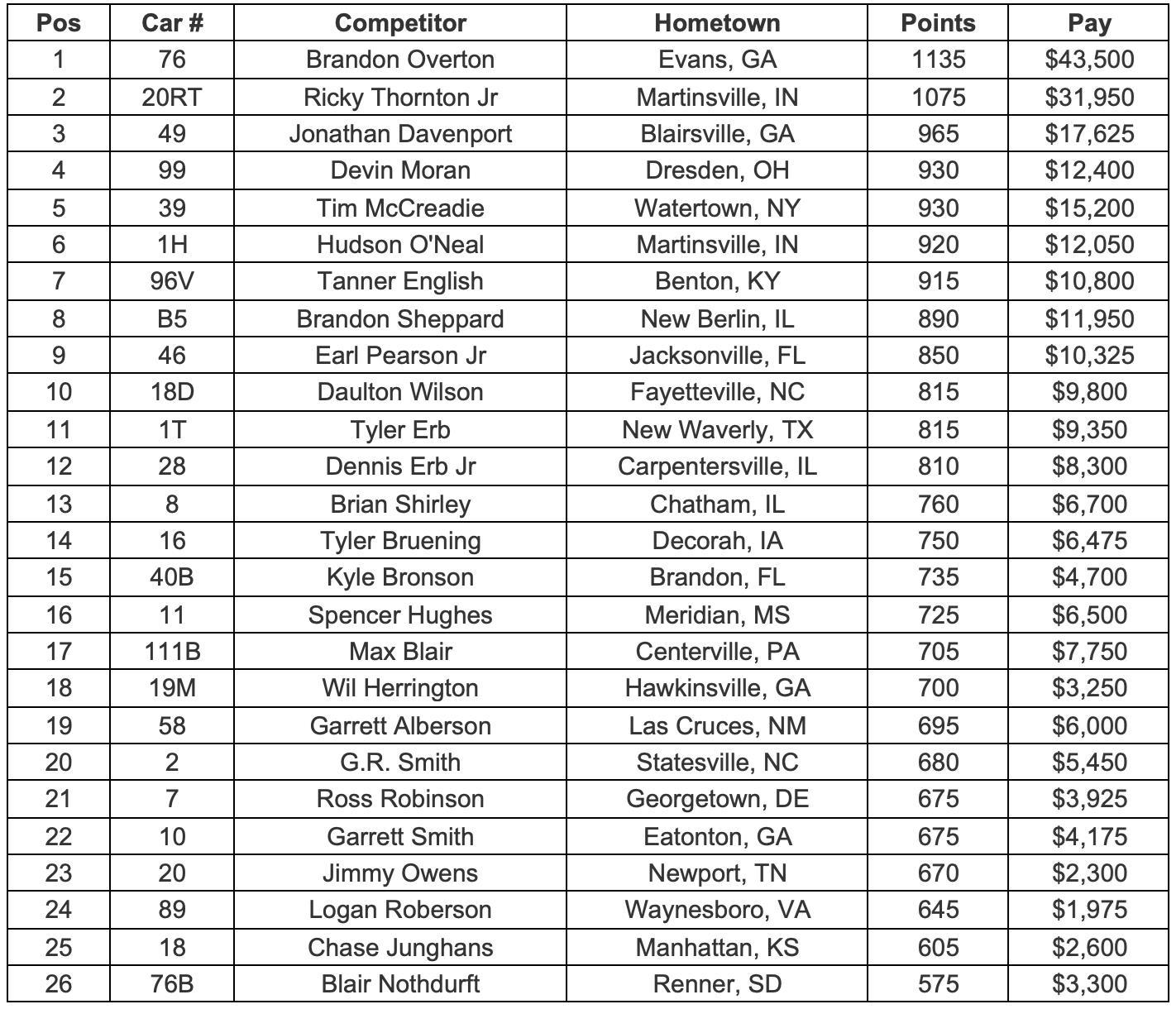 ---
Submitted By: Jeremy Shields
Back to News