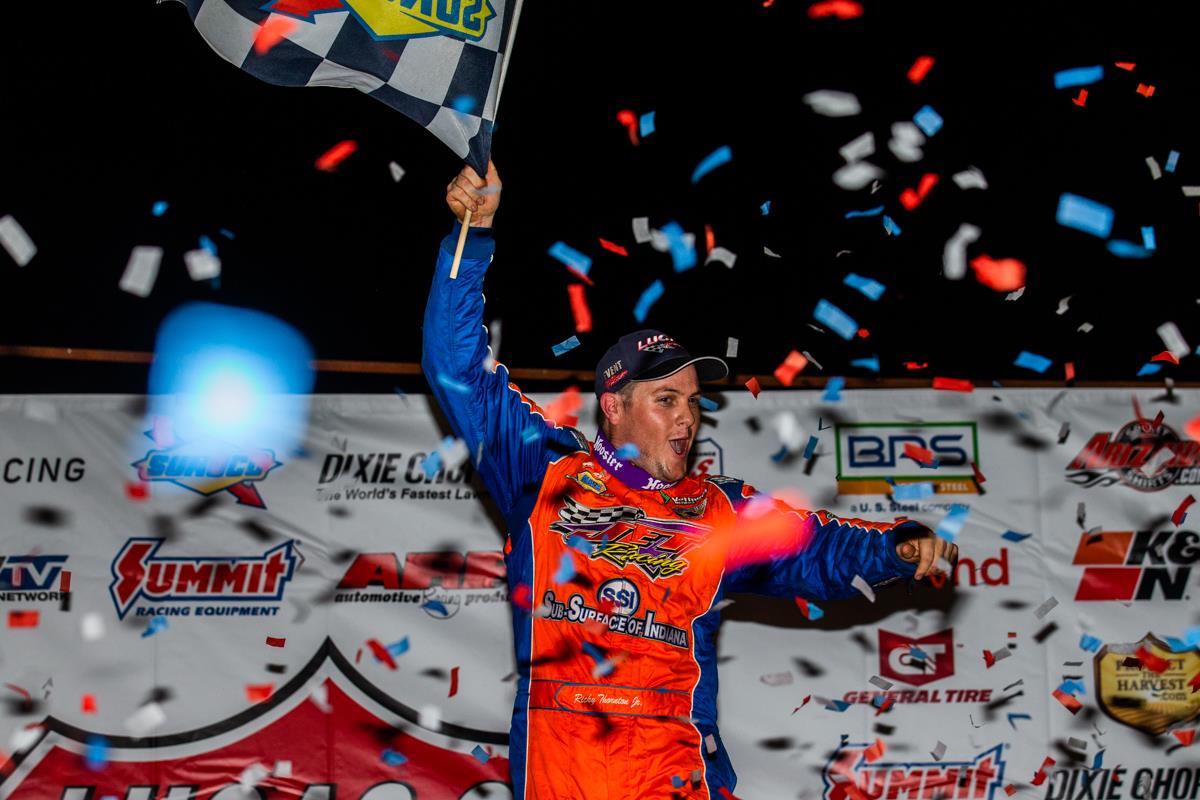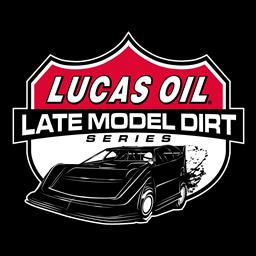 1/29/2023
Lucas Oil Late Model Dirt Series
---
Thornton Gets Redemption with Bubba Raceway Park Victory
OCALA, Fla. (January 29, 2023) – Ricky Thornton Jr. found redemption on Sunday night at Bubba Raceway Park - winning the 40-lap Winter Nationals main event for the Lucas Oil Late Model Dirt Series.
The 32-year-old led the last 25 laps of the race to score his first win of the 2023 season after recording two runner-up finishes and a third-place finish at Golden Isles. With the win, Thornton becomes the third different winner in four events this season.
Max Blair recorded his best career finish in the Lucas Oil Late Model Dirt Series by coming home in second with Ashton Winger taking the third and final Big River Steel Podium spot. Hudson O'Neal was fourth with current point leader Brandon Overton rounding out the top five drivers.
Thornton, who started on the outside front row, led the first two laps until yielding the point to pole sitter Devin Moran. Moran then led until he suffered a right front flat tire after a lap 15-restart. Moran would pit to change the tire and rejoin the field.
Thornton would pick up the lead again with Earl Pearson Jr. moving into second place and Blair now running in third. A red flag came out for a multi-car incident in turn two with 19 laps complete. After the extended stoppage of action, the race resumed with Thornton still holding the point.
Pearson, who was celebrating his 51st birthday, had his hopes of getting by Thornton for the win end when he suffered a right rear flat tire on lap 26. Blair then picked up the runner-up spot which he held to the finish.
"It's pretty awesome to win here," said the winner who is now just five points behind Overton in the championship standings. "I love coming to this place. It's so technical and different compared to all the other places we go to. I got the jump on the start on Devin [Moran]. I felt like I was running as hard as I needed to and then he slid me. He was running way harder than I wanted to go and I thought let him go and I will just keep pace with him. I don't know what happened to him on that restart he went down into one and it didn't turn."
"I got the lead back and just kind of held on, under that red my left front went flat," Thornton added. "Luckily it didn't put me in the fence. Overall, it was a good night. I had big time flashbacks from the last two nights. My crew guy was telling me that Max [Blair] was getting closer and I thought here we go again. On the last lap I screwed up off two and four. I felt like I was going to put it in the fence and give it away again. Overall, I am good, and we are happy we really have had a good Speedweeks so far."
Blair overcame his struggles at Golden Isles with a runner-up finish. "We were real competitive all night long. I really faded the last 10 or 12 laps. As a team we really needed a good run, and we got it. It's a good group of people we are with. I am really, really excited for the future. I think this is going to be a real good fit."
Winger finished third in his first Lucas Oil Late Model Dirt Series start of the season. "A couple of guys fell out there. I think I had one good restart where I passed three or so guys. I kind of figured out all those guys were jostling for position. I headed into turn one and the car stuck. We were pretty good. Congrats to Ricky for winning on three tires. I felt like we were better the longer we went. One of those cautions kind of killed us."
The winner's Todd and Vickie Burns, SSI Motorsports-owned, Longhorn Chassis is powered by a Clements Racing Engine and sponsored by Big River Steel, Hoker Trucking, Sub-Surface of Indiana, Dyno One Inc., West Side Tractor Sales Company, D&E Outside Services, Certified Inspection Service Company Inc., Sunoco Race Fuels, Bilstein Shocks, and Murty Farms
Completing the top ten were Tanner English, Brandon Sheppard, Jonathan Davenport, G.R. Smith, and Devin Moran.
Lucas Oil Late Model Dirt Series
Race Summary
Winter Nationals – Night #1
Sunday, January 29, 2023
Bubba Raceway Park – Ocala, FL
Allstar Performance Time Trials
Fast Time Group A: Devin Moran / 14.083 seconds (overall)
Fast Time Group B: Max Blair / 14.101 seconds
Penske Shocks Heat Race #1 Finish (8 Laps, Top 4 Transfer): 1. 99-Devin Moran[1]; 2. 96V-Tanner English[3]; 3. 12-Ashton Winger[2]; 4. 10-Garrett Smith[5]; 5. 3S-Brian Shirley[6]; 6. 1T-Tyler Erb[7]; 7. 81J-Jack Riggs[4]; 8. 5-Mark Whitener[8]; 9. (DNS) 4S-Danny Snyder; 10. (DNS) 22*-Payton Freeman
Summit Racing Products Heat Race #2 Finish (8 Laps, Top 4 Transfer): 1. 16-Tyler Bruening[2]; 2. 76-Brandon Overton[1]; 3. 25B-Mike Benedum[4]; 4. 99B-Boom Briggs[6]; 5. 18D-Daulton Wilson[5]; 6. 49-Jonathan Davenport[10]; 7. 25C-Shane Clanton[3]; 8. 14W-Dustin Walker[7]; 9. 6-Blake Spencer[9]; 10. (DNS) 23-Chad Walter
Simpson Race Products Heat Race #3 (8 Laps, Top 4 Transfer): 1. 20RT-Ricky Thornton Jr[2]; 2. 111B-Max Blair[1]; 3. 39-Tim McCreadie[3]; 4. 2-GR Smith[6]; 5. B5-Brandon Sheppard[5]; 6. 58-Garrett Alberson[4]; 7. 89-Logan Roberson[7]; 8. 11-Spencer Hughes[8]; 9. 17SS-Brenden Smith[10]; 10. 18-Chase Junghans[9]
AP1 Insurance Heat Race #4 Finish (8 Laps, Top 4 Transfer): 1. 46-Earl Pearson Jr[2]; 2. 28-Dennis Erb Jr[1]; 3. 1H-Hudson O'Neal[4]; 4. 20-Jimmy Owens[3]; 5. 76B-Blair Nothdurft[5]; 6. 19M-Wil Herrington[6]; 7. 66C-Matt Cosner[9]; 8. 40B-Kyle Bronson[7]; 9. (DNS) 7-Ross Robinson
Fast Shafts B-Main Race #1 Finish (10 Laps, Top 3 Transfer): 1. 18D-Daulton Wilson[2]; 2. 49-Jonathan Davenport[4]; 3. 1T-Tyler Erb[3]; 4. 25C-Shane Clanton[6]; 5. 14W-Dustin Walker[8]; 6. 6-Blake Spencer[9]; 7. 5-Mark Whitener[7]; 8. 3S-Brian Shirley[1]; 9. (DNS) 81J-Jack Riggs; 10. (DNS) 4S-Danny Snyder; 11. (DNS) 22*-Payton Freeman; 12. (DNS) 23-Chad Walter
UNOH B-Main Race #2 Finish (10 Laps, Top 3 Transfer): 1. B5-Brandon Sheppard[1]; 2. 76B-Blair Nothdurft[2]; 3. 19M-Wil Herrington[4]; 4. 58-Garrett Alberson[3]; 5. 66C-Matt Cosner[6]; 6. 11-Spencer Hughes[7]; 7. 89-Logan Roberson[5]; 8. 17SS-Brenden Smith[9]; 9. 7-Ross Robinson[11]; 10. 18-Chase Junghans[10]; 11. 40B-Kyle Bronson[8]
Winter Nationals - Night #1 Feature Finish (40 Laps):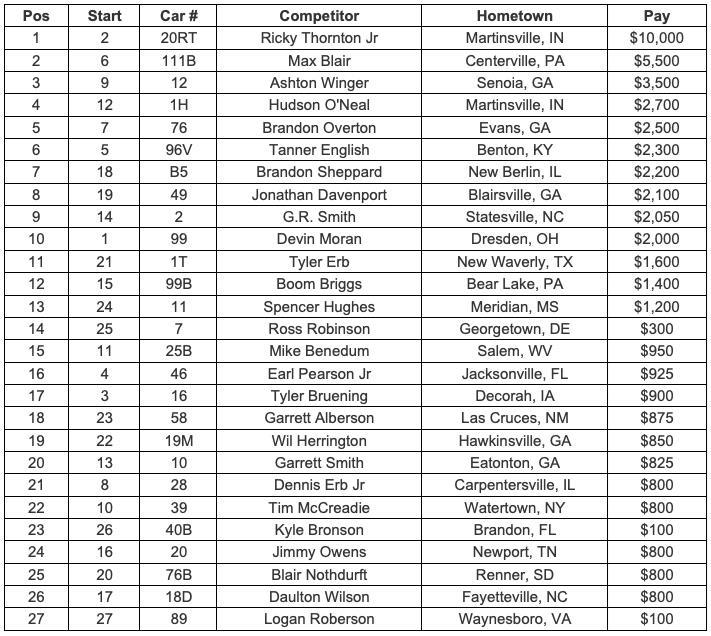 Race Statistics
Entrants: 39
Terminal Maintenance & Construction Pole Sitter: Devin Moran
Lap Leaders: Ricky Thornton, Jr. (Laps 1-2); Devin Moran (Laps 3-14); Ricky Thornton, Jr. (Laps 15-40)
Wieland Feature Winner: Ricky Thornton, Jr.
Arizona Sport Shirts Crown Jewel Cup Feature Winner: n/a
Brandon Ford TV Challenge Feature Winner: n/a
Margin of Victory: 1.401 seconds
Stop-Tech Brakes Cautions: Daulton Wilson (Lap 14); Devin Moran (Lap 15); Ross Robinson (Lap 19); Tyler Bruening, Dennis Erb, Jr., Tim McCreadie, Garrett Smith (Lap 19 restart); Earl Pearson, Jr. (Lap 26)
Series Provisionals: Garrett Alberson; Spencer Hughes
Fast Time Provisional: n/a
Series Emergency Provisionals: Ross Robinson; Kyle Bronson; Logan Roberson
Track Provisional: n/a
Big River Steel Podium Top 3: Ricky Thornton, Jr., Max Blair, Ashton Winger
Penske Shocks Top 5: Ricky Thornton, Jr., Max Blair, Ashton Winger, Hudson O'Neal, Brandon Overton
Todd Steel Buildings Hard Charger of the Race: Brandon Sheppard (Advanced 11 Positions)
Wilwood Brakes Lucky 7th Place Feature: Brandon Sheppard
Deatherage Opticians Lucky 13th Place Feature: Spencer Hughes
Earnhardt Technologies Most Laps Led: Ricky Thornton, Jr. (28 Laps)
Sunoco Race for Gas Highest Finisher: Ricky Thornton, Jr.
Midwest Sheet Metal Spoiler Challenge Point Leader: Brandon Overton
O'Reilly Auto Parts Rookie of the Race: n/a
Etchberger Trucking Fastest Lap of the Race: Ricky Thornton, Jr. (Lap 20 – 14.198 seconds)
Outerwears Crew Chief of the Race: Anthony Burroughs (Ricky Thornton, Jr.)
ARP Engine Builder of the Race: Clements Race Engines
Miller Welders Chassis Builder of the Race: Longhorn Chassis
Dirt Draft Fastest in Hot Laps: Brandon Overton (14.869 seconds)
Time of Race: 46 minutes 57 seconds
The Big River Steel Chase for the Championship Presented by ARP Point Standings: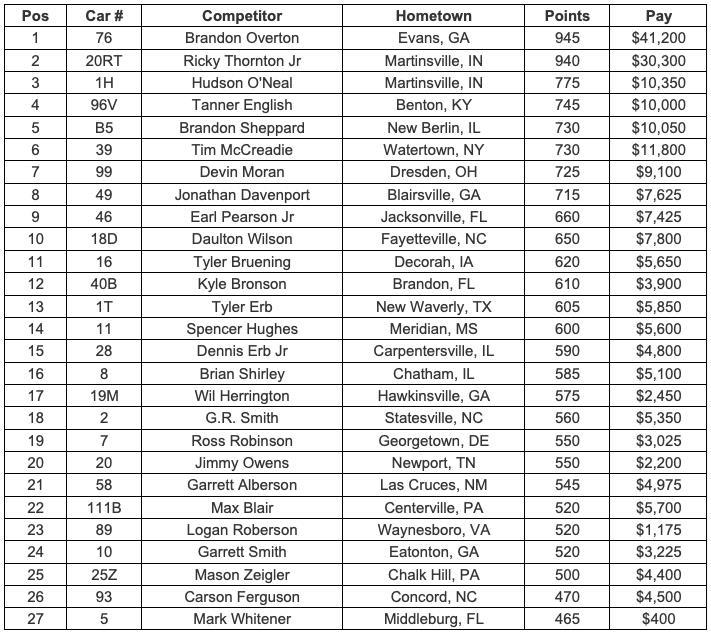 ---
Submitted By: Jeremy Shields
Back to News