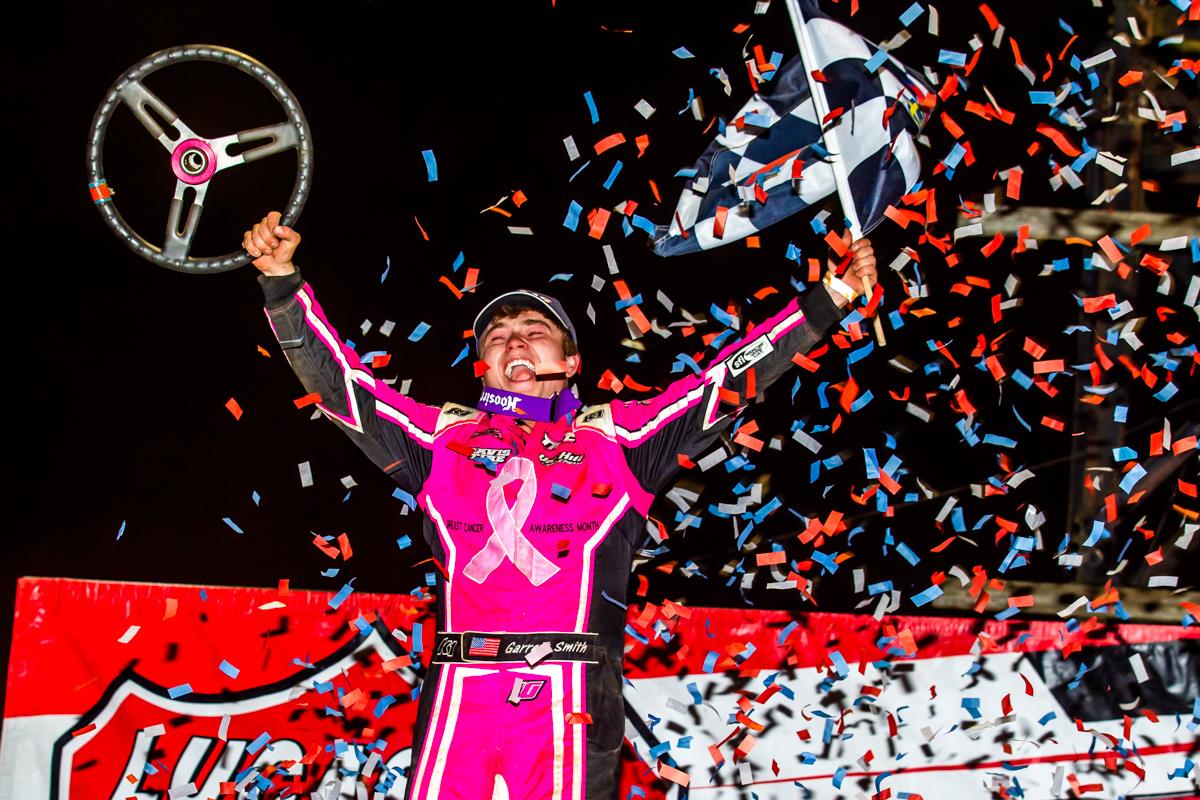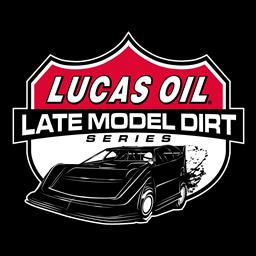 10/15/2022
Lucas Oil Late Model Dirt Series
---
Garrett Smith Becomes Dirt Track World Champion
PORTSMOUTH, OH (October 15, 2022) – Garrett Smith picked up the biggest win of his young career on Saturday night at Portsmouth Raceway Park. The Georgia native took home $100,000 for his victory in the 42nd Annual General Tire Dirt Track World Championship Presented by Optima Batteries. Smith, at age 19, is now the youngest driver to ever to win the crown jewel event.
Tim McCreadie, who had clinched the 2022 Lucas Oil Late Model Dirt Series National Championship before the race began, finished second to Smith. Mike Marlar came home in third followed by Hudson O'Neal, and Earl Pearson Jr.
Smith, who earned the pole position in his first ever Dirt Track World Championship, took the lead at the start of the race with McCreadie and Brandon Overton in tow. Overton was able to take over the second spot from McCreadie just before the first caution of the race with 13 laps completed. The top three of Smith, Overton, and McCreadie stayed that way until McCreadie regained the second slot on a lap 89 restart. Overton slowed shortly after to draw the caution with a flat right rear tire.
Smith, who became the 27th different driver to win the event, was emotional in victory lane after he climbed from his car to celebrate his first career Lucas Oil Late Model Dirt Series win. "I have been working so hard to get here and I finally got it done," said Smith, who became the 21st different winner this season. "I was just making sure I wasn't getting them [the tires] overheated and going down like what happened to those other guys. I was just trying to stay straight there at the end and not wheelspin any. I talked to Scott Bloomquist all week. He's a good guy and I used everything he told me, and I put all of that into play tonight."
McCreadie, with his second straight national championship worth a dirt late model record of $150,000, came up just short of his first Dirt Track World Championship. "It was tough out there. He [Smith] did a great job. Hats off to him. That was a very poised drive for someone his age. They did a phenomenal job. I tried early and thought if I could get in traffic and try to move off the bottom that was my only shot and then I fell back. I hated that I got into him [Overton] on the restart there. It looked to me like he was having a right rear flat, and he was he was wheelieing it down the frontstretch and I had such a good run on him."
Marlar who tried to move through the middle of the track to gain some positions fell back early but was able to round out the podium with a third-place finish. "I was moving around there trying to pass people and it cost me a few times and somehow, I fell back into getting third. I fell back there quite a bit early trying to pass people. It worked out tonight. It was a good season. It's always fun to race with Lucas, they have lots of big races and big crowds and it's a cool environment, so we always enjoy it. Congrats to Garrett for winning the race and Timmy on a great season with two championships in a row that's hard to do. So, we're proud of him."
The winner's Scot Smith owned Rocket Chassis is powered by a Vic Hill Racing Engine and sponsored by Atlanta Paving and Concrete, Terminal Maintenance and Construction, Davis Tire, Garrett Smith Performance, Base Racing Fuels, Senior Life Insurance Company, Dirt Car Lift, and The World Famous Cadillac Ranch.
Completing the top ten were Jonathan Davenport, Jimmy Owens, Ricky Thornton Jr., Daulton Wilson, and Brandon Sheppard.
Lucas Oil Late Model Dirt Series
Race Summary
42nd Annual General Tire Dirt Track World Championship Presented by Optima Batteries
Saturday, October 15th, 2022
Portsmouth Raceway Park – Portsmouth, OH
Fast Shafts B-Main Race #1 Finish (15 Laps, Top 2 Transfer): 1. 18D-Daulton Wilson[3]; 2. 20-Jimmy Owens[7]; 3. 71C-RJ Conley[4]; 4. 40B-Kyle Bronson[5]; 5. 12-Jason Jameson[25]; 6. 66C-Matt Cosner[2]; 7. 33-Kevin Wagner[11]; 8. 7H-Zach Hill[6]; 9. 25-Mike Benedum[16]; 10. 0K-Freddie Carpenter[10]; 11. 59-Larry Bellman[12]; 12. 55-Jesse Wisecarver[8]; 13. 29K-Clint Keenan[15]; 14. 11A-Ryan Abel[18]; 15. 354-Chris Nash[21]; 16. 21H-Robby Hensley[1]; 17. 1C-Lucas Crooks[14]; 18. 95J-Jerry Bowersock[13]; 19. 3-Austin Neely[19]; 20. 5T-Erick Christian[22]; 21. 28-Tyler Carpenter[9]; 22. 16S-Steve Sabo[17]; 23. (DNS) 145-Chase Frohnapfel; 24. (DNS) 5M-Garet McCloud; 25. (DNS) 17C-Chris Carpenter
UNOH B-Main Race #2 Finish (15 Laps, Top 2 Transfer): 1. 49-Jonathan Davenport[2]; 2. 44B-Colten Burdette[5]; 3. 9-Devin Moran[6]; 4. 1T-Tyler Erb[3]; 5. 7-Ross Robinson[8]; 6. 11R-Josh Rice[7]; 7. 111V-Max Blair[4]; 8. 12D-Doug Drown[10]; 9. 11H-Jared Hawkins[1]; 10. B1-Josh Bocook[9]; 11. 81-Brandon Fouts[11]; 12. 22-Cody Rogers[12]; 13. 1BN-Nick Bocook[14]; 14. 71R-Rod Conley[17]; 15. 00-Justin Cooper[18]; 16. D8-Dustin Linville[22]; 17. 17T-Shannon Thornsberry[15]; 18. 21K-Kirk Phillips[24]; 19. 1B-Shane Bailey[20]; 20. W1-Ronnie Whitt[21]; 21. 2-Justin Carter[19]; 22. 79R-Fast Eddy[23]; 23. 73-Charlie Mullett[25]; 24. 0-Scott Bloomquist[13]; 25. 10-Nathon Loney[16]
Jim Dunn Memorial Non-Qualifier Race Finish (25 Laps): 1. 71C-RJ Conley[1]; 2. 9-Devin Moran[2]; 3. 40B-Kyle Bronson[3]; 4. 111V-Max Blair[8]; 5. 33-Kevin Wagner[7]; 6. 7H-Zach Hill[9]; 7. 66C-Matt Cosner[5]; 8. 12D-Doug Drown[10]; 9. 25-Mike Benedum[11]; 10. 0K-Freddie Carpenter[13]; 11. B1-Josh Bocook[14]; 12. 59-Larry Bellman[15]; 13. 55-Jesse Wisecarver[16]; 14. 71R-Rod Conley[21]; 15. 29K-Clint Keenan[18]; 16. 17T-Shannon Thornsberry[26]; 17. 00-Justin Cooper[23]; 18. 22-Cody Rogers[17]; 19. 1BN-Nick Bocook[19]; 20. 11A-Ryan Abel[20]; 21. 354-Chris Nash[22]; 22. D8-Dustin Linville[25]; 23. 11H-Jared Hawkins[12]; 24. 12-Jason Jameson[4]; 25. (DNS) 11R-Josh Rice; 26. (DNS) 21H-Robby Hensley
42nd Annual General Tire Dirt Track World Championship Presented by Optima Batteries Feature Finish (100 Laps):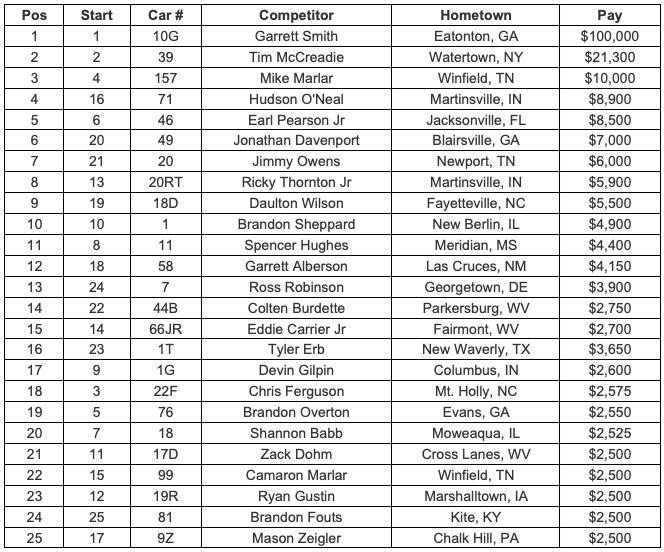 Race Statistics
Entrants: 68
Lap Leaders: Garrett Smith (Laps 1-100)
Wrisco Feature Winner: Garrett Smith
Arizona Sport Shirts Crown Jewel Cup Feature Winner: Garrett Smith
Brandon Ford TV Challenge Feature Winner: Garrett Smith
Margin of Victory: 1.084 seconds
Stop-Tech Cautions: Mason Zeigler (Lap 13); Brandon Fouts (Lap 33); Ross Robinson (Lap 84); Ricky Thornton, Jr. (Lap 85); Tyler Erb (Lap 88); Zack Dohm (Lap 88 restart); Brandon Overton (Lap 90); Chris Ferguson (Lap 97); Devin Gilpin (Lap 98)
Series Provisionals: Tyler Erb; Ross Robinson
Fast Time Provisional: n/a
Series Emergency Provisionals: n/a
Track Provisional: Brandon Fouts
Big River Steel Podium Top 3: Garrett Smith, Tim McCreadie, Mike Marlar
Penske Shocks Top 5: Garrett Smith, Tim McCreadie, Mike Marlar, Hudson O'Neal, Earl Pearson, Jr.
Optima Batteries Hard Charger of the Race: Jonathan Davenport (Advanced 14 Positions)
Hot Rod Processing Most Laps Led: Garrett Smith (Laps 1-100)
Sunoco Race for Gas Highest Finisher: Earl Pearson, Jr.
Midwest Sheet Metal Spoiler Challenge Point Leader: Tim McCreadie
O'Reilly Auto Parts Rookie of the Race: Daulton Wilson
Dirty Girl Racewear Fastest Lap of the Race: Garrett Smith (Lap 4 – 15.670 seconds)
DirtonDirt.com Tough Break of the Race: Tyler Erb
Outerwears Crew Chief of the Race: JC Crockett (Tim McCreadie)
ARP Engine Builder of the Race: Vic Hill Racing Engines
Miller Welders Chassis Builder of the Race: Rocket Chassis
Dirt Draft Fastest in Hot Laps: Jonathan Davenport (15.015 seconds)
Time of Race: 55 minutes 39 seconds
Lucas Oil Championship Point Standings:


Results are unofficial until Close of Business on the Tuesday following Race Day
---
Submitted By: Jeremy Shields
Back to News