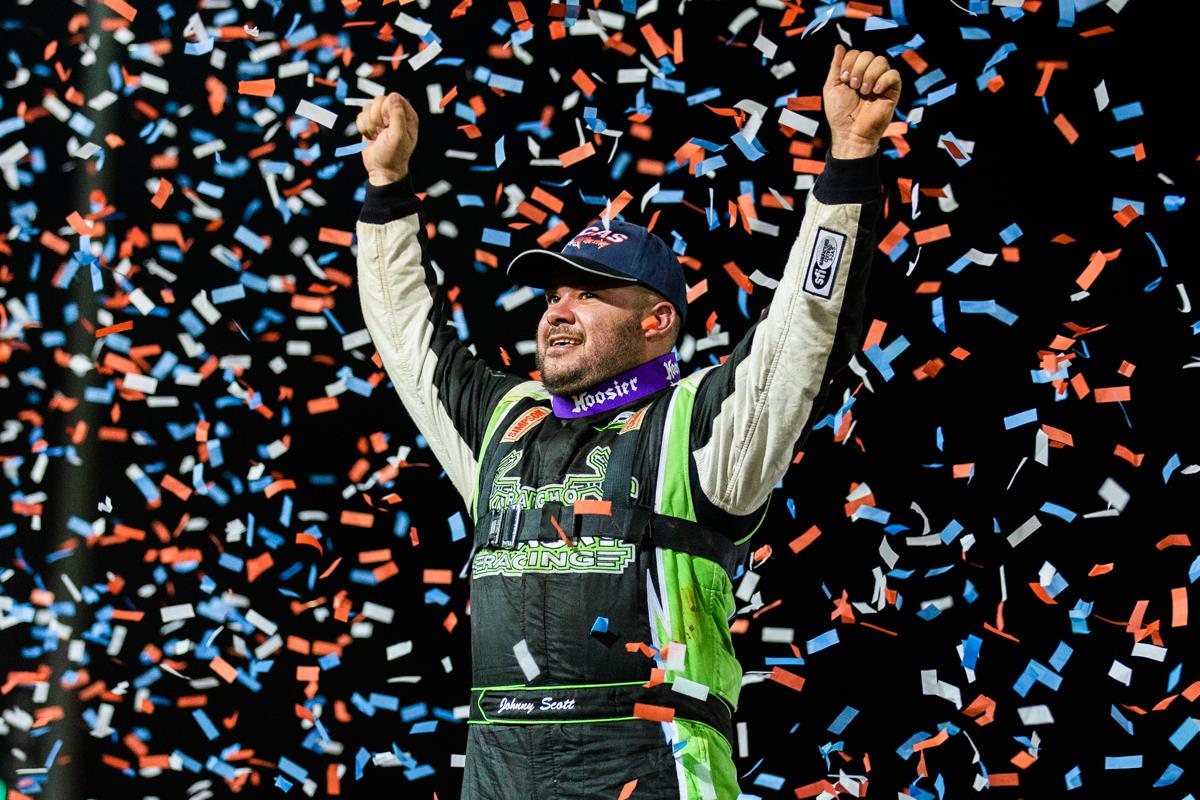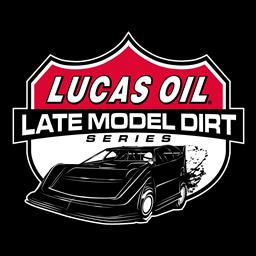 5/27/2022
Lucas Oil Late Model Dirt Series
---
Johnny Scott Outduels Davenport at Lucas Oil Speedway on Friday Night
Wheatland, MO (May 27, 2022) – Johnny Scott and Jonathan Davenport put on a spirited battle for the race lead on Friday night at Lucas Oil Speedway. Scott and Davenport officially traded the lead six times during the 40-lap Tribute to Don and Billie Gibson, Show-Me 100 founders, in the Lucas Oil Late Model Dirt Series and Lucas Oil MLRA sanctioned event to kick off the 30th Annual Show-Me 100 weekend.
For Scott, the current MLRA points leader, it was his third win in that series in 2022 and his first career in Lucas Oil Late Model Dirt Series competition. The 32-year-old New Mexico resident took the lead for good on lap 32 from Davenport and pulled away for the victory. Davenport finished in second followed by Jimmy Owens, Hudson O'Neal, and Ricky Thornton Jr.
Davenport grabbed the lead at the start of the main event, but a quick caution for Chris Ferguson halted the action with one lap scored. On the restart Davenport led Scott until lap 14 when Scott took his first lead of the race. On lap 16 Davenport bounced back to take the point, but Scott wasn't done as the two raced through traffic with Scott regaining the lead on lap 18.
Scott's lead was short-lived as Davenport, the 2015 Show-Me 100 winner vaulted back in front on lap 23. It appeared as if Davenport would have clear sailing to the checkers, but Scott changed his line which allowed him to chase down Davenport and pass him for the final time on lap 32. Scott pulled away for a 2.446 second advantage at the finish.
Scott now joins his twin brother Stormy as a Lucas Oil Late Model Dirt Series winner and was breathless in Lucas Oil Victory Lane. "There towards the end I needed to move my line up in three and four. It was rough on the bottom, and I couldn't get through there anymore. I saw JD was getting though the top in three and four pretty good, so I went up there and started reeling him in pretty good. I started diamonding one and two and I just started to hit my marks from there."
"This win is huge. I have been out for the last month after hurting my back. I just want to thank my sponsors and crew for sticking with me. Hopefully we can keep this going and get a big win tomorrow night, I am gassed right now."
Davenport, the three-time Lucas Oil Late Model Dirt Series National Champion took the runner-up position at the end. "He (Scott) did a great job there. I was just trying to find the smoothest way around the racetrack. The track had a whole lot of character tonight. My team gave me a good car again tonight. I just couldn't hang on like he could. He was a little bit better than us. The top was definitely the fastest line, we just struggled a little bit in the middle."
Owens, a four-time Show-Me 100 winner came from seventh to round out the podium. "We have been struggling with this car, but it's been a good car. We are just learning what to do with it, I feel like we have made some leaps and bounds with this car this weekend and here in the last week."
The winner's Longhorn Chassis is powered by a Clements Racing Engine and sponsored by Mesilla Valley Transportation, Rancho Milagro Racing, Eagle Moon Hemp Farms and Lab, Big Deal Car Care, Ed and Trudy Healy, Top of the World Ranch, Slicker Graphis, and Race Ranch Clothing Company.
Completing the top ten were Ashton Winger, Kyle Bronson, Garrett Alberson, Kolby Vandenbergh, and Chris Ferguson.
Lucas Oil Late Model Dirt Series
Race Summary
The Tribute to Don & Billie Gibson
Friday, May 27th, 2022
Lucas Oil Speedway – Wheatland, MO
Allstar Performance Time Trials
Fast Time Group A: Chad Simpson / 15.068 seconds (overall)
Fast Time Group B: Jonathan Davenport / 15.260 seconds
Penske Race Shocks Heat Race #1 Finish (8 Laps, Top 3 Transfer): 1. 157-Mike Marlar[2]; 2. 20-Jimmy Owens[3]; 3. 71-Hudson O'Neal[6]; 4. 25-Chad Simpson[1]; 5. 11-Spencer Hughes[5]; 6. 86-Kyle Beard[9]; 7. 45-Kylan Garner[7]; 8. 65-Jon Binning[8]; 9. 12-Scott Crigler[10]; 10. 14M-Reid Millard[11]; 11. (DNF) 32S-Chris Simpson[4]
Summit Racing Equipment Heat Race #2 Finish (8 Laps, Top 3 Transfer): 1. 1ST-Johnny Scott[2]; 2. 89-Ashton Winger[1]; 3. 0-Scott Bloomquist[4]; 4. 40B-Kyle Bronson[5]; 5. 56-Tony Jackson Jr[3]; 6. 50C-Kaeden Cornell[8]; 7. 90-Brian Rickman[6]; 8. 65H-Dewaine Hottinger[7]; 9. 18P-Shannon Parker[9]; 10. 23-John Blankenship[10]; 11. 7J-Jay Fields[11]
Simpson Race Products Heat Race #3 Finish (8 Laps, Top 3 Transfer): 1. 91P-Jason Papich[2]; 2. 1-Brandon Sheppard[1]; 3. 39-Tim McCreadie[5]; 4. 18-Shannon Babb[4]; 5. 04-Tad Pospisil[3]; 6. 97-Cade Dillard[6]; 7. 11T-Trevor Gundaker[7]; 8. 7W-Cole Wells[9]; 9. 14W-Dustin Walker[10]; 10. 6H-Al Humphrey[8]
Ohlins Shocks Heat Race #4 Finish (8 Laps, Top 3 Transfer): 1. 49-Jonathan Davenport[1]; 2. 15V-Kolby Vandenbergh[2]; 3. 20RT-Ricky Thornton Jr[8]; 4. 3S-Brian Shirley[6]; 5. 10-Jacob Magee[5]; 6. 2S-Stormy Scott[4]; 7. 18D-Daulton Wilson[7]; 8. 3-Brennon Willard[11]; 9. 10W-John Willard[10]; 10. 22H-Daniel Hilsabeck[3]; 11. 50K-Kayden Clatt[9]
Wrisco Industries Heat Race #5 Finish (8 Laps, Top 3 Transfer): 1. 46-Earl Pearson Jr[1]; 2. 32-Bobby Pierce[3]; 3. 18J-Chase Junghans[4]; 4. 21XXX-Neil Baggett[6]; 5. 58-Garrett Alberson[2]; 6. 1T-Tyler Erb[5]; 7. 36-Logan Martin[8]; 8. 9J-Joseph Gorby[7]; 9. 78S-Steve Stultz[9]; 10. 26-Glen Powell[10]
Lucas Oil Heat Race #6 Finish (8 Laps, Top 3 Transfer): 1. 21-Billy Moyer Jr[2]; 2. 15L-Payton Looney[3]; 3. 22F-Chris Ferguson[4]; 4. 1S-Jeremy Shaw[1]; 5. 1X-Aaron Marrant[5]; 6. 7-Ross Robinson[9]; 7. 11K-Jon Kirby[7]; 8. 98-Ben Schaller[6]; 9. 93-Mason Oberkramer[8]; 10. 10J-Joseph Joiner[10]
FAST Shafts B-Main #1 Finish (10 Laps, Top 2 Transfer): 1. 40B-Kyle Bronson[2]; 2. 25-Chad Simpson[1]; 3. 56-Tony Jackson Jr[4]; 4. 86-Kyle Beard[5]; 5. 11-Spencer Hughes[3]; 6. 90-Brian Rickman[8]; 7. 50C-Kaeden Cornell[6]; 8. 45-Kylan Garner[7]; 9. 18P-Shannon Parker[12]; 10. 65H-Dewaine Hottinger[10]; 11. 23-John Blankenship[14]; 12. 14M-Reid Millard[13]; 13. 7J-Jay Fields[16]; 14. 65-Jon Binning[9]; 15. 32S-Chris Simpson[15]; 16. 12-Scott Crigler[11]
UNOH B-Main #2 Finish (10 Laps, Top 2 Transfer): 1. 3S-Brian Shirley[2]; 2. 18-Shannon Babb[1]; 3. 04-Tad Pospisil[3]; 4. 97-Cade Dillard[5]; 5. 2S-Stormy Scott[6]; 6. 18D-Daulton Wilson[8]; 7. 7W-Cole Wells[9]; 8. 11T-Trevor Gundaker[7]; 9. 10-Jacob Magee[4]; 10. 3-Brennon Willard[10]; 11. 50K-Kayden Clatt[15]; 12. 10W-John Willard[12]; 13. 22H-Daniel Hilsabeck[14]; 14. (DNS) 6H-Al Humphrey; 15. (DNS) 14W-Dustin Walker
DirtonDirt.com B-Main #3 Finish (10 Laps, Top 2 Transfer): 1. 1S-Jeremy Shaw[2]; 2. 58-Garrett Alberson[3]; 3. 1T-Tyler Erb[5]; 4. 21XXX-Neil Baggett[1]; 5. 36-Logan Martin[7]; 6. 98-Ben Schaller[10]; 7. 1X-Aaron Marrant[4]; 8. 7-Ross Robinson[6]; 9. 93-Mason Oberkramer[12]; 10. 11K-Jon Kirby[8]; 11. 9J-Joseph Gorby[9]; 12. 78S-Steve Stultz[11]; 13. 26-Glen Powell[13]; 14. 10J-Joseph Joiner[14]
Lucas Oil Feature Finish (40 Laps):

Race Statistics
Entrants: 63
Lap Leaders: Jonathan Davenport (Laps 1-4); Johnny Scott (Laps 5-6); Jonathan Davenport (Laps 7-13); Johnny Scott (Laps 14-15); Jonathan Davenport (Laps 16-17); Johnny Scott (Laps 18-22); Jonathan Davenport (Laps 23-31); Johnny Scott (Laps 32-40)
Wrisco Feature Winner: Johnny Scott
Arizona Sport Shirts Crown Jewel Cup Feature Winner: n/a
Brandon Ford TV Challenge Feature Winner: Johnny Scott
Margin of Victory: 2.446 seconds
Stop-Tech Cautions: Chris Ferguson (Lap 1); Chase Junghans (Lap 7); Mike Marlar (Lap 21)
Series Provisionals: n/a
Fast Time Provisional: n/a
Series Emergency Provisionals: n/a
Track Provisionals: n/a
Big River Steel Podium Top 3: Johnny Scott, Jonathan Davenport, Jimmy Owens
Penske Shocks Top 5: Johnny Scott, Jonathan Davenport, Jimmy Owens, Hudson O'Neal, Ricky Thornton Jr.
Optima Batteries Hard Charger of the Race: Garrett Alberson (Advanced 16 Positions)
Midwest Sheet Metal Spoiler Challenge Point Leader: Brandon Sheppard
Hot Rod Processing Most Laps Led: Jonathan Davenport (22 Laps)
Sunoco Race for Gas Highest Finisher: Jimmy Owens
O'Reilly Auto Parts Rookie of the Race: Ashton Winger
Dirty Girl Racewear Fastest Lap of the Race: Johnny Scott (Lap 3 – 15.240 seconds)
DirtonDirt.com Tough Break of the Race: Mike Marlar
Outerwears Crew Chief of the Race: Levi DeMartino (Johnny Scott)
ARP Engine Builder of the Race: Clements Racing Engines
Miller Welders Chassis Builder of the Race: Longhorn Chassis
Dirt Draft Fastest in Hot Laps: Billy Moyer Jr (15.187 seconds)
Time of Race: 27 minutes 28 seconds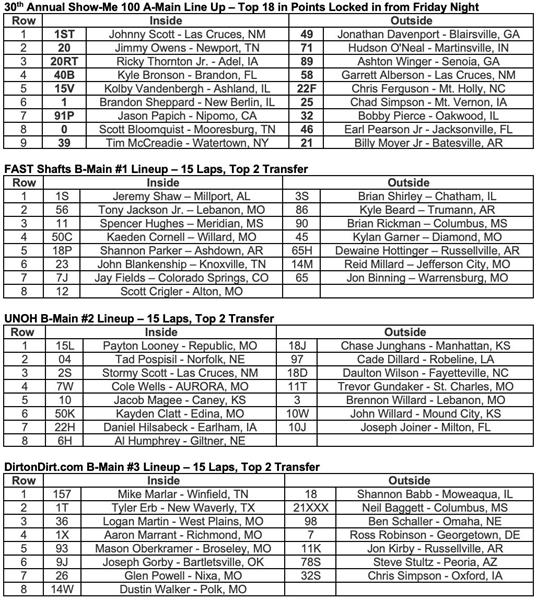 Results are unofficial until Close of Business on the Tuesday following Race Day
Back to News