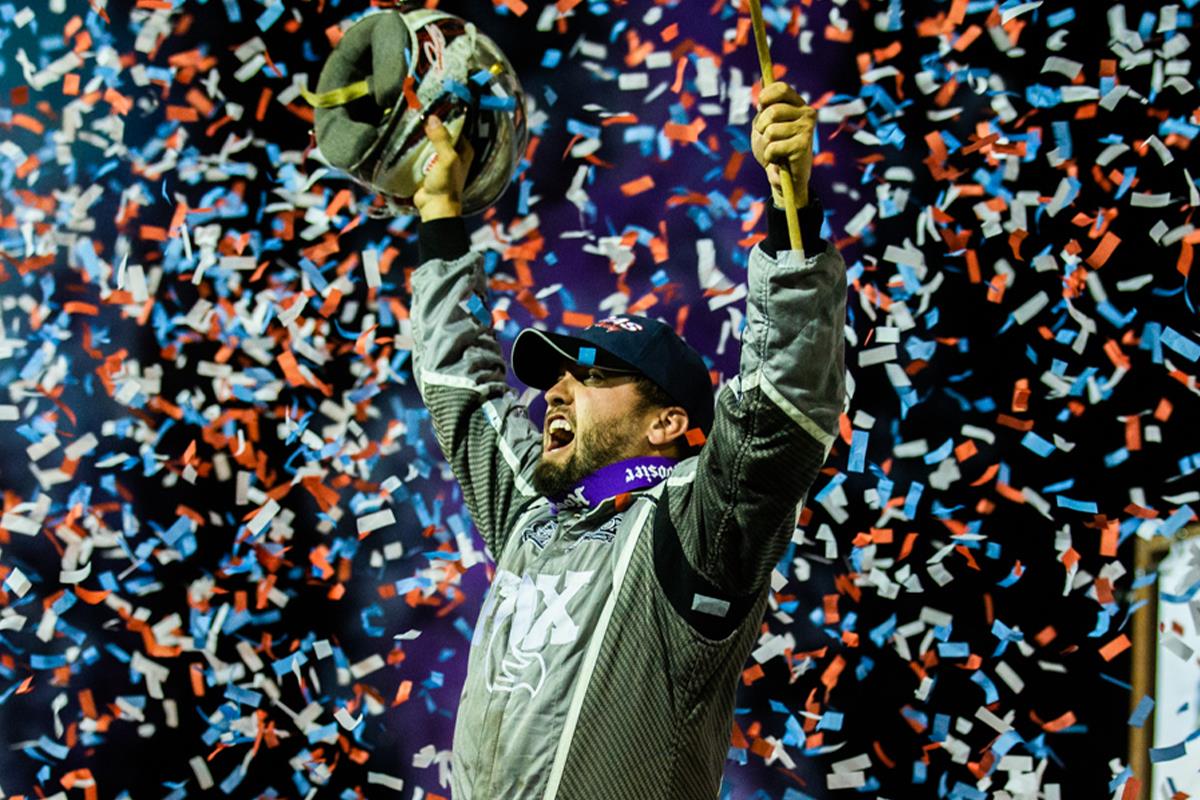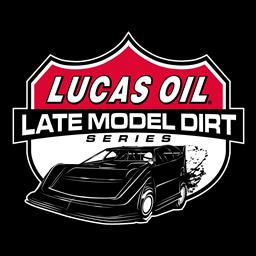 5/28/2022
Lucas Oil Late Model Dirt Series
---
Ferguson Takes First Career Crown Jewel Win in 30th Annual Show-Me 100
Wheatland, MO (May 28, 2022) – Chris Ferguson emerged from a great battle for the lead in the 30th Annual Lucas Oil Show-Me 100 Presented by ProtectTheHarvest.com on Saturday night at Lucas Oil Speedway. Winning the first dirt late model crown jewel of his career, Ferguson is taking the record $50,000 payday back to North Carolina. The 30th Annual event was the richest first-place prize ever offered for the event co-sanctioned with the Lucas Oil Late Model Dirt Series and the Lucas Oil MLRA.
With 12 laps to go, the top seven drivers were on the same straightway when Ferguson went to the outside of Jonathan Davenport trying to pass him for the lead. Davenport made contact with Ferguson that sent Davenport spinning, bringing out the Stop Tech caution with 88 laps complete.
On the restart Ferguson, who had started in tenth, pulled away for the win becoming the 18th different driver to win the sports first crown jewel event of 2022. Ricky Thornton, Jr. led four laps in the race but finished second earning a $20,000 payday for his SSI Motorsports Team. Defending series champion Tim McCreadie ran third after starting 17th. Jimmy Owens, a four-time Show-Me 100 winner was fourth and Chad Simpson, the Allstar Performance fastest qualifier for the weekend was fifth.
Ferguson, who won at Wheatland in his first appearance at the "Diamond of Dirt Tracks" in the 2020 Diamond Nationals methodically worked his way through the field to put himself in contention for the win. "I don't know what to say, I am speechless. God is so great he put me in this situation. That was awesome, that was amazing. I am so thankful to be here for this. You fans are the best, thank you all for everything."
"JD got kind of stuck behind those lap cars. I found a groove about a half-car-length out from everybody else. I rolled him (Davenport) in one and two and got door-to-door with him. I think we both got in hot, and we hit a little bit. It knocked the steering wheel out of my hand, but I was able to grab it back and keep the lead and I guess he didn't make out so well."
"I hated it for him. I think we may have had a little better car than him. That was a heck of a battle. All the people that don't realize our cars are fast that showed them we are. For a long-time I have dreamed of being at this level. I feel like I can drive good enough to get it done."
Thornton Jr, the reigning Dirt Track World Championship winner was close to picking up the second crown jewel event of his career, came home in second. "We came really close. It kind of stinks to run second, but we will take it. Congrats to Fergy on the win. He was really good, especially late. We had a really good car yesterday and that put us in a good starting position for tonight. I really wanted to pick up the win for Scott Coleman of Big River Steel, he was here, but we will definitely take a second."
McCreadie, who was seeking his first Show-Me 100 victory passed the most cars during the race to round out the podium in third. "We went with a different tire combination, maybe me and two other guys in the field had it. When I pulled out on the front stretch, I thought we were in trouble. I knew I couldn't really get off the brown, so I just tried to drag the left sides through the brown as good as possible. I didn't want to overheat the tires. On the restarts I was amazing for 6 or 7 laps then I would fade so I would like to have had a few more restarts. My crew did a great job I am just the guy who gets to drive it."
The winner's Team Zero Race Cars entry is powered by a Clements Racing Engine and sponsored by Diff-Tran Machining, Live Oak Aesthetic and Family Dentistry, K&K Trucking, Carolina Roofing and Gutters, The Racing Warehouse, Heckles' Plumbing, Schaeffer's Racing Oil, and Fox Racing Shox.
Completing the top ten were Kyle Bronson, Hudson O'Neal, Payton Looney, Ashton Winger, and Scott Bloomquist.
Lucas Oil Late Model Dirt Series
Race Summary
30th Annual Lucas Oil Show-Me 100 Presented by ProtectTheHarvest
Saturday, May 28th, 2022
Lucas Oil Speedway – Wheatland, MO
FAST Shafts B-Main #1 Finish (15 Laps, Top 2 Transfer): 1. 1S-Jeremy Shaw[1]; 2. 3S-Brian Shirley[2]; 3. 56-Tony Jackson Jr[3]; 4. 86-Kyle Beard[4]; 5. 11-Spencer Hughes[5]; 6. 90-Brian Rickman[6]; 7. 12-Scott Crigler[15]; 8. 65-Jon Binning[14]; 9. 45-Kylan Garner[8]; 10. 65H-Dewaine Hottinger[10]; 11. 23-John Blankenship[11]; 12. 18P-Shannon Parker[9]; 13. 50C-Kaeden Cornell[7]; 14. 14M-Reid Millard[12]; 15. (DNS) 7J-Jay Fields
UNOH B-Main #2 Finish (15 Laps, Top 2 Transfer): 1. 15L-Payton Looney[1]; 2. 97-Cade Dillard[4]; 3. 2S-Stormy Scott[5]; 4. 18J-Chase Junghans[2]; 5. 7W-Cole Wells[7]; 6. 18D-Daulton Wilson[6]; 7. 10J-Joseph Joiner[14]; 8. 3-Brennon Willard[10]; 9. 10-Jacob Magee[9]; 10. 50K-Kayden Clatt[11]; 11. 04-Tad Pospisil[3]; 12. 22H-Daniel Hilsabeck[13]; 13. 11T-Trevor Gundaker[8]; 14. 6H-Al Humphrey[15]; 15. (DNS) 10W-John Willard
DirtonDirt.com B-Main #3 Finish (15 Laps, Top 2 Transfer): 1. 1T-Tyler Erb[3]; 2. 18-Shannon Babb[2]; 3. 21XXX-Neil Baggett[4]; 4. 93-Mason Oberkramer[9]; 5. 7-Ross Robinson[8]; 6. 11K-Jon Kirby[10]; 7. 78S-Steve Stultz[12]; 8. 1X-Aaron Marrant[7]; 9. 98-Ben Schaller[6]; 10. 14W-Dustin Walker[15]; 11. 36-Logan Martin[5]; 12. 9J-Joseph Gorby[11]; 13. 32S-Chris Simpson[14]; 14. (DNS) 157-Mike Marlar; 15. (DNS) 26-Glen Powell
Midwest Sheet Metal Show-Me Challenge Finish (20 Laps, Winner Can Elect to Transfer): 1. 56-Tony Jackson Jr[1]; 2. 18J-Chase Junghans[4]; 3. 21XXX-Neil Baggett[2]; 4. 3-Brennon Willard[14]; 5. 90-Brian Rickman[7]; 6. 45-Kylan Garner[16]; 7. 14W-Dustin Walker[21]; 8. 10-Jacob Magee[17]; 9. 98-Ben Schaller[18]; 10. 11K-Jon Kirby[9]; 11. 78S-Steve Stultz[12]; 12. 18D-Daulton Wilson[8]; 13. 7W-Cole Wells[6]; 14. 86-Kyle Beard[3]; 15. 93-Mason Oberkramer[5]; 16. 12-Scott Crigler[10]; 17. 10J-Joseph Joiner[11]; 18. 65-Jon Binning[13]; 19. 50K-Kayden Clatt[20]; 20. (DNS) 1X-Aaron Marrant; 21. (DNS) 65H-Dewaine Hottinger; 22. (DNS) 23-John Blankenship; 23. (DNS) 22H-Daniel Hilsabeck; 24. (DNS) 36-Logan Martin
30th Annual Lucas Oil Show-Me 100 Presented by ProtectTheHarvest Feature Finish (100 Laps):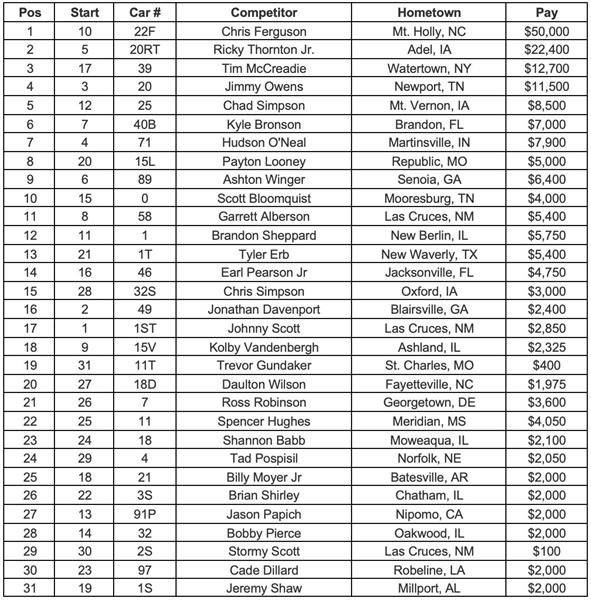 Race Statistics
Entrants: 63
Lap Leaders: Jonathan Davenport (Laps 1-9); Johnny Scott (Laps 10-11); Jonathan Davenport (Laps 12-62); Ricky Thornton, Jr. (Laps 63-66); Jonathan Davenport (Laps 67-88); Chris Ferguson (Laps 89-100)
Wrisco Feature Winner: Chris Ferguson
Arizona Sport Shirts Crown Jewel Cup Feature Winner: Chris Ferguson
Brandon Ford TV Challenge Feature Winner: Chris Ferguson
Margin of Victory: 3.042 seconds
Stop-Tech Cautions: Kolby Vandenbergh (Lap 24); Brian Shirley (Lap 44); Jonathan Davenport (Lap 88)
LOLMDS Provisionals: Spencer Hughes, Ross Robinson
MLRA Series Provisionals: Chris Simpson, Tad Pospisil
LOLMDS Emergency Provisionals: Daulton Wilson
MLRA Emergency Provisionals: Stormy Scott, Trevor Gundaker
Big River Steel Podium Top 3: Chris Ferguson, Ricky Thornton, Jr., Tim McCreadie
Penske Shocks Top 5: Chris Ferguson, Ricky Thornton, Jr., Tim McCreadie, Jimmy Owens, Chad Simpson
Optima Batteries Hard Charger of the Race: Tim McCreadie (Advanced 14 Positions)
Midwest Sheet Metal Spoiler Challenge Point Leader: Brandon Sheppard
Hot Rod Processing Most Laps Led: Jonathan Davenport (82 Laps)
Sunoco Race for Gas Highest Finisher: Ricky Thornton, Jr.
O'Reilly Auto Parts Rookie of the Race: Ashton Winger
Dirty Girl Racewear Fastest Lap of the Race: Jonathan Davenport (Lap 2 – 15.957 seconds)
DirtonDirt.com Tough Break of the Race: Jonathan Davenport
Outerwears Crew Chief of the Race: Bryan Conard (Chris Ferguson)
ARP Engine Builder of the Race: Clements Racing Engines
Miller Welders Chassis Builder of the Race: Bloomquist Race Cars
Dirt Draft Fastest in Hot Laps: Jon Binning (15.650 seconds)
Time of Race: 43 minutes 51 seconds
Lucas Oil Championship Point Standings: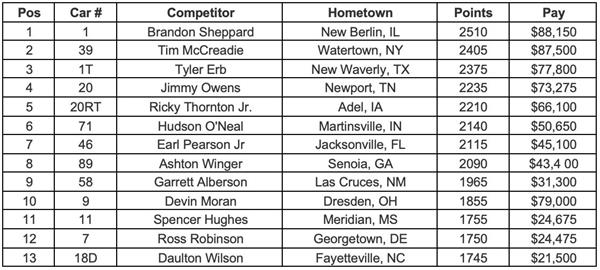 Results are unofficial until Close of Business on the Tuesday following Race Day
Back to News