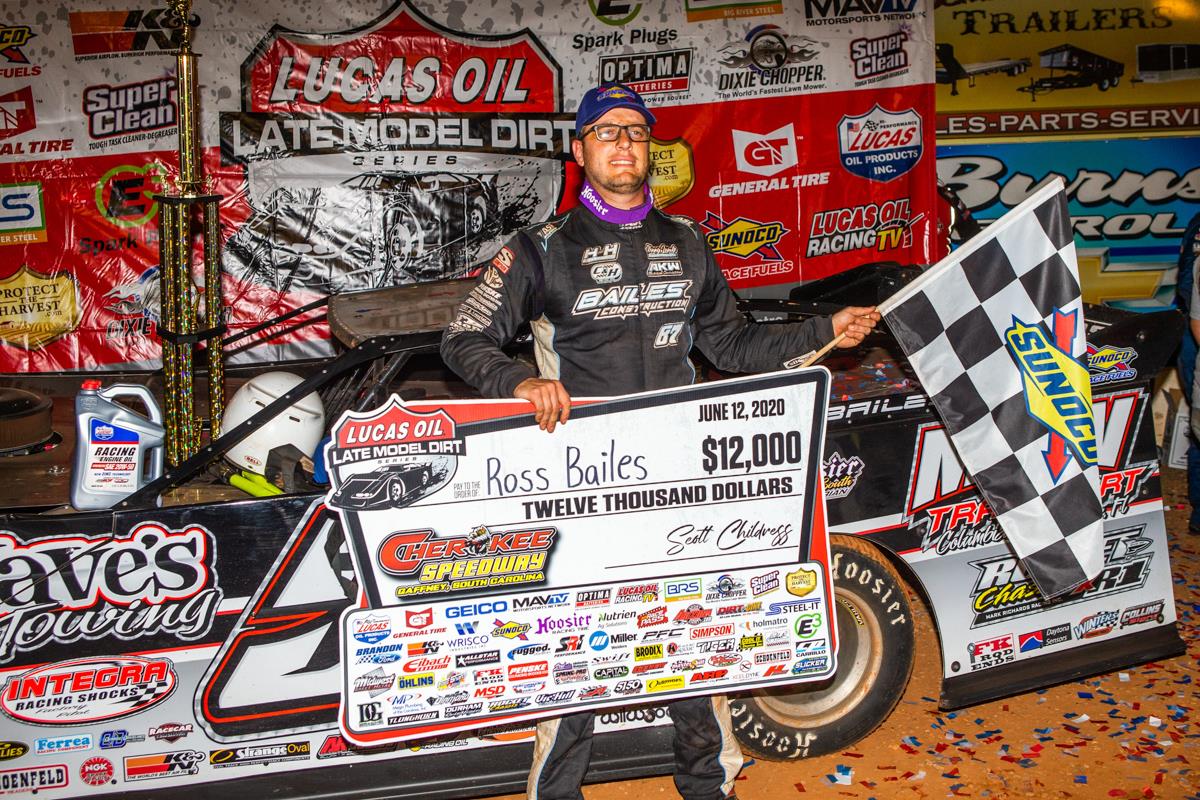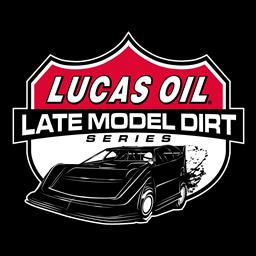 6/12/2020
Lucas Oil Late Model Dirt Series
---
Bailes Wins Cherokee Lucas Oil Race on Final Lap
GAFFNEY, SC (June 12, 2020) – Ross Bailes wins the 22nd Annual Grassy Smith Memorial at Cherokee Speedway on Friday night. After battling with Brandon Overton throughout the event, he took the lead on the final lap when Brandon Overton suffered a flat tire heading down the back stretch. Bailes seized control of the lead and flashed across the finish line to pick up his second career Lucas Oil Late Model Dirt Series victory.
A very competitive 50 lap main event saw Bailes become the 10th different winner in 14 Lucas Oil Late Model Dirt Series races this season. The event was the first since February with fans in the grandstands.
The packed house saw a great race for the lead between Bailes and Overton, who entered the event on a 2-race Lucas Oil Late Model Dirt Series win streak. Overton's misfortune on the final lap dropped him to fourth at the finish. Brandon Sheppard and Jimmy Owens dueled back-and-forth during the last half of the race to come home second and third. Chris Ferguson rounded out the top five.
Bailes grabbed the lead on the opening lap with Overton and Owens trailing. Bailes received heavy pressure from Overton as the two encountered heavy traffic. Overton made his first pass for the lead on lap 23, but Bailes came back on lap 28 to regain the top spot. Overton returned the favor, repassing Bailes on lap 46. However, a caution with 48 laps complete set up a dash to the finish. On the restart Overton was leading Bailes, Sheppard, and Owens.
Overton had control of the race until his car suddenly slowed coming off of turn two on the last lap. Bailes, Sheppard and Owens all went by Overton.
In Lucas Oil Victory Lane Bailes was breathless as he talked to the packed grandstand of onlookers. "Man, this is unbelievable. We have been through a lot this year. I am so excited to win this in front of my home crowd. I mean it can't get any better than that," said the 30-year-old racer.
"The car was better than the driver. I just didn't know what to do in lapped traffic and he [Overton] had the advantage of being behind me and seeing where he needed to go. Overton had a good car too, he probably has the best car in the country right now and we were right there with him. I hate what happened to Brandon, but luckily I was on the good end of that one at the finish. This is the first Lucas Oil win for Auggie (Burttram), and I wanted to get in his car and prove we could do it. He has as good of equipment as you can get. This is the first night out on a new car and we had a rebuilt Clements engine."
Sheppard came home in second in the Mark Richards Racing Rocket 1 House Car. "The race was pretty crazy out there tonight. We had a pretty good car. I think I ran the top a little bit too early the first few laps. I think I burned my tires up. All-in-all another second-place finish here at Gaffney in front of a packed crowd is pretty good. It's really nice to see all these fans out here. We have really missed them being at the track."
Owens rounded out the podium speeches for the night. "We aren't worried about the points right now. They will take care of themselves. We are out here trying to win as many races as we can. I hope the fans enjoyed it. We were having a ball out there. I jumped to the outside and I was probably harder on tires than anyone else. I was trying to put on a show, and it didn't work out like I wanted to. Hats off to Ross Bailes, I was glad to see him win."
The winner's Augie Burttram/Big Frog Motorsports owned Rocket Chassis is powered by a Clements Racing Engine and sponsored by M&W Transport, Dave's Towing, Collins Signs, Integra Racing Shocks, and Sunoco Race Fuels.
Completing the top ten were Josh Richards, Zack Mitchell, Tyler Erb, Jonathan Davenport, and Earl Pearson Jr.Lucas Oil Late Model Dirt Series
Race Summary
Grassy Smith Memorial
Friday, June 12th, 2020
Cherokee Speedway – Gaffney, SC
Lucas Oil Time Trials
Fast Time Group A: Ross Bailes / 15.170 seconds (overall)
Fast Time Group B: Chris Ferguson / 15.306 seconds
Penske Race Shocks Heat Race #1 Finish (10 Laps, Top 4 Transfer): 1. 58-Ross Bailes[1]; 2. 20-Jimmy Owens[3]; 3. 25-Shane Clanton[5]; 4. 40B-Kyle Bronson[2]; 5. 1T-Tyler Erb[7]; 6. 9-Devin Moran[9]; 7. 57A-Adam Yarbrough[6]; 8. 55-Benji Hicks[8]; 9. 16W-Ben Watkins[4]; 10. (DNS) 91-Derrick Ramey
FK Rod Ends Heat Race #2 Finish (10 Laps, Top 4 Transfer): 1. 76-Brandon Overton[1]; 2. 39-Tim McCreadie[2]; 3. 14-Josh Richards[3]; 4. 49-Jonathan Davenport[5]; 5. 79-Kyle Hardy[7]; 6. 24D-Michael Brown[6]; 7. 50-Shanon Buckingham[8]; 8. 2F-Dennis Franklin[9]; 9. 42K-Cla Knight[4]
Simpson Race Products Heat Race #3 Finish (10 Laps, Top 4 Transfer): 1. 10-Chris Ferguson[1]; 2. 1S-Brandon Sheppard[3]; 3. 71-Hudson O'Neal[5]; 4. 16-Tyler Bruening[2]; 5. 89-GR Smith[4]; 6. 06-Christian Thomas[9]; 7. 2S-Stormy Scott[7]; 8. 81E-Tanner English[6]; 9. 51M-Joey Moriarty[8]
Ohlins Shocks Heat Race #4 Finish (10 Laps, Top 4 Transfer): 1. 8-Kyle Strickler[1]; 2. 57-Zack Mitchell[2]; 3. 1-Earl Pearson Jr[4]; 4. 21-Billy Moyer Jr[3]; 5. 1C-Kenny Collins[5]; 6. 88-Trent Ivey[7]; 7. 18H-Brett Hamm[6]; 8. 42D-Doug Sanders[9]; 9. 29-Larry Grube[8]
Tiger Rear Ends B-Main #1 Finish (12 Laps, Top 3 Transfer): 1. 1T-Tyler Erb[1]; 2. 79-Kyle Hardy[2]; 3. 24D-Michael Brown[4]; 4. 9-Devin Moran[3]; 5. 50-Shanon Buckingham[6]; 6. 57A-Adam Yarbrough[5]; 7. 2F-Dennis Franklin[8]; 8. 55-Benji Hicks[7]; 9. 42K-Cla Knight[10]; 10. 16W-Ben Watkins[9]; 11. (DNS) 91-Derrick Ramey
FAST Shafts B-Main #2 Finish (12 Laps, Top 3 Transfer): 1. 06-Christian Thomas[3]; 2. 1C-Kenny Collins[2]; 3. 89-GR Smith[1]; 4. 88-Trent Ivey[4]; 5. 18H-Brett Hamm[6]; 6. 2S-Stormy Scott[5]; 7. 81E-Tanner English[7]; 8. 51M-Joey Moriarty[9]; 9. 29-Larry Grube[10]; 10. 42D-Doug Sanders[8]
Lucas Oil Feature Finish (50 Laps): 1. 58-Ross Bailes[1]; 2. 1S-Brandon Sheppard[6]; 3. 20-Jimmy Owens[5]; 4. 76-Brandon Overton[3]; 5. 10-Chris Ferguson[2]; 6. 14-Josh Richards[11]; 7. 57-Zack Mitchell[8]; 8. 1T-Tyler Erb[17]; 9. 49-Jonathan Davenport[15]; 10. 1-Earl Pearson Jr[12]; 11. 16-Tyler Bruening[14]; 12. 21-Billy Moyer Jr[16]; 13. 79-Kyle Hardy[19]; 14. 50-Shanon Buckingham[25]; 15. 9-Devin Moran[23]; 16. 40B-Kyle Bronson[13]; 17. 81E-Tanner English[24]; 18. 71-Hudson O'Neal[10]; 19. 39-Tim McCreadie[7]; 20. 25-Shane Clanton[9]; 21. 2S-Stormy Scott[26]; 22. 89-GR Smith[22]; 23. 24D-Michael Brown[21]; 24. 1C-Kenny Collins[20]; 25. 8-Kyle Strickler[4]; 26. 06-Christian Thomas[18]
Race Statistics
Entrants: 37
Lap Leaders: Ross Bailes (Laps 1 – 22); Brandon Overton (Laps 23 – 27); Ross Bailes (Laps 28 – 45); Brandon Overton (Laps 46 – 49); Ross Bailes (Lap 50)
Wrisco Feature Winner: Ross Bailes
Margin of Victory: 1.461 seconds
Cautions: Christian Thomas (Lap 8); Kyle Strickler (Lap 11); Michael Brown (Lap 26); Hudson O'Neal (Lap 47); G.R. Smith (Lap 48)
Series Provisionals: Devin Moran; Tanner English
Fast Time Provisional: n/a
Series Emergency Provisionals: Shanon Buckingham; Stormy Scott
Big River Steel Podium Top 3: Ross Bailes, Brandon Sheppard, Jimmy Owens
Optima Batteries Hard Charger of the Race: Shanon Buckingham (Advanced 11 Positions)
Midwest Sheet Metal Spoiler Challenge Point Leader: Tim McCreadie
Allstar Performance Most Laps Led: Ross Bailes (41 Laps)
Sunoco Race for Gas Highest Finisher: Ross Bailes
Eibach Springs Rookie of the Race: Tanner English
ARP Engine Builder of the Race: Clements Racing Engines
Miller Welders Chassis Builder of the Race: Rocket Chassis
Outerwears Crew Chief of the Race: Auggie Burttram (Ross Bailes)
Dirty Girl Racewear Fastest Lap of the Race: Brandon Overton (Lap #2 – 15.8188 seconds)
STEEL-IT Tough Break of the Race: Brandon Overton
PFC Brakes Pole Award: Ross Bailes
Time of Race: 26 minutes 33 seconds
---
Submitted By: Jeremy Shields
Back to News