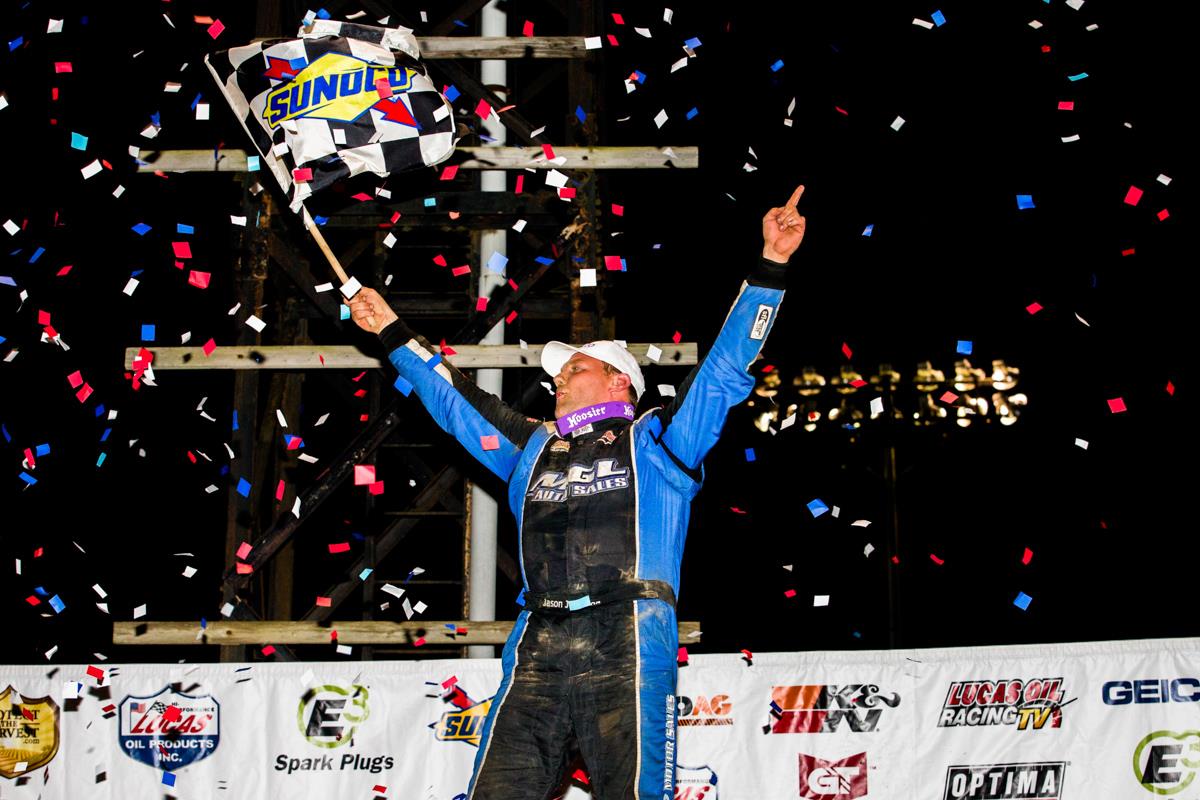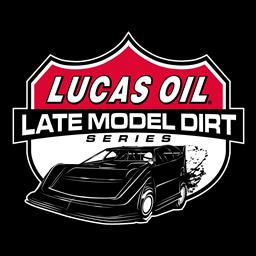 6/30/2018
Lucas Oil Late Model Dirt Series
---
Jameson Notches First Lucas Oil Triumph
PORTSMOUTH, OH (June 30th, 2018) Jason Jameson became the newest winner on the Lucas Oil Late Model Dirt Series tour, claiming his biggest career victory on Saturday night at Portsmouth Raceway Park.
Jameson took the lead from Scott Bloomquist on lap 33 and then had to hold off the challenges from Josh Richards. A caution with ten laps to go turned into a two-car battle between Jameson and Richards with the Indiana driver crossing the line to cap off a very exciting race.
Jameson joined Magnolia Motor Speedway winner Hudson O'Neal as back-to-back first-time series winners. Richards finished in second with Scott Bloomquist in third. Rod Conley was fourth and Tim McCreadie took fifth.
Surrounded in victory lane by several well-wishers, an emotional Jameson thanked a multitude of people. "I can't thank my crew enough, especially Tim, Jeff, and Tony and everybody who makes this happen. I don't want to see this month end. I wish my car owner James [Rattliff] was here to see this. Scott [Bloomquist] drove the wheels off of that thing. It made me get up and drive a little harder."
Jameson survived the next to last restart of the race as it appeared both Richards and Bloomquist were primed to take the win away. Richards briefly got the lead back, but Jameson fought to regain the top spot. "It was fun racing with those guys. They raced really hard and clean. You could throw a slider on them and they would return the favor without running over you. I felt a vibration near the end I think the motor was getting hot. I tried to run into the corner and keep my speed. I just about lost it in turn two with a few laps to go."
Richards was looking for his third LOLMDS win of the year. It nearly came to fruition as he came home in second with the Best Performance Motorsports, COLT Firearms, Rocket Chassis. "It was a pretty crazy start there. Scott [Bloomquist] started off good and then we got it going up top. He [Jameson] did a great job tonight. Thanks to the fans for coming out and enduring this night. They saw a great show."
"After about four or five laps the tires would get really hot. We had to back-pedal there for a little bit and then he [Jameson] started to pull away. This place is a lot of fun. I think it has been different every time we have been here. It was the first-time we had run the cushion for that long. We will come back later this year and give it another try."
Bloomquist was in the thick of things for most of the race and took the third spot at the finish. "He [Jameson] was just a little bit better than us tonight. He could run the cushion. It was a little rough on us to run the top. We just had to move down to the bottom and see if we could get something working there. The top was just too dominant tonight."
The winner's James Rattliff-owned Swartz by Boggs car is powered by a Pro Power Racing Engine and sponsored by: MGL Auto Sales, On-Time Courier, JRR Motor Sales, 4B Motorsports, Hatcher's Auto Sales, Keyser Manufacturing, The Auto Outlet, and B&B Motorsports.
Completing the top ten Michael Chilton, Hudson O'Neal, Jimmy Owens, Mason Zeigler, and Gregg Satterlee.
Lucas Oil Late Model Dirt Series
Race Summary
Saturday, June 30th, 2018
Independence 50
Portsmouth Raceway Park – Portsmouth, OH
Miller Welders Time Trials
Fast Time Group A: Jason Jameson / 14.600 seconds
Fast Time Group B: Scott Bloomquist / 14.556 seconds (overall)
Eibach Springs Heat Race #1 Finish (10 Laps, Top 4 Transfer): Jason Jameson, Earl Pearson, Jr., Darrell Lanigan, Mason Zeigler, Jimmy Owens, Austin Rettig, Eric Wells, Delmas Conley, Brandon Fouts, Anthony Adams
FK Rod Ends Heat Race #2 Finish (10 Laps, Top 4 Transfer): Josh Richards, Tim McCreadie, Devin Gilpin, Dale McDowell, RJ Conley, Bobby Pierce, Doug Drown, Jason Montgomery, Audie Swartz
Simpson Performance Products Heat Race #3 Finish (10 Laps, Top 4 Transfer): Rod Conley, Scott Bloomquist, Michael Chilton, Hudson O'Neal, Don O'Neal, Jonathan Davenport, Shannon Thornsberry, Larry Holbrook, Dennis Erb, Jr., Shanon Buckingham
QA1 Heat Race #4 Finish (10 Laps, Top 4 Transfer): Eddie Carrier, Jr., Jackie Boggs, Gregg Satterlee, Jared Hawkins, Kyle Bronson, Josh Bocook, Mike Benedum, Lee Logan, Kody Evans
Penske Racing Shocks B-Main #1 Finish (12 Laps, Top 3 Transfer): Jimmy Owens, RJ Conley, Bobby Pierce, Austin Rettig, Doug Drown, Eric Wells, Brandon Fouts, Delmas Conley, Audie Swartz, Jason Montgomery, Anthony Adams-DNS
FAST Shafts B-Main #2 Finish (12 Laps, Top 3 Transfer): Jonathan Davenport, Kyle Bronson, Don O'Neal, Shanon Buckingham, Josh Bocook, Dennis Erb, Jr., Shannon Thornsberry, Lee Logan, Larry Holbrook, Kody Evans-DNS, Mike Benedum-DNS
Lucas Oil Feature Finish (50 Laps):
FINISH START CAR # DRIVER NAME HOMETOWN EARNINGS
1 1 12J Jason Jameson Lawrenceburg, IN $12,000
2 3 1R Josh Richards Shinnston, WV $6,500
3 6 0 Scott Bloomquist Mooresburg, TN $4,000
4 2 71R Rod Conley Wheelersburg, OH $2,750
5 7 39 Tim McCreadie Watertown, NY $2,950
6 10 97 Michael Chilton Salvisa, KY $1,800
7 14 71 Hudson O'Neal Martinsville, IN $2,200
8 17 20 Jimmy Owens Newport, TN $2,100
9 13 25Z Mason Zeigler ® Chalk Hill, PA $1,300
10 12 22 Gregg Satterlee Indiana, PA $1,800
11 15 17m Dale McDowell Chickamauga, GA $1,075
12 4 10C Eddie Carrier, Jr. Salt Rock, WV $1,050
13 19 71c RJ Conley Wheelersburg, OH $1,025
14 16 11H Jared Hawkins Fairmont, WV $1,000
15 23 28 Dennis Erb, Jr. Carpentersville, IL $1,000
16 11 1G Devin Gilpin Columbus, IN $1,000
17 18 49 Jonathan Davenport Blairsville, GA $1,900
18 5 1 Earl Pearson, Jr. Jacksonville, FL $1,800
19 20 40B Kyle Bronson ® Brandon, FL $1,700
20 22 5 Don O'Neal Martinsville, IN $1,800
21 24 81 Brandon Fouts Kite, KY $1,000
22 9 14 Darrell Lanigan Union, KY $1,700
23 21 32 Bobby Pierce Oakwood, IL $1,700
24 25 B1 Josh Bocook Wheelersburg, OH $1,000
25 8 4B Jackie Boggs Grayson, KY $1,000
Race Statistics
Entrants: 38
Lap Leaders: Jason Jameson (Laps 1 – 12); Scott Bloomquist (Laps 13 – 31); Jason Jameson (Laps 32 – 50)
Wrisco Feature Winner: Jason Jameson
Margin of Victory: 0.637 seconds
Cautions: Darrell Lanigan (Lap 12); Dennis Erb Jr. (Lap 34); Jonathan Davenport (Lap 40)
Series Provisional: Dennis Erb Jr.
Miller Welders Fast Time Provisional: Brandon Fouts
Portsmouth Raceway Park Provisional: Josh Bocook
Optima Batteries Hard Charger of the Race: Jimmy Owens (Advanced 9 Positions)
Midwest Sheet Metal Spoiler Challenge Point Leader: Jonathan Davenport
Allstar Performance Power Move of the Race: RJ Conley
Sunoco Race for Gas Highest Finisher: Josh Richards
Hot Rod Processing Rookie of the Race: Mason Zeigler
COMP Cams Engine Builder of the Race: Pro Power Racing Engines
Ohlins Shocks Chassis Builder of the Race: Swartz Race Cars
Outerwears Crew Chief of the Race: Jeff Gullett (Jason Jameson)
Fastest Lap of the Race: Scott Bloomquist (Lap #6 – 15.5479 seconds)
STEEL-IT Most Laps Led: Jason Jameson (31 Laps)
Dirty Girl Racewear Farthest Traveler: Kyle Bronson
PFC Brakes Pole Award: Jason Jameson
Time of Race: 22 minutes 53 seconds
---
Submitted By: Jeremy Shields
Back to News