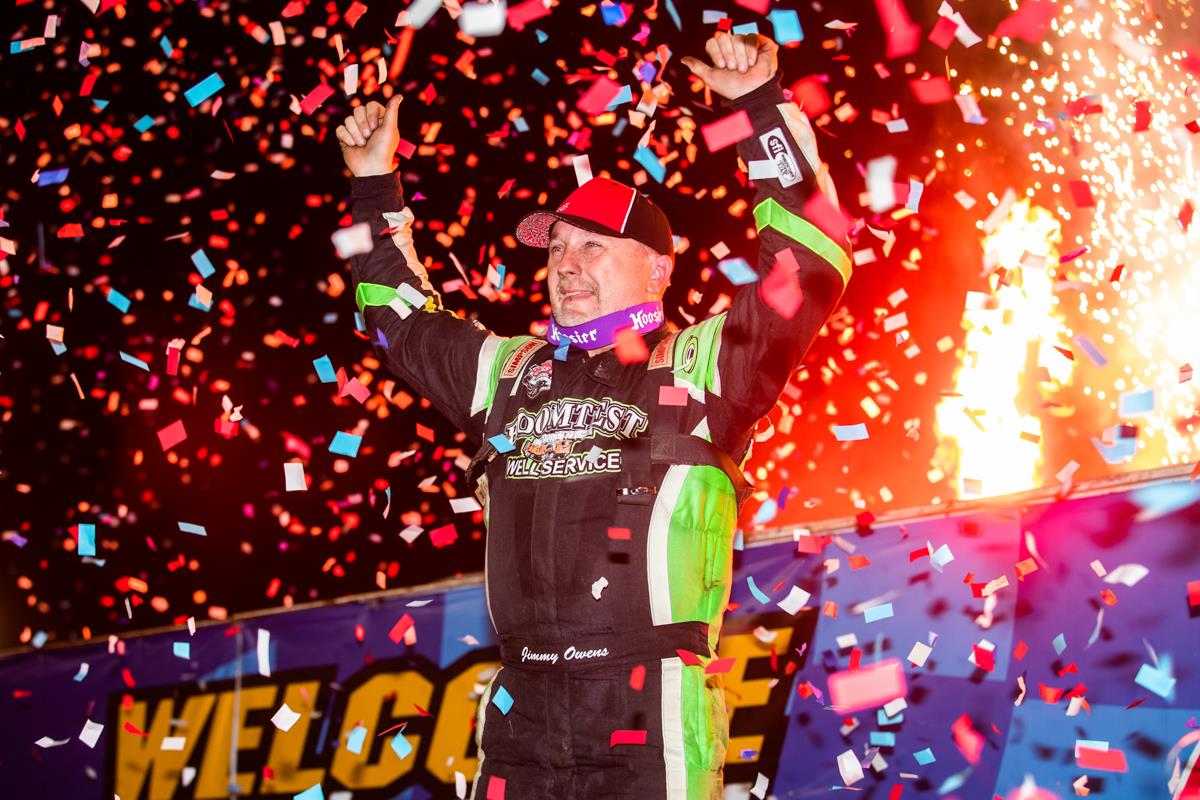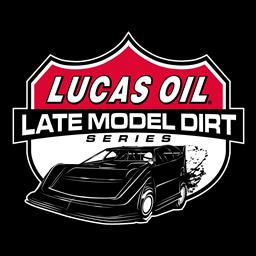 9/15/2018
Lucas Oil Late Model Dirt Series
---
Owens Conquers Late Model Knoxville Nationals
KNOXVILLE, IOWA (September 15, 2018) – Three-time Lucas Oil Late Model Dirt Series champion walked away with a $40,000 check after ruling the 15th Annual Lucas Oil Late Model Knoxville Nationals presented by Casey's General Store.
Owens took the lead on lap 41 from Brandon Sheppard and held off a charging Bobby Pierce to score his first Lucas Oil Late Model Knoxville Nationals victory. Don O'Neal fought off a late-race challenge from Josh Richards to finish second. Richards came home in third, followed by Scott Bloomquist and 28th starter Brian Shirley.
Gaining momentum from a lap 38 restart, Owens powered on lap 41. Owens stretched his lead to a full straightaway mid-race before encountering lapped traffic on lap 75, opening the door for Pierce. The duo crossed the line door-to-door on the 80th circuit before Pierce slipped over the berm and lost his momentum, relinquishing the spot to Owens.
Don O'Neal moved into second after a lap-82 restart, shuffling Pierce to third. The final caution waved on lap 88 when O'Neal and Pierce made contact while battling for second. Owens sailed away in the final laps to become the twelfth different winner of the annual event.
"This is awesome," Owens said. "I have to thank Leon Ramirez and all of my friends and family for believing in me. Thanks to God for a safe race and to all of the fans. I hope Leon, and everyone was watching tonight cheering me on. They have had enough heartbreak like I have this year. It's awesome to get this win and thanks to my crew for busting their tails."
"When Bobby [Pierce] got up beside me it didn't change how I was running," Owens added. "We a good car. The lapped cars were running three and four wide and I knew those guys behind me were going to close in on me. I was expecting some sort of pass from someone. It was so hard to maneuver through traffic because the track was so good tonight."
O'Neal was looking for his second-career Late Model Nationals victory. "The cushion was really treacherous especially at the end of the race. We would fall back a spot or two on the restarts. We have had a little bad luck and been off a few times, but we got things turned around here tonight and it helps the morale of the Peak Antifreeze team."
Richards, who has earned four, second-place finishes in the event was happy with his podium finish. "I had a blast out there. We had some problems yesterday that got us behind. We could have gotten some more points last night, but thanks to everyone on the Best Performance team for working hard on the car. I think we were a little better than Don [O'Neal] at the end I just couldn't quite squeeze by him. We had a fun race there."
Owens' Ramirez Motorsports-owned Rocket Chassis is powered by a Durham Racing Engine and sponsored by: E3 Spark Plugs, Boomtest Well Service, Tommy Pope Construction, Red Bone Fishing and Rental, Power Rig, LLC, Red Line Oil, Keyser, Hypercoil Springs, Midwest Sheet Metal and Cheap Cars.
Completing the top ten were Brandon Sheppard, Bobby Pierce, Tyler Erb, Chad Simpson and Earl Pearson Jr.
Lucas Oil Late Model Dirt Series
Race Summary
Saturday, September 15, 2018
15th Annual Lucas Oil Late Model Knoxville Nationals – presented by Casey's General Stores
Knoxville Raceway – Knoxville, Iowa
FAST Shafts C-Main Finish (15 Laps, Top 4 Transfer to B-Main): Scott James, Morgan Bagley, Gregg Satterlee, Brent Larson, Rob Toland, JC Wyman, Mike Fryer, Al Humphrey, Brian Harris, Justin Zeitner, Junior Coover, Lyle Zanker, Zach McMillan-DNS, Jay Johnson-DNS, Jonathan Brauns-DNS, Joel Callahan-DNS
Penske Racing Shocks B-Main Finish (20 Laps, Top 6 Transfer to A-Main): Ricky Thornton Jr., Jared Landers, Dennis Erb, Jr., Brian Shirley, Scott James , Darrell Lanigan, Jason Feger, Jeremiah Hurst, Justin Duty, Jake Neal, Mike Mataragas, Morgan Bagley, Chris Spieker, Joey Moriarty, Scott Ward, Matt Furman, Austin Rettig, Gregg Satterlee, Brent Larson, Dave Eckrich, Nick Marolf, Spencer Diercks
Lucas Oil Feature Finish (100 Laps):
FINISH START CAR # DRIVER NAME HOMETOWN EARNINGS
1 7 20 Jimmy Owens Newport, TN $40,800
2 4 5 Don O'Neal Martinsville, IN $20,800
3 21 1R Josh Richards Shinnston, WV $11,000
4 3 0 Scott Bloomquist Mooresburg, TN $9,550
5 28 3s Brian Shirley Chatham, IL $7,700
6 1 1S Brandon Sheppard New Berlin, IL $7,200
7 22 32 Bobby Pierce Oakwood, IL $6,500
8 5 91 Tyler Erb New Waverly, TX $6,000
9 6 25s Chad Simpson Mt. Vernon, IA $5,500
10 2 1 Earl Pearson, Jr. Jacksonville, FL $5,800
11 9 49 Jonathan Davenport Blairsville, GA $5,400
12 27 28 Dennis Erb, Jr. Carpentersville, IL $4,900
14 8 99JR Frank Heckenast, Jr. Frankfort, IL $3,500
14 20 18J Chase Junghans Manhattan, KS $3,400
15 25 20RT Ricky Thornton Jr. Sedgwick, KS $3,500
16 30 14 Darrell Lanigan Union, KY $4,100
17 14 16T Tyler Bruening Decorah, IA $3,100
18 18 25Z Mason Zeigler ® Chalk Hill, PA $3,800
19 12 76 Brandon Overton Evans, GA $2,900
20 10 32S Chris Simpson Oxford, IA $2,800
21 24 21 Billy Moyer Batesville, AR $2,700
22 32 25F Jason Feger Bloomington, IL $3,800
23 17 18 Shannon Babb Mowequa, IL $2,500
24 15 25C Shane Clanton Zebulon, GA $2,500
25 31 22 Gregg Satterlee Indiana, PA $4,200
26 13 39 Tim McCreadie Watertown, NY $3,200
27 11 40B Kyle Bronson ® Brandon, FL $2,500
28 16 28m Jimmy Mars Menomonie, WI $2,500
29 26 1777 Jared Landers Batesville, AR $2,700
30 29 83 Scott James Lawrenceburg, IN $2,800
31 19 30 Brian Birkhofer Muscatine, IA $2,500
32 23 00s Jesse Stovall Billings, MO $2,500
Race Statistics
Entrants: 58
Lap Leaders: Earl Pearson Jr. (Laps 1 – 5); Brandon Sheppard (Laps 6 – 40); Jimmy Owens (Laps 41 – 100)
Wrisco Feature Winner: Jimmy Owens
Margin of Victory: 3.436 seconds
Cautions: Ricky Thornton Jr.(Lap 12); Mason Zeigler (Lap 22); Chris Simpson (Lap 38); Jared Landers (Lap 41); Tyler Bruening (Lap 47); Gregg Satterlee, Tim McCreadie, Kyle Bronson (Lap 52); Shane Clanton (Lap 56); Brandon Sheppard (Lap 81); Bobby Pierce (Lap 88)
Series Provisional: Gregg Satterlee
Knoxville Raceway Provisional: Jason Feger
Optima Batteries Hard Charger of the Race: Brian Shirley (Advanced 23 Positions)
Midwest Sheet Metal Spoiler Challenge Point Leader: Jonathan Davenport
Allstar Performance Power Move of the Race: Brandon Sheppard
Sunoco Race for Gas Highest Finisher: Jimmy Owens
Hot Rod Processing Rookie of the Race: Mason Zeigler
COMP Cams Engine Builder of the Race: Durham Race Engines
Ohlins Shocks Chassis Builder of the Race: Rocket Chassis
Outerwears Crew Chief of the Race: Jeff Strope (Jimmy Owens)
Fastest Lap of the Race: Brandon Sheppard (Lap #2 – 19.867 seconds)
STEEL-IT Most Laps Led: Jimmy Owens (61 Laps)
Dirty Girl Racewear Farthest Traveler: Justin Duty
PFC Brakes Pole Award: Brandon Sheppard
Time of Race: 88 minutes 17 seconds
---
Submitted By: Jeremy Shields
Back to News