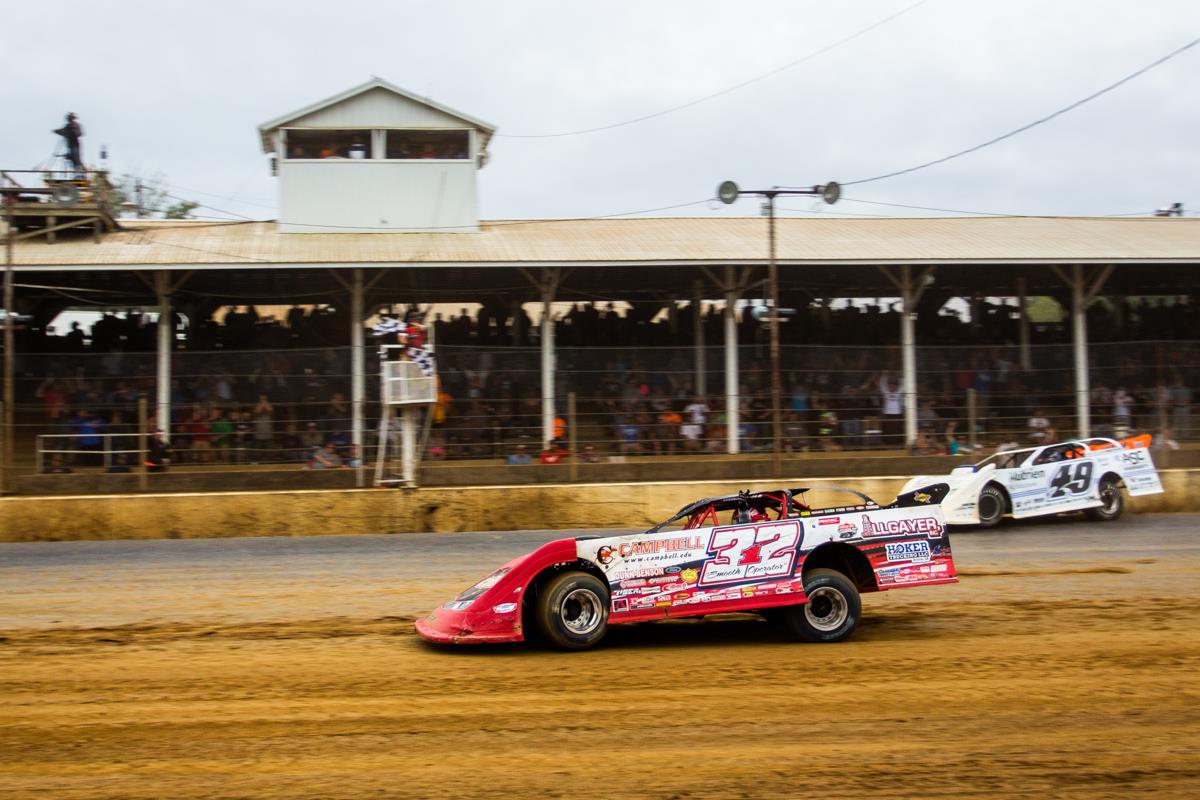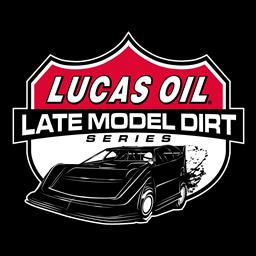 9/23/2018
Lucas Oil Late Model Dirt Series
---
Late Pass Propels Pierce at Brownstown
BROWNSTOWN, IND. (September 23, 2018) - Bobby Pierce passed race leader Jonathan Davenport as the two headed to the white flag and held off Davenport on the final circuit to win Sunday afternoon's 39th Annual Jackson 100 at Brownstown Speedway.
The win also marks Pierce's third trip to Lucas Oil Late Model Dirt Series Victory Lane this season and his first at the historic quarter-mile oval.
Mason Zeigler led the first seventeen laps until Tim McCreadie powered to the point. McCreadie held the lead until lap 60 when Davenport roared from the sixth-starting position to take over the top spot. After a caution with 19 laps to go Davenport began to pull away.
Pierce remained glued to the bottom of the track as Davenport's lead slowly evaporated. Pierce pulled even with Davenport in the waning laps and was able to make the pass as the two exited turn four heading for the white-flag. Pierce then held off a last lap effort by Davenport to take the victory.
McCreadie crossed the finish line in third. Jimmy Owens stormed through the field to finish fourth, after pitting on lap 57 for a tire change. Darrell Lanigan came home in fifth.
Pierce was breathless in his Lucas Oil Victory Lane post-race interview. "Wow, out of all of the places to win my first big race of the season, I didn't think it would happen here at Brownstown. You have to stay so focused here. It gets really slick. To finish second to JD [Davenport] would not have been bad. Thanks to all the fans for coming. I don't know what to say, my emotions have taken over."
"It's been a long year. We have been so close to getting some big wins, to finally get it feels really good," Pierce added. "I have got to thank my dad and Danny Myers. I didn't think what they suggested would work. I think I won a kid modz race here before, but this is obviously very special, this track has such a great racing history."
"On that last restart I didn't know if I could stay with him [Davenport] but on the long-run I think I was better than him. It worked out, I don't know how it did. I can't wait to watch the re-play of this race."
With his runner-up finish, Davenport will maintain the series points lead heading to Dixie and Rome next week. "Bobby is good no doubt about it. He gave me the Silver Dollar Nationals back in July at I-80. He [Pierce] did a heck of a job. On that last restart I thought I might be in trouble because I didn't have a lot of grip left on the tires. I think I let them cool off too much. From the way we started the weekend and after starting seventh in our heat race and to get to the front, hats off to my crew. We are headed in the right direction and it was a good night as well."
McCreadie, who led 41 of the 100 laps commented on his third-place finish. "It was a lot of fun out there today. Hats off to Bobby and Jonathan, we are happy to be competitive. We are doing it harder than anyone in the pit area, it's great to run up front against these guys."
The winner's Dunn-Benson Motorsports, Rocket Chassis is powered by a Pro Power Racing Engine and sponsored by: Campbell University, Dunn-Benson Ford, Allgayer Inc., Hoker Trucking, Inc., Premier Waste Services, Berger's Marina, Carnaghi Towing, Schoenfeld Headers, Mesilla Valley Transportation, Sunoco Race Fuels, and Advanced Racing Suspensions.
Completing the top ten were Kent Robinson, Earl Pearson Jr., Josh Richards, Ricky Thornton Jr., and Nick Hoffman.
Lucas Oil Late Model Dirt Series
Race Summary
Sunday, September 23rd, 2018
39th Annual Jackson 100
Brownstown Speedway – Brownstown, IN
Miller Welders Time Trials
Fast Time Group A: Jason Jameson / 13.538 seconds (overall)
Fast Time Group B: Mason Zeigler / 14.115 seconds
Eibach Springs Heat Race #1 Finish (10 Laps, Top 4 Transfer): Josh Richards, Jason Jameson, Duane Chamberlain, Frank Heckenast, Jr., Bobby Pierce, Jimmy Owens, Devin Gilpin, Kody Evans, Karlie Holt, Zak Blackwood
FK Rod Ends Heat Race #2 Finish (10 Laps, Top 4 Transfer): Ricky Thornton Jr., Kyle Bronson, Nick Hoffman, Scott Bloomquist, Chad Stapleton, Victor Lee, Jared Bailey, Joe Godsey, Jeff Roth, Brayton Laster
Simpson Performance Products Heat Race #3 Finish (10 Laps, Top 4 Transfer): Mason Zeigler, Jonathan Davenport, Scott James , Darrell Lanigan, Dennis Erb, Jr., Alan Magner, Gregg Satterlee, Eddie Carrier, Jr., Steve Godsey, Steve Casebolt-DNS
QA1 Heat Race #4 Finish (10 Laps, Top 4 Transfer): Tim McCreadie, Don O'Neal, Colten Burdette, Kent Robinson, Earl Pearson, Jr., Zach McMillan, Michael Chilton, Greg Johnson, Adam Bowman, Brad Barrow-DNS
Penske Racing Shocks B-Main #1 Finish (12 Laps, Top 3 Transfer): Victor Lee, Bobby Pierce, Jimmy Owens, Chad Stapleton, Devin Gilpin, Jeff Roth, Joe Godsey, Kody Evans, Karlie Holt, Brayton Laster, Jared Bailey, Zak Blackwood
FAST Shafts B-Main #2 Finish (12 Laps, Top 3 Transfer): Earl Pearson, Jr., Dennis Erb, Jr., Michael Chilton, Eddie Carrier, Jr., Adam Bowman, Gregg Satterlee, Steve Godsey, Zach McMillan, Alan Magner, Greg Johnson-DNS, Steve Casebolt-DNS, Brad Barrow-DNS
Lucas Oil Feature Finish (100 Laps):
FINISH START CAR # DRIVER NAME HOMETOWN EARNINGS
1 19 32 Bobby Pierce Oakwood, IL $20,700
2 6 49 Jonathan Davenport Blairsville, GA $10,900
3 4 39 Tim McCreadie Watertown, NY $6,700
4 21 20 Jimmy Owens Newport, TN $4,800
5 14 14 Darrell Lanigan Union, KY $4,200
6 16 7R Kent Robinson Bloomington, IN $2,500
7 18 1 Earl Pearson, Jr. Jacksonville, FL $2,900
8 1 1R Josh Richards Shinnston, WV $3,000
9 3 20RT Ricky Thornton Jr. Sedgwick, KS $1,800
10 11 2H Nick Hoffman Mooresville, NC $1,750
11 17 1X Victor Lee Danville, KY $1,650
12 12 44B Colten Burdette Parkersburg, WV $1,600
13 7 40B Kyle Bronson ® Brandon, FL $1,650
14 23 22 Gregg Satterlee Indiana, PA $2,200
15 8 5 Don O'Neal Martinsville, IN $2,250
16 20 28 Dennis Erb, Jr. Carpentersville, IL $2,100
17 15 0 Scott Bloomquist Mooresburg, TN $2,150
18 25 17m Alan Magner North Vernon, IN $1,300
19 5 12J Jason Jameson Lawrenceburg, IN $1,250
20 10 83 Scott James Lawrenceburg, IN $1,200
21 24 1G Devin Gilpin Columbus, IN $1,200
22 2 25Z Mason Zeigler ® Chalk Hill, PA $1,900
23 22 97 Michael Chilton Salvisa, KY $1,200
24 9 20c Duane Chamberlain Richmond, IN $1,200
25 13 99JR Frank Heckenast, Jr. Frankfort, IL $1,200
Race Statistics
Entrants: 40
Lap Leaders: Mason Zeigler (Laps 1 – 17); Tim McCreadie (Laps 18 – 59); Jonathan Davenport (Laps 60 – 72); Bobby Pierce (Laps 73-76); Jonathan Davenport (Laps 77-98); Bobby Pierce (Laps 99 – 100)
Wrisco Feature Winner: Bobby Pierce
Margin of Victory: 0.237 seconds
Cautions: Dennis Erb Jr. (Lap 21); Debris (Lap 22); Jason Jameson (Lap 43); Devin Gilpin (Lap 52); Josh Richards (Lap 59); Scott Bloomquist (Lap 65); Don O'Neal (Lap 70); Don O'Neal, Gregg Satterlee (Lap 81)
Series Provisional: Gregg Satterlee
Miller Welder Fast Time Provisional: Devin Gilpin
Brownstown Speedway Provisional: Alan Magner
Optima Batteries Hard Charger of the Race: Bobby Pierce (Advanced 18 Positions)
Midwest Sheet Metal Spoiler Challenge Point Leader: Jonathan Davenport
Allstar Performance Power Move of the Race: Ricky Thornton Jr.
Sunoco Race for Gas Highest Finisher: Bobby Pierce
Hot Rod Processing Rookie of the Race: Kyle Bronson
COMP Cams Engine Builder of the Race: Pro Power Racing Engines
Ohlins Shocks Chassis Builder of the Race: Rocket Chassis
Outerwears Crew Chief of the Race: Bob Pierce (Bobby Pierce)
Fastest Lap of the Race: Mason Zeigler (Lap #3 – 14.0374 seconds)
STEEL-IT Most Laps Led: Tim McCreadie (41 Laps)
Dirty Girl Racewear Farthest Traveler: Kyle Bronson
PFC Brakes Pole Award: Josh Richards
Time of Race: 49 minutes 22 seconds
---
Submitted By: Jeremy Shields
Back to News