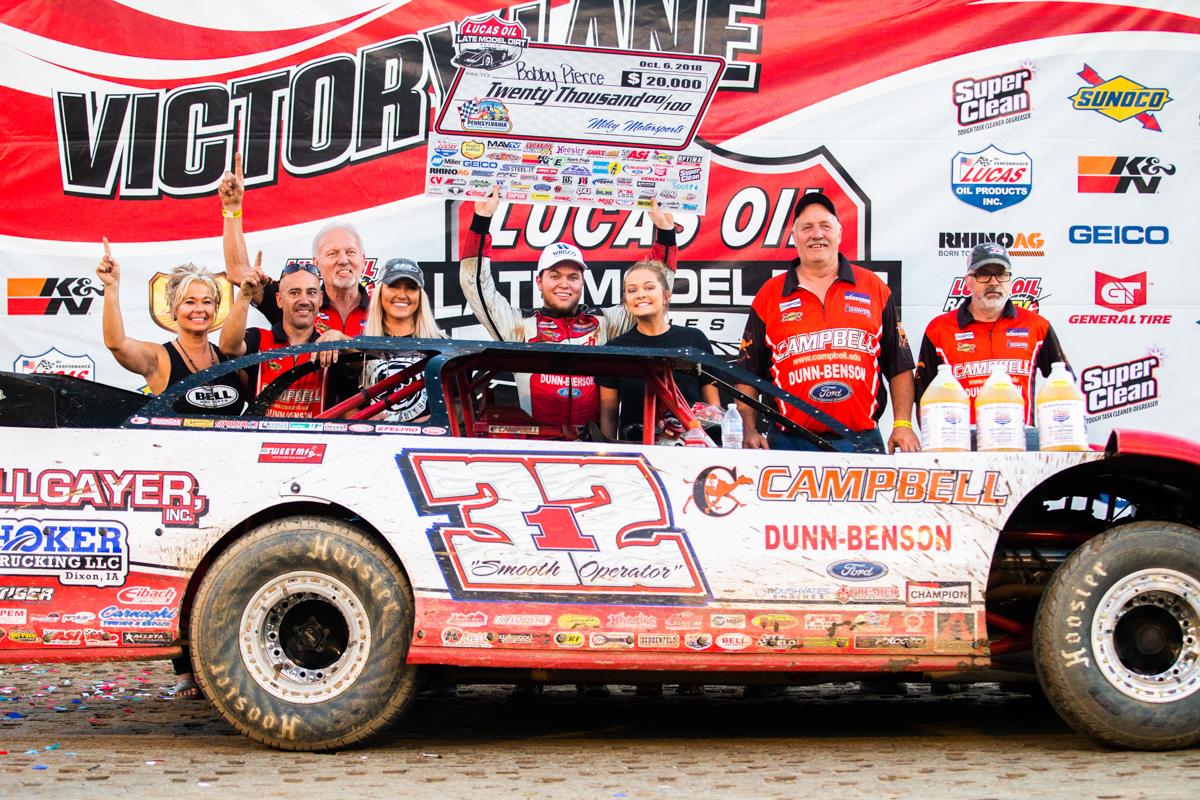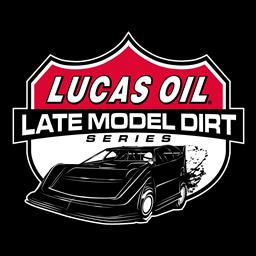 10/7/2018
Lucas Oil Late Model Dirt Series
---
Pierce Banks $20,000 Pittsburgher Prize
IMPERIAL, PA (October 7, 2018) – Making his first career start in the Pittsburgher 100 at Pittsburgh's Pennsylvania Motor Speedway, Bobby Pierce roared to the lead on lap 91 and then pulled away for the $20,000 victory.
Pierce started tenth on the grid and pitted on lap 44 for a fresh right rear tire before charging through the field and finally overtaking Owens in the final nine laps of the race - securing his fourth Lucas Oil Late Model Dirt Series win of the season. Owens crossed the line in second-place with Earl Pearson Jr. taking third. Jonathan Davenport and Josh Richards completed the top five.
"I am so out of breath right now," said the 21-year-old in Lucas Oil Victory Lane. "It was really nerve-racking out there. I was just trying to keep it out of the guardrail. I am speechless right now. We were so close at I-80, the Dirt Million, and Knoxville, but to win another big race after Brownstown is great. I want to thank my family and crew. I saw my dad waving his sticks frantically which meant for me to pit under that one caution. I didn't have a tire down so there was no courtesy laps. The crew had to hustle to get me back out there. Fortunately, there were a bunch of us who pitted at the same time."
"It was a perfect time to pit because it gave me a lot of race left to get to the front," Pierce added. "After I pitted I thought I was a sitting duck because I was running in the back there for a while. Then I started running up top a line further than I was before and that helped. When I caught the top two it looked like Sheppard was hanging on and Owens was going to be hard to beat. He is so good in these 100-lap races."
"Our car was better on longer runs. I didn't know how this race would turn out since this is my first time ever racing here. It is truly a momentum track and it turned out to be a great race. I hope we get to come back here next year," said the winner.
Owens took the lead on lap 88 from Sheppard and held the point until Pierce's momentum catapulted him ahead. "Congrats to Bobby Pierce and that entire team. When I got by Sheppard, I thought I could lead to the end, I sure didn't think that someone could pass me on the outside, but he slid under me in one and cleared me. There was nothing I could do about it when he went by. We held on for second, but that was a pretty exciting race for the fans, I'm sure."
Pearson pitted on lap 37 and also came through the field to finish in third. "We got a couple of lucky breaks there on some of those restarts. Our car was really good towards the end. Congrats to Bobby and the Dunn-Benson team on the win. A couple of weeks ago at Brownstown, Pierce and I came through the field quickly. It was good run for us today."
The winner's Dunn-Benson Motorsports, Rocket Chassis is powered by a Pro Power Engine and sponsored by: Campbell University, Allgayer Inc., Hoker Trucking LLC, Premier Waste Services, Dunn-Benson Ford, Berger's Marina, Sunoco Race Fuels, Messilla Valley Transportation, Schoenfeld Headers, and Carnaghi Towing.
Completing the top ten were Tim McCreadie, Ricky Thornton Jr., Don O'Neal, Dennis Erb Jr., and Darrell Lanigan.
Lucas Oil Late Model Dirt Series
Race Summary
Sunday, October 7, 2018
30th Annual Pittsburgher 100
Pittsburgh's Pennsylvania Motor Speedway – Imperial, Pa.
Miller Welders Time Trials
Fast Time Group A: Michael Norris / 17.667 seconds (overall)
Fast Time Group B: Mike Marlar / 17.800 seconds
Eibach Springs Heat Race #1 Finish (10 Laps, Top 4 Transfer): Jimmy Owens, Michael Norris, Mason Zeigler, Frank Heckenast, Jr., Kyle Bronson, Darrell Lanigan, Derek Stefanick, Andy Haus
FK Rod Ends Heat Race #2 Finish (10 Laps, Top 4 Transfer): Scott Bloomquist, Colton Flinner, Don O'Neal, Gregg Satterlee, Ricky Thornton Jr., Jared Miley, Dan Angelicchio, Kelvin Kohan-DNS
Simpson Performance Products Heat Race #3 Finish (10 Laps, Top 4 Transfer): Mike Marlar, Josh Richards, Bobby Pierce, Chub Frank, Alex Ferree, Jake Gunn, Todd Weldon
QA1 Heat Race #4 Finish (10 Laps, Top 4 Transfer): Brandon Sheppard, Jonathan Davenport, Dennis Erb, Jr., Earl Pearson, Jr., Boom Briggs, Davey Johnson, Jon Hodgkiss, AJ Campbell, Tim McCreadie-DNS
Penske Racing Shocks B-Main Finish (12 Laps, Top 6 Transfer): , Ricky Thornton Jr., Darrell Lanigan, Alex Ferree, Davey Johnson, Kyle Bronson, Boom Briggs, John Mollick, Jon Hodgkiss, Derek Stefanick, Tim McCreadie, Jared Miley-DNS, Jake Gunn-DNS, Dan Angelicchi-DNS, Todd Weldon-DNS, Andy Haus-DNS, AJ Campbell-DNS, Kelvin Kohan-DNS
Lucas Oil Feature Finish (100 Laps):
FINISH START CAR # DRIVER NAME HOMETOWN EARNINGS
1 10 32 Bobby Pierce Oakwood, IL $20,700
2 1 20 Jimmy Owens Newport, TN $10,800
3 16 1 Earl Pearson, Jr. Jacksonville, FL $6,800
4 8 49 Jonathan Davenport Blairsville, GA $4,900
5 6 1R Josh Richards Shinnston, WV $4,500
6 23 39 Tim McCreadie Watertown, NY $3,200
7 17 20RT Ricky Thornton Jr. Sedgwick, KS $2,100
8 11 5 Don O'Neal Martinsville, IN $2,800
9 12 28 Dennis Erb, Jr. Carpentersville, IL $2,500
10 18 14 Darrell Lanigan Union, KY $2,450
11 14 1* Chub Frank Bear Lake, PA $1,650
12 4 1S Brandon Sheppard New Berlin, IL $1,600
13 9 25Z Mason Zeigler ® Chalk Hill, PA $2,350
14 5 72 Michael Norris Sarver, PA $1,500
15 3 0 Scott Bloomquist Mooresburg, TN $2,250
16 2 157 Mike Marlar Winfield, TN $1,400
17 13 99JR Frank Heckenast, Jr. Frankfort, IL $1,350
18 7 4T8 Colton Flinner Allison Park, PA $1,300
19 15 22 Gregg Satterlee Indiana, PA $1,950
20 24 69 Jon Hodgkiss McKees Rocks, PA $1,200
21 21 40B Kyle Bronson ® Brandon, FL $1,200
22 20 1J Davey Johnson Greensburg, PA $1,200
23 25 65 Derek Stefanick Imperial, PA $1,200
24 22 99B Boom Briggs Bear Lake, PA $1,200
25 19 4 Alex Ferree Valencia, PA $1,200
Race Statistics
Entrants: 33
Lap Leaders: Mike Marlar (Laps 1 – 14); Brandon Sheppard (Laps 15 – 85); Jimmy Owens (Laps 86 – 90); Bobby Pierce (Laps 91 – 100)
Wrisco Feature Winner: Bobby Pierce
Margin of Victory: 2.039 seconds
Cautions: Mike Marlar (Lap 14); Boom Briggs (Lap 17); Jon Hodgkiss (Lap 21); Derek Stefanick (Lap 36); Jon Hodgkiss (Lap 44); Debris (Lap 44); Gregg Satterlee (Lap 45); Mason Zeigler (Lap 46); Scott Bloomquist (Lap 47); Debris (Lap 53); Brandon Sheppard (Lap 88)
Series Provisional: Tim McCreadie
Miller Welders Fast Time Provisional: Jon Hodgkiss
Pittsburgh's Pennsylvania Motor Speedway Provisional: Derek Stefanick
Optima Batteries Hard Charger of the Race: Tim McCreadie (Advanced 17 Positions)
Midwest Sheet Metal Spoiler Challenge Point Leader: Jonathan Davenport
Allstar Performance Power Move of the Race: Ricky Thornton Jr.
Sunoco Race for Gas Highest Finisher: Bobby Pierce
Hot Rod Processing Rookie of the Race: Mason Zeigler
COMP Cams Engine Builder of the Race: Pro Power Racing Engines
Ohlins Shocks Chassis Builder of the Race: Rocket Chassis
Outerwears Crew Chief of the Race: Bob Pierce (Bobby Pierce)
Fastest Lap of the Race: Brandon Sheppard (Lap #18 – 20.1548 seconds)
STEEL-IT Most Laps Led: Brandon Sheppard (65 Laps)
Dirty Girl Racewear Farthest Traveler: Kyle Bronson
PFC Brakes Pole Award: Jimmy Owens
Time of Race: 67 minutes 07 seconds
---
Submitted By: Jeremy Shields
Back to News