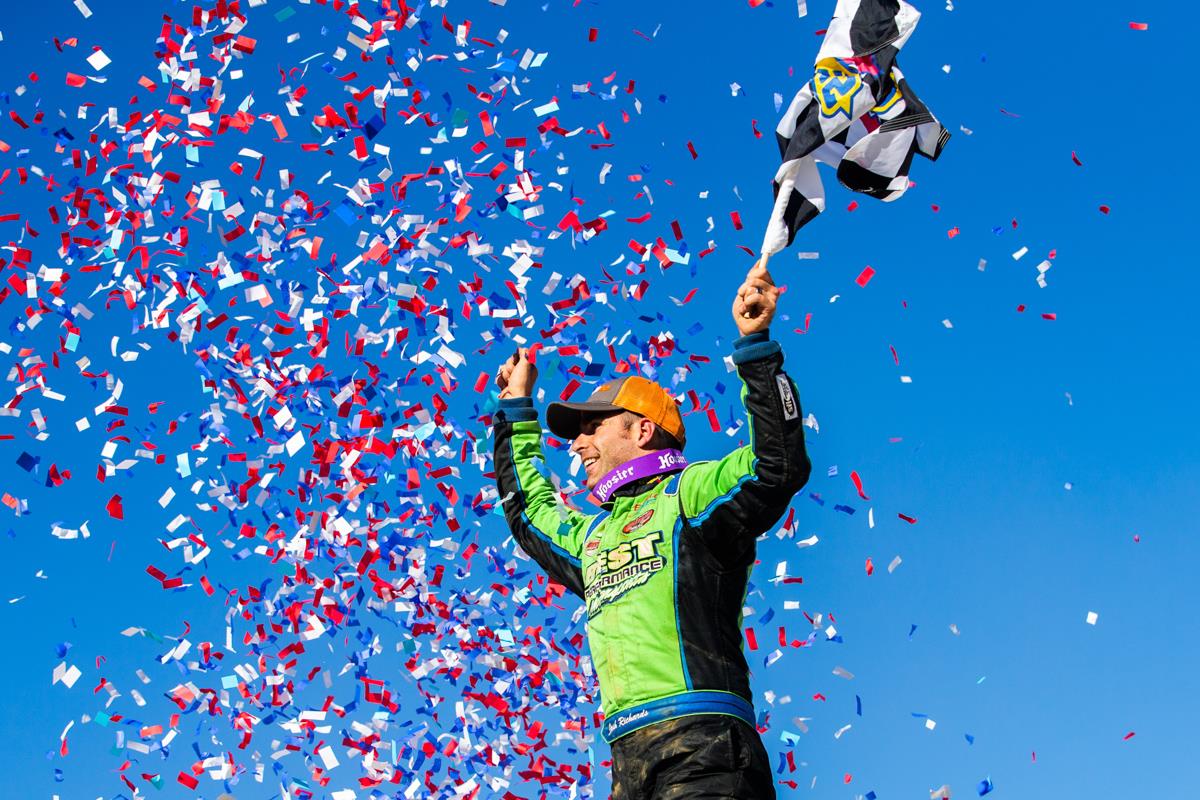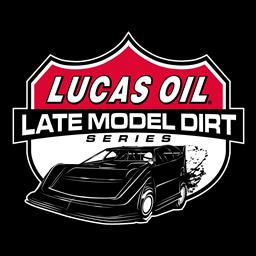 10/21/2018
Lucas Oil Late Model Dirt Series
---
Richards Banks $100,000 DTWC Payday
PORTSMOUTH, OHIO (October 21, 2018) - Josh Richards won his second straight Rhino Ag Dirt Track World Championship presented by Optima Batteries on Sunday afternoon at Portsmouth Raceway Park.
Richards took the lead on lap 22 from Brian Shirley and led the rest of the way to pick-up the $100,000 first-place prize and his third Lucas Oil Late Model Dirt Series win of the season.
Jonathan Davenport; the newly crowned Lucas Oil Late Model Dirt Series National Champion; finished in second followed by Brandon Overton, Brandon Sheppard, and Zack Dohm.
Richards was elated in Lucas Oil Victory Lane, "It's an emotional day. I want to thank everyone at Best Performance Motorsports, especially Eric and Kelly Brock for giving me this opportunity. I'd also like to give a huge thank you to Randall Edwards, this is the third straight year that he has been the DTWC winner's crew chief. The same goes to Brad Ramsey, I'd like to thank him for working so hard all year long. I know there was a little rough stretch during the summer, but they kept working hard and kept their heads up. To win the first and the final race of the year I have to thank my dad [Mark Richards] and all my sponsors."
"I knew it would be critical to get the lead early," Richards added. "I knew I'd also spun my tires early on trying to get by Shirley. I wanted to get out front as early as I could because of the restarts. I didn't know where Jonathan was. I wasn't sure when to pick the throttle up. He [Davenport] gave me a lot of room. He and his team did a great job to win the championship. We did what we came here for, and we won the last race of the season. Thanks to Carl Short and everyone here at this facility for working so hard for this race."
Davenport clinched the championship before the series' final race at Portsmouth. He commented afterwards on his runner-up finish in the season finale. "I think the top three cars all ran different tire combinations. There were a couple of restarts where we got a run on Josh to challenge for the lead. I could have gone in there and door-slammed him, but I got a feeling we are going to be racing with each other for several years. All three of us had fast cars, but Josh was just more dominant today."
Overton claimed third and was happy about his podium finish as well. "I felt like we were good at the end. I don't know if we had anything for Josh, but we hung right in there with JD. By the time we got to third there wasn't a whole lot of racing left, so all-in-all, another crown jewel race and another top five finish for the Billy Franklin team."
The winner's Eric and Kelly Brock-owned Rocket Chassis is powered by an Andy Durham Racing Engine and sponsored by: Colt Firearms, Bulk Material Lift.com, Valvoline, Bazell Race Fuels, Keyser Manufacturing, Boxo USA, Integra, Sunoco Race Fuels, Alexander Lawn and Landscaping, and Impact Race Gear.
Completing the top ten were Mike Marlar, Don O'Neal, Earl Pearson Jr., Jimmy Owens, and Chase Junghans.
Lucas Oil Late Model Dirt Series
Race Summary
Sunday, October 21, 2018
Rhino Ag Dirt Track World Championship presented by Optima Batteries
Portsmouth Raceway Park – Portsmouth, Ohio
Eibach Springs Heat Race #1 – ROUND ONE Finish: Don O'Neal, Jared Hawkins, Boom Briggs, Jason Jameson, RJ Conley, Shannon Thornsberry, Brandon Fouts, Ronnie Whitt, Austyn Mills-DNS, Jackie Boggs-DNS
FK Rod Ends Heat Race #2 – ROUND ONE Finish: Ricky Thornton Jr., Gregg Satterlee, Bobby Pierce, Chris Ferguson, Ben Adkins, Brandon Overton, Stephen Breeding, Charlie Jude, Josh Bocook, Delmas Conley
Simpson Performance Products Heat Race #3 – ROUND ONE Finish: Brian Shirley, Dennis Erb, Jr., Darrell Lanigan, Chase Junghans, Robbie Scott, Kyle Bronson, Scott Bloomquist, Dave Hess, Jr., Billy Gullion, Lee Logan
QA1 ROUND ONE Heat Race #4 – ROUND ONE Finish: Dale McDowell, Zack Dohm, Eddie Carrier, Jr., Josh Richards, Jason Covert, Rod Conley, Jimmy Owens, Colten Burdette, Mike Benedum, Devin Moran
Sunoco Race Fuels Heat Race #5 – ROUND ONE Finish: Mike Marlar, Jonathan Davenport, Doug Drown, Tim McCreadie, Earl Pearson, Jr., Brandon Sheppard, Colton Flinner, Chub Frank, Jose Parga
Eibach Springs Heat Race #1 – ROUND TWO Finish: Brandon Sheppard, Josh Richards, Robbie Scott, Boom Briggs, Bobby Pierce, Don O'Neal, Jimmy Owens, Dave Hess, Jr., Jose Parga, Ben Adkins
FK Rod Ends Heat Race #2 – ROUND TWO Finish: Scott Bloomquist, Devin Moran, Tim McCreadie, Jared Hawkins, Mike Marlar, Chris Ferguson, Chase Junghans, Colten Burdette, RJ Conley, Delmas Conley-DNS
Simpson Performance Products Heat Race #3 – ROUND TWO Finish: Brandon Overton, Jason Covert, Eddie Carrier, Jr., Gregg Satterlee, Earl Pearson, Jr., Darrell Lanigan, Jason Jameson, Doug Drown, Lee Logan, Jackie Boggs-DNS
QA1 Heat Race #4 – ROUND TWO Finish: Brandon Fouts, Jonathan Davenport, Dennis Erb, Jr., Kyle Bronson, Rod Conley, Zack Dohm, Charlie Jude, Josh Bocook, Austyn Mills-DNS
Sunoco Race Fuels Heat Race #5 – ROUND TWO Finish: Shannon Thornsberry, Chub Frank, Brian Shirley, Ricky Thornton Jr., Stephen Breeding, Billy Gullion, Dale McDowell, Mike Benedum, Colton Flinner, Ronnie Whitt
Penske Racing Shocks B-Main #1 Finish (Top 3 Transfer): Bobby Pierce, Kyle Bronson, Zack Dohm, Chase Junghans, Devin Moran, Jimmy Owens, Darrell Lanigan, Chub Frank, Jackie Boggs, Dave Hess, Jr., Colten Burdette, Lee Logan, Robbie Scott, Doug Drown, Billy Gullion-DNS, Josh Bocook-DNS, Ronnie Whitt-DNS
FAST Shafts B-Main #2 Finish (Top 3 Transfer): Dale McDowell, Scott Bloomquist, Chris Ferguson, Brandon Fouts, RJ Conley, Rod Conley, Colton Flinner, Mike Benedum, Jose Parga, Ben Adkins, Earl Pearson, Jr., Jason Jameson, Stephen Breeding, Charlie Jude, Austyn Mills, Delmas Conley-DNS
Rhino Ag Dirt Track World Championship presented by Optima Batteries Feature Finish:
FINISH START CAR # DRIVER NAME HOMETOWN EARNINGS
1 5 1R Josh Richards Shinnston, WV $101,000
2 2 49 Jonathan Davenport Blairsville, GA $20,900
3 11 76 Brandon Overton Evans, GA $10,000
4 14 1S Brandon Sheppard New Berlin, IL $7,000
5 21 17d Zack Dohm Cross Lanes, WV $5,000
6 7 157 Mike Marlar Winfield, TN $3,500
7 10 5 Don O'Neal Martinsville, IN $4,000
8 23 1 Earl Pearson, Jr. Jacksonville, FL $3,800
9 24 20 Jimmy Owens Newport, TN $3,600
10 28 18J Chase Junghans Manhattan, KS $2,500
11 18 17m Dale McDowell Chickamauga, GA $2,450
12 17 32 Bobby Pierce Oakwood, IL $3,100
13 22 22F Chris Ferguson Mount Holly, NC $2,350
14 9 11H Jared Hawkins Fairmont, WV $2,300
15 3 20RT Ricky Thornton Jr. Clive, IA $2,250
16 8 10C Eddie Carrier, Jr. Salt Rock, WV $2,200
17 27 71c RJ Conley Wheelersburg, OH $2,150
18 4 28 Dennis Erb, Jr. Carpentersville, IL $2,800
19 20 0 Scott Bloomquist Mooresburg, TN $2,875
20 15 39 Tim McCreadie Watertown, NY $2,760
21 13 99B Boom Briggs Bear Lake, PA $2,050
22 26 81 Brandon Fouts Kite, KY $2,040
23 19 40B Kyle Bronson ® Brandon, FL $2,830
24 6 22 Gregg Satterlee Indiana, PA $2,720
25 1 3s Brian Shirley Chatham, IL $2,010
26 16 17T Shannon Thornsberry Martin, KY $2,000
27 12 72C Jason Covert York Haven, PA $2,000
28 25 14 Darrell Lanigan Union, KY $800
Race Statistics
Entrants: 49
Lap Leaders: Brian Shirley (Laps 1 – 21); Josh Richards (Laps 22 – 100)
Wrisco Feature Winner: Josh Richards
Margin of Victory: 4.915 seconds
Cautions: Jason Covert (Lap 17); Jason Covert, Scott Bloomquist (Lap 19); Scott Bloomquist (Lap 37); Gregg Satterlee (Lap 40); Kyle Bronson (Lap 44); RJ Conley, Jared Hawkins, Dale McDowell, Brandon Fouts, Boom Briggs (Lap 44); Bobby Pierce (Lap 60); Tim McCreadie (Lap 66); Jared Hawkins (Lap 68); Chris Ferguson (Lap 71)
Series Provisionals: Earl Pearson Jr., Jimmy Owens
Series Emergency Provisionals: Darrell Lanigan
Portsmouth Raceway Park Provisionals: Brandon Fouts, RJ Conley
Jim Dunn Memorial Winner Provisional: Chase Junghans
Optima Batteries Hard Charger of the Race: Chase Junghans (Advanced 18 Positions)
Midwest Sheet Metal Spoiler Challenge Point Leader: Jonathan Davenport
Allstar Performance Power Move of the Race: Jared Hawkins
Sunoco Race for Gas Highest Finisher: Josh Richards
Hot Rod Processing Rookie of the Race: Kyle Bronson
COMP Cams Engine Builder of the Race: Durham Racing Engines
Ohlins Shocks Chassis Builder of the Race: Rocket Chassis
Outerwears Crew Chief of the Race: Randall Edwards (Josh Richards)
Fastest Lap of the Race: Brian Shirley (Lap #2 – 15.3138 seconds)
STEEL-IT Most Laps Led: Josh Richards (79 Laps)
Dirty Girl Racewear Farthest Traveler: Kyle Bronson
PFC Brakes Pole Award: Brian Shirley
Time of Race: 55 minutes 25 seconds
---
Submitted By: Jeremy Shields
Back to News