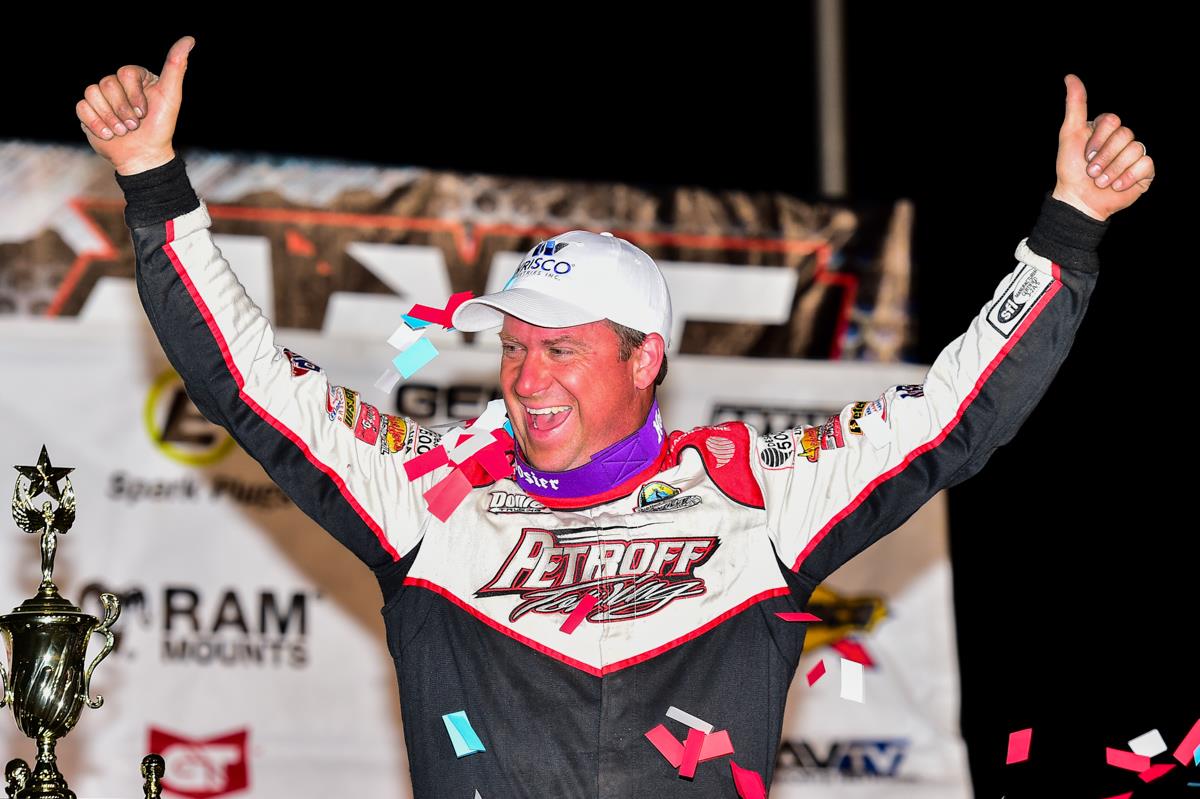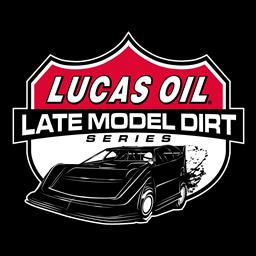 5/19/2017
Lucas Oil Late Model Dirt Series
---
Shannon Babb Takes First Ever Lucas Oil Race at Luxemburg
LUXEMBURG, WI (May 19, 2017) – Shannon Babb made a clean sweep of the racing action on Friday night in the Lucas Oil Late Model Dirt Series' first-ever appearance at Luxemburg Speedway. With the win, Babb becomes the eleventh different winner this season in LOLMDS competition.
Babb held off a race-long challenge from Josh Richards to take the victory in the second round of the "Spring Shootout.". Darrell Lanigan came home in third, with Gregg Satterlee and Tim McCreadie rounding out the top five.
"I just want to thank all the fans for coming out tonight. It was quite cold to be out here. Thanks to the track crew for getting this track raceable. I wasn't so sure they could do it late today, but they scraped off the top and it was smooth," said the 43-year-old racer in his Clements-powered Rocket Chassis.
"This is the first time a lot of us have been here. I knew Josh would be tough to beat tonight. We picked the right tire for the feature and I really like this no cutting and siping of the right rear tire. It makes for some competitive racing. This Rocket car has been fast from the get-go this year. We haven't run as much as a lot of the other guys. We had a great run at Batesville last month and then won last week at Farmer City."
"Thanks to Mark Richards Racing for their help. The set-ups we have gone with for this race car have all been good. I want to thank Ed Petroff of Petroff Towing, Donley Trucking, Kuebler Oil, CJI Piping, Hunting for Hope, and Hoosier Tires for their assistance," said Babb.
While Babb was out front for the entire 50-lap distance, it was not an easy win as Richards pressured him several times for the lead. Near the end while Babb was trying to lap a car, he got sideways and that gave Richards a shot on the outside to pass him, but Babb beat Richards into turn one and held on the rest of the way for the victory.
Richards was happy with his runner-up finish after a disappointing night at LaSalle. "We will certainly take this finish after last night. Congratulations to Shannon on the win. I am not very good on these circle type tracks. I have a cramp in my right arm from continuously turning the wheel," said Richards who entered the race third in points.
"We might have got him a few times if not for the lapped traffic, but he [Babb] did what he needed to do and got down on the bottom quicker. Thanks to the track crew for getting this track ready. I have never seen a track go from being so wet to so dry that quickly. It was good run tonight, definitely better than last night's letdown," said the driver of the Best Performance Motorsports, Valvoline, Rocket Chassis.
Lanigan had another solid finish in the Clint Bowyer Motorsports, iRacing.com, Club 29 entry as the veteran driver came home in third. "We had a good car tonight. We gambled a little bit on tires. We went a little softer than some. I don't know it might have bit us a little bit. But a podium finish in our first time here is really good."
Completing the top ten were Don O'Neal, Bobby Pierce, Earl Pearson Jr., Steve Casebolt, and Dennis Erb Jr.
Lucas Oil Late Model Dirt Series
Race Summary
Friday, May 19th, 2017
Luxemburg Speedway – Luxemburg, WI
Miller Welders Fast Time Group A: Shannon Babb / 13.259 seconds
Miller Welders Fast Time Group B: Josh Richards / 13.411 seconds
Eibach Springs Heat Race #1 Finish (10 Laps, Top 6 Transfer): Shannon Babb, Gregg Satterlee, Bobby Pierce, Hudson O'Neal, Steve Francis, Frank Heckenast, Jr., Boom Briggs, Jared Siefert, Paul Parker, David Jaeger
FK Rod Ends Heat Race #2 Finish (10 Laps, Top 6 Transfer): Josh Richards, Earl Pearson, Jr., Tim McCreadie, Don O'Neal, Dennis Erb, Jr., Jimmy Mars, AJ Diemel, Mark Rose, Doug Blashe
Simpson Performance Products Heat Race #3 Finish (10 Laps, Top 6 Transfer): Darrell Lanigan, Scott Bloomquist, Steve Casebolt , Mike Marlar, Brent Larson, Brett Swedberg, Jimmy Owens, Nick Anvelink, Mitch McGrath
Penske Racing Shocks B-Main #1 Finish (12 Laps, Top 4 Transfer): AJ Diemel, Boom Briggs, Jimmy Owens, Jared Siefert, Nick Anvelink, Mark Rose, Mitch McGrath, Doug Blashe, David Jaeger, Paul Parker
Feature Finish (50 Laps):
FINISH START CAR # DRIVER NAME HOMETOWN EARNINGS
1 1 18 Shannon Babb Mowequa, IL $10,200
2 2 1R Josh Richards Shinnston, WV $6,200
3 3 14 Darrell Lanigan Union, KY $4,200
4 4 22 Gregg Satterlee ® Rochester Mills, PA $3,550
5 8 39 Tim McCreadie Watertown, NY $2,950
6 11 5 Don O'Neal Martinsville, IN $2,600
7 7 32 Bobby Pierce Oakwood, IL $1,500
8 5 1 Earl Pearson, Jr. Jacksonville, FL $2,100
9 9 C9 Steve Casebolt Richmond, IN $1,200
10 14 28E Dennis Erb, Jr. Carpentersville, IL $1,800
11 12 15 Steve Francis Bowling Green, KY $1,775
12 20 99B Boom Briggs ® Bear Lake, PA $1,750
13 17 28m Jimmy Mars Menomonie, WI $1,025
14 15 B1 Brent Larson Lake Elmo, MN $1,000
15 21 20 Jimmy Owens Newport, TN $1,750
16 12 157 Mike Marlar Winfield, TN $925
17 6 0 Scott Bloomquist Mooresburg, TN $1,900
18 18 3 Brett Swedberg Shawano, WI $875
19 10 71 Hudson O'Neal ® Martinsville, IN $1,550
20 22 25 Jared Siefert Luxemburg, WI $825
21 15 99JR Frank Heckenast, Jr. Frankfort, IL $800
22 24 1B Doug Blashe Marion, WI $800
23 23 15A Nick Anvelink Bonduel, WI $800
24 19 58 AJ Diemel Elk Mound, WI $800
Race Statistics
Entrants: 28
Lap Leaders: Shannon Babb (Laps 1 – 50)
Cautions: Scott Bloomquist (Lap 7)
Lucas Oil Late Model Dirt Series Provisionals: n/a
Lucas Oil Late Model Dirt Series Emergency Provisionals: n/a
Miller Welders Fast Time Provisionals: Nick Anvelink, Doug Blashe
Wrisco Feature Winner: Shannon Babb
Optima Batteries Hard Charger of the Race: Boom Briggs (Started: 20th; Finished: 8th; Advanced 12 Positions)
Midwest Sheet Metal Spoiler Challenge Point Leader: Scott Bloomquist
Allstar Performance Power Move of the Race: Don O'Neal
Sunoco Race for Gas Highest Finisher: Josh Richards
Hot Rod Processing Rookie of the Race: Gregg Satterlee
COMP Cams Engine Builder of the Race: Durham Racing Engines
Ohlins Shocks Chassis Builder of the Race: Rocket Chassis
Outerwears Crew Chief of the Race: Randall Edwards (Josh Richards)
Fastest Lap of the Race: Shannon Babb (Lap # 1 – 14.9066 seconds)
Safecraft Most Laps Led: Shannon Babb (50 Laps)
PFC Brakes Pole Award: Shannon Babb
Time of Race: 16 minutes 11 seconds
---
Submitted By: Jeremy Shields
Back to News