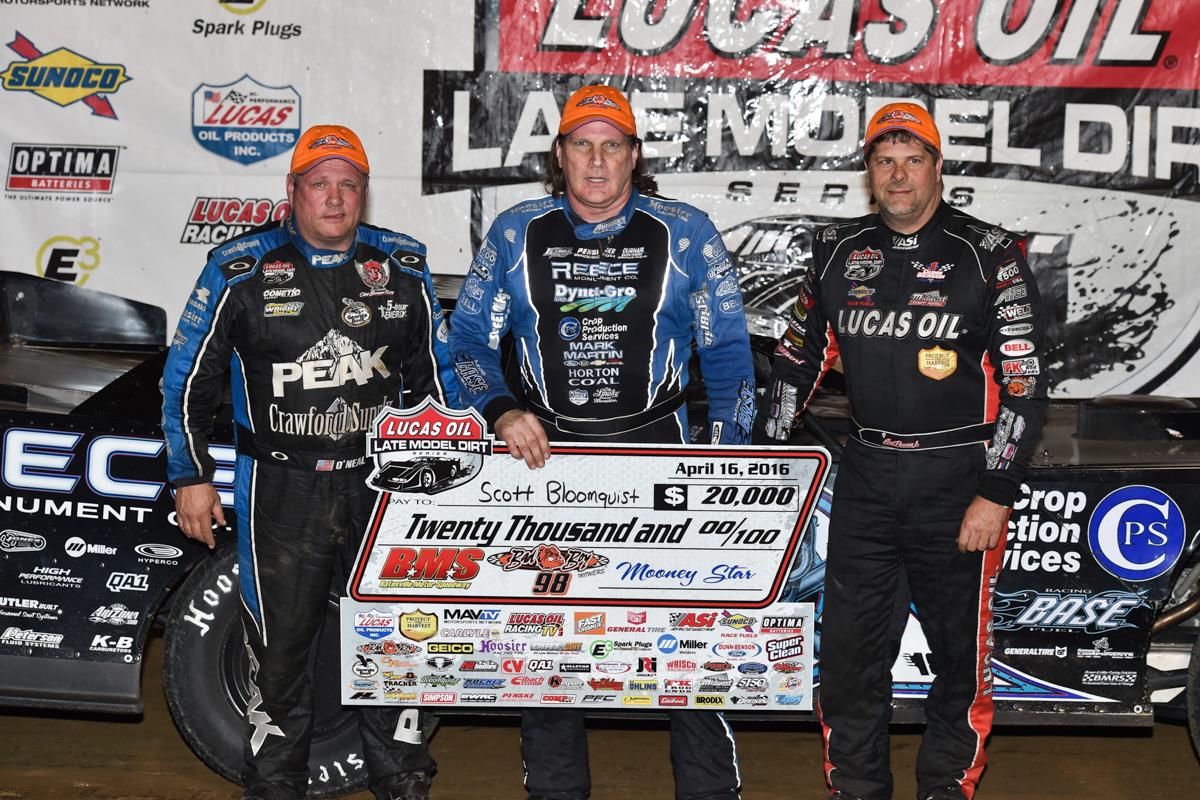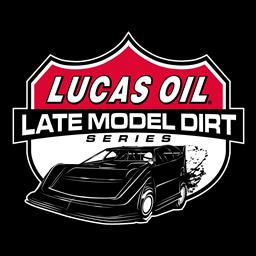 4/16/2016
Lucas Oil Late Model Dirt Series
---
Bloomquist Speeds Away with Bad Boy 98 Win at Batesville
LOCUST GROVE, AR (April 16, 2016) – Scott Bloomquist took the lead on lap six from polesitter Wendell Wallace and led the rest of the way to win the Bad Boy 98 on Saturday Night at Batesville Motor Speedway. Bloomquist earned $20,000 for his victory in the Lucas Oil Late Model Dirt Series/COMP Cams Super Dirt Series - Presented by Lucas Oil, co-sanctioned event.
Earl Pearson Jr. came home in second, followed by 12th starting, Don O'Neal, Jared Landers, and Brandon Sheppard.
"We got the lead pretty early. The track was little bumpy in one and two tonight. This is a brand new car and it ran well all weekend. The Andy Durham engine also ran great. I want to thank Steve [Martin] at Crop Production Services, Mark Martin Automotive, and Dyna-Gro Seed. We wanted to put on a show for our hometown sponsors and we did," said Bloomquist who earned the 560th victory of his Hall-of-Fame racing career.
Bloomquist swept the entire weekend at Batesville. He set overall fast time and dominated his heat race on Friday Night to earn to outside front row starting spot for Saturday's finale.
"We set our own pace once we got the lead. I just wanted to make sure we didn't overdo it on the tires. The car was spectacular after the restarts, and there were a lot of them tonight. I had a chance to look at the left rear and it looked good. I haven't seen the other tires, but I am sure they are ok as well."
"I just wanted to stay in the low to middle, there were a bunch of crumbs up top. You have got to finish the race, so I went a little conservative at the end. I didn't know how close they were, but I didn't hear them," said the winner who took home his second LOLMDS win of the season and his all-time series leading 64th career victory.
Pearson had his best LOLMDS performance of the season with his runner-up finish. "It's been a tough year, but all the guys on the Dunn Benson Ford team have done a great job on this car. We changed several things today just to get our car a little better than last night. Mooney [Starr] did all he could do to get it smoothed out for us tonight. I think we were better at the start than at the end. The track cleaned up and made it hard to pass. Scott has been tough all year."
"Hopefully we can build on this. Thanks to Lucas Oil, Lucas Oil Racing TV, MAVTV, Midwest Sheet Metal, and everyone else associated with this team. I was able to get by Davenport, and then the caution came out. I didn't know with seven laps to go if we had a chance at Scott, but I wasn't going to give-up, that guy rarely ever makes a mistake. "
O'Neal charged through the field to finish third. "Our team really needed a good run. We have struggled here in the last month or two. We didn't qualify very well. We passed some cars tonight, and we all got strung out in the top five for a while. We stayed consistent and that was what was important. To get a top three is big for the Peak Antifreeze and Motor Oil/ CBR Team right now because to run in the top three against these guys, you have done something. But we want to win and if you stay consistent its gonna happen sooner, rather than later."
Completing the top ten were Steve Francis, Darrell Lanigan, Dennis Erb Jr., Tim McCreadie, and Jack Sullivan.
In preliminary action, Scott Bloomquist set the overall Miller Welders Fast Time (Group B) amongst the 45 entrants, with a lap of 13.702 seconds. Wendell Wallace set the fastest time in Group A with a time of 13.813 seconds. Wendell Wallace, Jonathan Davenport, Scott Bloomquist, and Jared Landers won their respective heat races. Chris Brown and Austin Rettig won their respective B-Mains.
Lucas Oil Late Model Dirt Series
Race Summary
Saturday, April 16th, 2016
Bad Boy 98
Batesville Motor Speedway – Batesville, AR
Miller Welders Fast Time Group A: Wendell Wallace / 13.813 seconds
Miller Welders Fast Time Group B: Scott Bloomquist / 13.702 seconds
Eibach Springs Heat Race #1 Finish (12 Laps, Top 4 Transfer): Wendell Wallace, Jeremy Payne, Billy Moyer, Jr., Brandon Sheppard, Chris Brown, Gavin Landers, Dennis Erb, Jr., Tommy Weder, Jonathan Rowan, Colton Flinner, Brandon Wilson, Tyler Reddick
FK Rod Ends Heat Race #2 Finish (12 Laps, Top 4 Transfer): Jonathan Davenport, Steve Francis, Billy Moyer, Darrell Lanigan, Morgan Bagley, Scott Crigler, Timothy Culp, Robert Baker, Jon Mitchell, Brandon Smith, Mason Oberkramer
Simpson Performance Products Heat Race #3 Finish (12 Laps, Top 4 Transfer): Scott Bloomquist, Earl Pearson, Jr., Jack Sullivan, Garrett Alberson, Chandler Petty, Shannon Babb, Terry Phillips, Kyle Beard, Austin Theiss, Jimmy Miller, Danny Zimmerman-DNS
QA1 Heat Race #4 Finish (12 Laps, Top 4 Transfer): Jared Landers, Jimmy Owens, Don O'Neal, Tim McCreadie, Brandon Overton, Austin Rettig, Hunter Rasdon, David Payne, Jake Davis, Travis Ashley, Charlie LaPlant-DNS
Fast Shafts B-Main #1 Finish (15 Laps, Top 3 Transfer): Chris Brown, Gavin Landers, Dennis Erb, Jr., Tyler Reddick, Robert Baker, Timothy Culp, Scott Crigler, Colton Flinner, Tommy Weder, Morgan Bagley, Jon Mitchell, Brandon Smith, Jonathan Rowan, Brandon Wilson, Mason Oberkramer-DNS
Keyser MFG B-Main #2 Finish (15 Laps, Top 3 Transfer): Austin Rettig, Chandler Petty, Shannon Babb, Terry Phillips, Kyle Beard, Hunter Rasdon, Jake Davis, David Payne, Austin Theiss, Brandon Overton-DNS, Jimmy Miller-DNS, Travis Ashley-DNS, Danny Zimmerman-DNS, Charlie LaPlant-DNS
Feature Finish (98 Laps):
FINISH START CAR # DRIVER NAME HOMETOWN
1 2 0 Scott Bloomquist Mooresburg, TN
2 6 1 Earl Pearson, Jr. Jacksonville, FL
3 12 5 Don O'Neal Martinsville, IN
4 4 777 Jared Landers Batesville, AR
5 13 B5 Brandon Sheppard New Berlin, IL
6 7 15F Steve Francis Bowling Green, KY
7 15 15L Darrell Lanigan Union, KY
8 21 28e Dennis Erb, Jr. Carpentersville, IL
9 16 39 Tim McCreadie Watertown, NY
10 10 18X Jack Sullivan Greenbrier, AR
11 3 6 Jonathan Davenport Mount Airy, NC
12 8 20 Jimmy Owens Newport, TN
13 24 86 Kyle Beard Trumann, AR
14 14 F5 Garrett Alberson Shreveport, LA
15 17 21B Chris Brown Spring, TX
16 23 75 Colton Flinner Allison Park, PA
17 19 77 Gavin Landers Batesville, AR
18 5 186 Jeremy Payne Springfield, MO
19 1 6m Wendell Wallace Batesville, AR
20 22 18 Shannon Babb Mowequa, IL
21 11 21 Billy Moyer Batesville, AR
22 26 R5x Hunter Rasdon Jonesboro, AR
23 9 21jr Billy Moyer, Jr. Batesville, AR
24 25 7P David Payne Cabot, AR
25 18 94 Austin Rettig Sikeston, MO
26 20 47 Chandler Petty Austin, AR
Race Statistics
Entrants: 45
Lap Leaders: Wendell Wallace (Laps 1 – 5); Scott Bloomquist (Laps 6 – 98)
Cautions: Hunter Rasdon (Lap 20); Austin Rettig (Lap 29); Austin Rettig, Colton Flinner, Chris Brown, Hunter Rasdon, Gavin Landers (Lap 29); Hunter Rasdon (Lap 48); Colton Flinner (Lap 49); Dennis Erb Jr. (Lap51); Shannon Babb (Lap 52); Wendell Wallace (Lap 54); Jimmy Owens (Lap 60); Dennis Erb Jr. (Lap 64); Brandon Sheppard (Lap 82); Jonathan Davenport (Lap 91)
Lucas Oil Late Model Dirt Series Provisionals: Colton Flinner
Lucas Oil Late Model Dirt Series Emergency Provisionals: n/a
Miller Welders Fast Time Provisional: Kyle Beard
COMP Cams Super Dirt Series- presented by Lucas Oil Provisionals: David Payne; Hunter Rasdon
Wrisco Feature Winner: Scott Bloomquist
Optima Batteries Hard Charger of the Race: Dennis Erb Jr. (Started: 21st; Finished: 8th; Advanced 13 Positions)
Midwest Sheet Metal Spoiler Challenge Point Leader: Jonathan Davenport
Allstar Performance Power Move of the Race: Brandon Sheppard
Sunoco Race for Gas Highest Finisher: Earl Pearson Jr.
Hot Rod Processing Rookie of the Race: Colton Flinner
COMP Cams Engine Builder of the Race: Durham Race Engines
Ohlins Shocks Chassis Builder of the Race: Sweet-Bloomquist Race Cars
Outerwears Crew Chief of the Race: Cody Mallory (Scott Bloomquist)
Fastest Lap of the Race: Scott Bloomquist (Lap #3 – 15.1461 seconds)
Most Laps Led: Scott Bloomquist (93 Laps)
PFC Brakes Tough Break Award: Jonathan Davenport
Time of Race: 70 minutes 46 seconds
---
Submitted By: Jeremy Shields
Back to News