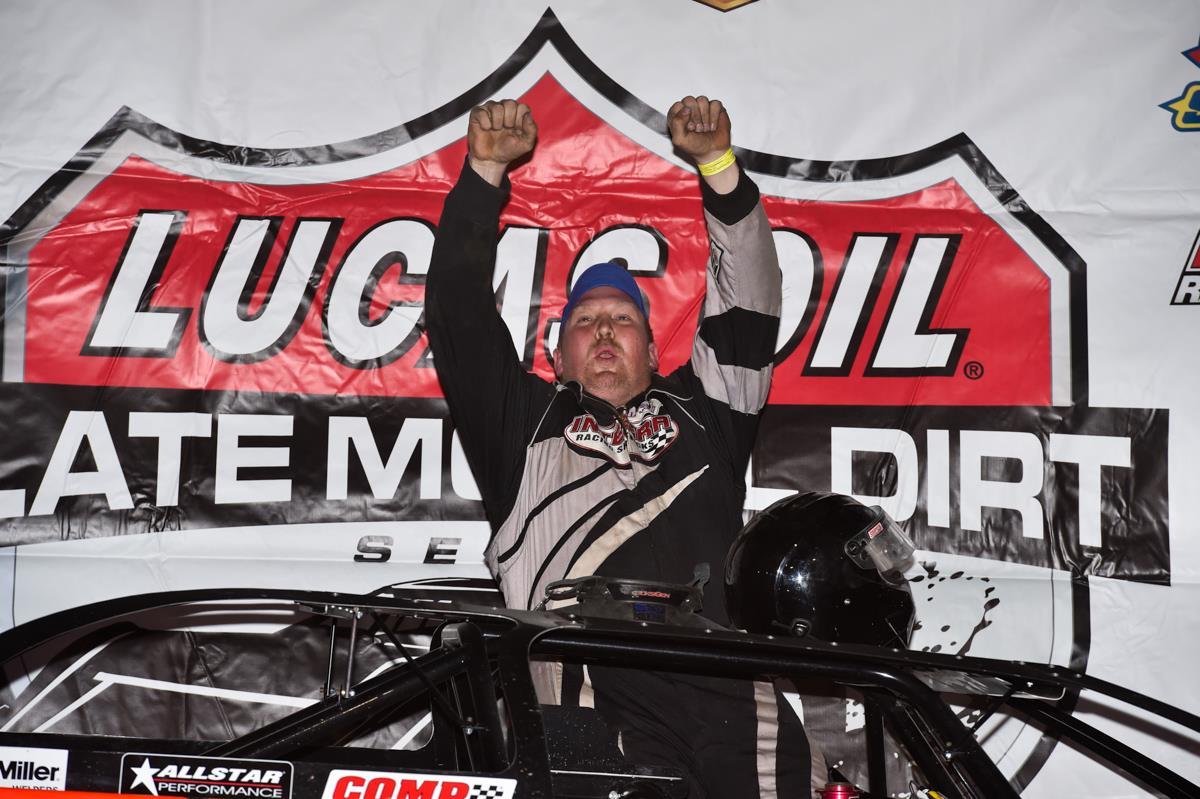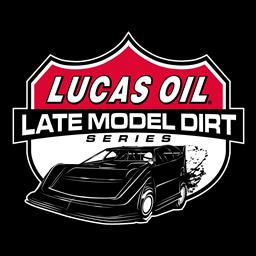 5/20/2016
Lucas Oil Late Model Dirt Series
---
Diemel Dashes to Home-State Win at Oshkosh
OSHKOSH, WI (May 20, 2016) Home-state driver A.J. Diemel scored his first-ever Lucas Oil Late Model Dirt Series victory tonight at Oshkosh Speedzone Raceway. In front of a packed grandstand, Diemel led all 50 laps and took the biggest win of his career.
Chris Simpson drove his Cheap Cars/Longhorn Chassis to a second place finish, followed by Jared Landers in the Crop Production Services/Sweet-Bloomquist. Tim McCreadie wheeled the Sweeteners Plus/Longhorn into fourth, and last year's LOLMDS Rookie of the Year; Brandon Sheppard; in the Best Performance Motorsports/Rocket was fifth.
"I don't know if we will make it to LaSalle tomorrow night. We may party too hard," said the 34-year-old Wisconsin native. "We did what we had to do tonight. We qualified well, won our heat, and started up front in the feature. It was great to see this crowd again for the second year in a row. Everyone needs to write in and keep this place open!"
Diemel started alongside pole-sitter Tim McCreadie as he jumped to the lead at the onset of the race. Diemel's early race dominance was evident when he lapped the hottest driver on the LOLMDS tour, Scott Bloomquist, 18 laps into the race.
Diemel's winning MB Customs Chassis is powered by a Pro Power Racing Engine and sponsored by Beltline Body Shop, Prestige Custom Cabinetry, Joe Provo RaceWear, and BobCat.
Simpson was gaining on Diemel as the leader was running in heavy traffic. The only caution of the race appeared on lap 34 for Brian Shirley, who had a flat tire. On the restart, Diemel again stayed ahead of Simpson and Landers as he went on to the win.
"I would like to thank Jimmy and Chris Mars and everyone for this MB Customs. My biggest win before tonight was $9,200 for winning the John Seitz Memorial in Grand Forks, North Dakota. We will try to go back-to-back tomorrow night at LaSalle."
Simpson commented, "I sure didn't need that yellow. On the restart he [Diemel] took off and Jared was all over me. He tried several times to get by me. It's all good. We have had a really good car lately, so this is something to build on. We are really pleased with this Longhorn Chassis. To finish second against these guys is awesome."
Landers recorded another podium finish this year by taking third. "We have had some bad luck in the last few races. We broke two J-bars last weekend. Jason [Durham] and the crew have worked their tails off this week and it paid off tonight."
Completing the top ten were current LOLMDS points leader Jonathan Davenport, Don O'Neal, Darrell Lanigan, Billy Moyer, and Chad Simpson.
In preliminary action, Tim McCreadie set the overall Miller Welders Fast Time (Group A) amongst the 38 entrants, with a lap of 15.942 seconds. AJ Diemel set the fastest time in Group B with a time of 16.603 seconds. Tim McCreadie, Chris Simpson, AJ Diemel, and Brian Shirley won their respective heat races. Earl Pearson Jr. and RC Whitwell won their respective B-Mains.
Lucas Oil Late Model Dirt Series
Race Summary
Friday, May 20th, 2016
Spring Shootout
Oshkosh Speedzone Raceway – Oshkosh, WI
Miller Welders Fast Time Group A: Tim McCreadie / 15.942 seconds
Miller Welders Fast Time Group B: AJ Diemel / 16.603 seconds
Eibach Springs Heat Race #1 Finish (12 Laps, Top 4 Transfer): Tim McCreadie, Jared Landers, Chad Simpson, Dennis Erb, Jr., Earl Pearson, Jr., Jimmy Owens, Scott Bloomquist, Turk Letizia, Jason Feger, Kolby Vandenbergh
FK Rod Ends Heat Race #2 Finish (12 Laps, Top 4 Transfer): Chris Simpson, Billy Moyer, Mitch McGrath, Billy Moyer, Jr., Nick Anvelink, Doug Blashe, Mike Fryer, James Letizia, Jimmy Mars
Simpson Performance Products Heat Race #3 Finish (12 Laps, Top 4 Transfer): AJ Diemel, Jonathan Davenport, Shannon Babb, Darrell Lanigan, RC Whitwell, Russ Scheffler, Ron Berna, Mike Mataragas, David Fieber, Bill Rezutek
QA1 Heat Race #4 Finish (12 Laps, Top 4 Transfer): Brian Shirley, Brandon Sheppard, Don O'Neal, Mike Mullen, Brent Larson, Brett Swedberg, Spencer Diercks, Paul Parker, Colton Flinner
Fast Shafts B-Main #1 Finish (15 Laps, Top 3 Transfer): Earl Pearson, Jr., Nick Anvelink, Scott Bloomquist, Jimmy Owens, Jason Feger, Kolby Vandenbergh, Turk Letizia, Doug Blashe, Mike Fryer, James Letizia, Jimmy Mars-DNS
Keyser MFG B-Main #2 Finish (15 Laps, Top 3 Transfer): RC Whitwell, Russ Scheffler, Brent Larson, Brett Swedberg, Mike Mataragas, David Fieber, Spencer Diercks, Colton Flinner, Ron Berna, Bill Rezutek, Paul Parker
Feature Finish (50 Laps):
FINISH START CAR # DRIVER NAME HOMETOWN MONEY EARNED
1 2 58D AJ Diemel Elk Mound, WI $10,000
2 3 32X Chris Simpson Oxford, IA $5,500
3 5 777 Jared Landers Batesville, AR $4,200
4 1 39 Tim McCreadie Watertown, NY $3,550
5 8 B5 Brandon Sheppard New Berlin, IL $2,950
6 6 6 Jonathan Davenport Mount Airy, NC $2,900
7 12 5 Don O'Neal Martinsville, IN $2,300
8 14 15L Darrell Lanigan Union, KY $2,000
9 7 21 Billy Moyer Batesville, AR $1,200
10 9 25 Chad Simpson Mt. Vernon, IA $1,100
11 19 15A Nick Anvelink Bonduel, WI $1,075
12 11 74m Mitch McGrath Waukesha, WI $1,050
13 13 28e Dennis Erb, Jr. Carpentersville, IL $1,725
14 17 1 Earl Pearson, Jr. Jacksonville, FL $1,800
15 25 25F Jason Feger Bloomington, IL $950
16 21 0 Scott Bloomquist Mooresburg, TN $1,725
17 23 20 Jimmy Owens Newport, TN $1,700
18 4 3s Brian Shirley Chatham, IL $875
19 24 75 Colton Flinner Allison Park, PA $950
20 18 96T RC Whitwell Tucson, AZ $825
21 22 B1 Brent Larson Lake Elmo, MN $800
22 16 99 Mike Mullen Suamico, WI $800
23 20 74 Russ Scheffler Waukesha,WI $800
24 15 21jr Billy Moyer, Jr. Batesville, AR $800
25 10 18 Shannon Babb Mowequa, IL $800
Race Statistics
Entrants: 38
Lap Leaders: AJ Diemel (Laps 1 – 50)
Cautions: Brian Shirley
Lucas Oil Late Model Dirt Series Provisionals: Jimmy Owens, Colton Flinner
Lucas Oil Late Model Dirt Series Emergency Provisionals: n/a
Miller Welders Fast Time Provisional: n/a
Track Provisional: Jason Feger
Wrisco Feature Winner: AJ Diemel
Optima Batteries Hard Charger of the Race: Jason Feger (Started: 25th; Finished: 15th; Advanced 10 Positions)
Midwest Sheet Metal Spoiler Challenge Point Leader: Jonathan Davenport
Allstar Performance Power Move of the Race: Scott Bloomquist
Sunoco Race for Gas Highest Finisher: Jared Landers
Hot Rod Processing Rookie of the Race: Colton Flinner
COMP Cams Engine Builder of the Race: Pro Power Race Engines
Ohlins Shocks Chassis Builder of the Race: Sweet-Bloomquist Race Cars
Outerwears Crew Chief of the Race: Jason Durham (Jared Landers)
Fastest Lap of the Race: AJ Diemel (Lap #1 – 17.202 seconds)
Most Laps Led: AJ Diemel (50 Laps)
PFC Brakes Tough Break Award: Brian Shirley
Time of Race: 18 minutes 29 seconds
---
Submitted By: Jeremy Shields
Back to News