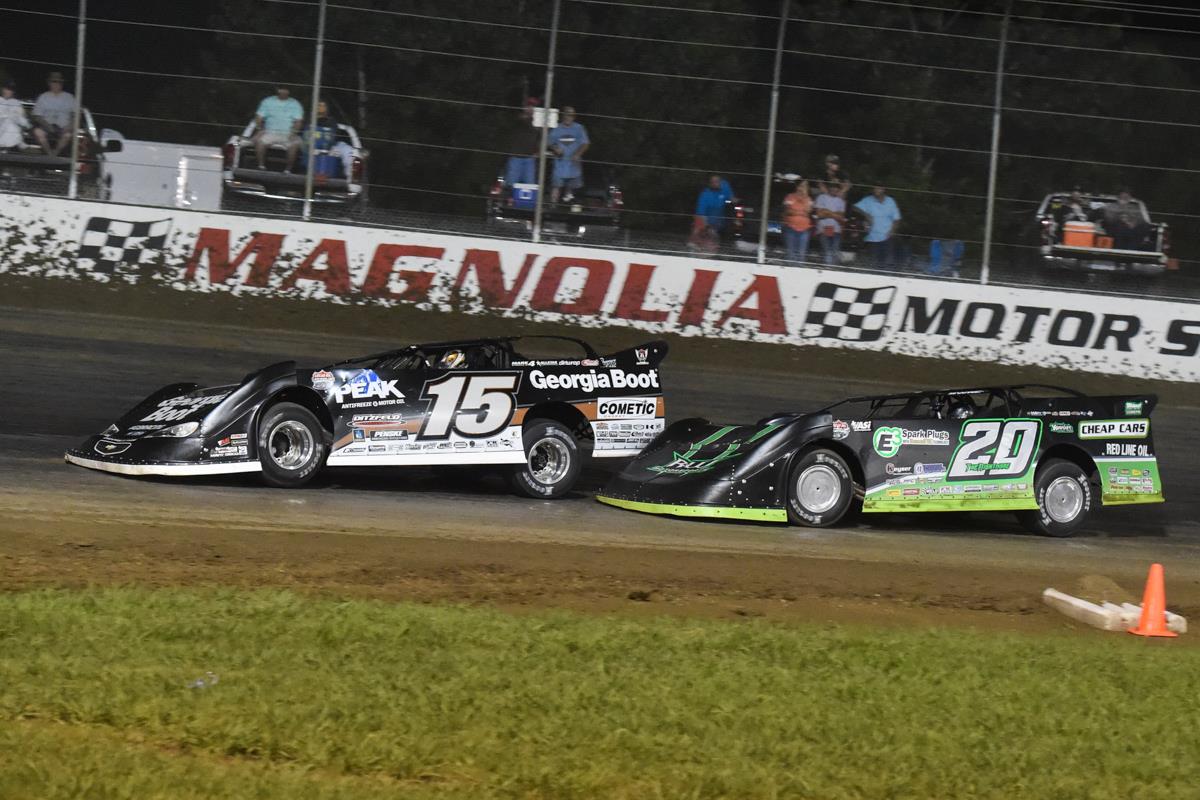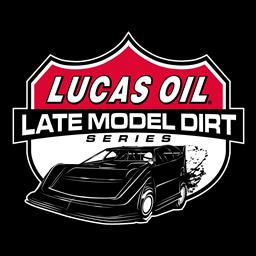 6/18/2016
Lucas Oil Late Model Dirt Series
---
Lanigan Nabs First Lucas Oil Win of the Season
COLUMBUS, MS (June 18, 2016) – Darrell Lanigan came from the sixth starting spot to win his first Lucas Oil Late Model Dirt Series event of the year on Saturday Night at Magnolia Motor Speedway. Lanigan passed race leader Jimmy Owens with 12 laps to go for his second career LOLMDS victory.
It was Lanigan's first series win since September of 2013, when he won a preliminary at the Knoxville Nationals. Owens finished second, followed by pole sitter Brandon Sheppard, Scott Bloomquist, and Jared Landers.
Lanigan debuted a new Georgia Boot/Peak Antifreeze/ Club 29 Race Car for Clint Bowyer Racing and kept a steady pace during the first-half of the race before gradually picking off the top five in front of him during the caution-free 60 lap feature.
"We saved our tires there early on. My car really came on. We built this piece this week. When we hot lapped here on Thursday night it was really in the ground. I'd like to thank Clint and Casey Bowyer for giving me this chance," said the 46-year-old, who was making his first appearance at the track in ten years.
Lanigan; in his first full season running the Lucas Oil Late Model Dirt Series for Clint Bowyer Racing; moved into second on lap 34 overtaking Landers for that position. He then tracked down Owens in heavy lapped traffic using the inside lane of the track while Owens stayed up against the wall.
"I think we have one of the best crews out there working on these cars, Anthony, Cory, and everybody else at the race shop. Like I said, I can't thank those guys enough. We can definitely build on this. I have told these guys all year, we need to be in the ground. We have had a lot of wheel spin this year. We changed a lot on the cars this week and it definitely showed here tonight."
Owens had another podium finish in the R&W Motorsports/E3 Spark Plugs/Barry Wright Race Cars number 20. He led from lap four until he was overtaken by Lanigan on lap 49.
"I stayed up on the topside too long", said Owens. "The bottom started coming into it and he [Lanigan] had a run on me and I couldn't hold him off. I was trying to clear that last lapped car and he cut in front of me and it just killed my momentum. We had a good car here tonight. Congratulations to Darrell and his crew. They deserved the win. We will hopefully build off of these finishes for the rest of the year."
Sheppard in another strong run for the Best Performance Motorsports team came home in third. "I think we had a pretty good car all night long. Both Darrell and Jimmy had good cars tonight. I moved back up to the top and was gaining on those guys. I had a pretty maneuverable car. We definitely made some good strides tonight," said last year's LOLMDS Rookie of the Year.
Completing the top ten were Dennis Erb Jr., Jonathan Davenport, Wendell Wallace, Don O'Neal and Earl Pearson Jr.
In preliminary action, Jared Landers set the overall Miller Welders Fast Time (Group B) amongst the 45 entrants, with a lap of 13.482 seconds. Brandon Sheppard set the fastest time in Group A with a time of 13.768 seconds. Brandon Sheppard, Jonathan Davenport, Jared Landers, and Jimmy Owens won their respective heat races. Jake O'Neil and Ronny Lee Hollingsworth won their respective B-Mains.
Lucas Oil Late Model Dirt Series
Race Summary
Saturday, June 18th, 2016
Country Pleasin' Clash at the Mag
Magnolia Motor Speedway – Columbus, MS
Miller Welders Fast Time Group A: Brandon Sheppard / 13.768 seconds
Miller Welders Fast Time Group B: Jared Landers / 13.482 seconds
Eibach Springs Heat Race #1 Finish (10 Laps, Top 4 Transfer): Brandon Sheppard, Wendell Wallace, Garrett Alberson, Dylan Ames, Jake O'Neil, Hunter Rasdon, Shay Knight, Jamie Tollison, Brent Barrett, Tanner Kellick, Doug Showah, Zach Edwards
FK Rod Ends Heat Race #2 Finish (10 Laps, Top 4 Transfer): Jonathan Davenport, Jimmy Cliburn, Chris Brown, Chad Thrash, BJ Robinson, Colton Flinner, Brett White, Austin Arnold, Keith House, Josh Putnam, Kayne Hickman
Simpson Performance Products Heat Race #3 Finish (10 Laps, Top 4 Transfer): Jared Landers, Darrell Lanigan, Dennis Erb, Jr., Earl Pearson, Jr., Eric Cooley, David Breazeale, Jason Cliburn, Leon Henderson, Gavin Landers, Dwight Falcon, Jr., Rick Rickman
QA1 Heat Race #4 Finish (10 Laps, Top 4 Transfer): Jimmy Owens, Scott Bloomquist, Don O'Neal, Steve Francis, Tim McCreadie, Ronny Lee Hollingsworth, Kyle Cummings, Allen Tippen, Dwight Falcon, Robbie Stuart, Lance Johnson-DNS
Fast Shafts B-Main #1 Finish (12 Laps, Top 3 Transfer): Jake O'Neil, Hunter Rasdon, Shay Knight, BJ Robinson, Colton Flinner, Brett White, Brent Barrett, Jamie Tollison, Tanner Kellick, Austin Arnold, Keith House, Josh Putnam-DNS, Doug Showah-DNS, Kayne Hickman-DNS, Zach Edwards-DNS
Keyser MFG B-Main #2 Finish (12 Laps, Top 3 Transfer): Ronny Lee Hollingsworth, Tim McCreadie, Eric Cooley, Jason Cliburn, Allen Tippen, Kyle Cummings, David Breazeale, Leon Henderson, Gavin Landers, Robbie Stuart, Dwight Falcon, Jr., Dwight Falcon, Rick Rickman-DNS, Lance Johnson-DNS
Feature Finish (60 Laps):
FINISH START CAR # DRIVER NAME HOMETOWN EARNINGS
1 6 15L Darrell Lanigan Union, KY $12,700
2 4 20 Jimmy Owens Newport, TN $6,300
3 1 B5 Brandon Sheppard New Berlin, IL $4,200
4 8 0 Scott Bloomquist Mooresburg, TN $3,150
5 2 777 Jared Landers Batesville, AR $3,050
6 10 28E Dennis Erb, Jr. Carpentersville, IL $2,500
7 3 6 Jonathan Davenport Mount Airy, NC $2,600
8 5 6m Wendell Wallace Batesville, AR $1,300
9 12 5 Don O'Neal Martinsville, IN $2,000
10 14 1 Earl Pearson, Jr. Jacksonville, FL $1,900
11 7 21B Chris Brown Spring, TX $1,075
12 20 39 Tim McCreadie Watertown, NY $1,750
13 16 15F Steve Francis Bowling Green, KY $1,025
14 18 18H Ronny Lee Hollingsworth Northport, AL $1,000
15 9 F5 Garrett Alberson Shreveport, LA $1,000
16 13 77A Dylan Ames Harvest, AL $1,000
17 21 3 Shay Knight Columbus, MS $1,000
18 22 33B Eric Cooley Fulton, MS $1,000
19 23 75 Colton Flinner Allison Park, PA $1,100
20 17 J0 Jake O'Neil Tucson, AZ $1,000
21 19 R5x Hunter Rasdon Jonesboro, AR $1,000
22 15 1C Chad Thrash Meridian, MS $1,000
23 11 88 Jimmy Cliburn Star, MS $1,000
24 24 212 Josh Putnam Florence, AL $1,000
Race Statistics
Entrants: 45
Lap Leaders: Jared Landers (Laps 1 – 3); Jimmy Owens (Laps 4 – 47); Darrell Lanigan (Laps 48 – 50)
Cautions: none
Lucas Oil Late Model Dirt Series Provisionals: Colton Flinner
Lucas Oil Late Model Dirt Series Emergency Provisionals: n/a
Miller Welders Fast Time Provisional: Josh Putnam
Wrisco Feature Winner: Darrell Lanigan
Optima Batteries Hard Charger of the Race: Tim McCreadie (Started: 20th; Finished: 12th; Advanced 8 Positions)
Midwest Sheet Metal Spoiler Challenge Point Leader: Jonathan Davenport
Allstar Performance Power Move of the Race: Dennis Erb Jr.
Sunoco Race for Gas Highest Finisher: Darrell Lanigan
Hot Rod Processing Rookie of the Race: Colton Flinner
COMP Cams Engine Builder of the Race: Clements Racing Engines
Ohlins Shocks Chassis Builder of the Race: Barry Wright Race Cars
Outerwears Crew Chief of the Race: Anthony Burroughs (Darrell Lanigan)
Fastest Lap of the Race: Jimmy Owens (Lap #3 – 15.2020 seconds)
Most Laps Led: Jimmy Owens (44 Laps)
PFC Brakes Tough Break Award: Colton Flinner
Time of Race: 16 minutes 34 seconds
---
Submitted By: Jeremy Shields
Back to News