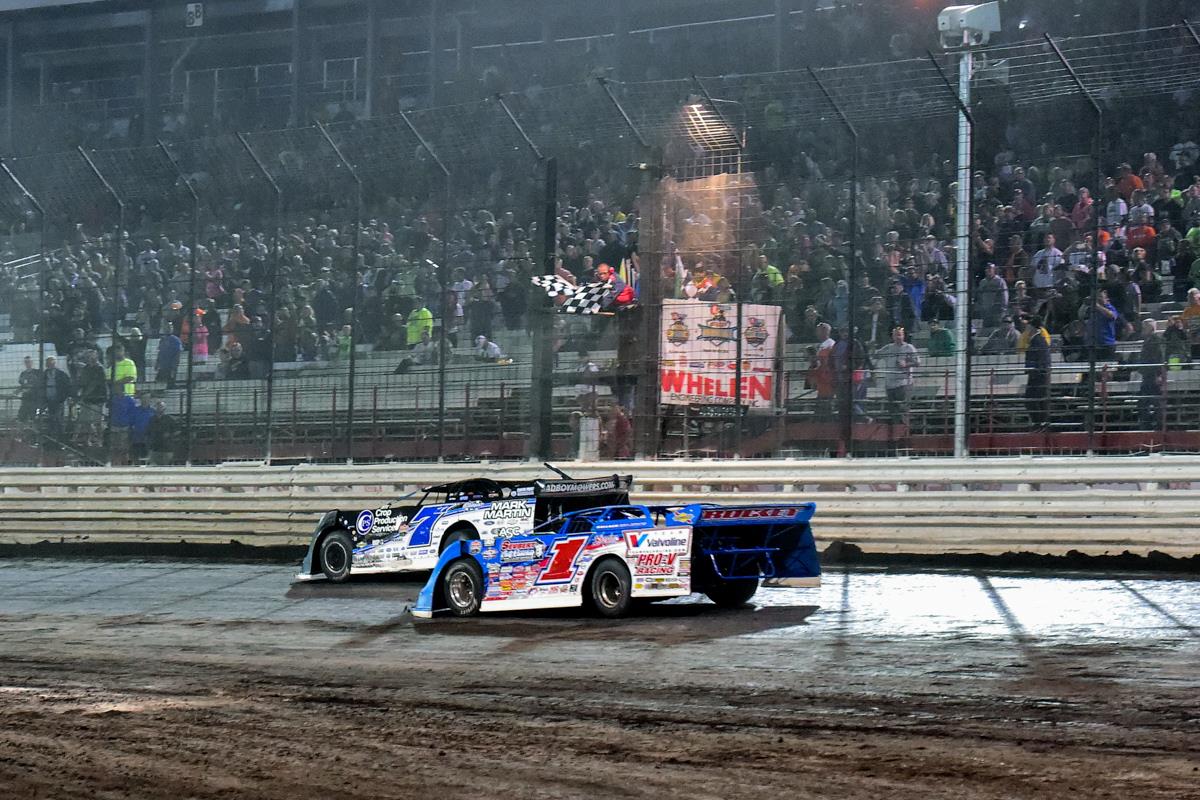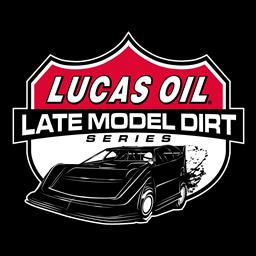 9/26/2015
Lucas Oil Late Model Dirt Series
---
Jared Landers Wins Lucas Oil Knoxville Nationals Finale
KNOXVILLE, IA (September 26, 2015) – Jared Landers bolted to the lead on lap 92 and then held off Josh Richards to win the 12th Annual Lucas Oil Late Model Knoxville Nationals – Presented by Casey's General Store on Saturday night at Knoxville Raceway. Landers earned $40,000 for the second crown jewel victory of his career.
In a race that saw five different leaders, Landers swept by Jimmy Owens with ten laps to go, and caught Richards in the waning laps. Once Landers cleared Richards, the duo battled it out to the finish. Owens finished third, followed by Mike Marlar, and Darrell Lanigan.
"What a win for our team! I tried to keep the car on the bottom for most of the race. Then when I was racing Jimmy [Owens] late in the race, I decided to go to the top. I didn't want to run up against that berm because I thought the car would get hot and start overheating. Early in the race my seat belts came undone. Thank goodness we had a caution right after that so I could get buckled back up again."
Chad Simpson led the first five laps until Jonathan Davenport took over the top spot. Davenport then controlled the race until smoke started bellowing from his car with 43 laps scored. Davenport slowed and dropped out of the race, finishing 29th.
Owens picked up the lead of the race. Landers moved into third, followed by Richards, Simpson, and Mason Zeigler. Bloomquist had a chance to cut into Davenport's points lead, but suddenly slowed and then exited the race with 26 laps remaining. He was credited with a 23rd place finish.
Owens held the lead until Richards passed him heading into turn number three for the lead. Richards then stretched his lead out over Owens and Landers as those two battled it out for second. Landers cleared Owens and then set his sights on Richards. With eight laps to go, Landers was able to track down Richards and make the winning pass.
"I sort of held back there for a while. Those guys have more experience than me and I didn't want to use up my equipment early on. Several cars I saw were jumping the cushion. When I got by Jimmy, it seemed like it didn't take long to catch Josh. I got into a lapped car and tore up the right rear quarter panel. But the car stayed together until the end. It's great to win this prestigious event in front of this big of a crowd."
"I want to thank my dad, Lance Landers, my crew chief, Jason Durham, and everyone else on the crew for their help. Our sponsors; I am just so grateful for all of them; Crop Production Services, Bad Boy Mowers, Mark Martin Automotive, ASC Warranty, Big Dog Motorsports, Penske Shocks, and Sunoco Race Fuels. Our Durham engine was just spectacular, and what else can I say about this Sweet-Bloomquist car, we have been fast all year and we finally got the victory in a big race."
Richards now has four second place finishes in this event and was pleased with his runner-up spot, but thought he might have finally won the big one at Knoxville. "Congrats to Jared and those guys, what a run they had. We had just a fantastic car over the last half of the race. I got up to the front and was racing with Jimmy and once I got past him I thought tonight was going to be our night. Then Jared just came out of nowhere and passed us. We tried our best to get back around him but he held his line."
"I'd like to thank my dad and all of my crew. We started so far back that it made it a little tough, but I am proud of our effort. I want to thank Valvoline, Seubert Calf Ranches, Ace Metal Works, Petroff Towing, and everyone else who sponsors our car."
Owens was third at the finish of the race. "I want to thank Bryan Rowland, Widow Wax, and everyone else with our team. We had a really good car all weekend. We just came up a little short tonight. We keep making strides with this team. Congrats to Jared on his win and we will go get 'em next time."
Completing the top ten were Chad Simpson, Chris Simpson, Brandon Sheppard, Frank Heckenast Jr., and Steve Francis.
In preliminary action, Chris Spieker won the C-Main, and Jimmy Mars won the B-Main.
For the latest breaking news on the Lucas Oil Late Model Dirt Series, log onto www.lucasdirt.com and follow the series at www.facebook.com/lucasdirt, www.twitter.com/lucasdirt, and www.instagram.com/lucasdirt.
Lucas Oil Late Model Dirt Series
Race Summary
Saturday, September 26, 2015
12th Annual Lucas Oil Late Model Knoxville Nationals
Knoxville Raceway – Knoxville, IA
Keyser MFG C-Main Finish (15 Laps, Top 6 Transfer to B-Main): Chris Spieker, Dave Eckrich, Mitch McGrath, Denny Eckrich, Brian Shirley, RC Whitwell, Jim Shereck, Rob Moss, Charlie McKenna, Kerry King, Sr., Ray Sveeggen, Skip Frey, Mike Fryer, Jay Johnson-DNS, Sonny Findling-DNS, Austin Theiss-DNS, Tyler Bruening-DNS, Paul Glendenning-DNS, Greg Cox-DNS
Fast Shafts B-Main Finish (20 Laps, Top 6 Transfer to Feature): Jimmy Mars, Morgan Bagley, Frank Heckenast, Jr., Jason Feger, Ricky Weiss, Eddie Carrier, Jr., Chase Junghans, Ryan Gustin, Rich Bell, Denny Eckrich, Joel Callahan, Tim Lance, Jason Papich, Mitch McGrath, RC Whitwell, Ray Guss, Jr., Rob Moss, Dave Eckrich, Spencer Diercks, Justin Kay, Jason Utter, Brian Shirley, Chris Spieker
Feature Finish (100 Laps): 1. 777-Jared Landers; 2. 1R-Josh Richards; 3. 20-Jimmy Owens; 4. 157-Mike Marlar; 5. 29-Darrell Lanigan; 6. 25-Chad Simpson; 7. 32-Chris Simpson; 8. B5-Brandon Sheppard; 9. 99JR-Frank Heckenast Jr; 10. 15-Steve Francis; 11. 21-Billy Moyer Sr; 12. 25Z-Mason Zeigler; 13. 17M-Dale McDowell; 14. 28E-Dennis Erb Jr; 15. 7W-Ricky Weiss; 16. 14M-Morgan Bagley; 17. 1-Earl Pearson Jr; 18. 25F-Jason Feger; 19. 40-Joel Callahan; 20. 18B-Shannon Babb; 21. 21BX-Chris Brown; 22. 7R-Kent Robinson; 23. 0-Scott Bloomquist; 24. 39-Tim McCreadie; 25. 21JR-Billy Moyer Jr; 26. 28-Eddie Carrier Jr; 27. 5-Don O'Neal; 28. 54W-Matt Westfall; 29. 6-Jonathan Davenport; 30. 28M-Jimmy Mars; 31. 58-AJ Diemel; 32. 29D-Spencer Diercks
Race Statistics
Entrants: 63
Lap Leaders: Chad Simpson (Laps 1 – 4); Jonathan Davenport (Laps 5 – 43); Jimmy Owens (Laps 44 – 78); Josh Richards (Laps 79 – 91); Jared Landers (Laps 92 – 100)
Cautions: AJ Diemel (Lap 11); Chris Brown (Lap 30); Don O'Neal (Lap 31); Don O'Neal (Lap 50); Eddie Carrier Jr. (Lap 57); Tim McCreadie (Lap 60); Scott Bloomquist (Lap 74)
Lucas Oil Late Model Dirt Series Provisionals: n/a
Lucas Oil Late Model Dirt Series Emergency Provisionals: n/a
Miller Welders Fast Time Provisionals: n/a
Knoxville Nationals Series Provisionals (Highest in Nightly Points): Spencer Diercks, Joel Callahan
Wrisco Feature Winner: Jared Landers
Optima Batteries Hard Charger of the Race: Frank Heckenast Jr. (Started: 27th; Finished: 9th; Advanced 18 Positions)
Midwest Sheet Metal Spoiler Challenge Point Leader: Jonathan Davenport
Allstar Performer of the Race: Jared Landers
Sunoco Race for Gas Highest Finisher: Jared Landers
Rookie of the Race: Brandon Sheppard
COMP Cams Engine Builder of the Race: Durham Racing Engines
Ohlins Shocks Chassis Builder of the Race: Sweet-Bloomquist Race Cars
Outerwears Crew Chief of the Race: Jason Durham (Jared Landers)
CV Products Fastest Lap of the Race: Jonathan Davenport (Lap #12 – 19.015 seconds)
Hot Rod Processing Most Laps Led: Jonathan Davenport (39 Laps)
PFC Brakes Tough Break Award: Jonathan Davenport
Time of Race: 18 minutes 25 seconds
---
Submitted By: Jeremy Shields
Back to News