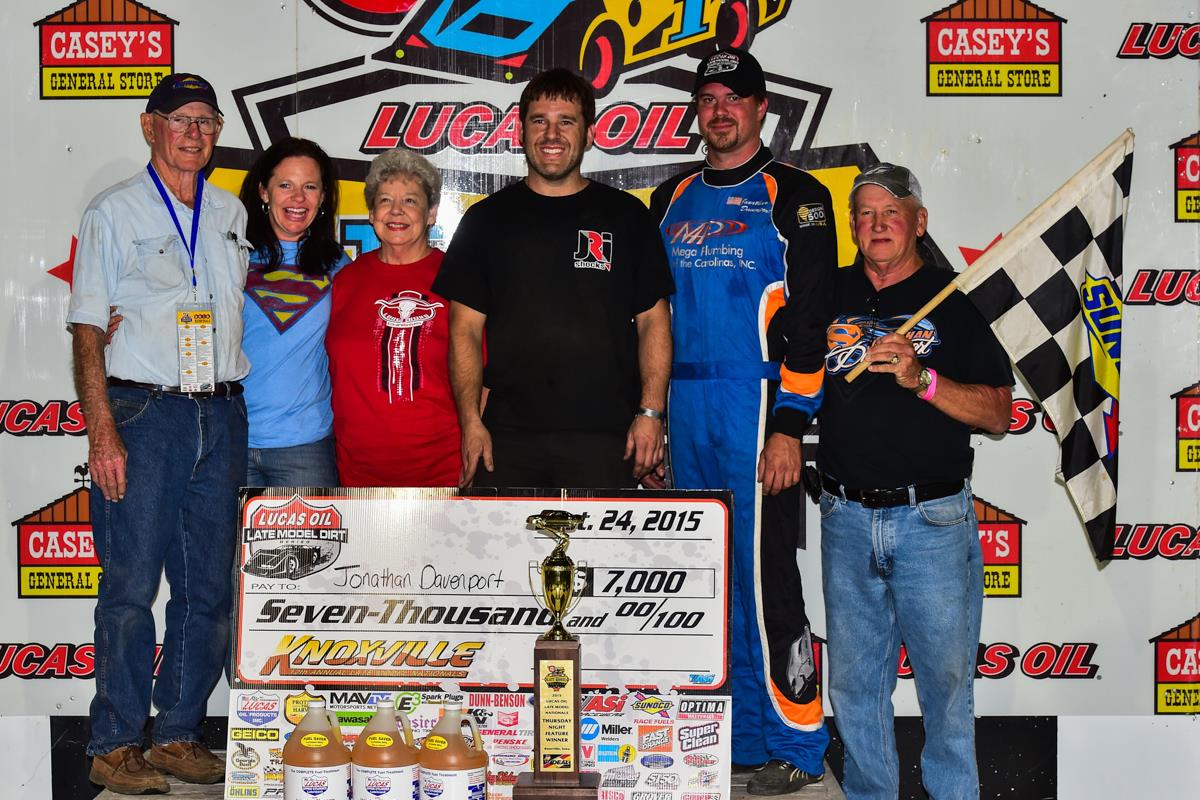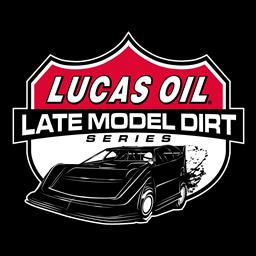 9/24/2015
Lucas Oil Late Model Dirt Series
---
Davenport Wins on Final Lap Thursday Night at Knoxville
KNOXVILLE, IA (September 24, 2015) – Jonathan Davenport passed Jimmy Owens as the duo headed to the white flag and then went on to score the opening night win of the 12th Annual Lucas Oil Late Model Knoxville Nationals - Presented by Casey's General Store at Knoxville Raceway.
Davenport led the first 19 laps of the race until Owens passed him for the top spot on lap 20. Davenport regained the lead on lap 24. Owens finished second to Davenport followed by Don O'Neal, Earl Pearson Jr., and Chris Brown.
"Lapped traffic is so tough here sometimes," said Davenport, who recorded his 20th overall feature win of the season. I can't thank Lee Roy Rumley enough for this strong engine. On this big of a track, we need all the horsepower we can get. The track was super-fast tonight. We could run anywhere on it."
Last year Davenport won on one of the preliminary night events at Knoxville. This year he comes in as a heavy favorite to win the finale this Saturday Night. "We don't look at it that way as being a favorite. We just come here to do our jobs, and for most of the year it has been a successful approach. It feels good to win here, but this is just the first night, and everybody else is stepping up their game."
"I want to thank TS Crane Service, Longhorn Chassis, Sundance Services, Sundance Flowback Well Testing, Mega Plumbing of the Carolinas, JRi Shocks, and Bryson Motorsports for all of their support this year. It's been in incredible year so far!"
Owens in the Bryan Rowland, Widow Wax, and Club 29-Ford was pleased with his runner-up position. "Did you see that I passed him [Davenport]? Not a lot of people have been able to pass him this year. We had a really good hot-rod tonight. The crew keeps working really hard. I thought maybe tonight we were going to be able to break through, but it's a good start to the weekend."
O'Neal is a former Lucas Oil Late Model Knoxville Nationals winner and came home in third after starting seventh. "It's a much better start to the weekend than last year. I want to thank everybody at Clint Bowyer Racing, Peak Antifreeze and Motor Oil, Crawford Supply, Lance and Barry Wright, and a special mention to my crew chief Jeremy Justice, who is back home recovering from injuries that happened just a few weeks ago."
Completing the top were Dennis Erb Jr., Scott Bloomquist, Chad Simpson, Chris Simpson, and Jared Landers.
In preliminary action, Jared Landers set the overall Miller Welders Fast Time (Group B) amongst the 63 entrants, with a lap of 17.280 seconds. Jason Papich set the fastest time in Group A with a time of 17.414 seconds. Earl Pearson Jr., Joel Callahan, Dennis Erb Jr., Jimmy Owens, Chris Brown, and Josh Richards won their respective heat races. Denny Eckrich won the D-Main. Mike Marlar won the C-Main, and Darrell Lanigan won the B-Main.
For the latest breaking news on the Lucas Oil Late Model Dirt Series, log onto www.lucasdirt.com and follow the series at www.facebook.com/lucasdirt, www.twitter.com/lucasdirt, and www.instagram.com/lucasdirt.
Lucas Oil Late Model Dirt Series
Race Summary
Thursday, September 24, 2015
12th Annual Lucas Oil Late Model Knoxville Nationals
Knoxville Raceway – Knoxville, IA
Miller Welders Fast Time Group A: Jason Papich / 17.414 seconds
Miller Welders Fast Time Group B: Jared Landers / 17.280 seconds
Eibach Springs Heat Race #1 Finish (12 Laps, Top 4 Transfer): Earl Pearson Jr., Ricky Weiss, Don O'Neal, AJ Diemel, Mason Zeigler, Chris Spieker, Jason Papich, Brian Harris, Jay Johnson, Jim Shereck, Paul Glendenning
FK Rod Ends Heat Race #2 Finish (12 Laps, Top 4 Transfer): Joel Callahan, Rich Bell, Kent Robinson, Darrell Lanigan, Shannon Babb, Eddie Carrier Jr., Donny Schatz, Ryan Gustin, Rob Moss, Jason Utter, Denny Eckrich
Simpson Performance Products Heat Race #3 Finish (12 Laps, Top 3 Transfer): Dennis Erb Jr., Billy Moyer, Frank Heckenast Jr., Wendell Wallace, Scott Bloomquist, Jimmy Mars, Mitch McGrath, Skip Frey, Mike Marlar, Brian Shirley
QA1 Heat Race #4 Finish (12 Laps, Top 3 Transfer): Jimmy Owens, Morgan Bagley, Chris Simpson, Ray Guss, Jr., Jared Landers, Jason Rauen, Mike Fryer, Austin Theiss, Ray Sveeggen, Dale McDowell, Tyler Bruening
Eibach Springs Heat Race #5 Finish (12 Laps, Top 3 Transfer): Chris Brown, Chad Simpson, Steve Francis, Tim Lance, Jason Feger, Matt Westfall, Sonny Findling, Tim McCreadie, Kerry King, Sr., Chase Junghans
FK Rod Ends Heat Race #6 Finish (12 Laps, Top 3 Transfer): Josh Richards, Jonathan Davenport, Billy Moyer, Jr., Brandon Sheppard, Justin Kay, Spencer Diercks, Dave Eckrich, RC Whitwell, Charlie McKenna, Greg Cox
Fast Shafts D-Main Finish (10 Laps, Top 4 Transfer to C-Main): Denny Eckrich, Dale McDowell, Chase Junghans, Jim Shereck, Jason Utter, Paul Glendenning, Greg Cox, Brian Shirley, Tyler Bruening
Keyser MFG C-Main Finish (12 Laps, Top 4 Transfer to B-Main): Mike Marlar, Jason Papich, Dave Eckrich, Donny Schatz, Ryan Gustin, Mitch McGrath, Brian Harris, Rob Moss, Denny Eckrich, Dale McDowell, Jay Johnson, Chase Junghans, Mike Fryer, Charlie McKenna, Jim Shereck, Skip Frey, Kerry King, Sr., Ray Sveeggen, RC Whitwell, Tim McCreadie-DNS, Austin Theiss-DNS, Sonny Findling-DNS
Fast Shafts B-Main Finish (15 Laps, Top 6 Transfer to Feature): Darrell Lanigan, Shannon Babb, Jared Landers, Scott Bloomquist, Jimmy Mars, Brandon Sheppard, Mason Zeigler, Matt Westfall, Ray Guss, Jr., Jason Feger, AJ Diemel, Wendell Wallace, Chris Spieker, Jason Papich, Donny Schatz, Tim Lance, Dave Eckrich, Spencer Diercks, Jason Rauen, Justin Kay, Eddie Carrier, Jr., Mike Marlar
Feature Finish (25 Laps): 1. 6-Jonathan Davenport; 2. 20-Jimmy Owens; 3. 5-Don O'Neal; 4. 1-Earl Pearson Jr; 5. 21BX-Chris Brown; 6. 28E-Dennis Erb Jr; 7. 0-Scott Bloomquist; 8. 25-Chad Simpson; 9. 32S-Chad Stapleton; 10. 777-Jared Landers; 11. 7R-Kent Robinson; 12. 18B-Shannon Babb; 13. 15-Steve Francis; 14. 99JR-Frank Heckenast Jr; 15. 1R-Josh Richards; 16. 29-Darrell Lanigan; 17. 21-Billy Moyer Sr; 18. B5-Brandon Sheppard; 19. 14M-Morgan Bagley; 20. 21B-Rich Bell; 21. 40-Joel Callahan; 22. 21JR-Billy Moyer Jr; 23. 7W-Ricky Weiss; 24. 28M-Jimmy Mars
Race Statistics
Entrants: 63
Lap Leaders: Jonathan Davenport (Laps 1 – 19); Jimmy Owens (Laps 20 – 23); Jonathan Davenport (Laps 24 – 25)
Cautions: Jimmy Mars (Lap 6)
Lucas Oil Late Model Dirt Series Provisionals: n/a
Lucas Oil Late Model Dirt Series Emergency Provisionals: n/a
Miller Welders Fast Time Provisionals: n/a
Wrisco Feature Winner: Jonathan Davenport
Optima Batteries Hard Charger of the Race: Scott Bloomquist (Started: 22nd; Finished: 7th; Advanced 15 Positions)
Midwest Sheet Metal Spoiler Challenge Point Leader: Jonathan Davenport
Allstar Performer of the Race: Jimmy Owens
Sunoco Race for Gas Highest Finisher: Jonathan Davenport
Rookie of the Race: Chris Brown
COMP Cams Engine Builder of the Race: Cornett Racing Engines
Ohlins Shocks Chassis Builder of the Race: Longhorn Chassis
Outerwears Crew Chief of the Race: Aaron Faugust (Brandon Sheppard)
CV Products Fastest Lap of the Race: Jonathan Davenport (Lap #2 – 19.455 seconds)
Hot Rod Processing Most Laps Led: Jonathan Davenport (21 Laps)
PFC Brakes Tough Break Award: Jimmy Mars
Time of Race: 18 minutes 36 seconds
---
Submitted By: Jeremy Shields
Back to News