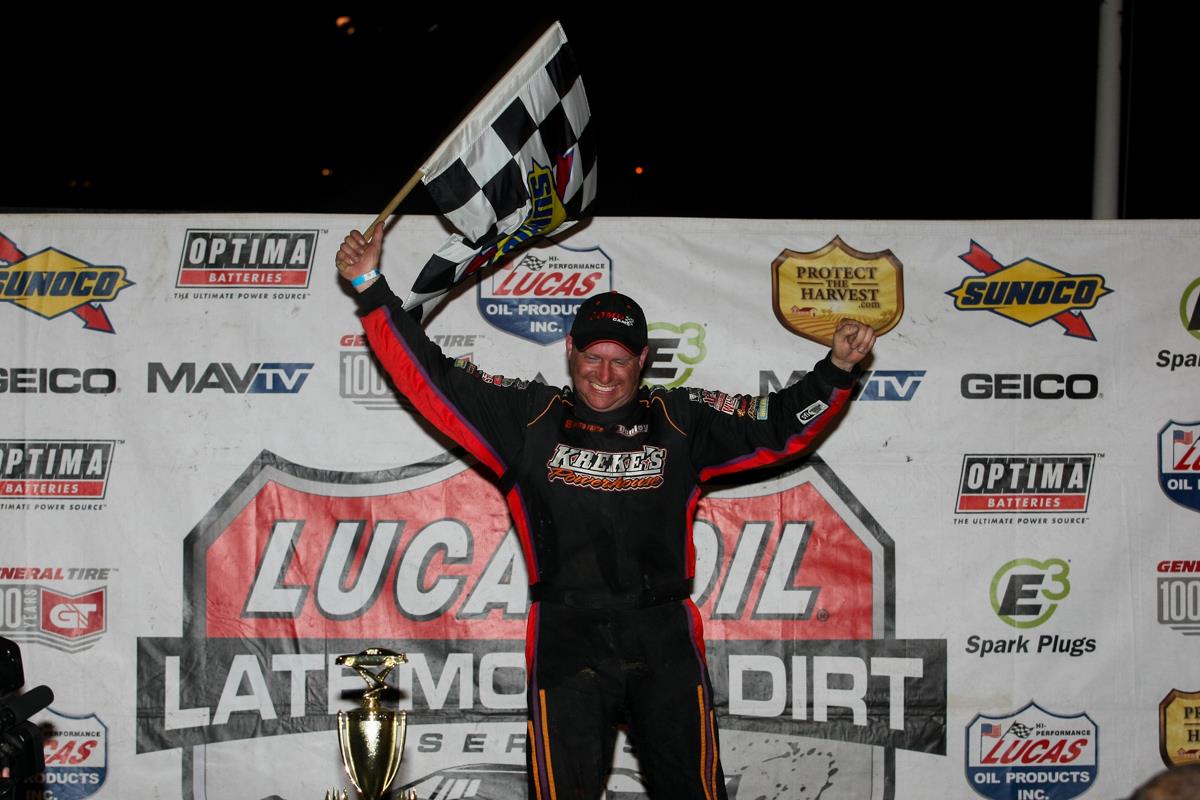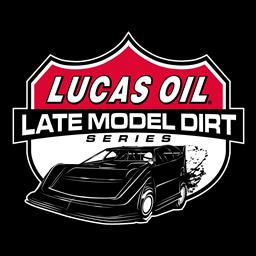 8/15/2015
Lucas Oil Late Model Dirt Series
---
Shannon Babb Charges to COMP Cams Topless 100 Victory
LOCUST GROVE, AR (August 15, 2015) – Shannon Babb charged from the 13th starting spot to take the lead on lap 85 and go on to win the 23rd Annual COMP Cams Topless 100 presented by Crop Production Services. Chris Brown led the first 84 laps before yielding the lead to Babb. Babb then held off Mike Marlar to take the $40,000 victory on Saturday night at Batesville Motor Speedway.
Trailing Babb and Marlar to the finish line were Dale McDowell, Brown, and Brandon Sheppard.
"What a great car we had," said Babb who won the event for the second time in his career. "I knew at about lap 60 we were going to be a factor towards the end. The car just kept getting better and better. We had some interesting restarts with Scott [Bloomquist], he and I went back-and-forth until I was finally able to get by him.
"I caught Brown there in traffic, and once I cleared him I knew we would be hard to beat. We had some trouble with a few lapped cars, but that's what happens sometimes. The track I thought was really good all weekend long. We missed practice on Thursday Night. But ever since we unloaded on Friday the car has performed awesome."
"I would like to thank Ed Petroff for everything he has done for me. He got me this new Club 29 car and we started racing it in mid-July. We had a new Clements motor in there tonight and thanks to Glen Clements for building such a strong engine. Donley Trucking has been a big help to us as well."
"It's always fun to win one of these crown jewel events; first off the prestige of winning and secondly it's a real good payday. Davenport has won every one of them this year; he had some bad luck tonight. It's about time somebody else won one of these," said a smiling Babb. "I also want to thank CJI Piping from Texas, C&E Industrial, Mudd's Repair, Kreke's Powerhouse, Printworx, B Auto Parts, Kuebler Oil and all the fans for coming out to watch us race,"
Brown vaulted to the lead from his outside front row starting position and was challenged early by Jared Landers and Jimmy Owens. Bloomquist then took his turn to track down the Texan. Babb had moved into second by lap 66 and slowly tracked down the Texan.
Marlar and McDowell secured podium finishes in the closing laps. Marlar was able to close in on Babb during the final five laps, but never could pull alongside the veteran driver.
"We are tickled to death with this finish," said Marlar. "This Capital Race Car has just been super. They are a great bunch of people to work with. The car just seems to fit my driving style better than most. I have to thank Ronnie Delk and Delk Equipment Sales for putting us in such great equipment. We were third last week at Florence and then to come home second here tonight, it just shows how good this team is."
McDowell, another former winner of the race came home third. "We weren't particularly good early on. The tires started to come into it over the last half of the race. We were just rolling along there on the bottom and everybody else was running the middle to top. At the end we had one of the fastest cars on the track. Congratulations to Shannon on the win, he deserved it."
Completing the top ten were Earl Pearson Jr., Wendell Wallace, Steve Francis, Dennis Erb Jr., and Don O'Neal.
In preliminary action, Jonathan Davenport set the overall Miller Welders Fast Time (Group A) amongst the 57 entrants, with a lap of 13.434 seconds. Jimmy Owens set the fastest time in Group B with a time of 13.448 seconds. Earl Pearson Jr., Dale McDowell, Chris Brown, Jimmy Owens, Jared Landers, and Garrett Alberson won their respective heat races. Chris Simpson and Stacy Taylor won their respective B-Mains.
For the latest breaking news on the Lucas Oil Late Model Dirt Series, log onto www.lucasdirt.com and follow the series at www.facebook.com/lucasdirt, www.twitter.com/lucasdirt, and www.instagram.com/lucasdirt.
Lucas Oil Late Model Dirt Series
Race Summary
Saturday, August 15th, 2015
23rd Annual COMP Cams Topless 100 presented by Crop Production Services
Batesville Speedway – Batesville, AR
Miller Welders Fast Time Group A: Jonathan Davenport / 13.434 seconds
Miller Welders Fast Time Group B: Jimmy Owens / 13.448 seconds
Eibach Springs Heat Race #1 Finish (15 Laps, Top 3 Transfer): Earl Pearson, Jr., Jonathan Davenport, Shannon Babb, Steve Francis, Jon Mitchell, BJ Robinson, Travis Ashley, Charlie LaPlant, Payton Looney, Brandon Smith
FK Rod Ends Heat Race #2 Finish (15 Laps, Top 3 Transfer): Dale McDowell, Mike Marlar, Wendell Wallace, Chris Simpson, Austin Siebert, Billy Moyer, Tony Jackson, Jr., Ray Moore, Larry Campbell, Robby Moore
Simpson Performance Products Heat Race #3 Finish (15 Laps, Top 3 Transfer): Chris Brown, Eddie Carrier, Jr., Hunter Rasdon, David Payne, Robbie Stuart, Dwight Falcon, Brad Looney, Tommy Surrett, Shannon Scott
QA1 Heat Race #4 Finish (15 Laps, Top 3 Transfer): Jimmy Owens, Terry Phillips, Brandon Sheppard, Jeremy Payne, Chandler Petty, Dennis Erb, Jr., Justin Asplin, Ryan Gustin, Austin Rettig, Shane Harris
COMP Cams Heat Race #5 Finish (15 Laps, Top 3 Transfer): Jared Landers, Scott Bloomquist, Billy Moyer, Jr., Stacy Taylor, Allen Tippen, Robert Baker, Raymond Merrill, Jamie Elam, Timothy Culp
Crop Production Services Heat Race #5 Finish (15 Laps, Top 3 Transfer): Garrett Alberson, Don O'Neal, Jesse Stovall, Tyler Erb, Kyle Beard, Clay Fisher, Gavin Landers, Jack Sullivan, Cole Farmer
Fast Shafts B-Main #1 Finish (15 Laps, Top 2 Transfer): Chris Simpson, BJ Robinson, Jon Mitchell, Robbie Stuart, Payton Looney, Travis Ashley, Steve Francis, Dwight Falcon, Ray Moore, Tommy Surrett, Brad Looney, Charlie LaPlant, Austin Siebert, Brandon Smith, Larry Campbell, David Payne, Billy Moyer-DNS, Tony Jackson, Jr.-DNS, Shannon Scott-DNS, Robby Moore-DNS
Keyser MFG B-Main #2 Finish (15 Laps, Top 2 Transfer): Stacy Taylor, Tyler Erb, Chandler Petty, Robert Baker, Dennis Erb, Jr., Justin Asplin, Allen Tippen, Ryan Gustin, Jamie Elam, Clay Fisher, Austin Rettig, Cole Farmer, Shane Harris, Jack Sullivan, Jeremy Payne, Kyle Beard, Raymond Merrill-DNS, Gavin Landers-DNS, Timothy Culp-DNS
Feature Line Up (100 Laps): 1. 18-Shannon Babb; 2. 157-Mike Marlar; 3. 17MX-Dale McDowell; 4. 21B-Chris Brown; 5. B5-Brandon Sheppard; 6. 1-Earl Pearson Jr; 7. 6M-Wendell Wallace; 8. 15-Steve Francis; 9. 28E-Dennis Erb Jr; 10. 5-Don O'Neal; 11. F5-Garrett Alberson; 12. 6-Jonathan Davenport; 13. 91-Tyler Erb; 14. 28-Eddie Carrier Jr; 15. 1R-BJ Robinson; 16. 18S-Jack Sullivan; 17. 20-Jimmy Owens; 18. R5-Chris Simpson; 19. 0-Scott Bloomquist; 20. R5X-Hunter Rasdon; 21. 86-Kyle Beard; 22. 777-Jared Landers; 23. 27T-Stacy Taylor; 24. 00-Jesse Stovall; 25. 21JR-Billy Moyer Jr
Race Statistics
Entrants: 57
Lap Leaders: Chris Brown (Laps 1 – 84); Shannon Babb (Laps 85 – 100)
Cautions: Dennis Erb, Jr. (Lap 17); Jonathan Davenport (Lap 38); Jesse Stovall (Lap 43); Hunter Rasdon (Lap 51); Jimmy Owens (Lap 60); Jonathan Davenport (Lap 64)
Lucas Oil Late Model Dirt Series Provisionals: Dennis Erb Jr.; Steve Francis
Lucas Oil presents the COMP Cams Super Dirt Series Provisionals: Jack Sullivan; Kyle Beard
Lucas Oil Late Model Dirt Series Emergency Provisionals: n/a
Miller Welders Fast Time Provisionals: n/a
Wrisco Feature Winner: Shannon Babb
Optima Batteries Hard Charger of the Race: Steve Francis (Started: 24th; Finished: 8th; Advanced 16 Positions)
Midwest Sheet Metal Spoiler Challenge Point Leader: Jonathan Davenport
Allstar Performer of the Race: Chris Brown
Sunoco Race for Gas Highest Finisher: Brandon Sheppard
Lucas Oil Products Rookie of the Race: Chris Brown
COMP Cams Engine Builder of the Race: Clements Race Engines
Ohlins Shocks Chassis Builder of the Race: Club 29 Race Cars
Outerwears Crew Chief of the Race: Donnie Pederson (Chris Brown)
CV Products Fastest Lap of the Race: Jared Landers (Lap # 3 – 14.950 seconds)
Hot Rod Processing Most Laps Led: Chris Brown (84 Laps)
PFC Brakes Tough Break Award: Jared Landers
Time of Race: 53 minutes 26 seconds
---
Submitted By: Jeremy Shields
Back to News