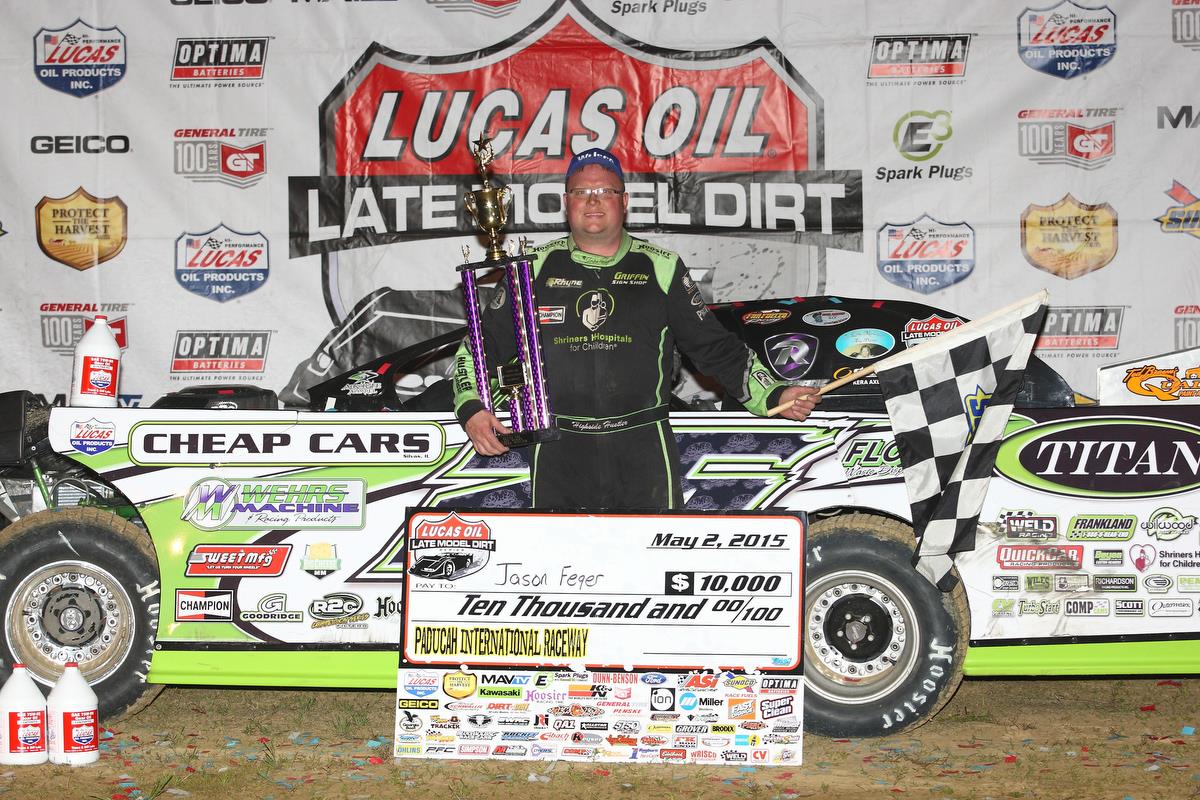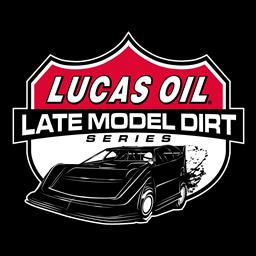 5/2/2015
Lucas Oil Late Model Dirt Series
---
Feger Fends Off O'Neal for Second Straight Lucas Oil Win at Paducah
PADUCAH, KY (May 2, 2015) – Jason Feger had to fight off three other drivers to win the Lucas Oil Late Model Dirt Series event on Saturday Night at Paducah International Raceway. Feger's win duplicated his victory from a year ago in the "Spring Showdown."
Defending LOLMDS Champion, Don O'Neal finished a close second followed by Jimmy Owens, Bobby Pierce, and Scott Bloomquist."
Man I don't know what to say," said Feger. "I just drove it as hard as I could. I knew Davenport couldn't keep up that pace without something happening and it did."
Jonathan Davenport had led the first 18 laps of the race dominating the field until he developed a right rear flat tire forcing him to pit for a tire change.
Feger then took over the top spot as the last half of the race would have the crowd on the edge of their seats. Feger, O'Neal, Owens and Pierce were exchanging slidejobs with Feger and O'Neal making contact for the lead a few times while Owens and Pierce were right in the mix.
Feger held a comfortable advantage as the white flag waved. O'Neal made one last effort on the final circuit, but came up a few feet short. Feger becomes the 10th different winner in 15 Lucas Oil Late Model Dirt Series event in 2015.
"I think the fans saw a great race. I was glad to be out in front. I could peek to the inside and see those other guys there. You can't run straight down the straightaways here and with the high-banks it gets pretty wild out there."
"I thought a few times we were going to wreck," said Feger commenting on his contact with O'Neal. "I was sideways down the front stretch at one time. But we both were racing hard and things like that will happen."
"I would like to thank my sponsors, Cheap Cars, Pro Tire and Automotive, Floyd's Disposal, Griffin Sign Shop, Titan, Wehr's Machine, All-Star Performance, and Rhyne Engines." Feger drives his own self-built Hustler Chassis.
O'Neal's second place finish concluded back-to-back nights of top five finishes Clint Bowyer Racing #5. "It was good points night. We run hard for the lead, there wasn't much give and take, then you had little Bobby [Pierce] in there, man what a race that was. I want to thank everyone at Clint Bowyer Racing, my crew and my sponsors: Peak Antifreeze and Motor Oil, Crawford Supply, Georgia Boot and Cometic Gasket."
Owens in the Rowland Racing, Widow Wax Car Care Products-sponsored entry was pleased with his third place finish. "It feels good to get a top three here. Our car stayed glued on the bottom for most of the race. Those guys in front of me were jostling all over. It was a great race to watch."
Completing the top ten were Earl Pearson Jr., Billy Moyer, Jimmy Mars, Dennis Erb Jr., and Tanner English.
In preliminary action, Jonathan Davenport set the overall Miller Welders Fast Time (Group B) amongst the 30 entrants, with a lap of 15.349 seconds. Jimmy Owens set the fastest time in Group A with a time of 15.395 seconds. Jason Feger, Scott Bloomquist, Jonathan Davenport, and won their respective heat races. Chris Simpson and Chris Brown won their respective B-Mains.
For the latest breaking news on the Lucas Oil Late Model Dirt Series, log onto www.lucasdirt.com and follow the series at www.facebook.com/lucasdirt, www.twitter.com/lucasdirt, and www.instagram.com/lucasdirt.
Lucas Oil Late Model Dirt Series
Race Summary
Saturday, May 2nd, 2015
Spring Showdown
Paducah International Raceway – Paducah, KY
Miller Welders Fast Time Group A: Jimmy Owens / 15.395 seconds
Miller Welders Fast Time Group B: Jonathan Davenport / 15.349 seconds
Eibach Springs Heat Race #1 Finish (10 Laps, Top 4 Transfer): Jason Feger, Jimmy Owens, Steve Francis, Bobby Pierce, Brandon Sheppard, Jimmy Mars, Charlie LaPlant, Dewayne Kiefer-DNS
FK Rod Ends Heat Race #2 Finish (10 Laps, Top 4 Transfer): Scott Bloomquist, Earl Pearson, Jr., Shannon Babb, Jared Landers, Chris Simpson, Matt Westfall, Virgil Bush
Simpson Performance Products Heat Race #3 Finish (10 Laps, Top 4 Transfer): Jonathan Davenport, Don O'Neal, Tanner English, Devin Moran, Chris Brown, Terry English, Jarryd Holshouser, Austin Rettig
QA1 Heat Race #4 Finish (10 Laps, Top 4 Transfer): Billy Moyer, Dennis Erb, Jr., Eddie Carrier, Jr., Jason Riggs, Jeremy Sneed, Mike Benedum, Chris Shelton
Fast Shafts B-Main #1 Finish (12 Laps, Top 3 Transfer): Chris Simpson, Brandon Sheppard, Jimmy Mars, Charlie LaPlant, Matt Westfall, Dewayne Kiefer-DNS, Virgil Bush-DNS
Keyser MFG B-Main #2 Finish (12 Laps, Top 3 Transfer): Chris Brown, Jeremy Sneed, Mike Benedum, Jarryd Holshouser, Austin Rettig, Chris Shelton, Terry English
Feature Finish (50 Laps): 1. 25F-Jason Feger; 2. 5-Don O'Neal; 3. 20-Jimmy Owens; 4. 32-Bobby Pierce; 5. 0-Scott Bloomquist; 6. 1-Earl Pearson Jr; 7. 21-Billy Moyer Sr; 8. 28M-Jimmy Mars; 9. 28E-Dennis Erb Jr; 10. 96T-Tanner English; 11. 21B-Chris Brown; 12. 6-Jonathan Davenport; 13. 777-Jared Landers; 14. 99M-Devin Moran; 15. 81JR-Jason Riggs; 16. 54-Matt Westfall; 17. B5-Brandon Sheppard; 18. 28-Eddie Carrier Jr; 19. 18-Shannon Babb; 20. 24S-Jeremy Sneed; 21. 32S-Chris Simpson; 22. 15-Steve Francis; 23. 96-Terry English; 24. 25-Mike Benedum
Race Statistics
Entrants: 30
Lap Leaders: Jonathan Davenport (Laps 1 – 17); Jason Feger (Laps 18 – 50)
Cautions: Jonathan Davenport (Lap 18); Bobby Pierce (Lap 21)
Lucas Oil Late Model Dirt Series Provisionals: none
Lucas Oil Late Model Dirt Series Emergency Provisionals: none
Miller Welders Fast Time Provisionals: Matt Westfall; Terry English
Wrisco Feature Winner: Jason Feger
Optima Batteries Hard Charger of the Race: Jimmy Owens (Started: 21st; Finished: 8th; Advanced 13 Positions)
Midwest Sheet Metal Spoiler Challenge Point Leader: Earl Pearson Jr.
Allstar Performer of the Race: Jason Feger
Sunoco Race for Gas Highest Finisher: Don O'Neal
Rookie of the Race: Chris Brown
COMP Cams Engine Builder of the Race: Rhyne Competition Engines
Ohlins Shocks Chassis Builder of the Race: Hustler Race Cars
Outerwears Crew Chief of the Race: Kenny Holt (Jimmy Owens)
CV Products Fastest Lap of the Race: Jonathan Davenport (Lap #2 – 16.414 seconds)
Hot Rod Processing Most Laps Led: Jason Feger
PFC Brakes Tough Break Award: Steve Francis
Time of Race: 22 minutes 38 seconds
---
Submitted By: Jeremy Shields
Back to News