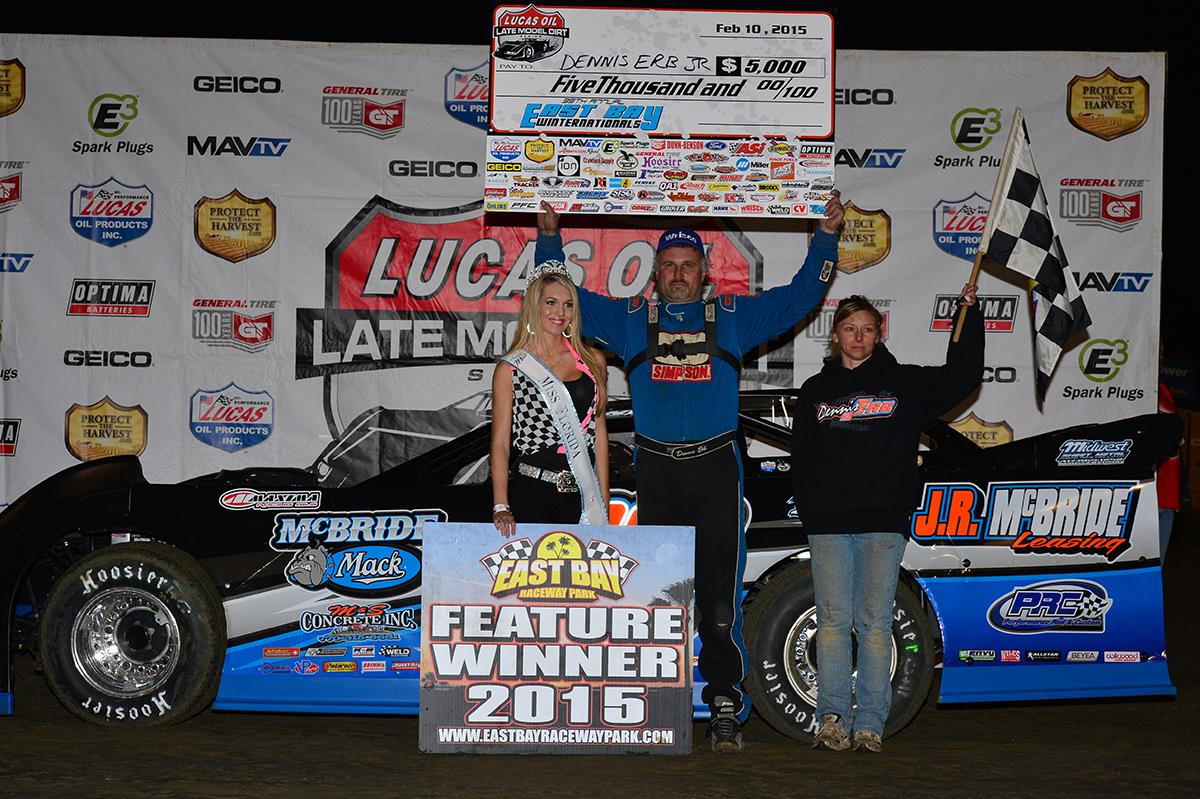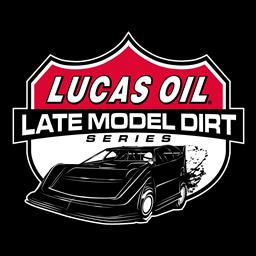 2/10/2015
Lucas Oil Late Model Dirt Series
---
Dennis Erb Jr Wins Opening Night of East Bay Raceway Park Winternationals
TAMPA, FL (February 10, 2015) – Dennis Erb Jr. took the lead on lap ten and won a thrilling feature event on the opening night of the Lucas Oil Late Model Dirt Series Winternationals at East Bay Raceway Park. Erb's seventh career win at "The Clay by the Bay" was hard fought early on as he and Billy Moyer had a back and forth battle for the lead.
Earl Pearson Jr. came home second after skating by Moyer on lap 14. Moyer then held off a furious late-race rally from Bobby Pierce to take third. Pierce started 16th on the grid and wound up fourth with Brandon Sheppard coming home in fifth.
"It feels good to get the win on the first night. It seemed like no one could get any traction out there. Turns three and four were slick and one and two were hammer-down. I guess we were just lucky to pull away from those guys. Billy [Moyer] and I had a really good race at the start. I didn't know what was going on behind me. All I know is that turn four was hard to get out of. The fans definitely saw an exciting race, but our cars were a handful to drive," said Erb.
"I would like to thank Barry Wright Race Cars and Jay Dickens Race Engines. It was the first time we've run this combination here. We ran really well on Saturday Night at Golden Isles. I want to thank my crew chief, Heather Lyne, my sponsors, McBride Mack, JR McBride Leasing, Cheap Cars, PRC, Midwest Sheet Metal, Maximum Racing Oils, M&S Concrete, and Ohlins."
The race for the lead between Erb and Moyer was spectacular in the first six laps of the race. Each led three circuits, and then Moyer led three more until Erb wrestled the lead away from him for good on lap ten.
Pearson was happy with his runner-up finish. "Our car was good all night; these hard tires are something to deal with on this race track. It was a pretty good race, and trying to get traction was difficult. I want to thank Lucas Oil Products and Dunn-Benson Ford. We will be back tomorrow night and give it another shot."
Moyer, the winningest Late Model driver in Winternationals history [with 23 victories] was pleased with his third place car. "As it turned out, Dennis had the best car. My car kept jumping in-and-out of gear; I am not making excuses, it just happened. We just have to figure out these tires and go from there. We have had a good start to speedweeks and we hope to continue that momentum here tomorrow night," said the driver the Henderson Motorsports and Garnant Family Longhorn Chassis.
Completing the top ten were Dennis Franklin, Josh Richards, Billy Moyer Jr., Eddie Carrier, Jr. and Jason Papich.
In preliminary action, Dennis Erb Jr. set the overall Miller Welders Fast Time (Group A) amongst the 42 entrants, with a lap of 15.177 seconds. Billy Moyer set the fastest time in Group B with a time of 15.273 seconds. Dennis Erb Jr., Stormy Scott, Billy Moyer and Earl Pearson Jr. won their respective heat races. Jimmy Owens and Mark Whitener won their respective B-Mains. Jason Papich won the DirtonDirt.com Strawberry Dash.
For the latest breaking news on the Lucas Oil Late Model Dirt Series, log onto www.lucasdirt.com and follow the series on www.facebook.com/lucasdirt, www.twitter.com/lucasdirt, and www.instagram.com/lucasdirt.
Lucas Oil Late Model Dirt SeriesRace Summary
Tuesday, February 10th, 2015
39th Annual Winternationals
East Bay Raceway Park – Tampa, FL
Miller Welders Fast Time Group A: Dennis Erb Jr. / 15.177 seconds
Miller Welders Fast Time Group B: Billy Moyer / 15.273 seconds
Eibach Springs Heat Race #1 Finish (10 Laps, Top 4 Transfer): Dennis Erb, Jr., Jonathan Davenport, Brandon Sheppard, Josh Richards, Jimmy Owens, Russell Brown, Jr., Doug Blashe, John Gardner, Nick Davis, Gavin Landers, Kenny PettyJohn
FK Rod Ends Heat Race #2 Finish (10 Laps, Top 4 Transfer): Stormy Scott, Billy Moyer, Jr., Dennis Franklin, Gregg Satterlee, Ricky Weiss, Mason Zeigler, Chris Brown, Dan Schlieper, Chad Hollenbeck, Jason Papich
Simpson Performance Products Heat Race #3 Finish (10 Laps, Top 4 Transfer): Billy Moyer, Kyle Bronson, Scott Bloomquist, Davey Johnson, Mark Whitener, Tim Dohm, Allen Murray, Austin Rettig, James O'Hara, Eddie Carrier, Jr., Dustin Mitchell
QA1 Heat Race #4 Finish (10 Laps, Top 4 Transfer): Earl Pearson, Jr., Devin Moran, Dan Stone, Bobby Pierce, Mike Benedum, Terry English, David Fieber, Gregg Hill, Bob Gardner, Jared Landers
Fast Shafts B-Main #1 Finish (12 Laps, Top 4 Transfer): Jimmy Owens, Russell Brown, Jr., Mason Zeigler, Chad Hollenbeck, Chris Brown, Ricky Weiss, Jason Papich, Doug Blashe, John Gardner, Nick Davis, Gavin Landers, Kenny PettyJohn-DNS
Keyser MFG B-Main #2 Finish (12 Laps, Top 4 Transfer): Mark Whitener, Mike Benedum, Allen Murray, Austin Rettig, Terry English, David Fieber, Dustin Mitchell, Gregg Hill, James O'Hara, Tim Dohm-DNS, Bob Gardner-DNS, Eddie Carrier, Jr.-DNS, Jared Landers-DNS
DirtonDirt.com Strawberry Dash Finish: Jason Papich, Doug Blashe, Terry English, John Gardner, Chris Brown, James O'Hara, Ricky Weiss, Dustin Mitchell, Davie Fieber-DNS, Gregg Hill-DNS
Feature Finish (25 Laps): 1. 28E-Dennis Erb Jr; 2. 1-Earl Pearson Jr; 3. 21-Billy Moyer Sr; 4. 32-Bobby Pierce; 5. B5-Brandon Sheppard; 6. 2F-Dennis Franklin; 7. 1R-Josh Richards; 8. 21JR-Billy Moyer Jr; 9. 28-Eddie Carrier Jr; 10. 91P-Jason Papich; 11. 25-Mike Benedum; 12. 0-Scott Bloomquist; 13. 20-Jimmy Owens; 14. 58-Mark Whitener; 15. 2M-Allen Murray; 16. 00-Russell Brown Jr; 17. 4 DS-Chad Hollenbeck; 18. 2S-Stormy Scott; 19. 6-Jonathan Davenport; 20. 40B-Kyle Bronson; 21. 99M-Devin Moran; 22. 25Z-Mason Zeigler; 23. 94-Austin Rettig; 24. 1J-Davey Johnson; 25. 22S-Gregg Satterlee; 26. 21D-Dan Stone
Race Statistics
Entrants: 42
Lap Leaders: Dennis Erb Jr. (Laps 1 – 2); Billy Moyer (Lap 3); Dennis Erb Jr. (Laps 4 – 6); Billy Moyer (Laps 7 – 9); Dennis Erb Jr. (Laps 10 – 25)
Cautions: Jimmy Owens, Russell Brown Jr., Chad Hollenbeck (Lap 1); Gregg Satterlee (Lap 5); Devin Moran, Mason Zeigler (Lap 6); Jonathan Davenport (Lap 10); Stormy Scott (Lap 15)
Lucas Oil Late Model Dirt Series Provisionals: n/a
Lucas Oil Late Model Dirt Series Emergency Provisionals: n/a
Miller Welders Fast Time Provisional: Eddie Carrier Jr.
DirtonDirt.com Strawberry Dash Provisional: Jason Papich
Wrisco Feature Winner: Dennis Erb Jr.
Optima Batteries Hard Charger of the Race: Eddie Carrier Jr. (Started: 25th; Finished: 9th; Advanced 16 Positions)
Midwest Sheet Metal Spoiler Challenge Point Leader: Earl Pearson Jr.
Allstar Performer of the Race: Bobby Pierce
Sunoco Race for Gas Highest Finisher: Earl Pearson Jr.
Rookie of the Race: n/a
COMP Cams Engine Builder of the Race: Jay Dickens Racing Engines
Ohlins Shocks Chassis Builder of the Race: Barry Wright Race Cars
Outerwears Crew Chief of the Race: Heather Lyne
CV Products Fastest Lap of the Race: Dennis Erb Jr. (Lap #2 – 16.494 seconds)
Hot Rod Processing Most Laps Led: Dennis Erb Jr. (21 Laps)
PFC Brakes Tough Break Award: Devin Moran
Time of Race: 27 minutes 4 seconds
---
Submitted By: Jeremy Shields
Back to News