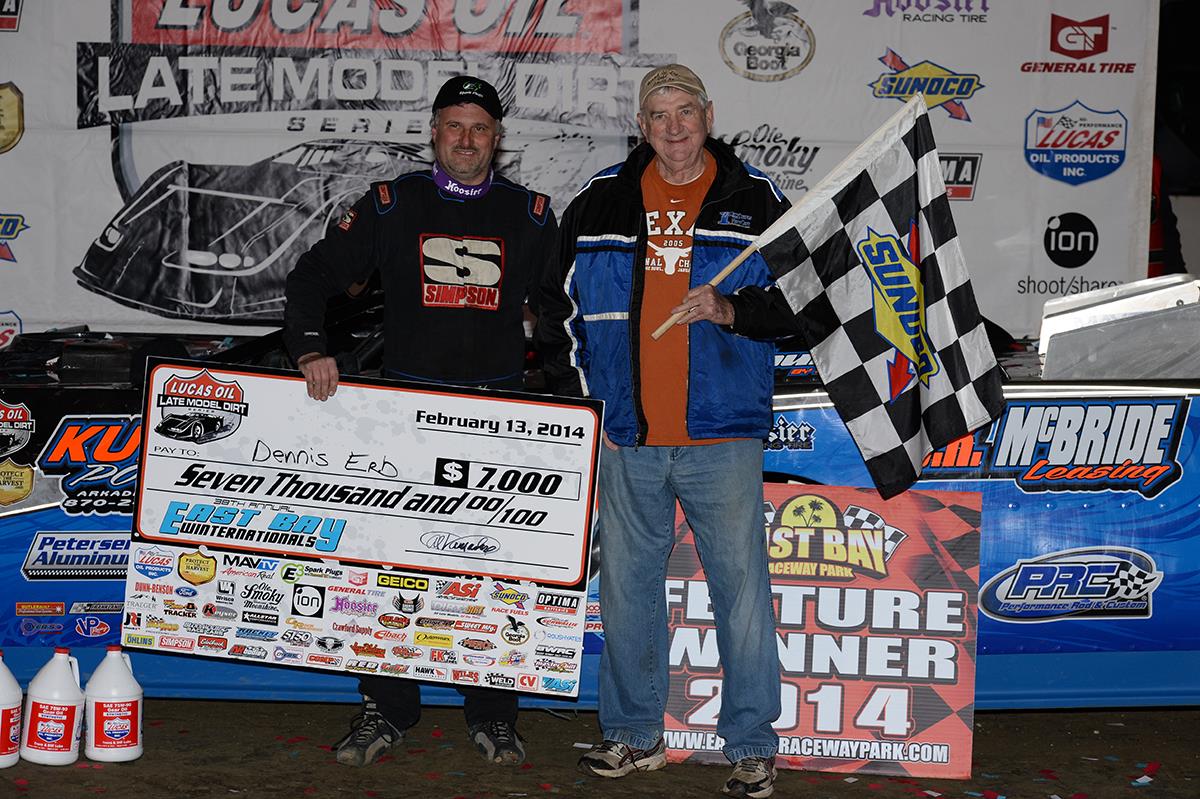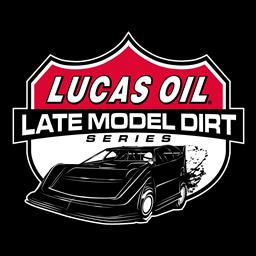 2/13/2014
Lucas Oil Late Model Dirt Series
---
Dennis Erb Wins a Wild One at East Bay on Thursday Night
"It feels great to beat Billy [Moyer] here and get a win for C.J. Rayburn and Rayburn Race Cars. The last few years we've really ran well here. We just got this car at the beginning of January and rushed to get it together to bring it down to Golden Isles and East Bay. When he [Moyer] started running that high-line through one and two, I thought maybe I had a shot at him," said the winner in Lucas Oil Victory Lane with his Crew Chief, Heather Lyne.
"We got by him a couple of times early on, but never took the lead at the flag stand. Those couple of cautions there really helped me. Then he [Moyer] started going up the track in turn two to get around that hole up there. We stayed glued to the bottom and eventually we were able to get by him," said the driver of the JR McBride Leasing, Kuntz and Company-powered #28E C.J. Rayburn Race Car.
Erb earned his fifth career win at East Bay Raceway Park. The win was the first at East Bay for a Rayburn Race Cars entry since Mike Marlar won in 2010.
Moyer was looking for his second straight victory at the 38th Winternationals, but it was not to be. When Erb made the winning pass, he took off and Moyer was never able to regain the top spot again. "Hats off to him [Erb], he drove a good race. If we kept running through turn two like it was, we were not going to finish the race. So I entered turn one high and continued through two in the same line, but his car was good on the bottom, and I couldn't get back around him," said Moyer afterwards.
Owens settled for third as the 3-time and defending series champion had his best finish of the season. "Our car was off a tick and we weren't going to beat Dennis or Billy tonight. We had a good race with Scott [Bloomquist] for a long time. The car is getting better and hopefully tomorrow night we will have it dialed in."
Completing the top ten were Davey Johnson, Steve Francis, Eddie Carrier Jr., Devin Moran, and Bobby Pierce.
In preliminary action, Dennis Erb Jr. set the overall Miller Welders Fast Time (Group B) amongst the ­48 entrants, with a lap of 14.094 seconds. Billy Moyer set the fastest time in Group A with a time of 14.253 seconds. Billy Moyer, John Blankenship, Dennis Erb Jr., and Davey Johnson won their respective heat races. Don O'Neal and Mark Whitener won their respective B-Mains.
For the latest breaking news on the Lucas Oil Late Model Dirt Series, log onto www.lucasdirt.com and follow the series on www.facebook.com/lucasdirt and www.twitter.com/lucasdirt.
Lucas Oil Late Model Dirt Series
Race Summary
Thursday Night, February 13th, 2014
38th Annual East Bay Winternationals
East Bay Raceway Park – Tampa, FL
Miller Welders Fast Time Group A: Billy Moyer/ 14.253 seconds
Miller Welders Fast Time Group B: Dennis Erb Jr. / 14.094 seconds
Fast Shafts Heat Race #1 Finish (10 Laps, Top 4 Transfer): Billy Moyer, Jimmy Owens, Brian Shirley, Scott Bloomquist, Don O'Neal, Eric Jacobsen, Justin Rattliff, Kenny PettyJohn, Ricky Weiss, Dan Stone, Jay Morris, Adam Bowman
Eibach Springs Heat Race #2 Finish (10 Laps, Top 4 Transfer): John Blankenship, Eddie Carrier Jr., Bobby Pierce, Devin Moran, Billy Moyer Jr., Brandon Sheppard, Jason Papich, Tim McCreadie, John Mollick, Chad White, Bob Geiger, Randy Weaver
Simpson Performance Products Heat Race #3 Finish (10 Laps, Top 4 Transfer): Dennis Erb Jr., Gregg Satterlee, Jason Hughes, Jason Riggs, Mark Whitener, Dennis Franklin, Leon Henderson, Mike Benedum, Chad Stapleton, Joe Denby, Kevin Weaver, Dustin Mitchell-DNS
FK Rod Ends Heat Race #4 Finish (10 Laps, Top 4 Transfer): Davey Johnson, Steve Francis, Jared Landers, Nick Davis, Chad Hollenbeck, Jay Brunson, Ray Cook, Earl Pearson Jr., Vic Coffey, Booper Bare, Andy Bond, James O'Hara
JRi Shocks B-Main #1 (12 Laps, Top 3 Transfer): Don O'Neal, Eric Jacobsen, Kenny PettyJohn, Billy Moyer Jr., Justin Rattliff, Brandon Sheppard, Dan Stone, Jason Papich, Ricky Weiss, Jay Morris, Chad White, Bob Geiger, Adam Bowman, Randy Weaver-DNS, John Mollick-DNS, Tim McCreadie-DNS
CV Products B-Main #2 (12 Laps, Top 3 Transfer): Mark Whitener, Chad Hollenbeck, Ray Cook, Dennis Franklin, Mike Benedum, Leon Henderson, Kevin Weaver, Dustin Mitchell, Jay Brunson, Chad Stapleton, Earl Pearson Jr., Joe Denby, Vic Coffey-DNS, Booper Bare-DNS, Andy Bond-DNS, James O'Hara-DNS
DirtonDirt.com Strawberry Dash Finish (Winner Transfers): Brandon Sheppard (Winner was drawn at random)
Feature Finish (25 Laps): 1. 28E-Dennis Erb Jr; 2. 21-Billy Moyer Sr; 3. 20-Jimmy Owens; 4. 0-Scott Bloomquist; 5. 1-Brandon Sheppard; 6. 1J-Davey Johnson; 7. 15-Steve Francis; 8. 28-Eddie Carrier Jr; 9. 99M-Devin Moran; 10. 32-Bobby Pierce; 11. 23-John Blankenship; 12. 777-Jared Landers; 13. 5-Don O'Neal; 14. 38-Kenny Pettyjohn; 15. 92-Nick Davis; 16. 58-Mark Whitener; 17. 81JR-Jason Riggs; 18. 53-Ray Cook; 19. 44-Earl Pearson Jr; 20. 81-Brian Shirley; 21. 21JR-Billy Moyer Jr; 22. 4 DS-Chad Hollenbeck; 23. 22-Gregg Satterlee; 24. 12-Jason Hughes; 25. 32C-Vic Coffey; 26. 5J-Eric Jacobsen
Race Statistics
Entrants: 48
Lap Leaders: Billy Moyer (Laps 1 – 37); Dennis Erb Jr. (Laps 38 – 45)
Caution Flags: Gregg Satterlee, Chad Hollenbeck (Lap 1); Brandon Sheppard (Lap 1); Jason Hughes (Lap 2); Brian Shirley, Billy Moyer Jr. (Lap 2); Earl Pearson Jr. (Lap 14); Jared Landers (Lap 30); Mark Whitener (Lap 34)
Lucas Oil Late Model Dirt Series Provisionals: Earl Pearson Jr.; Billy Moyer Jr.
Lucas Oil Late Model Dirt Series Emergency Provisionals: N/A
Hedman Hedders Fast Time Provisional: Vic Coffey
DirtOnDirt.com Strawberry Dash Winner: Brandon Sheppard***Winner was drawn at random.
Wrisco Feature Winner: Dennis Erb Jr.
Optima Batteries Hard Charger of the Race: Brandon Sheppard (Started: 26th; Finished: 5th; Advanced: 21 positions)
Keyser Mfg Spoiler Challenge Point Leader: N/A
Allstar Performer of the Race: Dennis Erb Jr.
Sunoco Race for Gas Highest Finisher: Billy Moyer
Dunn Benson Ford Rookie of the Race: Will begin after RoY registration deadline.
Midwest Sheet Metal Highest Finishing Rookie: Will begin after RoY registration deadline.
COMP Cams Engine Builder of the Race: Kuntz Racing Engines
Ohlins Shocks Chassis Builder of the Race: CJ Rayburn Race Cars
Outerwears Crew Chief of the Race: Heather Lyne (Dennis Erb Jr.)
HAWK Performance Fastest Lap of the Race: Billy Moyer – Lap 8 – 14.430 seconds Time of Race: 37 minutes 34 seconds
---
Submitted By: Jeremy Shields
Back to News