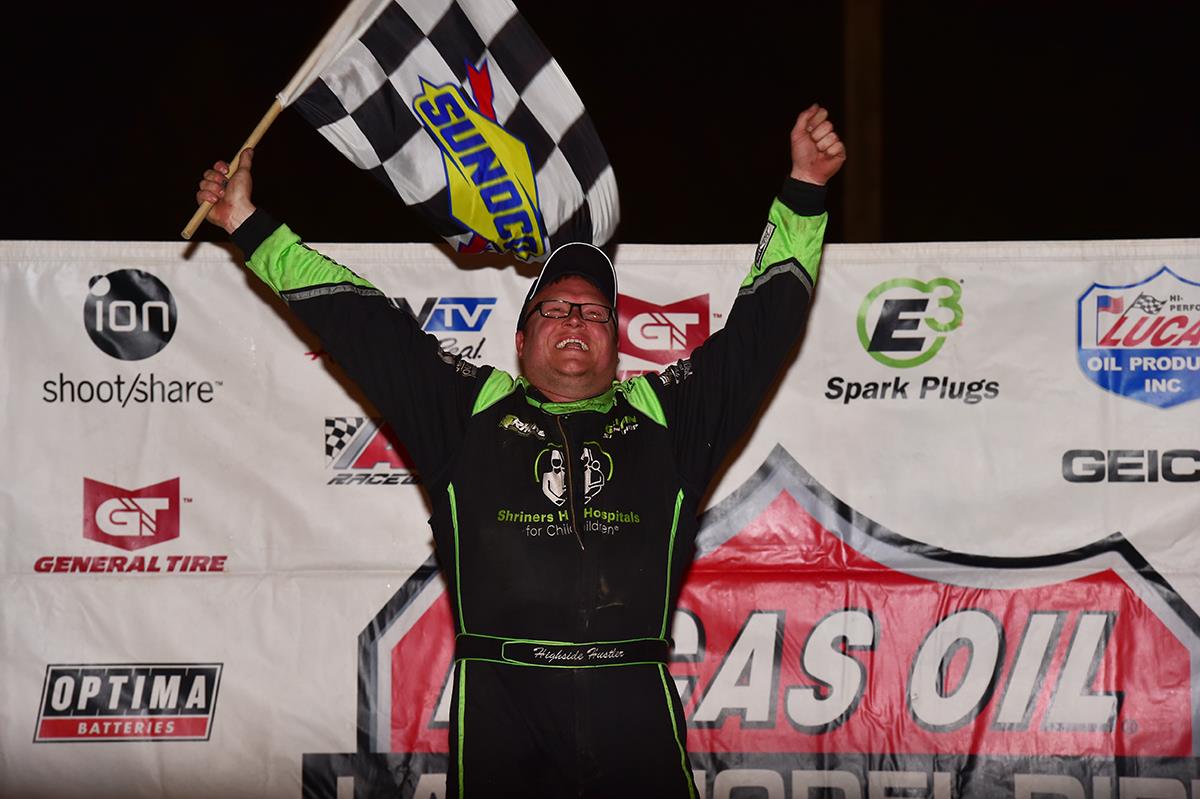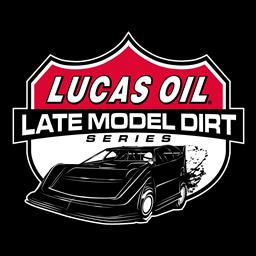 5/3/2014
Lucas Oil Late Model Dirt Series
---
Feger Hustles to Lucas Oil Late Model Dirt Series Win at Paducah International Raceway
Scott Bloomquist was running third on the white flag lap, but a fuel pump issue forced him to slow dramatically as he pulled into the infield on the final lap to finish 13th. Steve Francis then inherited the third spot as he held off his teammate, Don O'Neal on the final lap. O'Neal was fourth followed by leading Dunn-Benson Ford Rookie of the Year Contender, Jason Hughes, who recorded his best career LOLMDS finish.
"I don't know what to say! This is one of my favorite tracks as everyone knows! We were not very good the last two nights and our confidence was shaken, but we went to Jason Riggs' shop and re-scaled the car and worked on it. We came out tonight and the car was flawless. I didn't know how much right rear tire I had left. I used it up pretty hard out there. When I saw Billy [Moyer] slow with a flat, I was just hoping ours would hold out."
"Bob Sargent and his crew do a great job at this track. I want to thank Cheap Cars, Titan Steel, Wehr's Renegade Fuels, Pro Tire, Griffin Sign Shop, Allstar Performance and Rhyne Engines. This Hustler Chassis is the same one that flipped at Knoxville last year."
Moyer held second position until he slowed on lap 32 with a flat tire. Owens stormed passed Bloomquist on lap 35 and chased Feger the remaining 15 laps. Owens gave it all his car could muster, but Feger was able to hold his line and keep his car out front as he went on for the win.
"We had a good car tonight, we freed it up from last night and it seemed to handle better. We haven't run here all that much in the past, but I really like the track. It has wide sweeping corners and it definitely is a momentum track," said the driver of the Mike Reece, Reece Monument Company, Club 29 Ford.
Francis was the benefactor of Bloomquist not completing the last lap. "I don't know what happened to him when he slowed and pulled down low. We were fortunate to get third and Don had a good finish behind us. Our car was running hot there near the end, but it was a good point's night, and we will get ready for La Salle in a couple of weeks."
Completing the top ten were Jared Landers, Earl Pearson Jr., Randy Korte, Eddie Carrier Jr., and Tanner English. In preliminary action, Don O'Neal set the overall Miller Welders Fast Time (Group A) amongst the 32 entrants, with a lap of 15.445 seconds. Jason McBride set the fastest time in Group B with a time of 15.633 seconds. Billy Moyer, Scott Bloomquist, Jason Feger, and Jimmy Mars won their respective heat races. Jason Papich and Dennis Erb, Jr. won their respective B-Mains.
For the latest breaking news on the Lucas Oil Late Model Dirt Series, log onto www.lucasdirt.com and follow the series on www.facebook.com/lucasdirt and www.twitter.com/lucasdirt.
Lucas Oil Late Model Dirt Series
Race Summary
Saturday Night, May 3rd, 2014
Paducah International Raceway – Paducah, KY
Miller Welders Fast Time Group A: Don O'Neal / 15.445 seconds
Miller Welders Fast Time Group B: Jason McBride / 15.633 seconds
Fast Shafts Heat Race #1 Finish (10 Laps, Top 4 Transfer): Billy Moyer, Don O'Neal, Brian Birkhofer, John Blankenship, Tanner English, Billy Moyer, Jr., Bub McCool, Chris Shelton
Eibach Springs Heat Race #2 Finish (10 Laps, Top 4 Transfer): Scott Bloomquist, Steve Francis, Jimmy Owens, Jason Riggs, Jason Papich, Jason Hughes, Charlie LaPlant, Eddie Carrier, Jr.
Simpson Performance Products Heat Race #3 Finish (10 Laps, Top 4 Transfer): Jason Feger, Brian Shirley, Jason McBride, Jim Shereck, Jared Landers, Randy Sellers, Jarryd Holshouser, Tim Brown
FK Rod Ends Heat Race #4 Finish (10 Laps, Top 4 Transfer): Jimmy Mars, Earl Pearson, Jr., Bobby Pierce, Randy Korte, Dennis Erb, Jr., Terry English, Brandon Sheppard, Eric Hickerson
JRi Shocks B-Main #1 (12 Laps, Top 3 Transfer): Jason Papich, Tanner English, Jason Hughes, Billy Moyer, Jr., Bub McCool, Eddie Carrier, Jr., Charlie LaPlant, Chris Shelton
CV Products B-Main #2 (12 Laps, Top 3 Transfer): Dennis Erb, Jr., Jared Landers, Terry English, Brandon Sheppard, Randy Sellers, Tim Brown, Eric Hickerson, Jarryd Holshouser
Feature Finish (50 Laps): 1. 25F-Jason Feger; 2. 20-Jimmy Owens; 3. 15-Steve Francis; 4. 5-Don O'Neal; 5. 12-Jason Hughes; 6. 777-Jared Landers; 7. 44-Earl Pearson Jr; 8. 00-Randy Korte; 9. 28-Eddie Carrier Jr; 10. 96T-Tanner English; 11. 15B-Brian Birkhofer; 12. 77M-Jason McBride; 13. 0-Scott Bloomquist; 14. 91P-Jason Papich; 15. 81-Brian Shirley; 16. 96-Terry English; 17. 21-Billy Moyer Sr; 18. 32-Bobby Pierce; 19. 28E-Dennis Erb Jr; 20. 28M-Jimmy Mars; 21. 23-John Blankenship; 22. 81JR-Jason Riggs; 23. 17S-Jim Shereck; 24. 21JR-Billy Moyer Jr
Race Statistics
Entrants: 32
Lap Leaders: Jason Feger (Laps 1 – 50)
Caution Flags: Jimmy Owens, John Blankenship, Steve Francis, Jason Riggs (Lap 1); Brian Birkhofer (Lap 1); Dennis Erb, Jr. (Lap 19); Billy Moyer (Lap 32)
Lucas Oil Late Model Dirt Series Provisional: Eddie Carrier, Jr.
Miller Welders Fast Time Provisional: Billy Moyer, Jr.
Lucas Oil Late Model Dirt Series Emergency Provisionals: None
Wrisco Feature Winner: Jason Feger
Optima Batteries Hard Charger of the Race: Jason Hughes (Started: 21st; Finished: 5th; Advanced 16 Positions)
Keyser Mfg Spoiler Challenge Point Leader: Don O'Neal
Allstar Performer of the Race: Jason Hughes
Sunoco Race for Gas Highest Finisher: Jimmy Owens
Dunn Benson Ford Rookie of the Race: Jason Hughes
Midwest Sheet Metal Highest Finishing Rookie: Jason Hughes
COMP Cams Engine Builder of the Race: Rhyne Competition Engines
Ohlins Shocks Chassis Builder of the Race: Hustler Race Cars
Outerwears Crew Chief of the Race: Devin Schickel (Jason Feger)
HAWK Performance Fastest Lap of the Race: Jason Feger (Lap # 2; 16.299 seconds)
Time of Race: 27 minutes 17 seconds
---
Submitted By: Jeremy Shields
Back to News