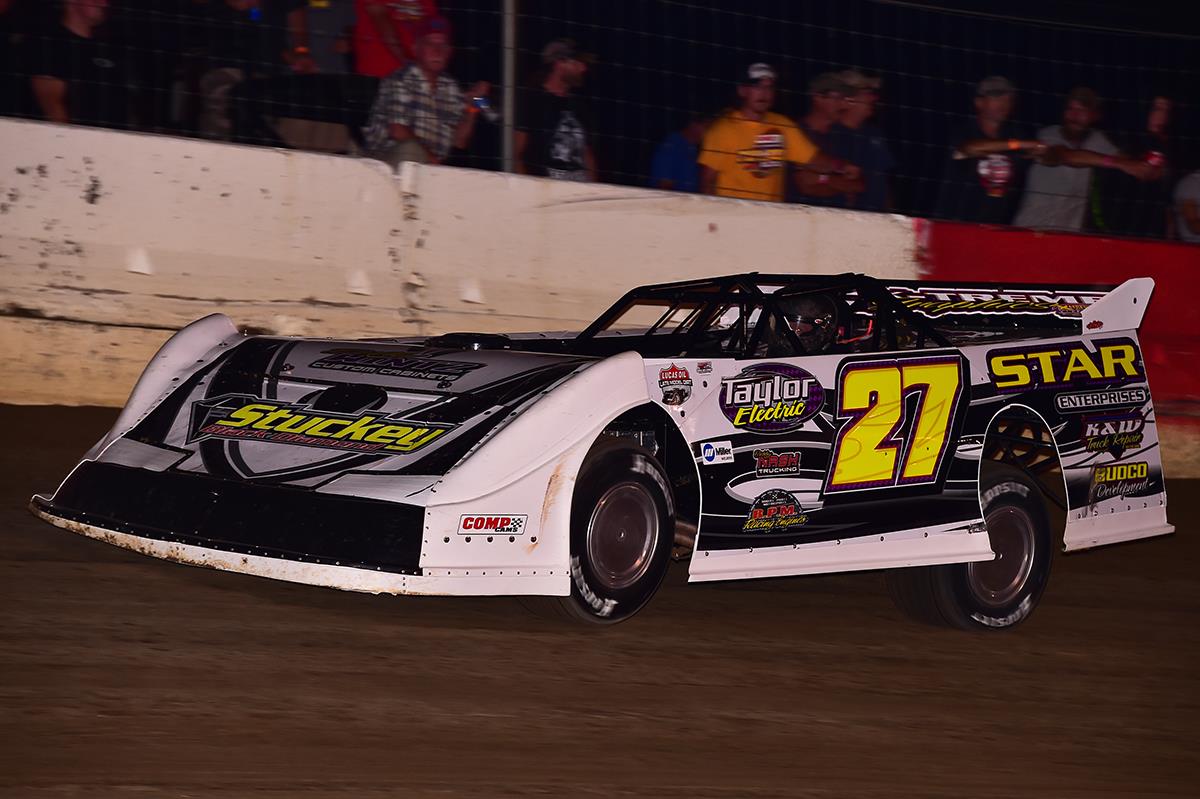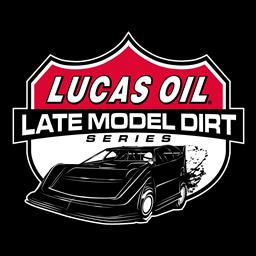 8/15/2014
Lucas Oil Late Model Dirt Series
---
Taylor and Birkhofer on Front Row for COMP Cams Topless 100 at Batesville Motor Speedway
Stacy Taylor was the Miller Welders Fast Qualifier amongst the 63 entrants. He led heat number one wire-to-wire for the win. He battled early with Jeremy Payne, who left the race under a caution flag. The three-time and defending LOLMDS and 2009 Topless 100 winner Jimmy Owens then applied the heat to Taylor, but Taylor held on for the win in his Ronnie Stuckey-Black Diamond Chassis. Owens finished second, followed by John Blankenship.
Four-time Topless 100 winner, Scott Bloomquist, led the first seven laps of the second heat until his right front shock broke, knocking him out of the race. Don O'Neal then took over the lead and led the rest of the way for the win in the Clint Bowyer-Barry Wright Race Cars entry. Mike Marlar started on the outside of the front row and finished second ahead of two-time Topless 100 winner, Jimmy Mars.
Jonathan Davenport dominated all 20 laps of the third heat in the K&L Rumley-Longhorn Chassis for the win. Former Topless 100 winner, Dale McDowell, placed second followed by another former winner of the event, Shannon Babb.
Brian Birkhofer led all the way as he picked up the heat four win in his ASi Racewear Rocket Chassis. Last year's LOLMDS Rookie of the Year, Billy Moyer Jr., finished second ahead of Bub McCool.
Hometown driver, Wendell Wallace, stormed to the win in heat five. Wallace outdueled 2012 Topless 100 winner, Steve Francis and the defending race winner, Terry Phillips for the triumph in his Barry Wright #6M.
The sixth and final heat race of the night saw the Hall-of-Famer Billy Moyer, in search of a record fifth Topless 100 victory, finish ahead of Chris Brown for the win. Jared Landers, a former Topless 100 winner, charged from his seventh starting spot to nab the third and final transfer spot.
In the redraw for the six heat race winners from Friday Night's preliminary events, Taylor and Birkhofer drew the front row starting positions. Don O'Neal will start third. Four-time COMP Cams Topless 100 winner, Billy Moyer, will start fourth. The third row for the $40,000 to win main event will include '98 winner, Wendell Wallace, and Jonathan Davenport.
In preliminary action, Stacy Taylor set the overall Miller Welders Fast Time (Group A) amongst the 63 entrants, with a lap of 13.554 seconds. Brian Birkhofer set the fastest time in Group B with a time of 13.867 seconds. Stacy Taylor, Don O'Neal, Jonathan Davenport, Brian Birkhofer, Wendell Wallace, and Billy Moyer won their respective heat races.
For the latest breaking news on the Lucas Oil Late Model Dirt Series, log onto www.lucasdirt.com and follow the series on www.facebook.com/lucasdirt and www.twitter.com/lucasdirt.
Lucas Oil Late Model Dirt Series
Race Summary
Friday Night, August 15th, 2014
Batesville Motor Speedway - Locust Grove, AR
Miller Welders Fast Time Group A: Stacy Taylor/ 13.554 seconds
Miller Welders Fast Time Group B: Brian Birkhofer / 13.867 seconds
Fast Shafts Heat Race #1 Finish (20 Laps, Top 3 Transfer): Stacy Taylor, Jimmy Owens ,John Blankenship, Robbie Stuart, Clay Fisher, Rick Hearnsberger, Joey Smith, Jeremy Payne, Jason Papich, Ray Moore, Dwight Falcon
Eibach Springs Heat Race #2 Finish (20 Laps, Top 3 Transfer): Don O'Neal, Mike Marlar, Jimmy Mars, Eddie Carrier, Jr., Dennis Erb, Jr., Ryan Gustin, Jesse Stovall, Jake Davis, Shannon Scott, Scott Bloomquist, Kennith Crowe
Simpson Performance Products Heat Race #3 Finish (20 Laps, Top 3 Transfer): Jonathan Davenport, Dale McDowell, Shannon Babb, Jack Sullivan, Doug Drown, Kyle Beard, Brandon Smith, Jason Hughes, Gavin Landers, Chandler Petty
FK Rod Ends Heat Race #4 Finish (20 Laps, Top 3 Transfer): Brian Birkhofer, Billy Moyer, Jr., Bub McCool, Jeff Taylor, Robert Baker, Jon Mitchell, Jason Hughes, Jason Bodenhamer, Kody Mea, Chad Dupont, Lynn Beach
Fast Shafts Heat Race #5 Finish (20 Laps, Top 3 Transfer): Wendell Wallace, Steve Francis, Terry Phillips, Earl Pearson, Jr., Tommy Weder, Mark Dotson, Tony Jackson, Jr., Austin Rettig, Timothy Culp, Troy Berdan
Eibach Springs Heat Race #6 Finish (20 Laps, Top 3 Transfer): Billy Moyer, Chris Brown, Jared Landers, Justin Asplin, Will Vaught, Anthony Burroughs, Tommy Surrett, Chris Wall, Tyler Erb, David Payne
---
Submitted By: Jeremy Shields
Article Media
Back to News