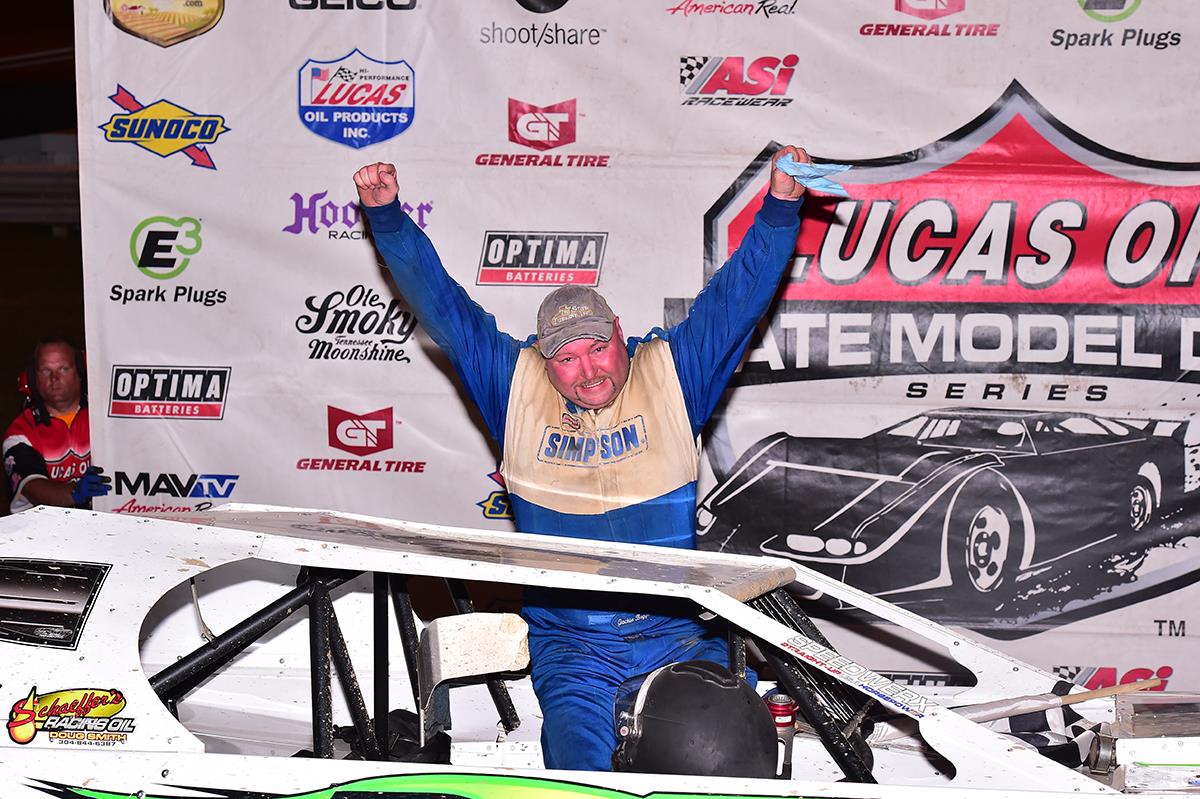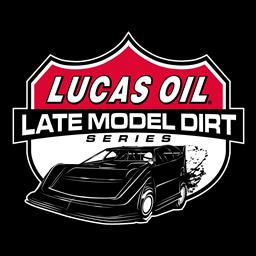 8/30/2014
Lucas Oil Late Model Dirt Series
---
Jackie Boggs Blasts to Lucas Oil Victory on Saturday Night at Portsmouth Raceway Park
Bloomquist had the dominant car from the start of the event, then over the last ten laps he developed fuel-pressure issues. He gave up the lead to Boggs on lap 43. Boggs brought the huge crowd to its feet with his high-side pass of Bloomquist as he pulled away for his third career LOLMDS victory. Steve Francis finished second for the third consecutive time in LOLMDS competition. Jared Landers finished third, followed by Eddie Carrier Jr., and Bloomquist, who faded to fifth at the finish.
"This car was just a frame on Monday morning, we worked all-week on this new Swartz car and I will tell you, this thing is fast," said the winner, afterwards. "I think the paint just dried on the car today," Boggs excitedly said. "We had gone so long without a caution. I was just content to hang on for third. But then the caution came out with ten to go and I thought well maybe we had another chance at Bloomquist."
"I am not sure what happened to him [Bloomquist], but Steve [Francis] and I stayed right with him. His car was either not running right or it had a tire going down, not sure, but we went to the top and drove around him. It's great win for our team, and I see from the crowd reaction, they liked it too. I can't wait until the Dirt Track World Championship Race here in October. We had a real good car here last year and nearly won it… I think this car is better. I want to thank Audie Swartz, Kenny Hemman Racing Engines, McCoy Brothers Logging, Samuel Coal, Brown Medical, Matney's Truck and Trailer, The Weld Shop and BPM Performance."
Francis, who continues his late-season surge, backed up his runner-up finishes at Lawrenceburg and Attica at one of his favorite venues tonight. "We had another solid finish tonight for the Clint Bowyer Racing Team. If I could have gotten by Scott sooner, I might have had a chance at Jackie, but he was gone by the time I cleared Scott. I have to thank Georgia Boot, Peak Antifreeze and Motor Oil, Barry Wright Race Cars, and all of my crew. We are going to get back to victory lane here soon."
Landers rallied to a third-place finish in the last few laps. "We had a good car all night. I really liked that cushion up top. We keep digging here and we are going to get a win. I have to thank Crop Production Services, Bad Boy Mowers, Mark Martin Automotive, and Big Dog Motorsports."
Completing the top ten were John Blankenship, Don O'Neal, Jimmy Owens, Brian Birkhofer, and Earl Pearson Jr.
In preliminary action, Jackie Boggs set the overall Miller Welders Fast Time (Group B) amongst the 34 entrants, with a lap of 14.394 seconds. Earl Pearson Jr. set the fastest time in Group A with a time of 14.427 seconds. Scott Bloomquist, Steve Francis, Jackie Boggs, and Jimmy Owens won their respective heat races. Chris Combs and Don O'Neal won their respective B-Mains.
For the latest breaking news on the Lucas Oil Late Model Dirt Series, log onto www.lucasdirt.com and follow the series on www.facebook.com/lucasdirt and www.twitter.com/lucasdirt.
Lucas Oil Late Model Dirt Series
Race Summary
Saturday Night, August 30th, 2014
"River Days Rumble"
Portsmouth Raceway Park – Portsmouth, OH
Miller Welders Fast Time Group A: Earl Pearson Jr. / 14.427 seconds
Miller Welders Fast Time Group B: Jackie Boggs / 14.394 seconds
Fast Shafts Heat Race #1 Finish (10 Laps, Top 4 Transfer): Scott Bloomquist, Earl Pearson, Jr., Eddie Carrier, Jr., Dennis Erb, Jr., Chris Combs, Jason Hughes, Audie Swartz, Kenny McCann, Russ Frohnapfel
Eibach Springs Heat Race #2 Finish (10 Laps, Top 4 Transfer): Steve Francis, John Blankenship, RJ Conley, Rod Conley, Steve Lucas, Delmas Conley, Butch Dowdy, Avery Taylor
Simpson Performance Products Heat Race #3 Finish (10 Laps, Top 4 Transfer): Jackie Boggs, Jared Landers, Jason Papich, Kevin Wagner, Don O'Neal, JT Conley, Jason Montgomery, Michael Howard, Doug Kenworthy
FK Rod Ends Heat Race #4 Finish (10 Laps, Top 4 Transfer): Jimmy Owens, Brian Birkhofer, Shannon Thornsberry, Kenneth Howell, Billy Staker, Doug Drown, Steve Casebolt , Mason Zeigler-DNS
JRi Shocks B-Main #1 (12 Laps, Top 3 Transfer) Finish: Chris Combs, Jason Hughes, Delmas Conley, Steve Lucas, Audie Swartz, Avery Taylor, Kenny McCann, Butch Dowdy, Russ Frohnapfel-DNS
CV Products B-Main #2 (12 Laps, Top 3 Transfer) Finish: Don O'Neal, Jason Montgomery, Mason Zeigler, Steve Casebolt, JT Conley, Doug Kenworthy, Billy Staker, Michael Howard, Doug Drown-DNS
Feature Finish (50 Laps): 1. 4B-Jackie Boggs; 2. 15-Steve Francis; 3. 777-Jared Landers; 4. 28-Eddie Carrier Jr; 5. 0-Scott Bloomquist; 6. 23-John Blankenship; 7. 5-Don O'Neal; 8. 20-Jimmy Owens; 9. 15B-Brian Birkhofer; 10. 44-Earl Pearson Jr; 11. 91P-Jason Papich; 12. 71R-Rod Conley; 13. 28E-Dennis Erb Jr; 14. 12-Jason Hughes; 15. 2-Steve Lucas; 16. 25Z-Mason Zeigler; 17. 71C-RJ Conley; 18. 17T-Shannon Thornsberry; 19. 47-Chris Combs; 20. 71D-Delmas Conley; 21. 21M-Jason Montgomery; 22. 33K-Kevin Wagner; 23. 21K-Kenneth Howell; 24. 10-Audie Swartz
Race Statistics
Entrants: 34
Lap Leaders: Scott Bloomquist (Laps 1 – 42); Jackie Boggs (Laps 43 – 50)
Cautions: Kevin Wagner, Audie Swartz, Delmas Conley (Lap 1); Debris (Lap 31); Delmas Conley (Lap 40)
Lucas Oil Late Model Dirt Series Provisionals: n/a
Lucas Oil Late Model Dirt Series Emergency Provisionals: n/a
Miller Welders Fast Time Provisionals: Audie Swartz, Steve Lucas
Wrisco Feature Winner: Jackie Boggs
Optima Batteries Hard Charger of the Race: Don O'Neal (Started: 18th; Finished: 7th; Advanced 11 Positions)
Keyser Mfg Spoiler Challenge Point Leader: Jimmy Owens
Allstar Performer of the Race: Jared Landers
Sunoco Race for Gas Highest Finisher: Steve Francis
Dunn Benson Ford Rookie of the Race: Jason Papich
Midwest Sheet Metal Highest Finishing Rookie: Jason Papich
COMP Cams Engine Builder of the Race: Kenny Hemman Race Engines
Ohlins Shocks Chassis Builder of the Race: Barry Wright Race Cars
Outerwears Crew Chief of the Race: Jason Durham (Jared Landers)
HAWK Performance Fastest Lap of the Race: Scott Bloomquist (Lap #2 – 15.538 seconds)
Time of Race: 24 minutes 13 seconds
---
Submitted By: Jeremy Shields
Back to News